SMS Marketing in 2022: Trends and Forecasts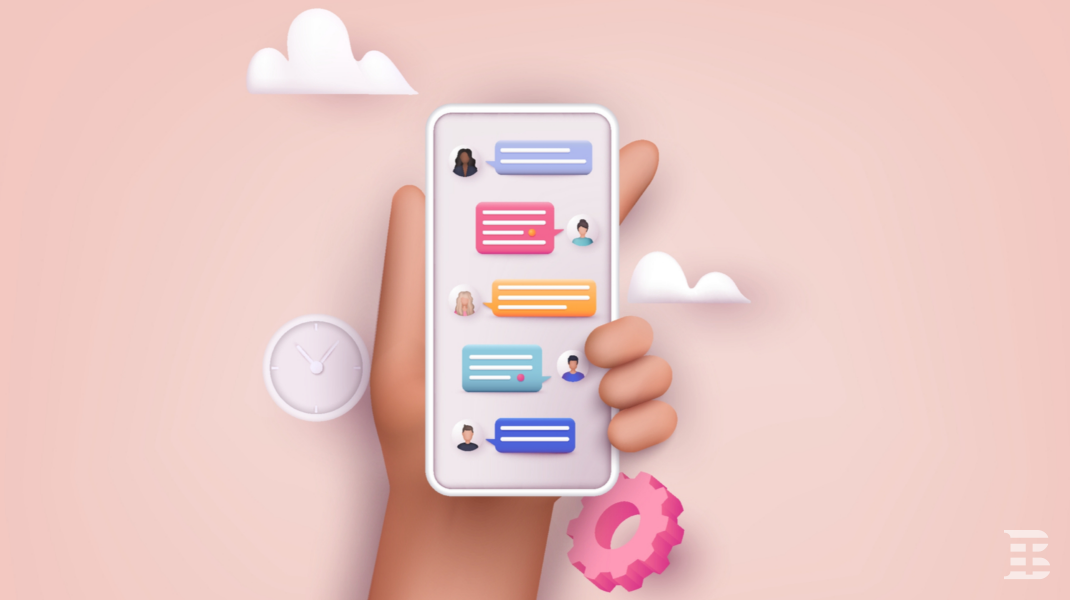 The short message service (SMS) has made communication easier and faster. Nowadays, consumers prefer to converse with brands over other channels, so SMS open rates reach as high as 98%. During the COVID-19 pandemic, the 'Home-delivery' trend impacted SMS marketing. Mobile outreach is increasingly appealing to enterprises and their target audiences, which led them to adopt SMS marketing.
Similar to a growing trend in mobile outreach, many businesses are implementing text marketing to engage users who are increasingly inclined to respond. It is expected that these trends will continue into 2022. By utilizing the latest advances in SMS marketing, you can keep your strategy fresh.
What Is SMS Marketing?
A short message service is what is known as SMS. SMS marketing refers to how a brand communicates with customers by sending them text messages about campaigns, promotions, news, and other information.
SMS marketing also falls under the category of owned channels. As a result, you are able to decide who receives SMS marketing messages, what content you share, and when you send them. You are in complete control of what your customers experience when using text marketing.
MMS (multimedia message service) messages can also be sent to your customers besides SMS messages. Pictures and GIFs (along with other animated images) can be sent over text messages.
SMS Marketing Trends To Consider in 2022
To increase the effectiveness of SMS in your digital marketing strategy, consider these Sms marketing trends for 2022 and beyond:
Mobile Commerce Rise
Revenue from mobile commerce is predicted to reach $432.2 billion by the end of 2022. In the last six months, 62% of smartphone users had made an online purchase via the device.
With the development of mobile commerce, SMS marketing has become more dynamic, engaging, and personalized than ever before. As per a study conducted by Yotpo, 89 percent of mobile consumers want to receive text messages from brands, while mobile consumers spend two times as much time sending texts as they do sending emails.
The technology behind SMS marketing has advanced over the years as well. Nowadays, it's not just limited to texts. In an SMS format, the message could include an image, a gif, a landing page, and a call-to-action, just as a paid social advertising message would. SMS requires consent from the consumer, while email does not.
To gain the trust of consumers, brands must provide value upfront. Eventually, its high conversion and open rates will yield great results.
Increased Use Of SMS Marketing For Promotions, Sales, And Building Brand Loyalty
There are approximately 5 billion mobile phone users worldwide. This means that SMS has a good chance of reaching more people and allowing you to market your business, products, or services.
SMS can be integrated into your marketing campaigns in a variety of ways. You could use SMS to send your subscribers tips and tidbits of information since modern consumers love receiving this type of content on their mobile devices. You may wish to include a link to the full text on your website or link to your virtual event at the end of the text message.
SMS messaging can be integrated with other marketing channels by simply sharing links to social media pages with mobile customers, where you can further promote your business or engage your audience. SMS marketing will also boost brand loyalty by incorporating special offers for cart abandonment, VIP programs, and birthdays and anniversaries.
A text message marketing campaign generates a significantly higher response rate than an email, phone call, or Facebook post, so adding it would be a natural choice.
Higher Need For Personalized SMS Marketing
SMS marketing offers the added benefit of being less formal and more flexible than phone calls or emails. Individuals can be targeted via SMS based on their name, preferences, past purchases, and more.
Make sure your clients feel seen and appreciated by personalizing your text messages. Your audience is more likely to interact with your brand and take action when you send them personalized messages. Even though SMS marketing is quite common, most SMS campaigns do not utilize personal information, such as birthdays, anniversaries, or other occasions.
By using this data effectively, marketers and content creators can simultaneously increase revenue and brand loyalty. With SMS being one of the most direct and intimate communication channels, the channel will play a crucial role in helping brands build personal relationships with their customers that will enable them to provide them with relevant offers and an enjoyable experience.
Continued Growth Of Sms As A Customer Service Channel
The customer service department is critical to the success of marketing departments by delivering on their brand promise. It's not uncommon for consumers to share their negative experiences on social media platforms once they get quick and accurate responses to their inquiries.
According to studies, over 50% of consumers prefer texting customer service reps to make phone calls, becoming more mainstream.
Many customer service functions can be performed via SMS, including:
Payment confirmations and receipts for orders

Information on delivery tracking

Scheduling rescheduled appointments and sending appointment reminders

Common questions and answers

Getting feedback on your products and services
Customers with a mobile device can text customer support to resolve issues quickly - without waiting on hold or transferring between departments. As well as boosting consumer trust, shorter SMS resolution times can boost bottom-line results.
SMS Chatbots Powered By AI
As text marketing trends continue to rise, SMS chatbots will remain a huge trend in 2022. Automating parts of the customer experience with chatbots, which instantly respond to common customer inquiries, saves time and effort.
Artificial intelligence (AI) has been gaining ground in mainstream software products as a result of breakthroughs in the field. SMS is a logical next step for these advances. We'll see more AI-powered chatbots taking over tasks, answering customer questions, and facilitating orders without human interaction. Additionally, AI enables companies to personalize their messages and engage with customers more effectively.
SMS for Influencer Marketing
As for SMS marketing campaigns, brands are likely to partner with influencers in 2022. If Meghan texts you with a 20% discount on your favorite shoe brand with the code "MEG20," don't be surprised to receive a discount. Consumers can interact with their favorite personalities, and brands can close more sales.
In recent years, influencer marketing has shifted from a relatively new trend to a commonly used strategy. Influencers are now creating bite-sized sponsored content for brands across various platforms and channels. You can find influencer marketing in many different forms: from TikTok dance routines to Instagram beauty tips to YouTube cooking videos.
By collaborating with influencers, companies can increase their SMS subscribers, create buzz about new products and releases, increase brand awareness, boost sales, and collect social proof. For every dollar you spend, estimates show that you'll get $5.78 in return.
SMS And Email Campaigns Combination
Email marketing seems to be the safer bet in many cases, especially if you have already used it well. However, you can really boost your results by combining it with SMS marketing.
Smart Insights found that following up with a follow-up text after sending an email to your customers increases open rates by as much as 30%.
Combining these two channels can quickly and easily increase customer engagement and retention levels. You can use this, especially if you want to get customer feedback and reviews via emails. You can also set up an email drip campaign to gather data from your leads and then promote your products and services using SMS marketing campaigns.
Use Of Text Marketing Tools
You can use SMS marketing tools to ensure that your order confirmations, booking confirmations, promotions, and other marketing materials actually reach your customers. You can use SMS marketing apps to send personal messages to customers or send automated messages based on calendars, marketing lists, or other integrated apps. Even better, you can text your customers straight back.
Plenty of SMS marketing tools are available online like Vertexsms, Twilio, Omnisend, etc. You can use these tools to automate your SMS marketing campaigns.
Wrap Up
The SMS marketing trends demonstrate that text messages are becoming increasingly popular and will continue to be so in the future. This has led to the conclusion that SMS marketing is an essential component of your business's overall marketing and sales objectives.
With SMS, you can quickly become the most valuable marketing channel in your overall strategy because the channel is mobile-first, customer-first, and privacy-first. Your business can remain flexible in meeting customer demands by using SMS as a communication channel. An SMS marketing strategy can effectively gain customer loyalty and promote your products and services.
Your SMS marketing program will keep your customers connected at multiple touchpoints. It is crucial that you create meaningful triggers so that even if a customer misses a social media post or a Google ad, they will still remember your brand because they received an SMS message.
Would you like to read more about this?