How to get more exposure and outrank your competitors?
Getting more visibility in front of potential customers is the primary goal a business has. This is also the main scope of TechBehemoths - to expose reliable IT Service Providers, underline their good qualities, so that a client or company can hire you for their next project.
As TechBehemoths is a 100% free of charge resource, to get above your competitors is difficult, but very possible. The only way to get that is through meritocracy.
Most probably you've asked yourself: how to get an "Excellent" profile strength? Read until the end, to find out!

How it works?
We get lots of messages asking us how a company can get above its competitors? How to reach the top in their city, country or service? To help you get a higher rank, we prepared the following tutorial.
Following all our suggestions will place you higher in the search results among most of your competitors. Nonetheless, based on your client reviews, portfolio, company description, services you are providing and the website itself, the clients will make their final decision.
Below, we are explaining step by step all the sections your profile has, based on our own example - Mobiteam GmbH from Berlin, Germany.
Logo
The size is 200x200. We do not crop the logos, which is why make sure to upload a square logo in high resolution. Logos with low resolution, or not square, decrease your perception and trustworthiness.
Tip: use square type logos in high-resolution.
Bad logos: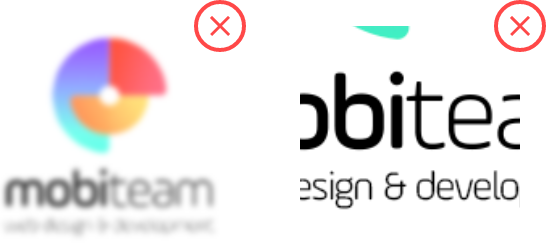 Good logos: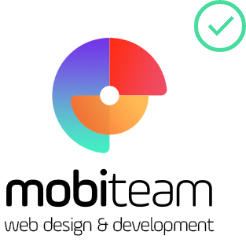 Company description
This is the first impression of your company! Our statistics show that 43% of clients do not contact a company if the description is less than 1,700 characters. Also, use formatting tools provided in the text editor to make company descriptions clear and well-structured.
Tip: we advise you to take your time and write a transparent, relevant and unique description of your company. Anything above 400-500 words, about your history, specialities, clients, projects, advantages, etc. will give a very good impression of your company.
The more descriptive is your profile - the more points our algorithms add to your company strength (yes, one step close to that "EXCELLENT" badge).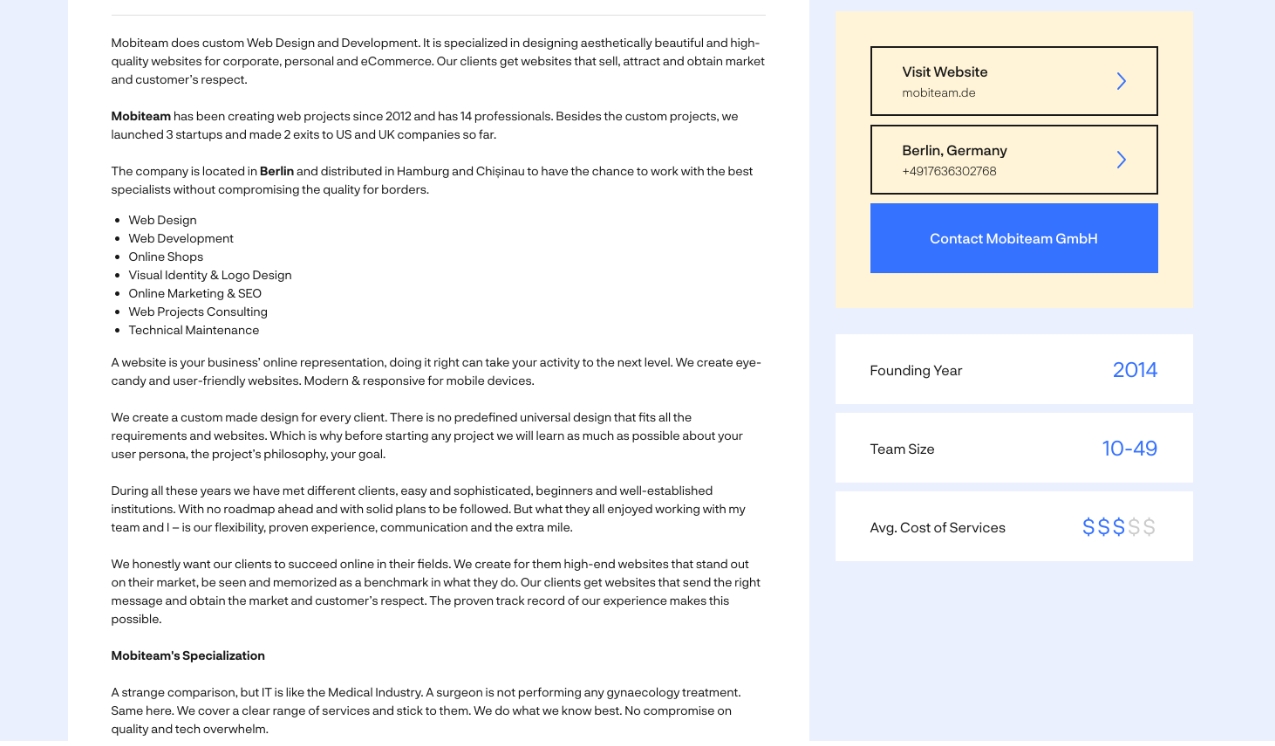 Location
Having more locations does not increase your chances of getting more clients. Moreover, claiming that you operate in one location where you are not physically present in reality, may drastically reduce your trustworthiness in front of clients, when found out.
Tip: use your real location. Clients are filtering based on the exact locations they need.
Speciality
This is another important section. Add all the services you really provide. The more the better, but be professional and honest, do not trick.
Tip: Like with the location - do not add services you do not provide! There is no point in getting an inquiry from a client finding out they need Blockchain services, while you offer Logo design services, for example. On the other hand, if you just extended your team and service range - come back on TechBehemoths to add those new services your company provides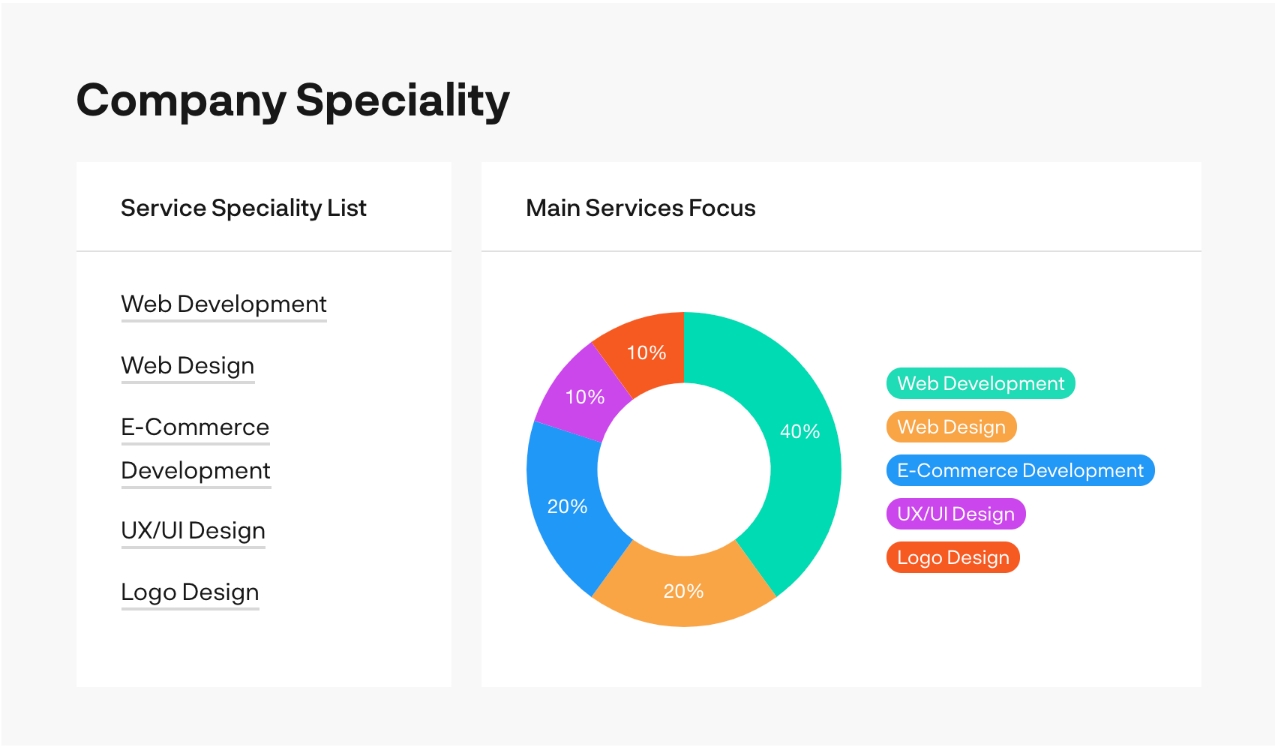 Focuses & Technologies
Here you should add all your business and technology focuses. It is an important part of your general company scoring. Clients normally have a very clear idea of what they need and seeing the match with you, increases the chances to get contacted by them.
Tip: The more details you add, the better, but be professional and fair, do not overpromise. As mentioned above, what's the reason for getting an inquiry that doesn't fit your offer?

Client focus
Here we offer 5 types of client focuses from 0 to billions of dollars of turnover. By selecting the one that describes your business best, you set up the right expectations for your clients.
Tip: What's the point in mentioning you operate with $100M+ companies if the reality is totally different? Experienced clients feel when things are shady.

Industry focus
Here you can list the industries you serve the most. There are 100% in total that are split between them. The percentage shows how much focus you have on a specific industry. Some companies have only 3-4 focuses, while others have 15. That is totally fine, as long as you really operate there.
Tip: Our stats show that companies with a range of 5-9 industry focus get the most attention from clients. Perhaps because of the real focus, and not a wide range of activities.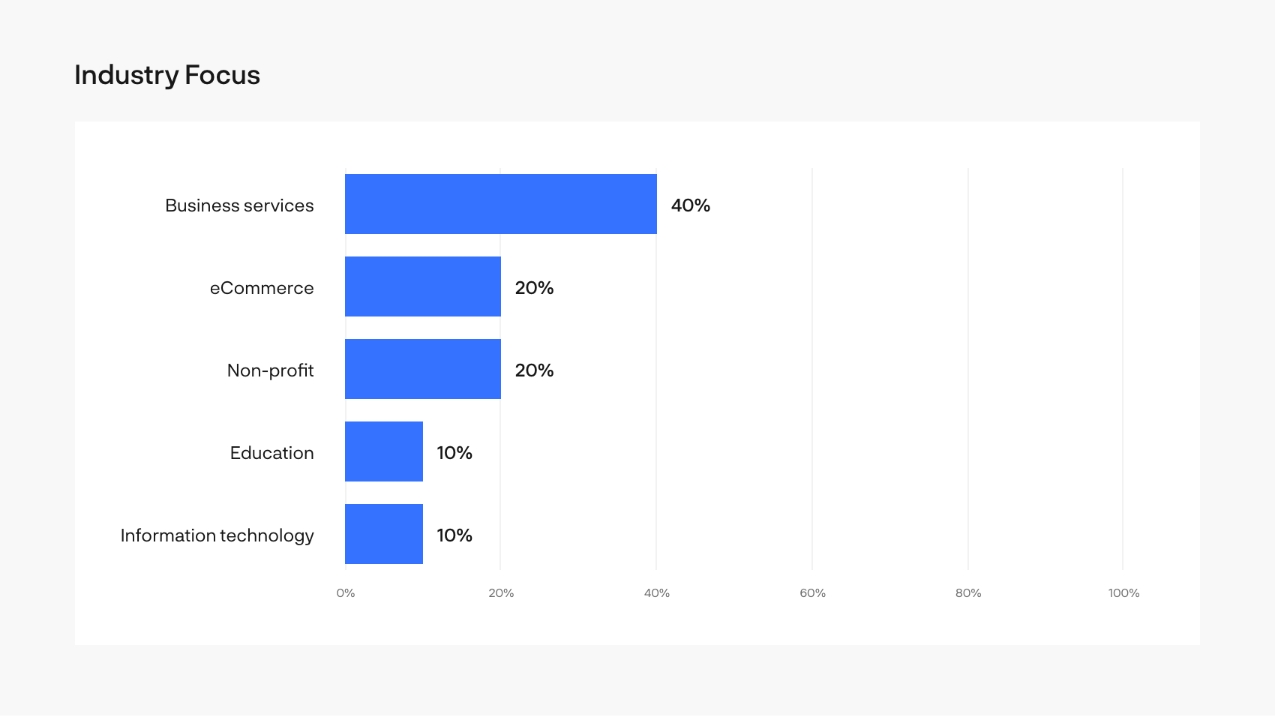 Portfolio
Very important section! Besides the: Company description, Company speciality Review sections, Portfolio is a key factor for a client to decide whether to contact you or not. No wonder, that's a normal practice.
Tip: add as many projects to your portfolio as you can. No matter how big or small the projects are, just add them all. A client will get an impression and it might be that the underdog project was the one that got his attention. But remember - add projects you really worked on, no stealing from other companies.
Adding projects in your portfolio can also help your previous clients - you give them a valuable backlink, and your company earns more trust and a chance for the client to get back to you in the future.
Pro Tip: our algorithms add points to your profile strength, for each project you add. Meaning - more projects = more points.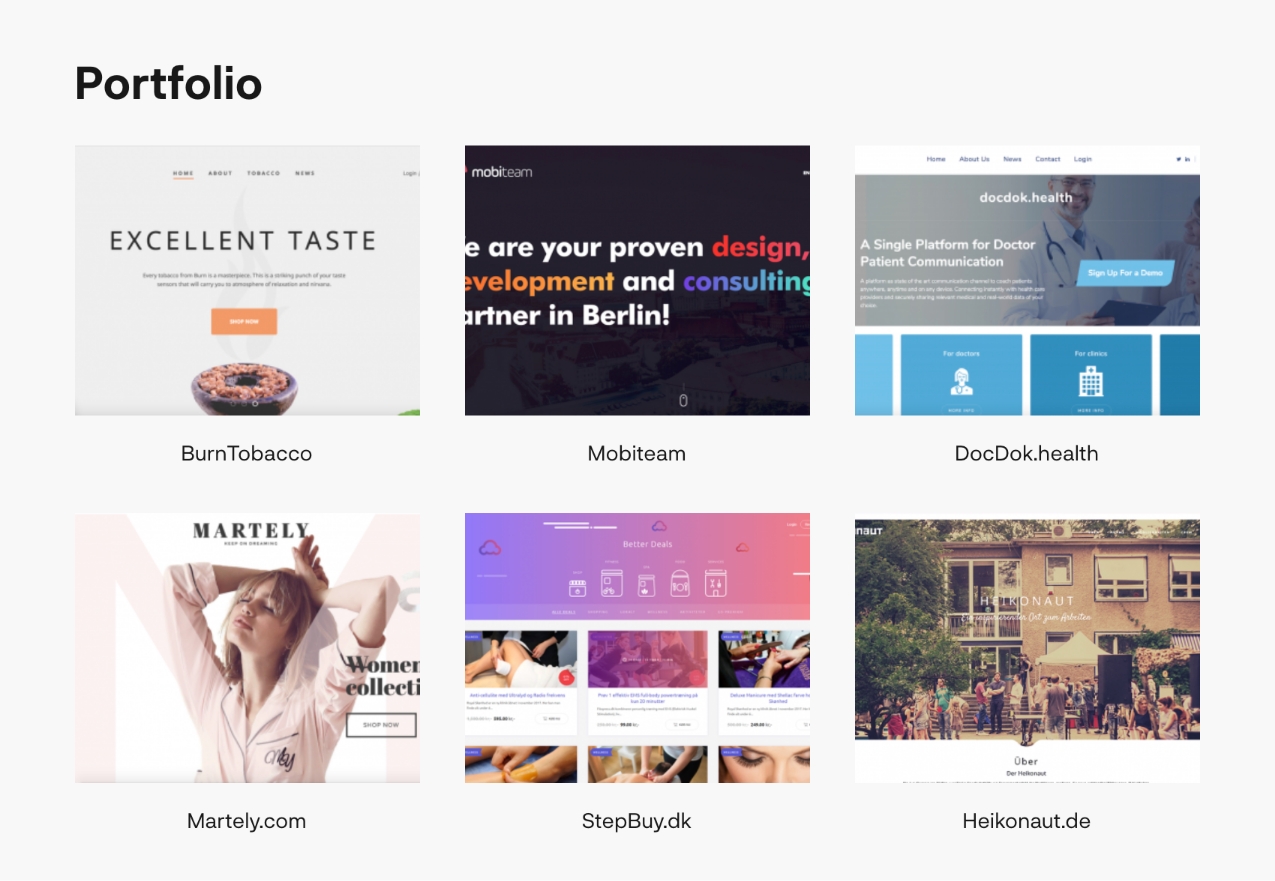 Reviews
The absolute MUST. This is definitely in the top 2 criteria to get the client's trust and interest. Our algorithms will add points to your profile strength for each review you get. To help you, you can send review invitations to your clients directly from your dashboard, with one click.
Tip: the more reviews you receive - the more points the system adds to your profile strengths. Be honest and transparent though. Our stats show that having 5 reviews or more increases the chances to get an inquiry by 73%.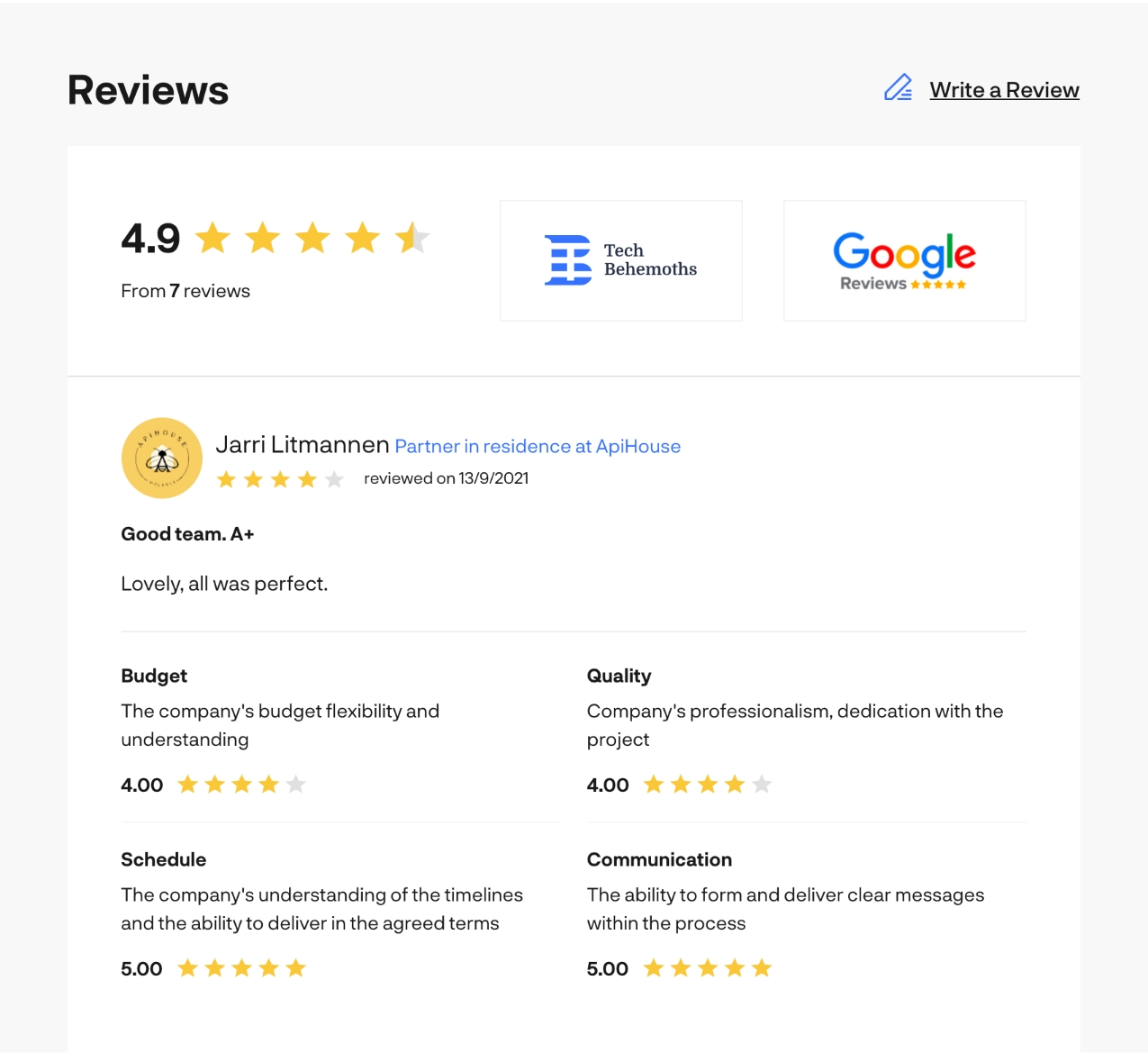 Contact
Add your correct email address, all the client inquiries will go there. Imagine the pity to get inquiries that go nowhere because of an outdated email.
Tip: you can add more recipients from your company profile dashboard so that more people from your team can receive the same client inquiry.
Content Contribution
This is a way to get a valuable additional do-follow link, for a lifetime, at no cost. You can write even one article and that is already good enough to get additional points to your company strength.
Tip: If you want to become a long-term or a single-time contributor to TechBehemoths, feel free to contact us to learn more about the topics and requirements. We will post it on our main blog page and affiliated media channels, so that you can get even more exposure, outside our platform.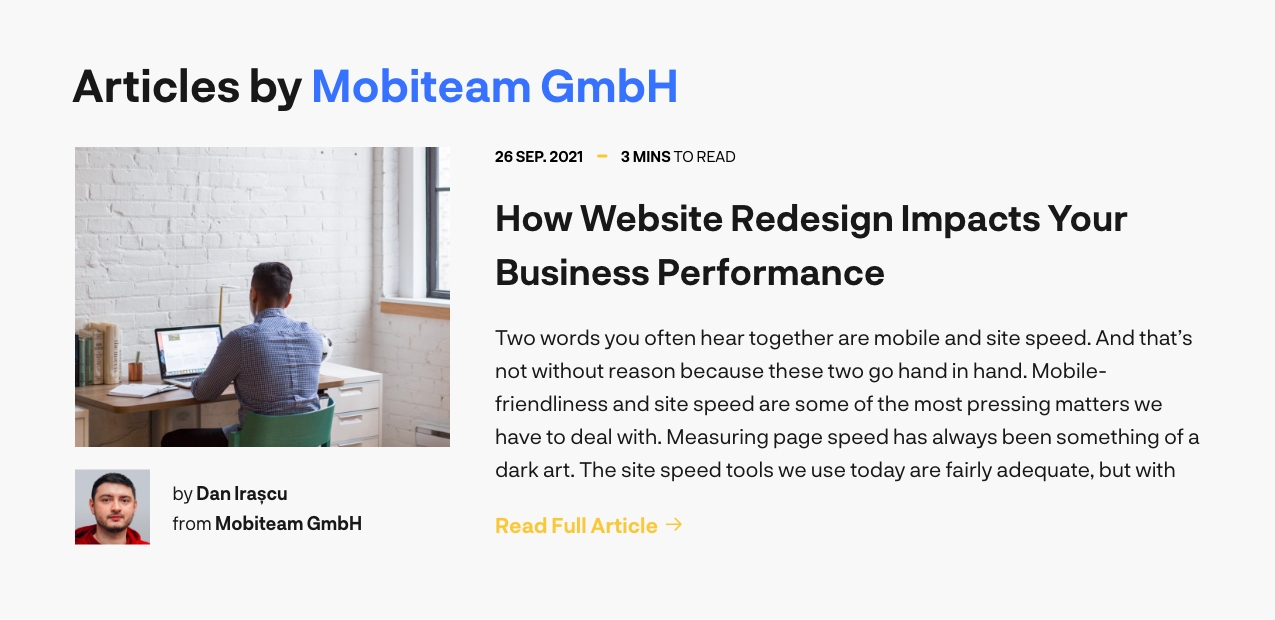 Summary tips:
TechBehemoths as of today is a 100% free resource

The only way to get above your competition in your city/country and services is based exclusively on your profile strength

Your profile strength is rated from 1 to 8, or from "Poor" to "Excellent" and everyone sees that openly on your company profile. These are the levels:

— Very poor
— Poor
— Below average
— Average
— Good
— Above Average
— Strong
— Excellent

How to increase your profile strength?

— Add as much information as possible to every section.
— The more information in your profile has - the more points you gain
— Keep your profile always up to date
— Add at least 1,700 characters to your company description
— Add a high-resolution logo
— Get at least 5 reviews to increase your chances of getting a client inquiry by 73%
— For portfolio - our system will add points to your strength for every project you add. Do not limit yourself. This is also extremely beneficial for your potential client to make a decision
— Write at least one article to get additional points and a do-follow backlink to your own website from us. We will promote the post also through our affiliated media channels

Once you get a client inquiry - reach out to him as soon as you can. Be polite and professional in your communication. If it did work at this time, it will the next time.

We are constantly adding new functionalities to the platform. Check out our emails and follow the advices we share.

Every 6 months we are "cleaning" the current list of companies by removing the business profiles that do not get at least "Below average" profile strength. Make sure to comply.
If you made it until here - it means you care about your business. Well done. Follow everything we wrapped up above and the results will come soon.
Do you have any questions or suggestions? Please contact us directly.
Greetings from Berlin!
TechBehemoths