Why Animated Explainers Work Better in Fintech Marketing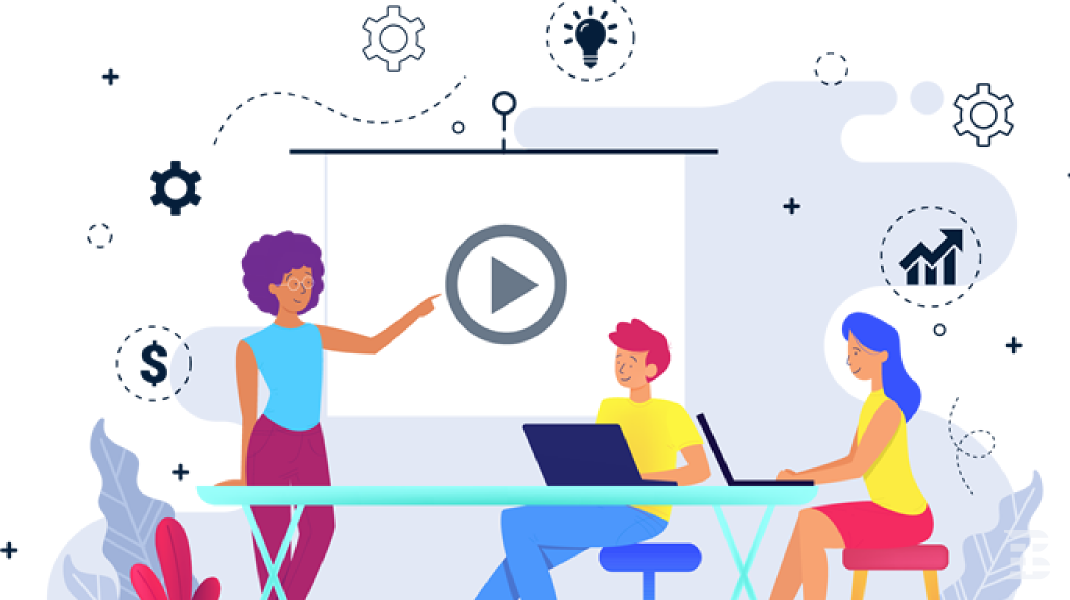 When it comes to niches that rely upon effective information delivery to thrive, the FinTech industry is certainly at the top of the list.
Finance is not an easy topic, to begin with. But when you add to the mix cutting-edge solutions and a rarely tech-savvy audience, you need compelling content to bridge the gap.
Luckily, video explainers are designed precisely to present products and services in a way that's understandable and appealing — making them a natural fit for fintech — but only if you understand how to leverage the style's key attributes to address your niches' particular challenges!
In this piece, we'll explore why explainer videos have become a go-to tool to present fintech products nowadays and go through a few great examples that illustrate the key attributes these marketing videos bring to the table.
What Makes the Animated Explainer Formula Ideal for FinTech?
While animated explainers are an excellent marketing tool for any industry, they are a match-made-in-heaven for fintech companies in particular. Here are three main points to understand why:
Readability: The world of fintech is full of technical words and complicated procedures; if you pair this up with long texts or other complex media, most people who are interested in getting to know what you have to offer will soon be running for the hills. When used appropriately, video as a medium leads to much more understandable content. Moreover, the explainer video formula has been refined to create a style that excels in readability and approachability: two key attributes that fintech companies constantly struggle with in their marketing content.

Information Delivery: while ideal for certain kinds of products and certain kinds of audiences, for most people reading in-depth texts requires more time and energy than they are willing to invest when it comes to marketing content. Animated explainers overcome that challenge by employing visual communication cues that synergize with an optimized script. Everything a viewer needs to know is condensed into a 2-minutes or less video meant to inform them and motivate them into action.

Simplified Complexity: as was mentioned earlier, fintech is an industry filled with complex terminology, processes, and methodologies that can confound an expert and be barely understandable for beginners. Animated explainers help you break down everything that a potential client needs to know and use visual resources that make complex concepts easier to grasp. A good explainer makes your message as uncomplicated as possible without leaving key details out.
Three Animation Styles Ideal for Fintech Explainer Videos
Different animation styles are a better option for different businesses and marketing goals, so it can be a bit challenging to choose which one is best for your needs if you don't know what to look for.
Let's take a look at the three styles that most industry experts use for their fintech-related content:
Character Animation: this is one of the most popular choices in terms of fintech explainers due to its simplicity and effectiveness. This style is all about using 2D animation to depict characters and situations that your target audience can relate to, weaved into an (often cheerful) story that communicates your message. From superheroes to talking animals (and else everything in between), these characters are meant to engage viewers on a personal level, making your video instantly more personal and interesting to your audience.

Motion Graphics: this style is perfect for fintech startups looking to showcase or convey lots of data or complex processes without losing viewer interest. With motion graphics, you get to take your hard data and dense information and make it visually appealing and understandable. By pairing complex data with effective visual communication elements (such as animated shapes, charts, and transitions that help visualize and understand your point), you lay down the work for viewer engagement and retention. This combination (if used correctly) often makes for a video that's both compelling and easy to follow by most types of audiences, which can be invaluable in niches like fintech.

Whiteboard Animation: this style features a white background with graphics and animations depicted as if being drawn in real-time. The style is ideal for exploring something in depth without taking too long to do so. The minimalistic nature of whiteboard videos helps information delivery and retention, as it keeps the viewer's attention where you need it, and that makes the style ideal for any startup looking to explain their products and services to a growing audience of early adopters.
5 Fintech-related Explainer Videos Examples You Can Learn From
Now that you're familiar with the basics of animated explainers and why they are such a good fit for fintech startups, let's jump into some examples videos that show all these elements in play and see what we can further learn from them!
RAMP DeFi
In this animated explainer, the folks at RAMP DeFi overcame the challenge of illustrating complicated ideas tied to their products — like blockchain networks and crypto-assets — leveraging the key strengths of the motion graphics style. While the script focuses on explaining their service and its benefits, the graphics and illustration create a visual dialogue that helps communicate the complex fintech processes and ideas they need their audience to understand.
What is Bitcoin?
Another fintech explainer example worth looking into! Notice how the piece seeks to explore the most relevant aspects of Bitcoin and its related benefits, even though most of it is rooted in abstract concepts your average person wouldn't readily grasp. One of the key benefits of using explainer videos for the fintech industry lies in how the formula lends itself to clarify complex topics, and this video showcases that attribute to a T.
PinnacleCart
While this video explains in general terms what online payments are and how they function, what's especially interesting is how they tailored the information to acknowledge a specific target viewer: people who have a business and want to implement online payments. It is a great example of how you can customize your script to target exactly the audience you are interested in approaching, and that works for both B2B and B2C types of startups.
Bank of Canada
Fairly on-topic for this piece, the Bank of Canada went directly to the root of the problem with this explainer video aimed at explaining what fintech is. Notice how the narrator interacts directly with the two animated protagonists, making the topic feel more approachable and easier to understand, as it is being communicated through a casual conversation between people who know each other. While your fintech products and services can (and often will) be rather complex, making sure your explainer feels approachable will go a long way in terms of its effectiveness.
SS&C and Advent
Notice how in this character animation explainer, everything revolves around the company's core message: "the investment world needs multiple resources to function, and their product groups everything you need in a single place". While providing all the relevant information about their product, they also make sure to create a visual language that represents the attributes they want to highlight. Different features appear with icons and lines leading to a single computer, and the use of gift boxes throughout shows how the services are all "contained" in one place. The piece does a great job at leveraging visuals to reinforce its message and ensure they are reaching out to viewers on multiple levels, not just the words on the script.
In Short
Creating marketing content for fintech is challenging: the concepts in place are usually complex or abstract, and there are often loads of vital terminology and the information you want to cover while at the same time being engaging and understandable.
Luckily, incorporating videos like explainers into your startup's early marketing pushes can put those crucial marketing goals within reach. So, now that you have a better understanding of what this style can do for your business and how to leverage its key attributes, it's time to ask yourself one more question: What would my startup's explainer look like?
Start working on your answer, and before long, you'll have a powerful marketing piece that helps your fintech startup grow.
Would you like to read more about this?