The Upcoming 2022 Awards on TechBehemoths in 44 Countries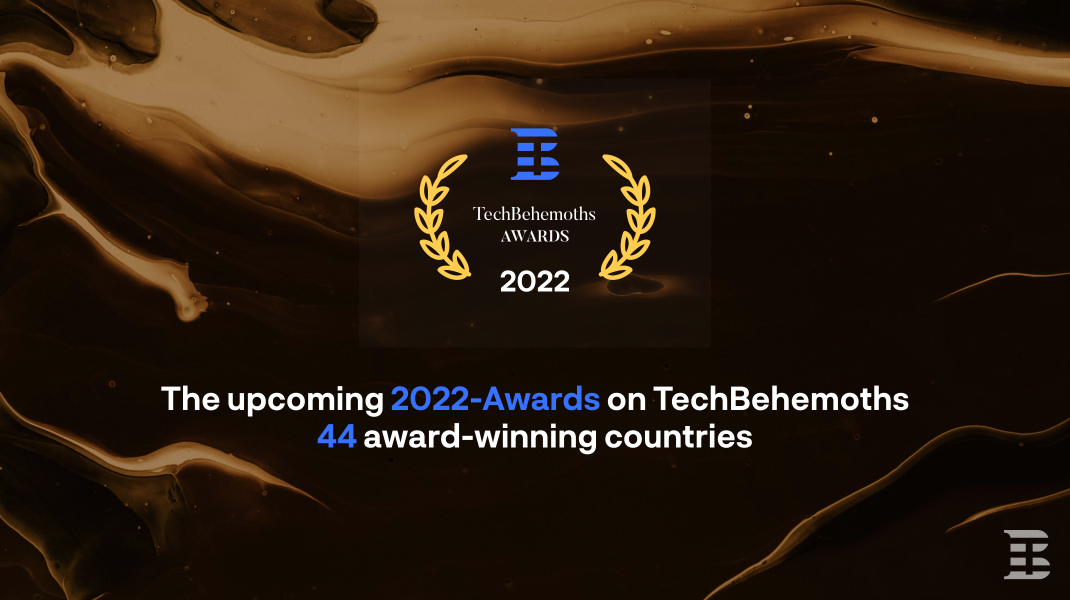 TechBehemoths' 2021-Awards was the event that helped hundreds of businesses from our platform to get media coverage and attract new clientele throughout the year.
Many other companies have repeatedly asked us how to be eligible for the 2022 contest. What to do to get the award?
Here we are with the official announcement
Which companies are eligible?
All companies registered on TechBehemoths

Companies with a score higher than "Strong"

All the winners are based exclusively on meritocracy. Meaning there is no way to buy a place on the winning list
When the 2022 award will take place?
On December 15th, 2022, at 12:00 GMT+1
Which countries are participating this year?
In 2022, based on numerous requests we decided to include 12 more countries, to the other 30 from the last year:
| | | |
| --- | --- | --- |
| Mexico | Sweden | Tanzania |
| Malaysia | Egypt | Irak |
| Bulgaria | Portugal | Sri Lanka |
| Vietnam | Greece | Nepal |

And these are the ones from 2021, that will participate in 2022 as well:
What are the benefits of the 2022 Award?
Access to more leads from TechBehemoths (companies with a higher score have preferences in getting project leads from us)

A unique proof badge to add to your website for more reliability and higher client conversion

We will have strong media coverage afterwards and promote the winning companies through our media channels

Solid social proof of your business, that you deliver and represent a trustworthy entity

Entering an elite club of companies "that deliver" on TechBehemoths which allows companies to rank higher in the search results on the platform.

Be eligible for a 1-month free of charge sponsored placement in your country (valued at €420+)

You will be eligible to become one of the 20 Awards-2023 jury members
To give you a revamp, here are the 2021-winners, split by countries and services.
In 2022 we will add 10 more countries.
We invite you to update your profile and good luck in winning your annual professional award!
What a company should do now?
Every company has around 1 month to update your company profile to a "Strong" and higher score. This is the only way to have a chance. To help you, we prepared a very comprehensive guideline on what you should do for that. Please read it point by point. As well as this one about last year's award.
What are the benefits of the 2022 award for regular visitors?
This award is a trustworthy sign that this business entity is one of the best performing during the year. Has very descriptive information, services, reviews, portfolio, etc. It shows that users had a good interaction with the company, spent a good amount of time on their profiles and got in touch for other projects. All in all, this is a clear sign that the company is reputable and serious in its commitments. This, therefore, eases the decision-making process.
Good luck everyone and greetings from Berlin,
Marcel
Update: Considering the high activity on the platform and requests received from multiple companies, the TechBehemoths team decided to postpone the 2022 Awards announcement until December 22, 2022.
Do you have what it takes to become a 2022 award winning company?