Interview with Jimmy Page - Founder of Inseev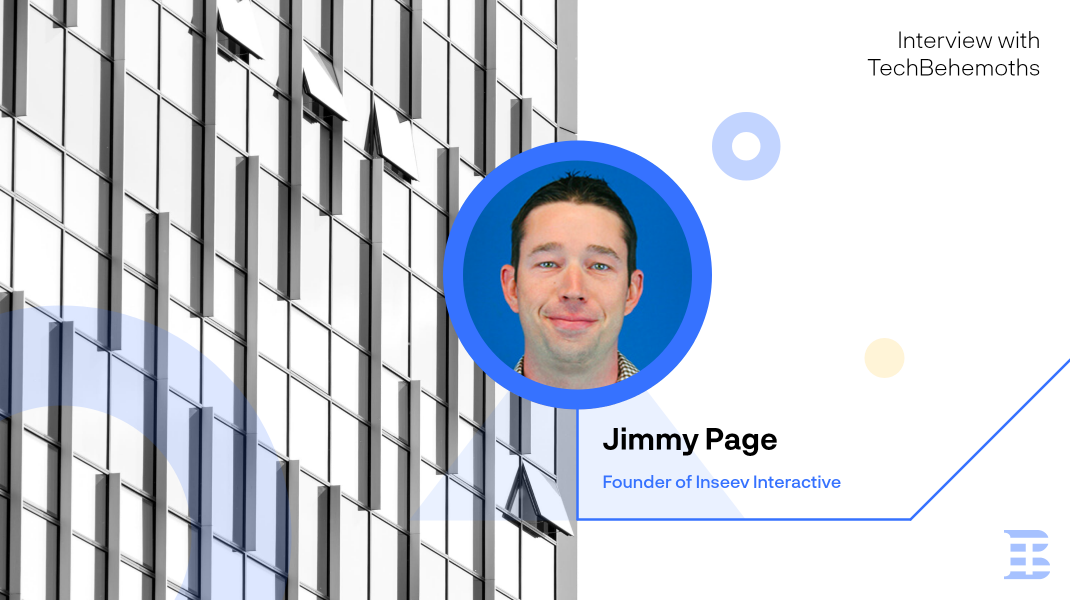 Jimmy Page is the CEO and Founder of Inseev Interactive - a leading digital marketing agency located in San Diego. His professional path started in entry-level marketing jobs, and later got the role of SEO manager in a local company from San Diego. Jimmy's hard work, dedication and love for digital marketing and SEO is the result of what Inseev is today.
In this interview, we invite you to discover more about Jimmy, Inseev, and digital marketing in San Diego.
Hi Jimmy, thanks for accepting our invitation and welcome on TechBehemoths, please tell us a little about yourself. Your background and how did you come to this point?
Originally from Pennsylvania, I completed my B.S. in Marketing from Penn State. Immediately following graduation, I moved to San Diego where I started working entry level marketing jobs. After starting Inseev Interactive, I decided to pursue my master's in business administration at San Diego State University. The culmination of my professional, educational, and personal experience helped me grow the organization to where it is today. We are also fortunate to have a number of employees that have been with the organization since the beginning, helping to build our reputation, clientele and quality of service.
When and how did you start your business? Is there an interesting story here?
After graduating from Penn State, I started working entry level marketing jobs. I eventually worked my way up to being an SEO Manager at Provide Commerce. During my time as an SEO Manager, we were spending a lot of money with SEO vendors who couldn't deliver the quality of service we were looking for. This led me to the realization that there was a considerable market need for enterprise SEO services, supported by a multi-department strategy. This led me to starting a 2-person team where we executed on SEO strategy and link building. After the first month, we were profitable and kept it going for 8 years since.
What do you think you'd be doing right now if your business didn't exist?
If my business didn't exist, I'd be working in marketing departments for corporations like I always did before. I'm a marketing person for life.
What's your technique for staying productive throughout the day?
My technique for staying productive is to maintain an attitude that I want to be competitive and fast moving versus my peers, and the rest falls into place
How do you define "being successful"?
There are three main traits that come to mind when I consider what defines success. The first and most important quality is determination. Individuals who want to start their own business need to be prepared to spend an enormous amount of time early on in their careers working and laying the foundation for success.
The next trait is not being afraid to delegate. Business owners need to be able to rely on the people around them and establish trust to run a successful company.
Lastly, I've found that being analytical and data focused with decision-making can help ensure the best outcome possible. If you can embody these three traits you are likely to achieve success. At the end of the day, with all that said, success is ultimately how you define success. Whether that is refusing to quit when life throws obstacles at you or hitting your New Year's Resolutions each year, success is what you make it
What do you like to do when you're not working?
I've been getting really into footgolf lately. For those of you that don't know, it's a mix between soccer and golf. I've also made meditation a big part of my daily routine, I've found that it really helps with maintaining my stress and workload. I also love investing and learning about stocks and crypto.
What are your recommendations for a business or developer novice?
Take advantage of all the perspective available to you. Utilize the experience of people who have done what you are trying to do and don't make the same mistakes they did
Thanks for sharing with us your experience & knowledge in this interview. Wish you and Inseev good luck in SEO and digital marketing activities and hope to hear from you soon!
Jimmy is the founder and CEO of Inseev Interactive - a top digital marketing company from San Diego. If you like this interview and think that they could help you promote, advertise or grow organically, don't hesitate to contact them on TechBehemoths or their social media channels:
Was the interview with Jimmy insightful?