Interview with Rachael Page - Founder of Wave Web Design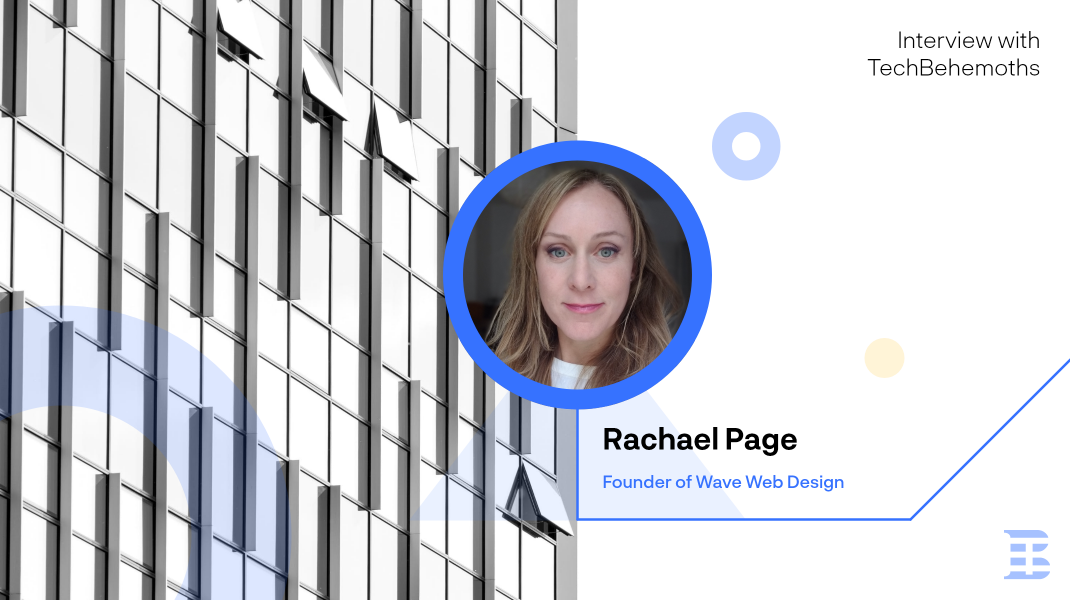 Rachael Page is the Founder of Wave Web Design - a full-service web agency based in Berlin, Germany. Rachael is passionate about art, and her professional skills in UI/UX, Design, Marketing and SEO are driving what Wave Web Design is now. In this interview, we invite you to discover Rachael's story both as a personality and a professional
Hi Rachael and welcome to TechBehemoths. Please tell us a little about yourself. Your background and how did you come to this point?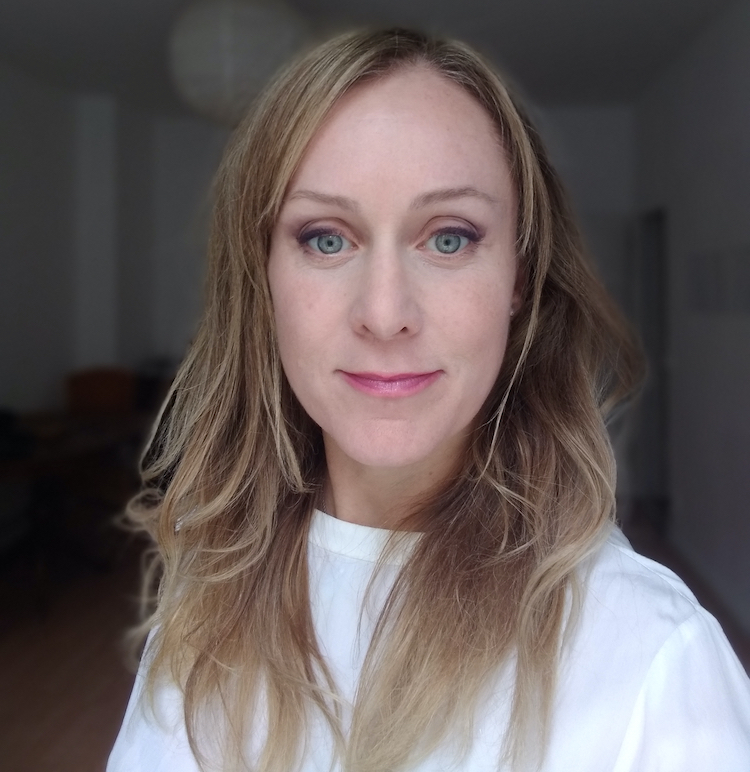 I'm Rachael Page, born in the UK, and now living in Berlin. I've always loved art and followed a creative career. I'm now a User Experience (UX) specialist with skills in Design, Marketing, SEO and other related things like responsive front-end development. I freelance via my website Wave Web Design.
"We help your business make waves with clean web design & the right keywords so your website can be transparently found in search engines"
I did a B.Eng (Hons) in Product Design in the UK. I then progressed through the job titles - Programmer, Business Analyst, Graphic Designer, Web Designer, and UX Consultant (the last 10+ years up to 2020). I now run my own Web design company serving small businesses and am doing some front-end development for my clients on top of Business Strategy advising, UX and UI Design plus marketing (strategy, social media, Google Ads, Social Ads, Video, Branding).
I've worked for a lot of well-known Advertising agencies and big brands, mainly in Australia, including IKEA, HSBC, ING, Rolls Royce, Caltex, Vodafone, and several top advertising agencies such as M&C Saatchi, Ogilvy, The Monkeys, and BWM. I'm now a UX mentor to students taking courses in UX for Berlin-based Career Foundry and I enjoy inspiring students and helping them with insights and skills they need in the industry.

While in Australia I re-designed Sydney Universities' website including a new database structure to support the user experience insights I found to be needed during user interviews. The project was very successful and the university representative gave this testimonial "The resulting user interviews, wireframes, and user testing documents exceeded expectations, and Sydney University was more than satisfied with the work. I don't hesitate to recommend"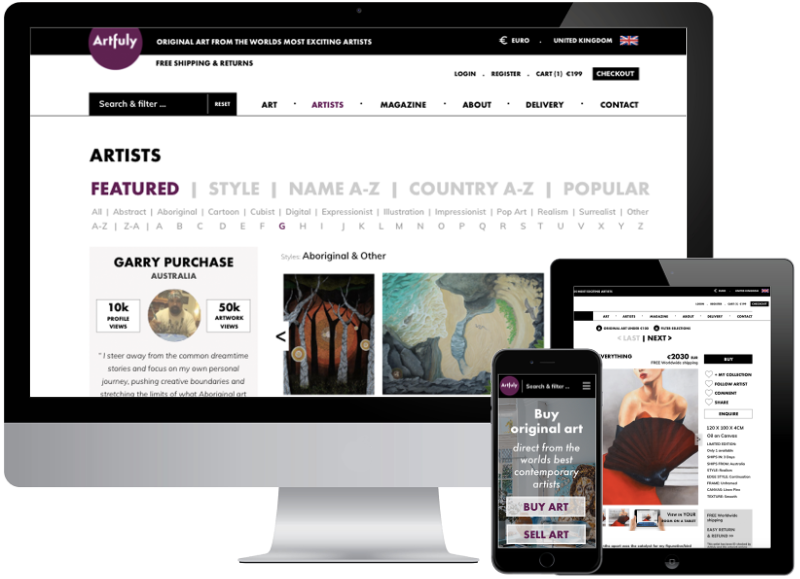 When and how did you start your business? Is there an interesting story here?
In 2012 I started my own startup called Artfuly.com, but I closed it in early 2020 because I started a full-time job and I couldn't manage both. Paying for, creating and managing a startup was a huge endeavor which I learned a lot from, including creating websites, SEO, marketing and all the things which can go wrong. It took a lot of personal financial and time sacrifices and in hindsight, it wasn't going to succeed because I didn't have enough marketing budget, and direct sales of original art is not very scalable. The businesses which came along after mine which have succeeded also sell volume art prints (as well as the originals) or general interiors products, or they work with galleries rather than directly with artists.
I started Wave Web Design in October 2020, and it's my second time I've started a business and offered Design and Marketing services. I previously did it in the early 2000's in Australia, whilst also working at The Sydney Morning Herald, The Australian etc as a Graphic Artist, and as a personal trainer as another of my business endeavours. I enjoyed the balanced lifestyle of active outdoor work and designing at a desk.
Since then I have emigrated back to Europe and spent 2 summers travelling in my 6 metre campervan with my cat (Diva) who is no longer here. I spent the winters in a 14th Century farmhouse by the side of lake Zurich in Switzerland and met my fiancé during that time. He is a Wandergeselle and he now runs his own building company in Berlin with 3 partners. They're very experienced with old traditional building techniques and they often renovate beautiful old buildings
The 4 partners gave this testimonial on the website "Wave Web Design's approach was carefully tailored to our needs from the start. We wanted a specific brand look, which they achieved on a very small budget. Our main objective has been kept in mind - namely how we should structure our online presence in order to get the most business contacts. The technological aspects of the job were explained to us in a way that we understood, and we are very satisfied with the website. We'll continue to work with Wave Web Design going forward."
In the summer our campervan comes in useful for us to stay in when I can work from 'home' and his work-site is a long-way out.
In October 2020 I realised that the world was finally ready to accept remote workers and seized the opportunity to change my current Berlin lifestyle more closely to what I need, that being flexibility and being free from the commute and office cubicles which for me are absolute soul-killers. I now have clients in Germany and Colombia where I have spent 2 months over both the past 2 winters. I lived at an award-winning hostel whilst leading the yoga sessions daily and then managing their social media.
El Rio's testimonial "WWD created a marketing strategy and followed it to bring our followers from 12.5k to 24k during a 7 week period, which is incredible! The posts and reels were great quality with well-written copy and good hashtag research which increased our reach - some posts reaching 60% of people who hadn't previously followed us! WWD also created similar posts for us in Facebook, with the appropriate changes for that platform (links and hashtags). WWD also created partnerships with local tour providers to share drone footage on instagram reciprocally which brought in great content at no cost. We have been delighted - WWD was excellent and diligent! There was also video editing, photography and fast motion work."

There are lots of people there starting up businesses in tourism and I'm currently working with a motorbike tour company called 'Adrenalin Addicts' and a yoga retreats business and I designed this website this year.

Adrenaline addicts testimonial "We have been working with Rachael for several months now with the goals of increasing our social media presence/following, as well as increasing organic traffic to our website (Adrenaline Addicts Motorcycle Tour and Rentals, Colombia), and we are very happy with everything to this point. She is a great communicator and explains her process in easy to understand terms, and how it will benefit us/how we can supplement her work as well. All in all a very thorough and professional experience, and would recommend to anybody in a heart beat!"
What do you think you'd be doing right now if your business didn't exist?
If I weren't in Europe now and were still in Australia I'd be contracting as a User Experience Consultant ($1000/day rates), but here in Germany, because I'm not business fluent in German, my options are limited. Over the past 3 years, Brexit has also had a really bad effect, because most hirers mistakenly believed that UK CV's were worthless because the employee might not have the right to work in the EU (which is not the case, I now have a 5 year residence visa in Germany as part of the withdrawal agreement and am allowed to work and freelance here in Berlin)
What's your technique for staying productive throughout the day?
For staying productive, I love lists, but long lists quickly become unmanageable, so I use Asana for maximum productivity. I'm also a certified Asana Pro so I can help businesses to manage projects, teams and tasks most effectively. There are also many opportunities to automate business processes using Asana and other platforms for marketing automation for example. I educate businesses about these opportunities and focus on increased efficiency by linking the websites I build with automated processes. This enables business founders to concentrate on growing their business rather than day-to-day management and 'busy-work'.
How do you define "being successful"?
I define success for myself as living a good life and for me, that means being healthy and enjoying each day with for example an enjoyable job working with nice people. Freedom to make lifestyle choices, the time each day to do some exercise, good food and creative time.
Success for a business from my perspective is to offer something of value which people need and will buy at the offered price whilst not destroying the planet.
What do you like to do when you're not working?
In my free time I enjoy activities e.g. I've been learning quad rollerskating this year, on top of my other usual sports like jogging and yoga and cycling. Travel - I love the Caribbean Coast of Colombia and would like to visit much more of Latin America. Anything creative from writing blogs, to watercolour painting, T-shirt design, and for relaxed time reading non-fiction, podcasts (Favourite is curerntly 'Stuff you should know') and movies. I'm currently on series 4 of the X files, as I love Science fiction. My favourite movie is bladerunner and book: The Hitch Hikers Guide to the Galaxy.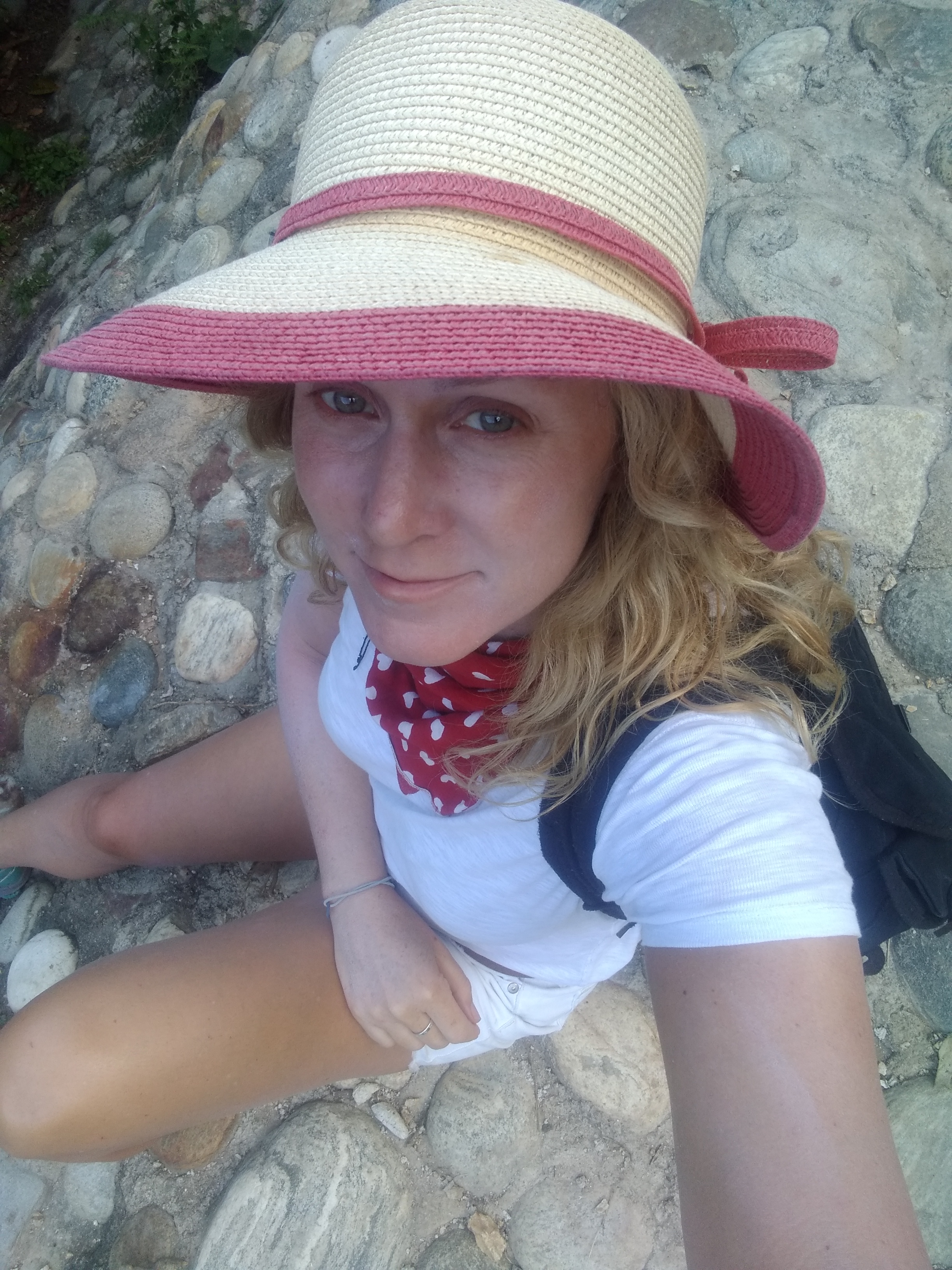 What are your recommendations for a business or developer novice?
Learn 'Design Thinking' inside out, if you want a successful business or to develop good products. Include in that learning how to conduct proper user research. Empathise with user needs and provide something of value which scales. For startups, you need a great team with skills in things like Legal, Fund-raising, Technical, Marketing and many more, but those are the core skills.

Rachael's Wave Web Design is one of the best-performing digital agencies on TechBehemoths. You can see some Rachael's designs and projects at https://www.waveweb.design/designs. Also feel free to add her on LinkedIn, follow Wave Web Design on LinkedIn for questions, insights and future projects
Did you like the interview withRachael?