Interview with Anton Malyy - CTO at TRIARE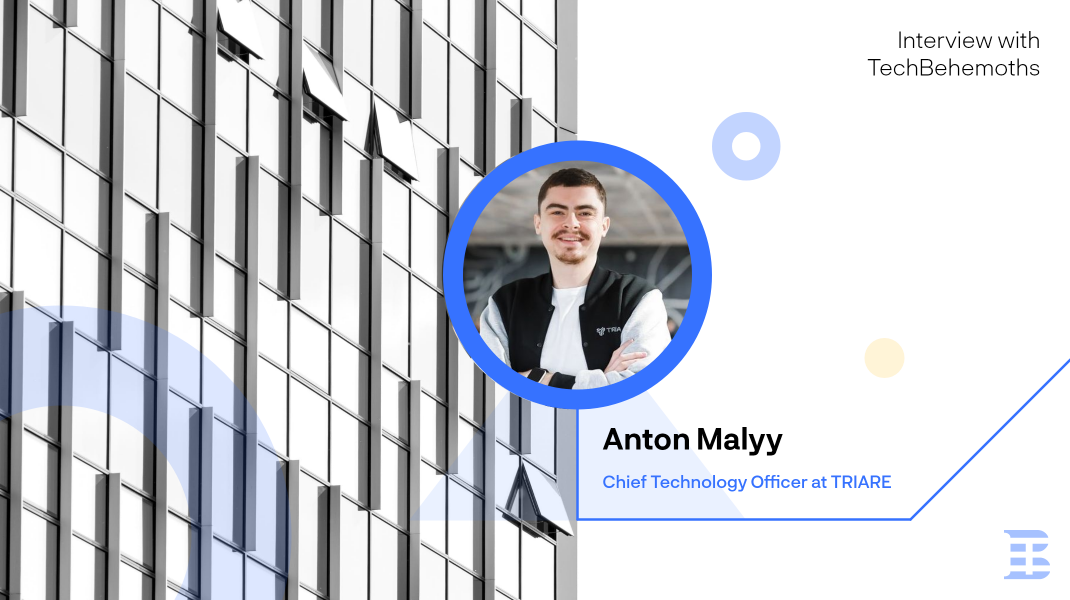 Anton Malyy is the co-founder and CTO of TRIARE - an award-winning custom software development firm specializing in IT business solutions. He shares his path to becoming a tech specialist and launching a successful business together with his partner. About success, business development and productivity we discussed with Anton in this exclusive interview for TechBehemoths.
Hi Anton, welcome to TechBehemoths! Please tell us a little about yourself. Your background and how did you come to this point?
At the age of 12, I became interested in technology. My father was a programmer by trade and calling. While he was working at a local bank, I requested him to show me how to assemble computers. I created my first website when I was 14 years old. It was entirely dedicated to mobile apps and firmware. Nokia, which ran on Symbian OS, was a popular choice because iPhones had not yet been developed. As a result, I used my website to promote information and apps for these phones.
I attempted to experiment with SEO to improve my Google SERP and expand my visibility on numerous forums. Special file hosting services that compensated for the number of downloads allowed anyone to gain money. I put these programs there, earning some income when others downloaded them. My work could be monetized in various ways, including through sponsored advertising. However, the suitable reaction from consumers and a desire to popularize mobile technology were the driving forces behind the project. I was fascinated when I saw my audience rise to over 400 daily users. In retrospect, I see how valuable such an experience was for my future work. Later on, I developed another hobby into a business.
I learned how global networks function and began reselling Internet traffic, purchasing it from giant Internet Service Providers (ISP) and selling it to private individuals. This is how I started my own humble ISP network. I had to purchase pricey professional equipment, fiber optic connections, servers, and other network infrastructure to make it work. At the time, I was still a teenager. Nevertheless, it had been operational for ten years, until 2017, while I was already running TRIARE.
When and how did you start your business? Is there an interesting story here?
My business partner Boris and I learned to turn various life difficulties into new opportunities. We have known each other since our student years. Boris used to work as a sales manager at a local computer equipment business, providing me with computer gear when I needed it. We cultivated this friendship and partnership for many years.
When he joined a German startup with a Ukrainian development team, I used to help them out from time to time. That firm ran into problems at some point, and Boris was forced to choose between shutting down all the processes or continuing to work with his crew. He chose the latter. Now, more than 7 years forward, we are convinced it was the right choice. Some of our teammates continue to work with us today.
One of the clients referred us to a buddy searching for a development team in Germany to help him build and support his E-commerce product. That was one of the earliest projects undertaken by TRIARE. And it was at that point that we started working shoulder to shoulder. We didn't set out to start the business, but it grew organically over time and is still going strong.
Complete cases of a few dozens of projects you can find here: https://triare.net/projects/
What do you think you'd be doing right now if your business didn't exist?
I would create one business or another. I often tell my colleagues that I am a business strategist at TRIARE rather than CTO. As I am engaged actively in the discovery phase with new clients, I explore both risks and possibilities from the business perspective. If not IT, that would be something else but with business logic as a tool.
What's your technique for staying productive throughout the day?
Planning is everything. I set my priorities carefully and approach each business operation with caution. There is a useful approach called the Eisenhower matrix. Every day, you learn to filter tasks as urgent and important, non-urgent but important, urgent and unimportant, and others. These are to do first or later, delegate or eliminate.
Another tip is to schedule your priorities instead of prioritizing schedules. "The less you do, the more you can achieve."
How do you define "being successful"?
To be successful in my area, you must strike a balance between business development and pumping technical skills.
If we are talking business-wise, there are several KPIs:
Helping our clients achieve their business objectives (be it a number of users, revenue, or delivering quality solutions)

High retention of clients and employees

Growing profit margins (one may increase revenue but also spend a lot of money on marketing, fancy events, and fixing the already delivered work)
What do you like to do when you're not working?
My passion is cooking and trying meat steaks. Whenever I travel, I carve out some time to visit a local restaurant, especially for this favorite meal. I know a wide variety of recipes and, you guessed it, there are different types of steak you could start with.
What are your recommendations for a business or developer novice?
There is a plethora of excellent materials and publications available! There is no silver bullet, though: it is better to gather information from many trustworthy sources — books, podcasts, YouTube, StackOverflow, etc. For relocated Ukrainians, we launched free IT courses called TRIARE Education and a coworking space. Our programs include specialized training for iOS and Android developers as well as project management specialists. As we approach a decade of running a responsible development company, we are looking for an expansion to the European Union.
Thanks for this amazing interview, Anton! Your experience and recommendations are inspiring and will help many in their business development processes or career. Wish you and TRIARE team good luck and hope to hear from you soon.
Anton Malyy is the co-founder and CTO of TRIARE - an award-winning custom software development firm specializing in IT business solutions. If you like the interview with Anton and think that together with his team could help your business grow digitally, don't hesitate to contact them on their website, or on social media: Anton Malyy on LinkedIn - Anton Malyy on Instagram
Did you enjoy reading the interview with Anton?