How much are IT companies investing in renewable energy?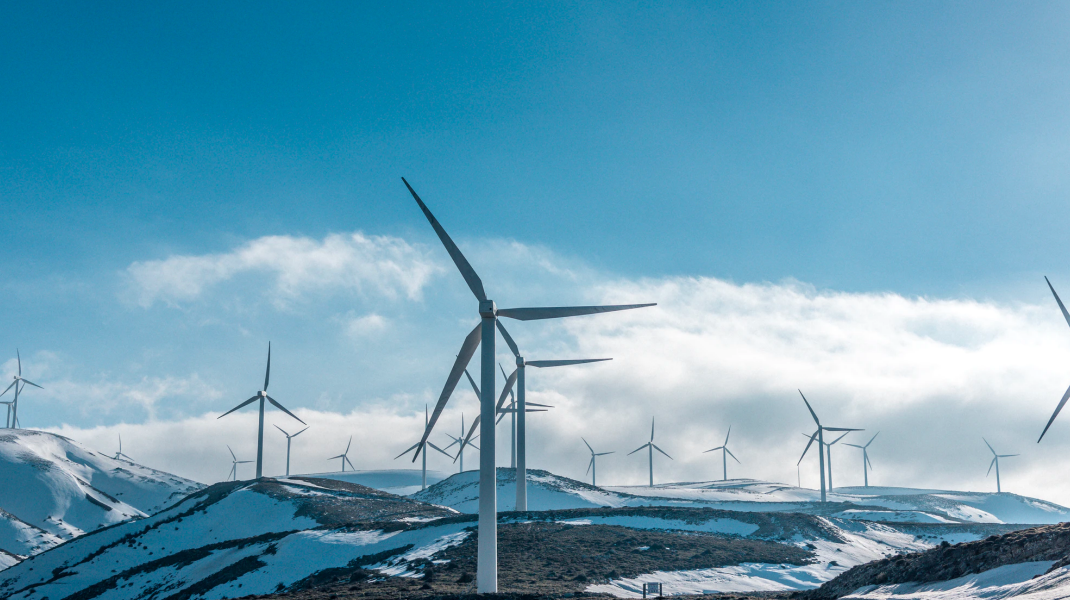 Renewable energy is on the agenda of both governments and also tech giants. In the past 10 years, things moved at high rates but for different reasons. While global warming forced governments all over the world to implement the green energy plan and sign the Paris treaty, tech companies are investing in renewable energy as an alternative to fossil fuels, oil and gas crisis, advertising their image on the global tech stage. Yet global warming is still one of the main reasons why tech companies are investing in renewable energy.
Looking back to 2017, when Amazon's Bezos celebrated the opening of a wind farm in Texas, makes us think that IT giants are looking in the future and anticipating energy requirements in the next century for the welfare of humankind. It was one of the largest events dedicated to renewable energy by a tech company, and later on, other IT companies followed the example.
Of course, Google, Facebook, Microsoft, and Verizon were also adopting the new energy technologies, and invested substantially in renewable energy, not to stay behind, and, in some cases, get some tax relief from local governments for their progress and investments. On the other hand, let's not forget that tech companies are huge energy consumers, especially for their data centers' special climate needs. In this way, Amazon, Facebook, Google, Facebook, and Apple are consuming together ~45 terawatt-hour, which is as much as entire New Zealand. The amount is expected to grow once with new demands from AI and machine learning processes that require more computing power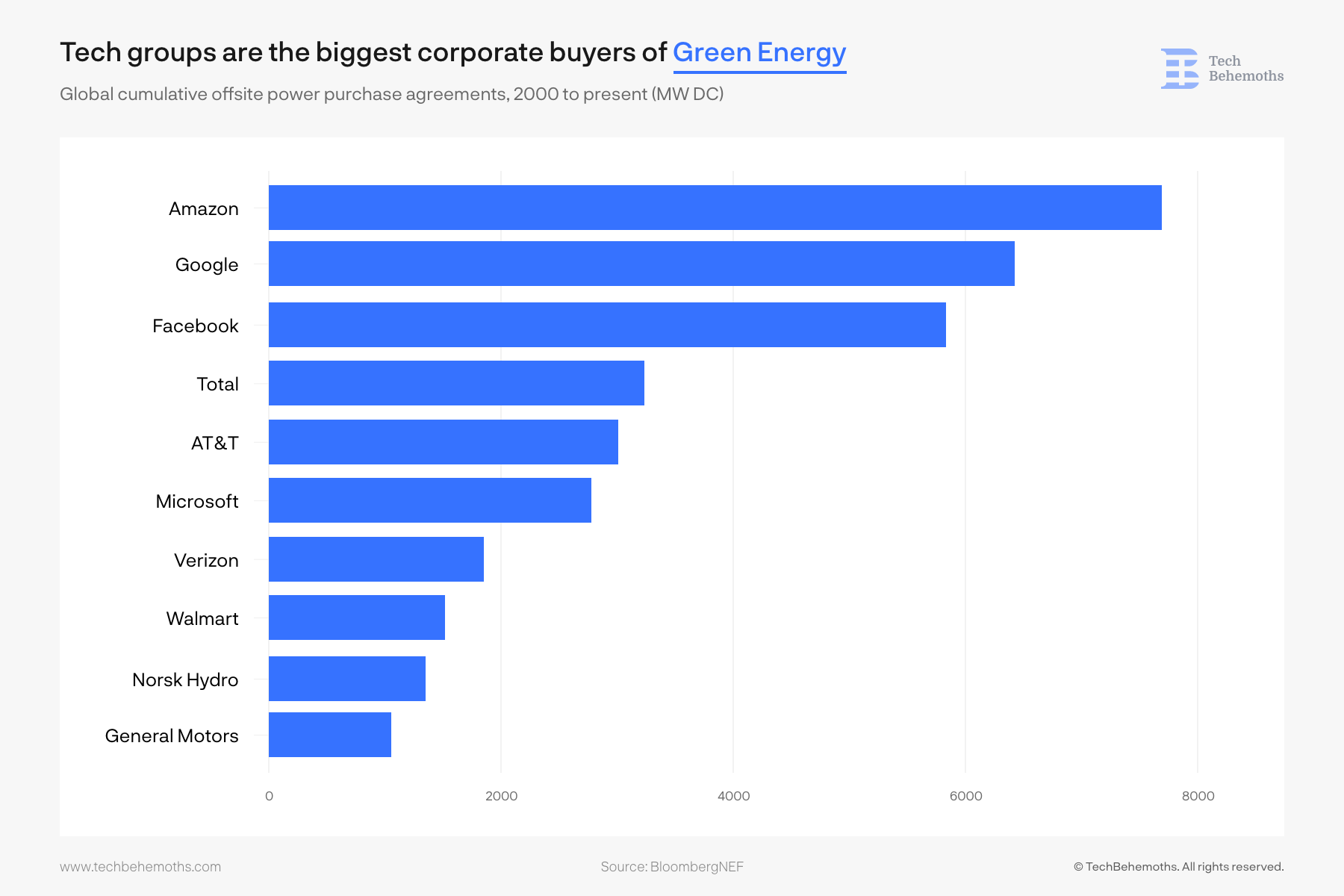 How Green Tech Started
Along with high consumption, tech companies had also set ambitious energy goals to release themselves from political pressure, overtaxing, and to become an eminent example for other businesses. So, instead of promoting renewable energy, Big Tech became green itself. And this gives a healthy boost to other industries, businesses, and speeds up the transformation of the entire electricity system.

When we mentioned 2010, we meant that it all started with Google signing its first wholesale clean energy deal, also known as a power purchase agreement. And starting that moment buying clean energy has become a competition between tech companies since more followed the example.
Tech Goes Into Green Energy Rush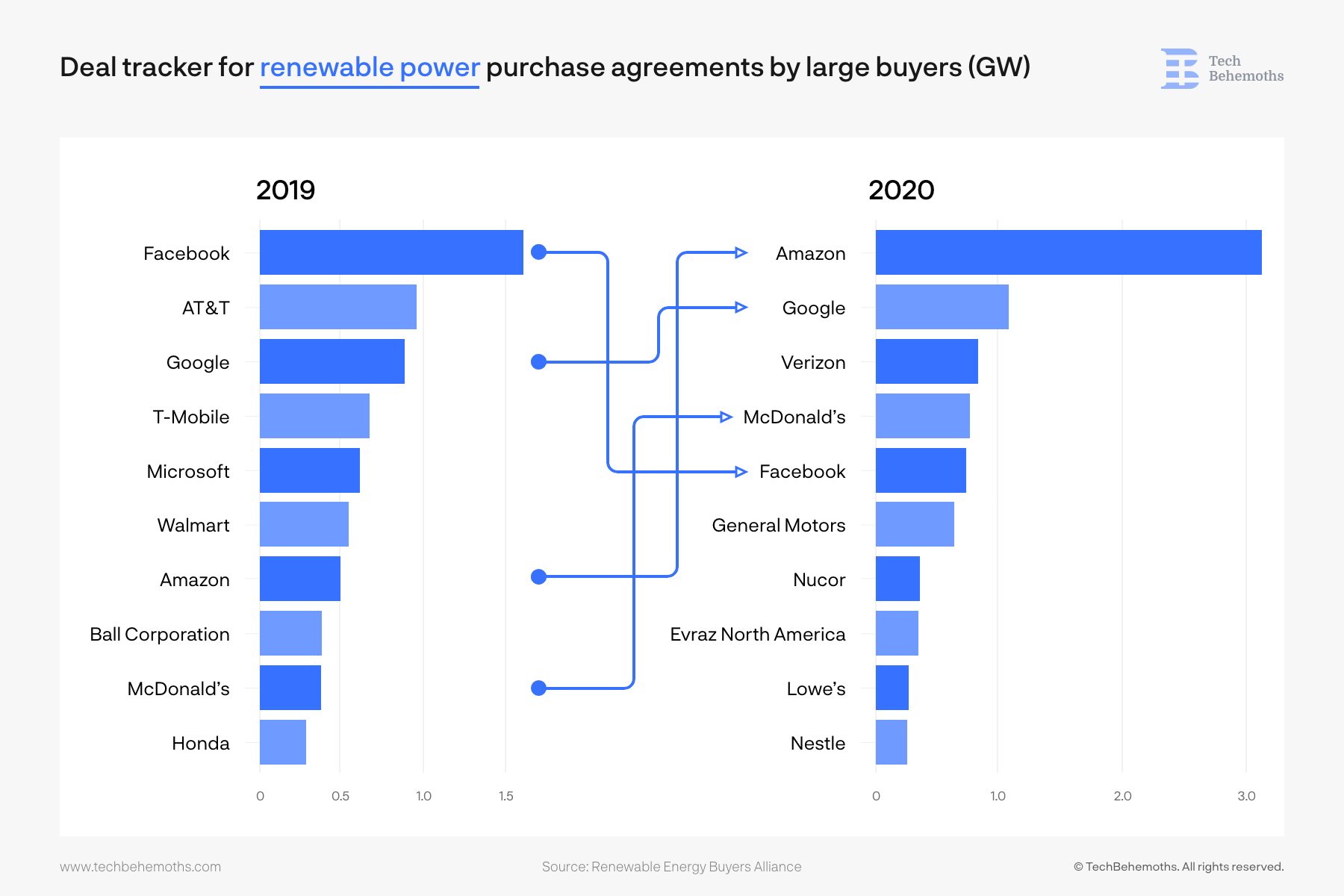 Amazon for instance has experienced significant growth and only in one year, it managed to surpass Google three times in terms of renewable energy consumption. While all other tech giants have also increased their contracts with green energy providers, all are left far behind by Bezos' Amazon.
However, the larger picture looks slightly different from what tech giants are doing, but taking into account that the race is far from over, more IT companies will follow the lead. According to a Cornell University report, the tech industry accounts for 1.8% to 2.8% of the global greenhouse emissions.
In addition to already existing results, Big Tech has also made a series of commitments to reduce or to positively impact greenhouse gas emissions.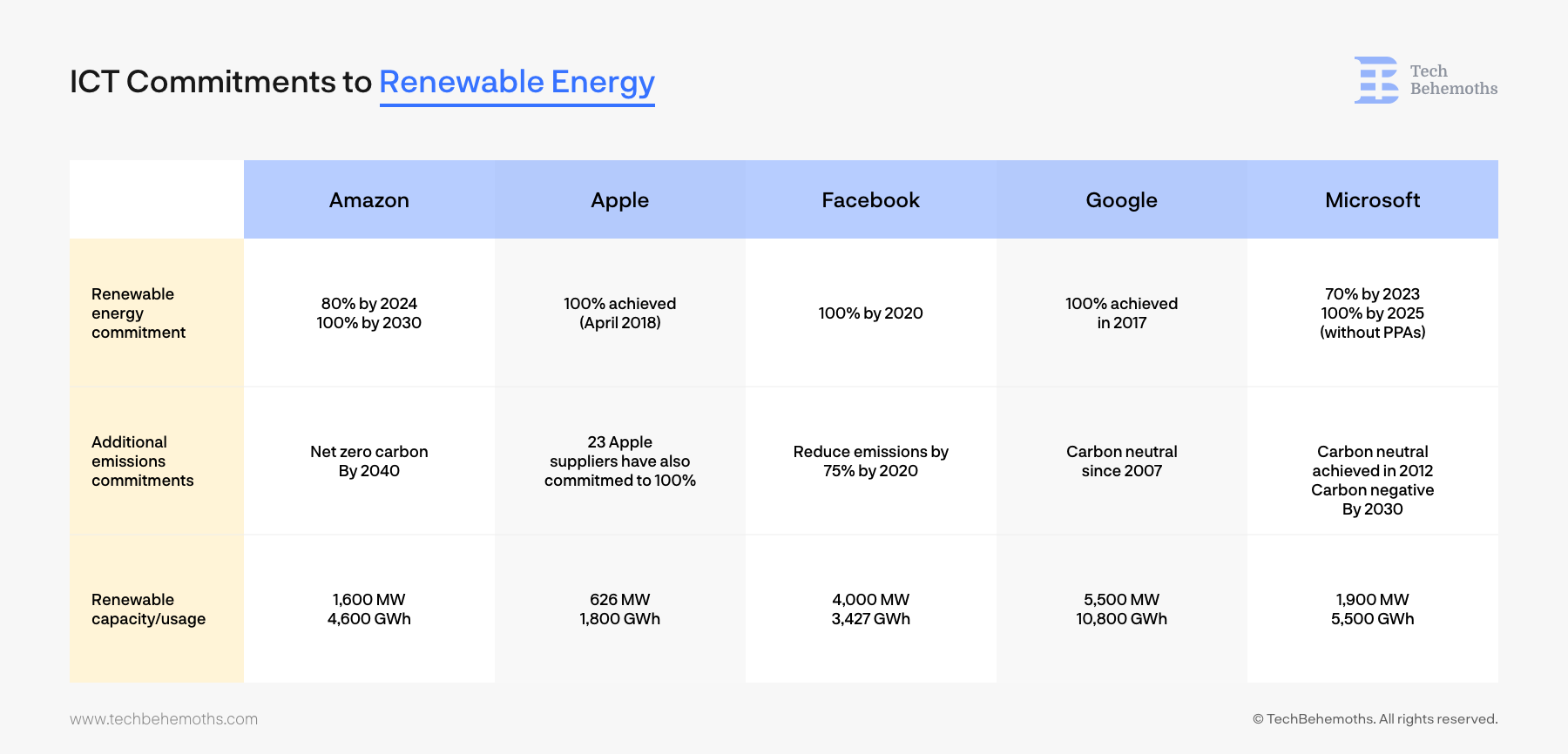 In the U.S., Amazon has invested in 18 utility-scale wind and solar renewable energy projects that will generate over 1,600 megawatts (MW) of renewable capacity and deliver more than 4.6 million megawatt-hours (MWh) of clean energy annually. There is more in the pipeline and many more renewable projects outside the U.S.: for example, on the Kintyre Peninsula in Scotland. Amazon has also put rooftop solar on more than 50 fulfillment centers and sort centers globally
Here's a video presenting their largest fulfillment center solar panel installation in Europe:


Similarly, Google has been entering into renewable PPAs for many years and has been 100% renewable since 2017.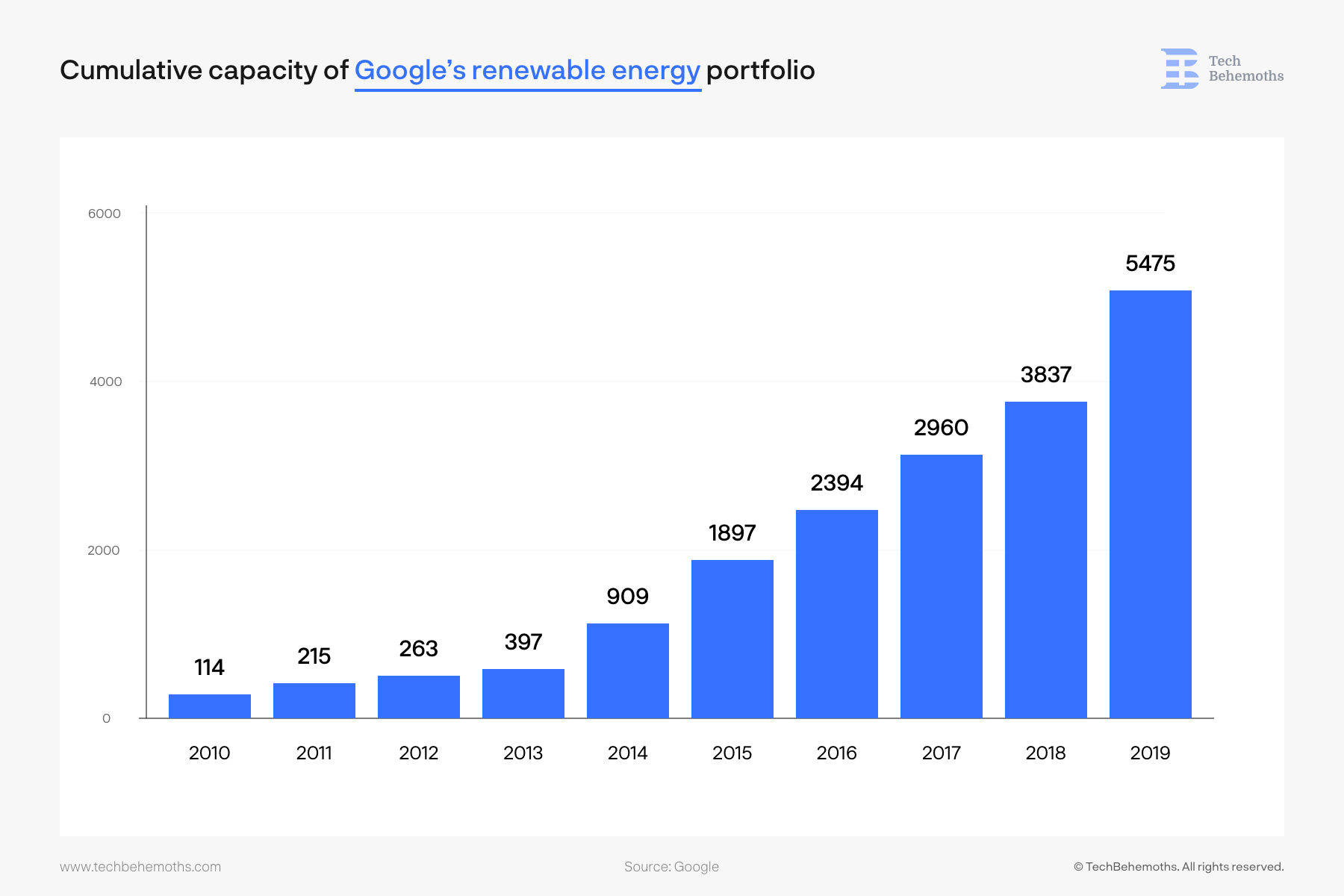 With energy buying on this scale, it may only be a matter of time before the tech companies branch into the energy business themselves. At Facebook — which ranks third globally for corporate clean power purchases — the company took its first direct stake in a solar project in Andrews County, Texas, which started operating last year. Of course, Apple, Microsoft, and Verizon, which are also ICT leaders, have invested in projects that are less visible at this moment.
Renewable Energy Goes Beyond Tech
Now all the statistics show that tech behemoths are supporting and implementing renewable energy strategies and reforms. While the figures are impressive and the companies' name involved in this process is a part of the world-class elite, Greenpeace has noted that, for all their laudable efforts in investing in renewable energy projects, Amazon and Google provide AI tools to improve oil and gas companies' fossil fuel extraction analysis. That's more what the world has been expecting, and not so much of a turnaround situation.
On the other hand, banking and finance is perhaps the most important example of a sector that has committed significantly to renewable energy but is slow to address its profound contribution to emissions. Nine of the ten largest banks in the United States have committed to 100% renewable energy in their operations (and three are already there). Seven of them have set meaningful targets to provide sustainable, low carbon, or renewable energy financing. On the other hand, they all continue to provide huge amounts of financing for the oil and gas sector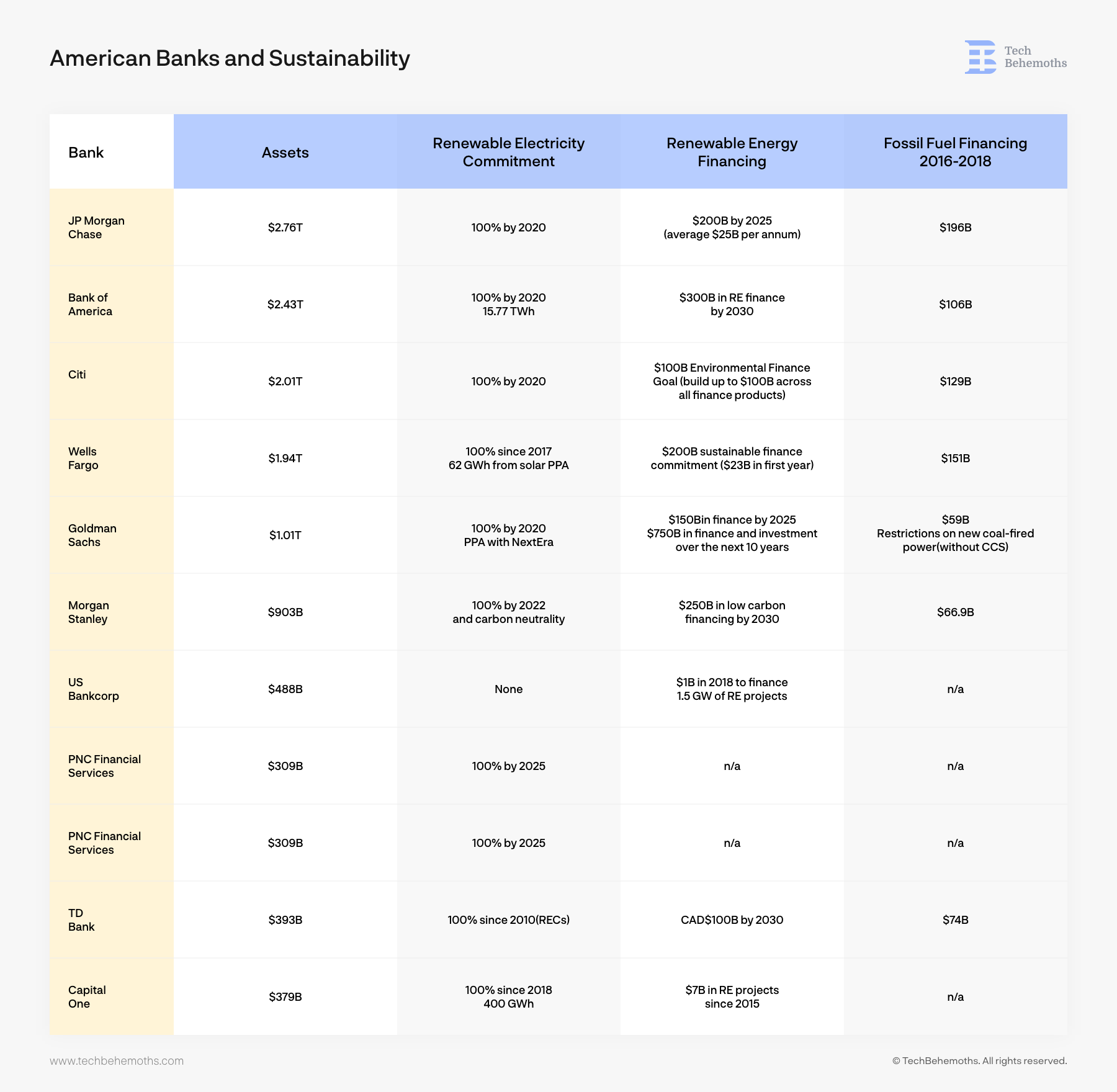 Hopefully, the American banking system will serve as an example for other countries, just like Google's PPA boosted tech in investing and approaching renewable energy solutions.
Conclusion
With all the talks around green energy, tech companies and banks continue to find sustainable ways for improving greenhouse gas emissions, and also reduce their energy costs. Yet, this idea has been attacked by activists who consider that tech is not the only solution to saving the planet, and social education is as important as technological innovation in this field.
The demand for green justice of activists and NGOs, and Big Tech going green will most probably continue to fight each other over the same idea, not understanding that they have the same enemy. Hopefully, none of these processes will interfere with green digital transformation and social education.
Will tech companies invest in green energy more next year?