Explaining Monthly Awards on TechBehemoths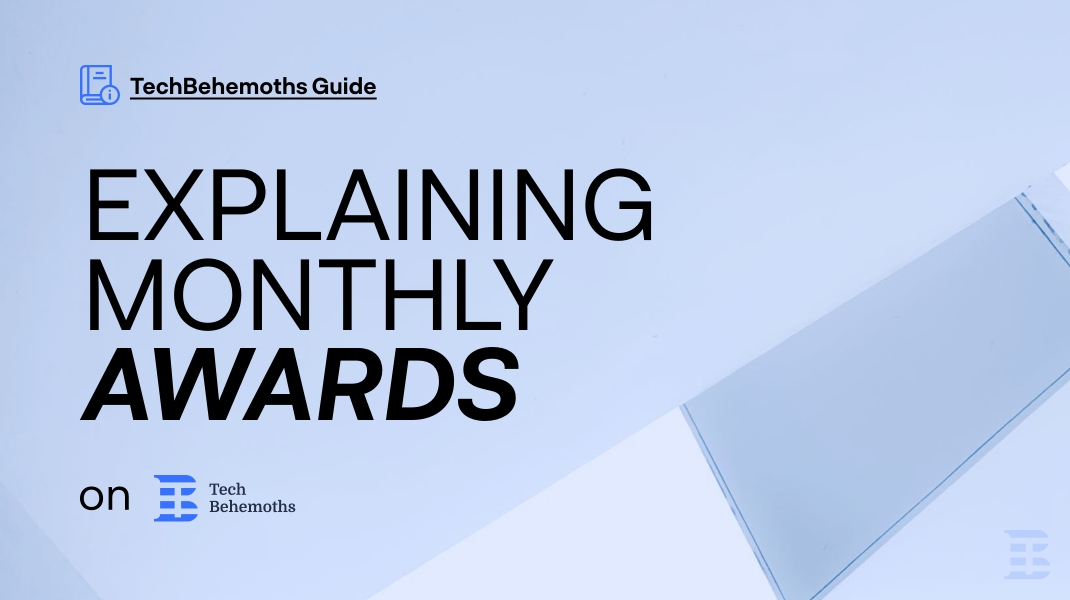 Every month TechBehemoths awards 30 companies across 10 countries for their performance on the platform. The awarded companies have a badge on their profile page that shows the month and the year of the award.
How Do We Award Companies?
The companies are awarded between the dates of 25-30th each month based on a series of objective criteria that reflect their activity, achievements, and users' interest.
The criteria are divided into 2 tiers, where Tier 1 are primary criteria and Tier 2 are complementary criteria.
Tier 1
Companies with the highest profile strength score have higher chances to earn the monthly award when their location is chosen to be awarded. If there are multiple companies with the same score in the same location, other elimination criteria are applied.
TechBehemoths awards companies that can prove their activity in a selected location. As proof, we consider mainly companies that have their HQ in the chosen location. However, we also award companies that prove that they operate in the selected location.
Tier 2
Companies with more portfolio items have a higher chance to be awarded. While the portfolio section is an important criterion, it serves as a complementary attribute.
Company profiles with more positive reviews have a higher chance to be awarded in their location. At the same time, reviews' impact on companies' chances to be awarded is determined by review quality. If the review is descriptive and contains significant data about the collaboration between the reviewer and the company, it has a full impact.
The At a Glance section on company profiles plays an important role in terms of transparency. Companies with open information about them have higher chances to be contacted by clients. The At A Glance section is exactly about transparency, and openness. It could play a crucial role in the client-company engagement process.
Which locations are selected each month?
Every month there are 10 countries where TechBehemoths extracts the top 3 companies from each. The countries are different each month. The main criterion in the country selection process is user interest.
Countries selected each month are unique. For example, if The Philippines were selected in August 2022, the country will not be chosen for at least 5 more months, regardless of user interest. We do this to stimulate interest and competition across the globe,
Do you think more companies should be awarded?