Wix Vs. Joomla – Which CMS is Best for What?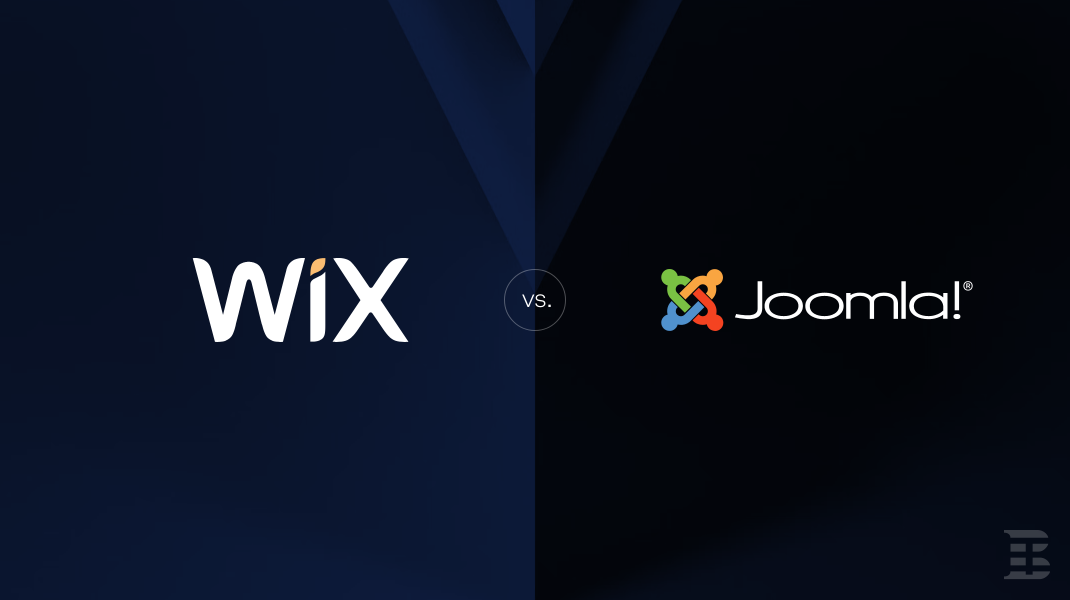 Your website is the face of your business in the digital world. When it comes to building a website, choosing the right content management system (CMS) is critical. With so many options available, knowing which one to pick can be challenging. Two popular options in the CMS world are Wix and Joomla. Both platforms have their unique strengths and weaknesses, making it important to weigh your options carefully.
So, which one is the best fit for your needs? To know that, stay right here. In this article, we'll dive into the features and differences between Wix and Joomla, helping you make a well-versed decision on which CMS platform to choose.
We'll start with an introduction to the two.
What Is Wix?
Wix is a cloud-based website builder that allows users to create a website without coding knowledge. Wix provides drag-and-drop tools, making it easy for beginners to create a professional-looking website. It offers a range of customizable templates and features like e-commerce, SEO tools, and social media integration.
The platform provides increased flexibility for creating landing pages, professional portfolios, small company websites, and feature-rich digital storefronts. It follows the freemium business model and necessitates developers to purchase the premium package for additional features.
Wix has the following features:
Flexibility: Wix offers a high level of flexibility with its drag-and-drop interface, allowing users to customize their website without the need for technical knowledge easily.
Ease of Use: Wix's user-friendly interface makes it easy for users to create and modify website content. It is significantly simpler for non-developers to utilize Wix because of how it is developed and designed.
Stunning Templates: Wix template library offers a wide range of visually appealing and customizable templates (more than 500) that can be tailored to specific branding needs.
Wix Code & Triggered Email: Wix Code allows for advanced customization options, while Triggered Email allows for automated email marketing campaigns.
Wix Arena & SEO Wiz: Wix Arena is a community of web designers that offer professional design services, while SEO Wiz provides tools for optimizing website content for search engines.
Wix Stores and Payment Methods: Wix offers e-commerce functionality with support for various payment gateways, making it easy to sell products and services online.
Wix Editor & ADI: Wix offers a powerful editor and an artificial design intelligence (ADI) tool that automatically creates a website based on user preferences.
Wix Blog and Video: Wix offers tools for creating and managing a blog, including templates, SEO tools, and commenting systems, as well as features for embedding and editing video content.
What Is Joomla?
Joomla is an open-source CMS that offers a wide range of customization options. It comes with a range of templates and extensions that allow users to create any website, from a personal blog to an e-commerce store. Joomla requires technical knowledge, but the platform offers high flexibility and scalability.
Joomla is ideal for businesses that require a high level of customization and have the resources to invest in the platform. It was created to assist experts in creating not only ready-to-use websites but also many forms of online programs, web frameworks, and so on.
Below are some of its essential features:
User Management: Joomla offers a robust access control and user management system for granular control over user roles and permissions.
Better Content Management: Joomla's advanced content management features include versioning, workflow, and content scheduling, making it easier to manage and publish content.
Page Builder Support: Joomla is compatible with popular page builders, such as SP Page Builder and Quix, allowing for even more customization options.
Unlimited Number of Templates: Joomla offers a vast selection of free and paid templates that can be used to create unique and visually appealing websites.
Unlimited Number of Extensions: Joomla offers an extensive library of extensions and plugins that add functionality to the website, including galleries, forums, and forms.
System Features: Joomla offers a range of system features, such as multilingual support, SEO-friendly URL management, and advanced search functionality.
E-Commerce and Affiliates: Joomla offers e-commerce functionality supporting various payment gateways and affiliate tracking.
Page Editor and Mobile Joomla: Joomla's page editor allows for easy content editing and customization, and Mobile Joomla ensures that website content is optimized for viewing on mobile devices.
Communication and Social Networking: Joomla offers a range of communication and social networking features, including messaging, commenting, and social media integration.
Platforms for Modules and Feedback: Joomla offers a variety of platforms for creating and managing modules, such as JoomlaWorks and GavickPro, as well as feedback tools like JotForm and AcyMailing.
Joomla Vs. Wix: Key Differences
Joomla is one of the most widespread CMS web development platforms today. According to estimates, it powers thousands of websites of almost all types. More specifically, the total number of projects created with Joomla is now 4,103,076, with 1,210,025 live websites.
On the contrary, Wix has established itself as the quickest and easiest option to launch a fully functional website without any coding or technical knowledge. Recent estimates indicate the system currently supports 10,839,692 websites, with 8,519,305 active projects.
Considering Joomla vs. Wix, both platforms have many exciting features discussed above. Below is a comparison between the two to help users choose the right development platform per their needs.
| | | |
| --- | --- | --- |
| | Joomla | Wix |
| Ease of Use | Suitable for experienced web developers, designers, and coders, with unlimited source code access. | Beginner-friendly, suitable for beginners and professionals feat Wix ADI, Page Editor, and Velo by Wix platform (programming environment). |
| Functionality | Open-source CMS platform that supports thousands of add-ons for blogging, e-commerce, and other projects. | Hosting and domain management in one package. Integrated third-party services, built-in customizing tools with the App Market. |
| Design | Unlimited templates, third-party themes, and support for page builders. | Limited number of templates for different niches and website types. |
| E-commerce | Paid e-commerce extensions with product management systems. Support separate modules for shopping cart, checkout page, and other merchant services. | The Wix store widget comes integrated with a shopping cart, shipping/tax adjustments, a product management system, promotions, and loyalty schemes. |
| Blogging | Blogging extensions (Paid and free) with advanced content management features. | Visually appealing templates. Full control over the content with built-in blogging features. |
| Small Business | Appropriate for small business use but only with additional business extension installation and management. | Well-suited for small businesses with a range of user-friendly tools and templates to manage and interact. |
| Pricing | Free to use, users will need to pay for hosting and domain registration. | Paid platform with several pricing plans, including a free plan with limited features. |
| Customer Support | Forums, training, independent guides, and YouTube videos. | Training, ticketing section, live support, video guides, FAQ, etc. |
Which CMS Platform Is Ideal for You?
Simply put, the choice between the ideal CMS web development platform depends on the users' needs. Joomla and Wix are both great options; however, each has its benefits and downsides.
The key downside of Joomla is its steep learning curve for novices due to its complexity and advanced features. Besides, users need to install and configure extensions to add functionality which may require technical knowledge. As for Wix, it appears to be a simpler alternative, ideal for beginners with no technical knowledge.
Wix offers limited control over website customization and functionality due to the closed-source nature of the platform. However, if you want to create a website that will enable you to edit code, personalize, and use third-party templates and extensions, then go with Joomla. With Joomla, you can build any website, from the simplest to the most complex.
Considering both options, the choice between Wix and Joomla depends on your business needs, technical knowledge, and budget.
Summing Up!
To sum it up, we've discussed the Joomla vs. Wix difference and its features to help you decide the best platform to build a website that truly reflects your brand. Both are powerful content management systems with immense popularity in the CMS world.
Ultimately, the decision between Wix and Joomla comes down to individual preferences and specific website needs. It's essential to evaluate each platform's features, benefits, and drawbacks before choosing the one that best suits your website's goals and requirements.
Did the mentioned features and differences help you choose the ideal CMS platform based on your needs?