Small Business Outsourcing Stats (2021 Survey Results)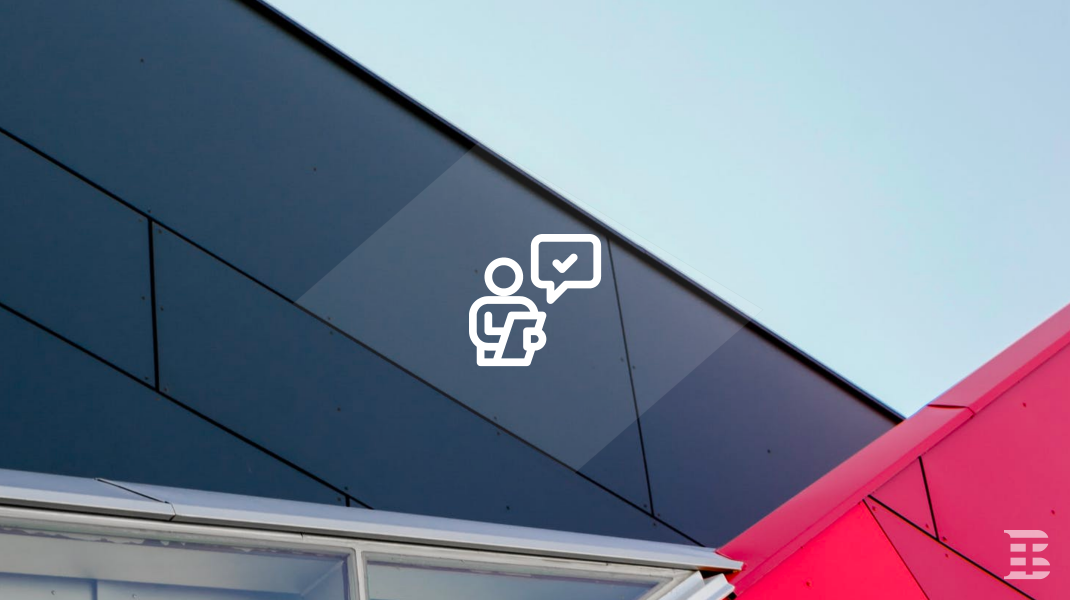 Between June 3-25, 2021 TechBehemoths surveyed 324 small and medium IT companies focused on services across 5 continents and 38 countries. The survey aims to research how small IT outsourcing companies are performing during the pandemic, and how they perceive outsourcing as a business model in general.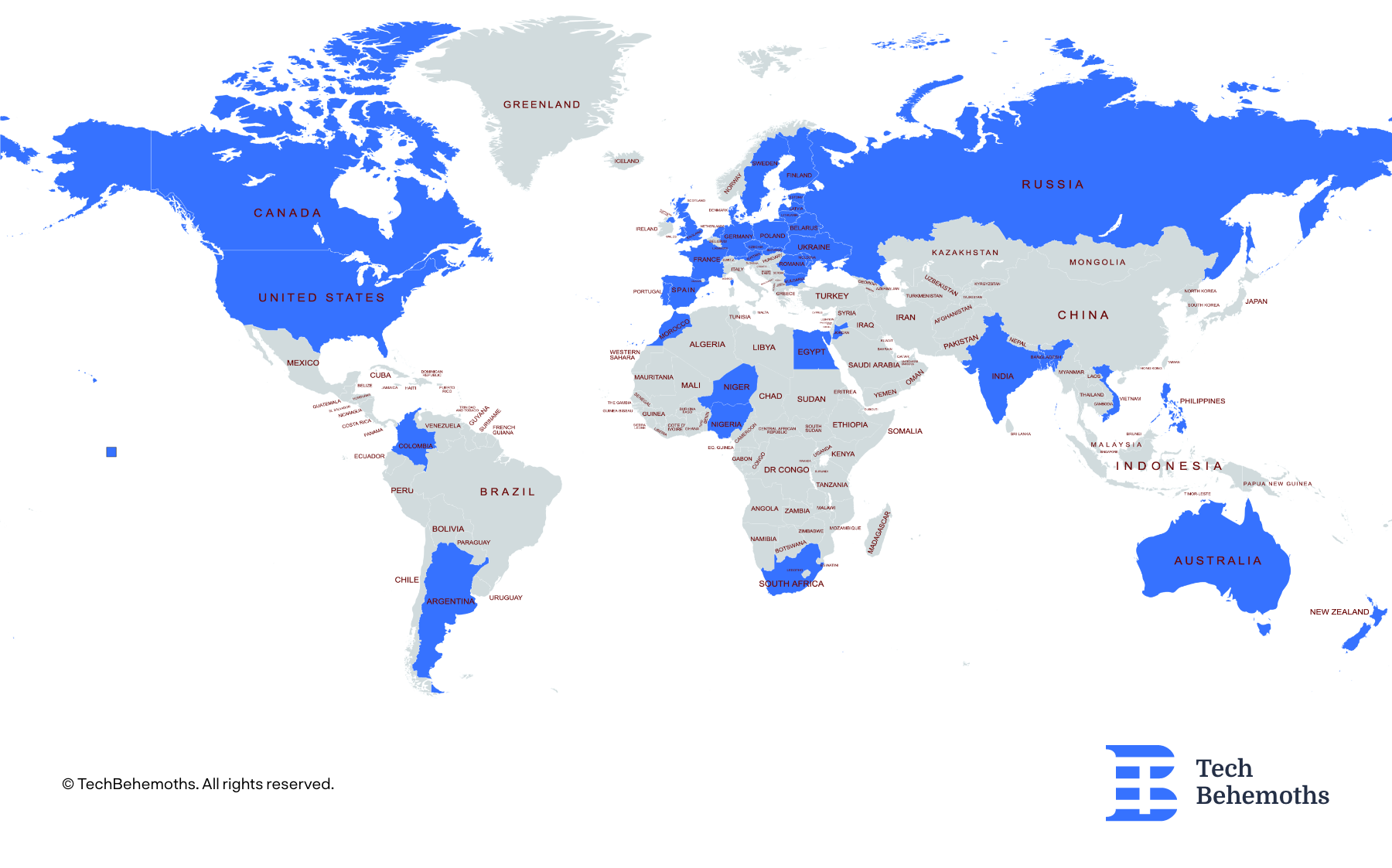 Small Business Outsourcing Survey: Participating Countries

The Global Business Process Outsourcing market value is estimated at $232 bn according to Grandview research and is expected to grow substantially due to pandemics, remote work, and general business trends. The Information and Technology segment has a huge share of the BPO market, especially small and medium companies providing, or outsourcing for themselves projects and opportunities.
90% of respondents or 354 companies provide Web Development services

73.8% or 288 companies provide IT outsourcing services in general
On the other side of the spectrum, there are small companies that provide
IT business services ( 33.8% or 132 companies)

HR outsourcing (3.1% or 12 companies)

Legal Services outsourcing (1.5% or 6 companies).

Some other 36.9% of the companies are focused on other outsourcing services.
Important to mention that the responders had multiple choices in selecting their answers. This is why one company can have 2-5 answers to each question.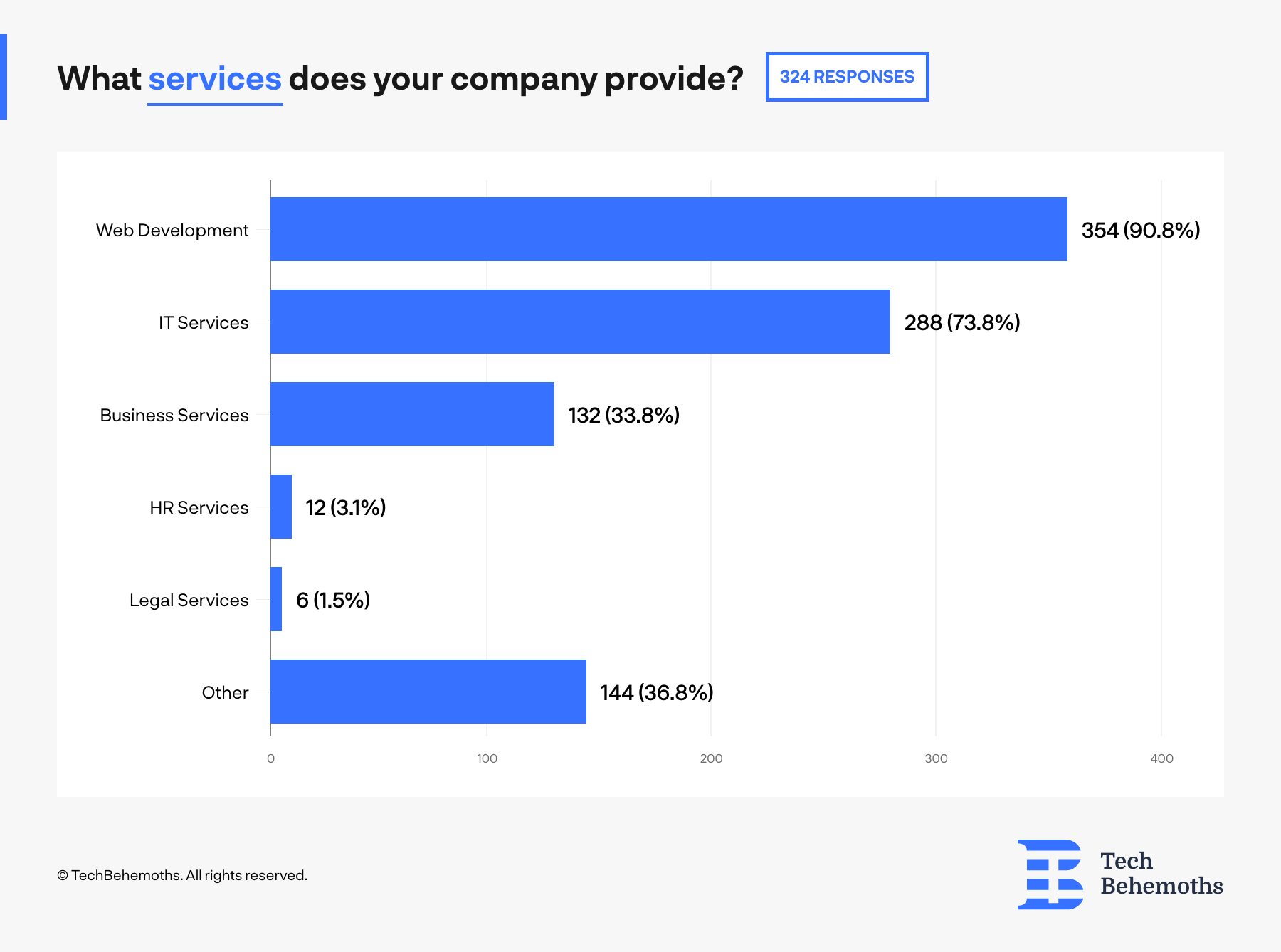 What services provide surveyed companies
Taking into consideration that the survey focused on small IT companies involved in the business process outsourcing market, the survey reached both its goal and its target audience.
How Are Small Businesses/ IT Companies Defined?
The vast majority of outsourcing companies around the world are small businesses, up to 20 employees, with offices and employees in different countries and even regions. However, there are exceptions and differences based on country and continent that are directly related to business culture and the overall development of the IT industry. For example, in the US a company can have up to 50 employees and is still considered small, while in Europe or some regions of Asia, small companies reach 20 employees.
For instance, according to the Small Business Act for Europe 2019 study, here in Germany things look different compared to other regions:
82% of all the existing companies are Micro companies, consisting of 0-9 employees.

Furthermore, Small companies (10-49 employees) represent 15,1% of the total amount.

Medium-sized (50-249 employee) companies have a 2.4% share.
These proportions vary from country to country, depending on several micro, macro, and historical criteria.
Based on TechBehemoth's IT outsourcing survey for small businesses, the results look in this way:
23% of all interviewed companies have a maximum of 9 employees.

Another 33.8% of companies have between 10-19 employees.

20% have more than 20 employees but less than 39.

Only 23.1% of the participants responded that their companies have up to 50 members.
At the same time
48 companies have at least one office in the United States

24 have their headquarters in the United States,
Facts which generally explain why 23.1% of respondents have up to 50 employees.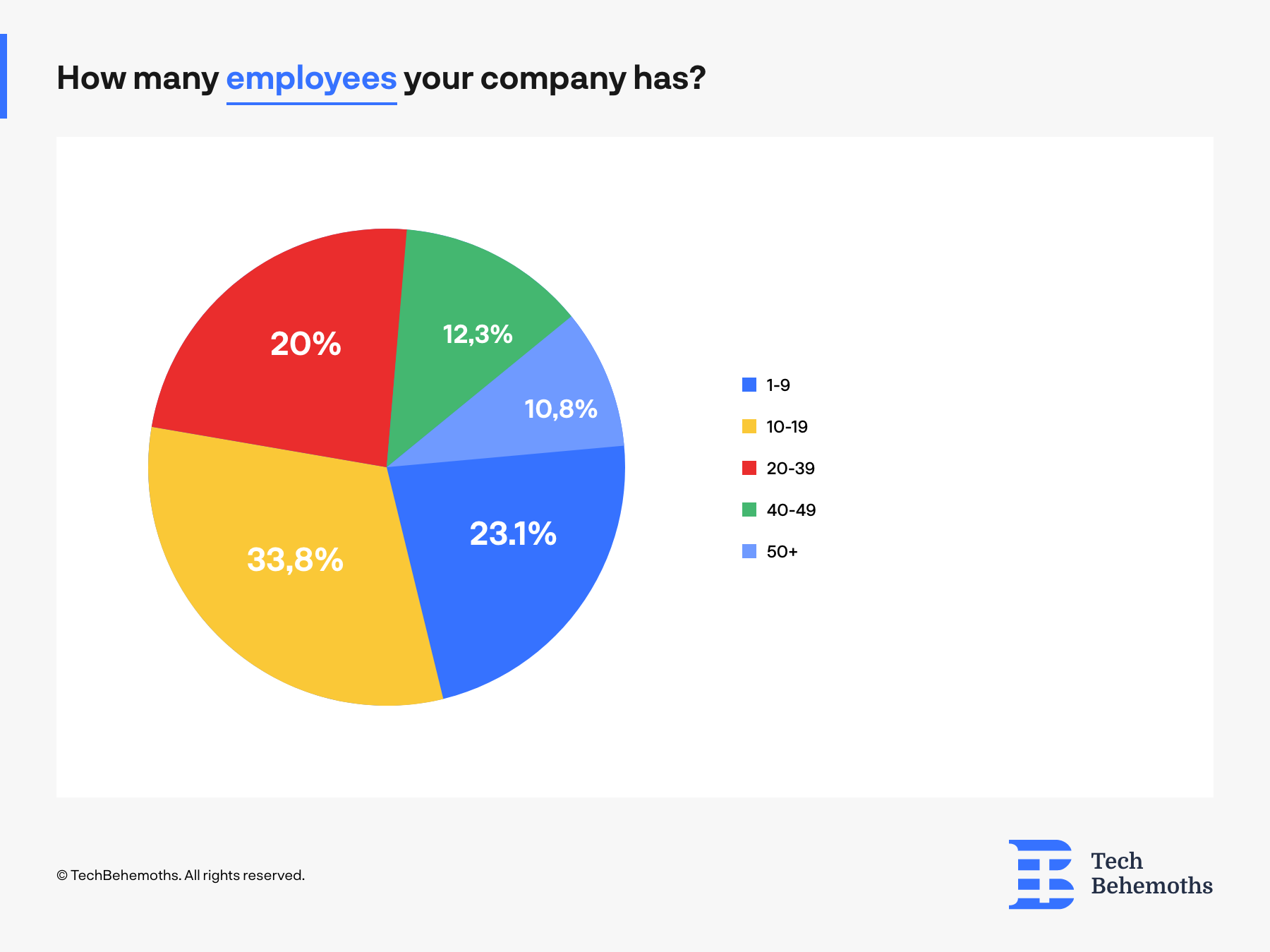 Small Companies Outsourcing For Themselves VS Providing Outsourcing Services
Most of the companies which participated in the survey are providing outsourcing services. TechBehemoths states that
78.5% of companies provide outsourcing services - that's 306 companies out of 324,

while other 150 companies answered that they both outsource and provide outsourcing services for others.

Only 9.2% of respondents declared that they are not connected to any response.
This could explain the fact that these companies are working on specific tools or products developed by them for a specific market instead.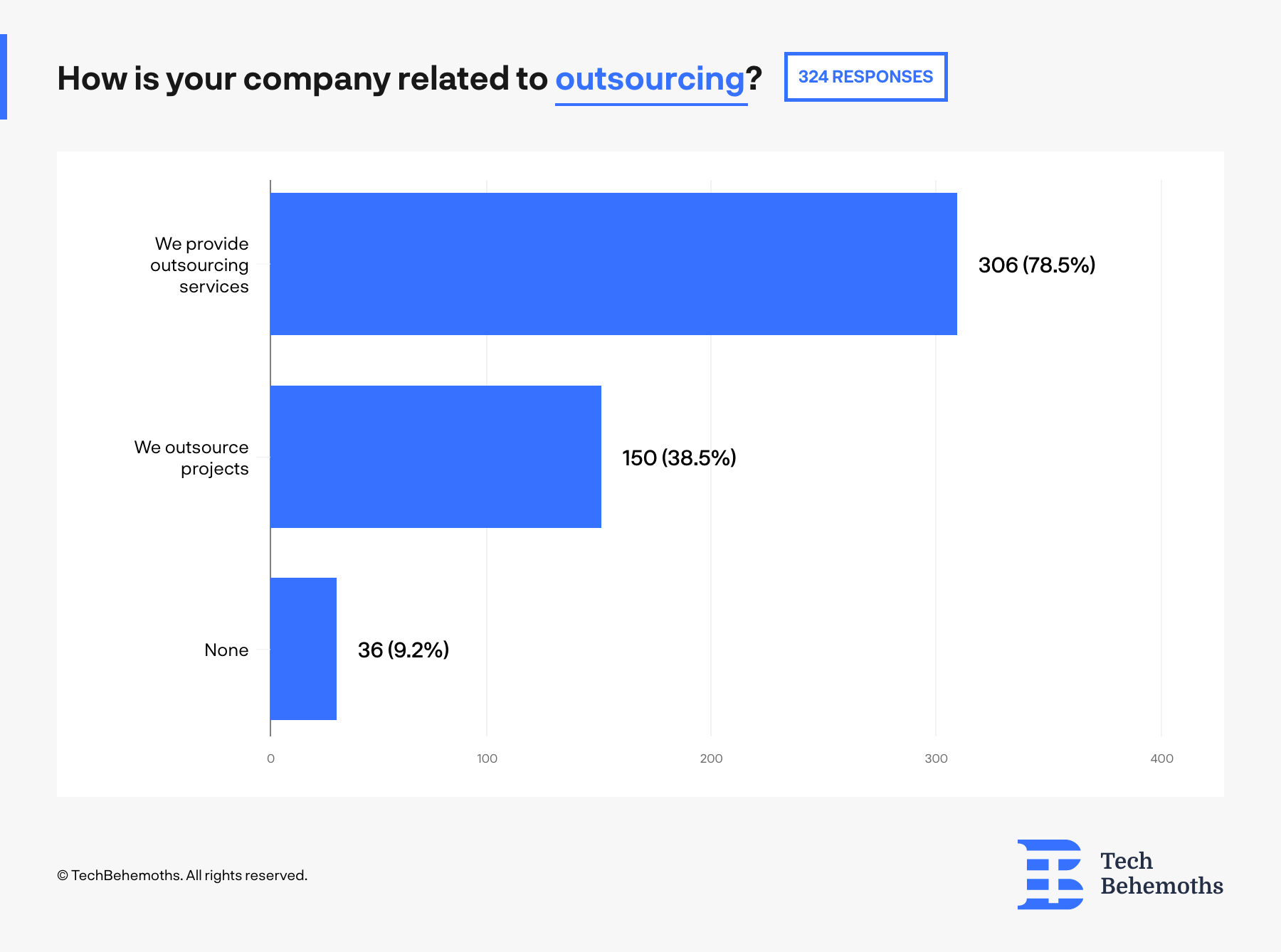 How are the surveyed companies related to outsourcing
Nonetheless, in other words, most of the surveyed companies are doing outsourcing in a way or another, offering other companies opportunities to get new projects to work on, and of course, increasing their financial potential overall. But things don't stop here, and outsourcing companies help each other grow and take new projects and opportunities.
Benefits of Outsourcing
The survey results show that the biggest outsourcing benefits that companies consider are cost-efficiency and flexibility.
76.9% of respondents (or 300 companies) voted for both of these options.

As secondary benefits, outsourcing companies mention higher profits margins (38.5% or 150 companies)

A risk-free business model (35.4% or 138 companies)

Access to new markets (36.9% or 144 companies).
On the other hand, 12 companies consider that outsourcing has no benefits.

Other 54 companies think that outsourcing has other benefits than those mentioned above.
And indeed, outsourcing has other benefits, except those major options we offered in our survey. Yet, the business environment identifies the benefits of any business process, not only outsourcing. On a side note, it was a surprise to find that 38.5% of all outsourcing companies consider that this is a risk-free business model. We will definitely investigate this particular topic in our further research.
Is Outsourcing A Sustainable Business Model?
Our research shows that:
24.6% of all small businesses are strongly agreeing that outsourcing is a sustainable business model.

At the same time, other 204 companies also agree with the statement above. Overall, more than ⅔ think that outsourcing is a sustainable business model.

On the other hand, under 10% of respondents have a negative opinion about outsourcing sustainability - 36 companies disagree or strongly disagree with the statement.

Also, 13.8% of small businesses are still undecided on how to answer this question.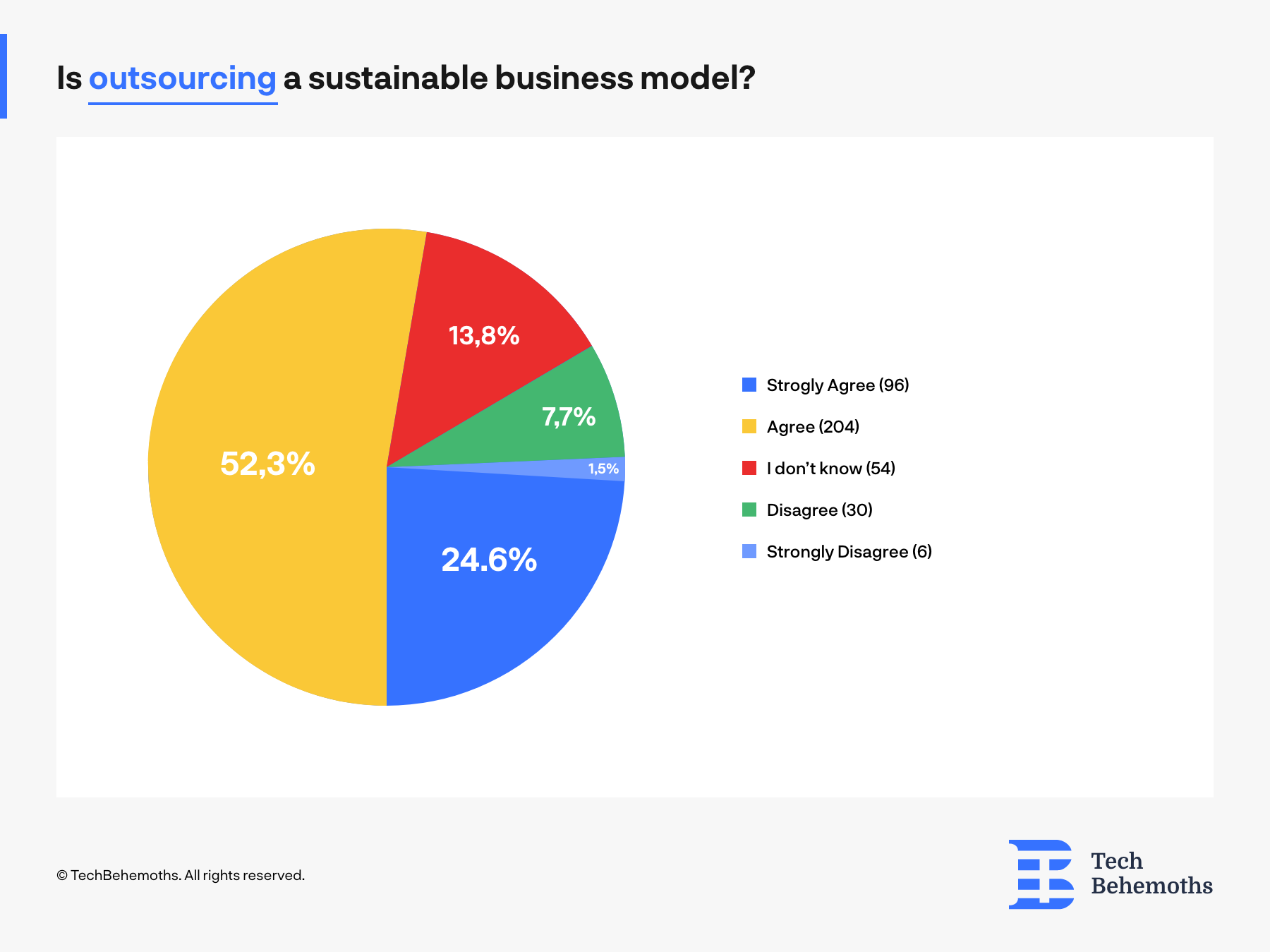 Benefits of outsourcing
Outsourcing as a business model
Generally, the positive view of small businesses towards outsourcing is conditioned by several factors, such as the pandemic, income, location, and financial opportunities they have. While most of the companies already got used to the outsourcing processes, others are still new on the market and being more cautious to not jeopardize their commitment to their clients.
Outsourcing In The Pandemics: Positive Impact vs Negative Experience
The pandemic was a challenge for most companies and industries. Yet, IT managed to survive and even develop adapting its capabilities to remote work and freelancing. Most of the small businesses also considered the pandemic a positive experience rather than a negative one.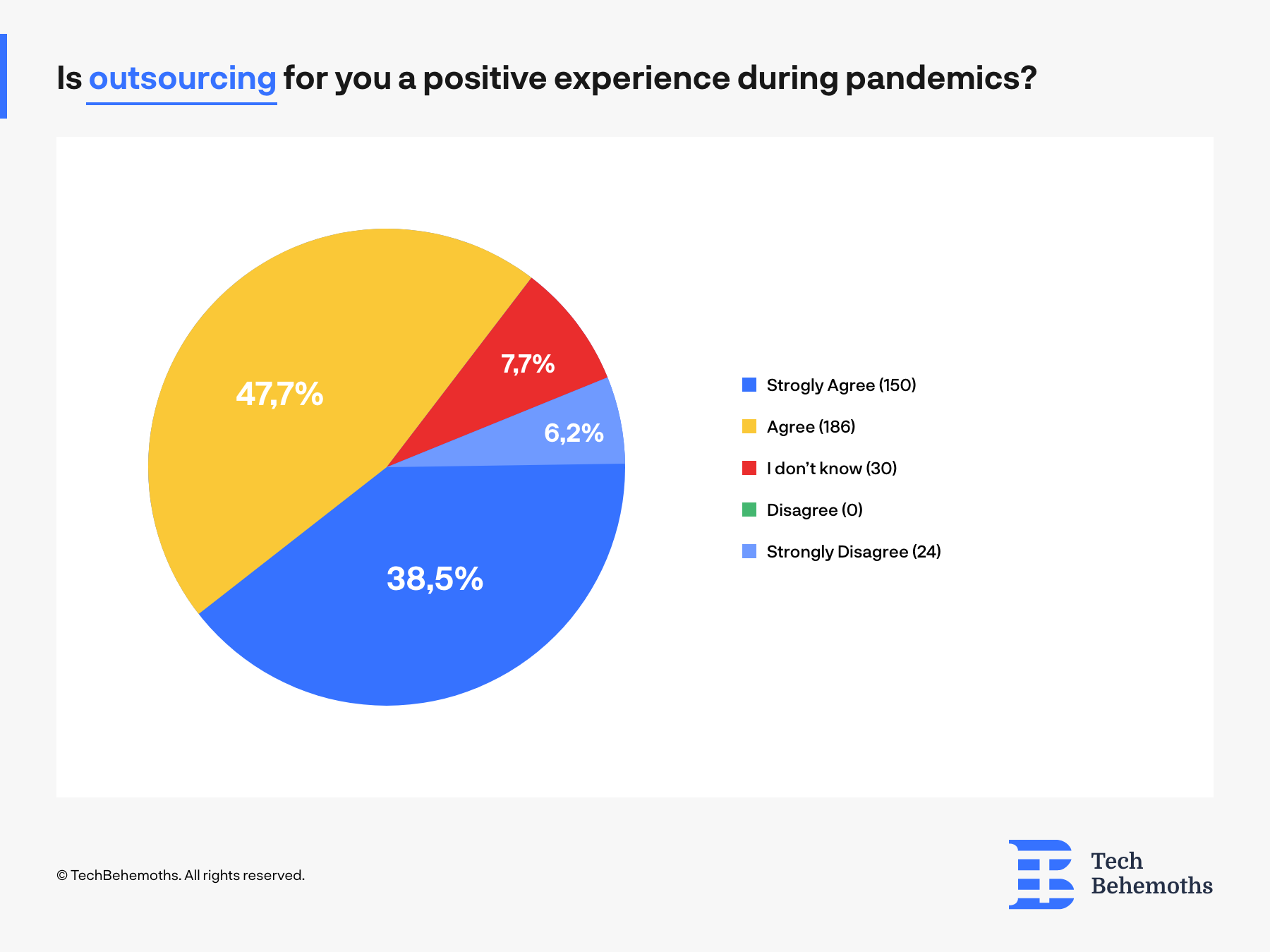 How companies experienced outsourcing during the pandemic
More than ⅔ of all survey respondents think that the outsourcing industry had a positive journey during the pandemic.

While only 6.2% mentioned that it was not a favorable period to do business. Taking into account the answers for outsourcing benefits, they all match what the pandemic meant for this industry in particular.
The research also shows that 38.5% of companies strongly agree that outsourcing was a positive experience during the pandemic

Others 47.7% simply agree with the statement.
However, the IT outsourcing industry will be different after the pandemic taking into account that big players like Apple, Microsoft, Amazon, Dropbox, and Oracle are changing the working schedule, and slowly adopting full or partially remote work for their employees.
But outsourcing is divided into two categories when it comes to remote work: those who never had a problem with it and those who are concerned about discipline and focused on providing a friendly working environment and productivity.
In the first case, outsourcing companies and businesses adopted remote working from the very beginning. While in the second case, remote work may lead to breaking contracts, low productivity, and chaotic work environments - in the worst-case scenario.
Communication According To Small Businesses
When asked if communication is better in the outsourcing industry, the representatives of all 324 companies responded differently, and we can notice that there are some communication barriers.
However, ⅔ of respondents mentioned that outsourcing provides better communication opportunities compared to other business models - 270 companies or over 69%.

Yet there is a consolidated opinion that opposes the first one - 78 companies or 20% disagree, or strongly disagree with the statement that communication is better in the outsourcing industry.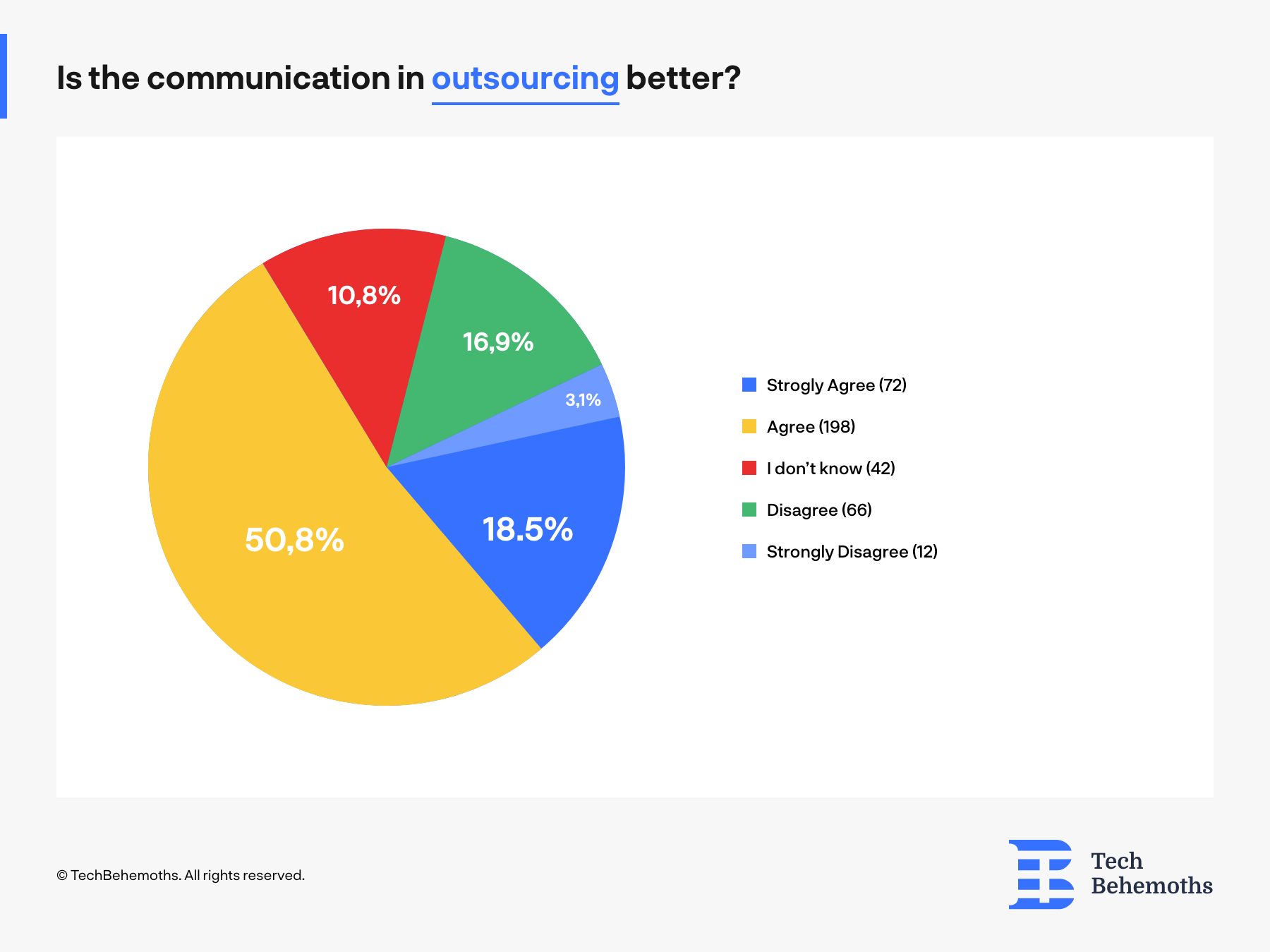 Communication in outsourcing
It's pretty clear that companies who chose that communication is better in outsourcing to have grounded reasons to believe and feel so. Experience in the industry, close countries from where they outsource projects, and cultural proximity to their partners are only some of the core reasons why they chose that option.
On the other hand, there are plenty of reasons why communication is a problem in the outsourcing industry (and not only). Among them language and dialect barriers, cultural nuances, communication technologies, and other related issues.
It is important to mention that communication is the "holy grail" of outsourcing, and without it, all tech capabilities would be wasted. In outsourcing, everything starts with communication.
The Future of Small Business Outsourcing
Most of the outsourcing companies are micro, small, boutique companies, especially those providing IT services. The industry develops at high speed, and it's not in the direction some would expect to. So, instead of growing the number of employees, the outsourcing industry grows mainly due to new other small companies that outsource.
It is indeed a profitable solution, especially in the 2021 pandemic context that hit every industry across the globe. But when it comes to the growth speed of outsourcing companies, almost half of surveyed companies think that it's slow.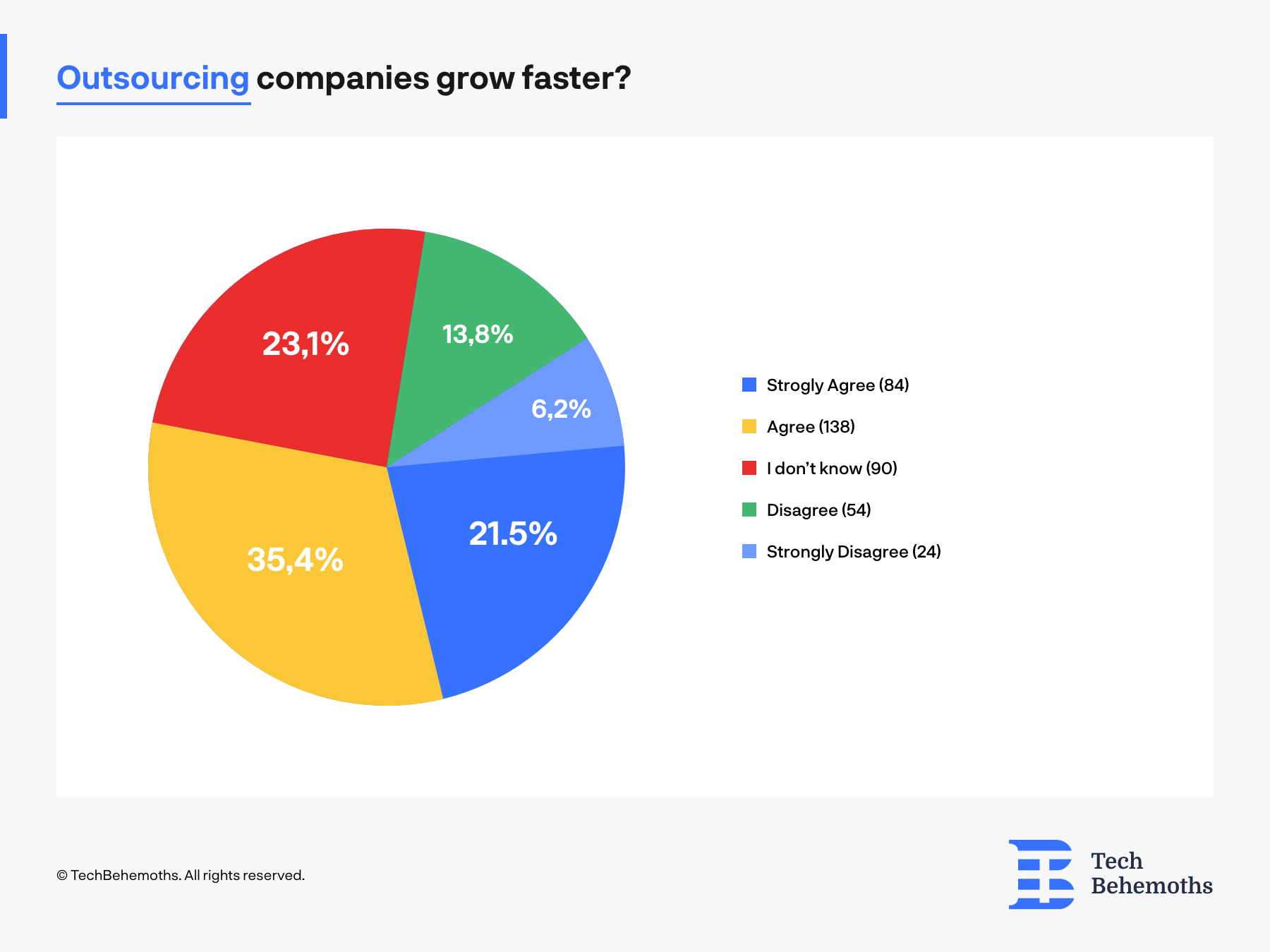 Outsourcing companies growth
On the other hand, 222 companies out of 324, or 56.9% agree or strongly agree that outsourcing companies grow faster than others. In all other charts, the rate of positive responses towards outsourcing was more than ⅔, in this case, the TechBehemoths research shows only a bit less than - which reveals a skepticism towards the small business outsourcing industry overall. Or maybe companies feel comfortable with a small number of employees.
The forecast shows that the entire outsourcing industry will grow by $40 bn between 2021-2025, progressing at a CAGR of about 4% in the indicated period. But the numbers could explode if the pandemic issue is not solved in the next few years.
We will return to this survey and a new one in 1 year to see the changes in the market and the general feeling about it.
---
Questioned companies:
The survey was done between 3-25 June 2021, on a poll of 324 small and medium IT companies from 38 countries. The below 55 companies gave the consent to be listed in the survey and participate in the giveaway of winning the Amazon Voucher as a recompense for their time and effort. While 269 preferred to be anonymous for the open public
Do outsourcing companies grow faster?