Companies Going Remote Permanently After The Pandemic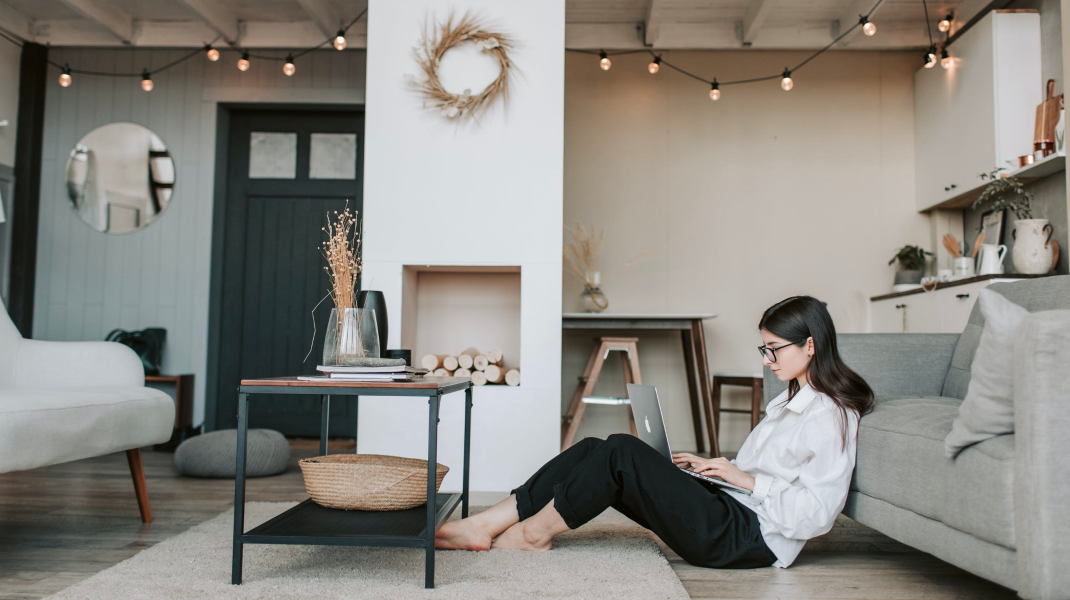 Well, that's a topic to talk about, and in this article, we will share pros and cons, as well as data and insights about companies going remote permanently after the pandemic.
The pandemic surely left a mark on companies' activity no matter the field or industry. Almost all processes from the previous year were either stopped or performed remotely. The IT industry, for instance, was partially affected by the most common effect of the pandemic - remote work. While most of the companies decreased their work volume due to a drop in the client's number and the impossibility of meeting them personally, Some other companies from the same field were already "prepared" for such complex work levels. BPO (business process outsourcing) and outsourcing companies were probably the least affected by lockdown, since they are operating from other countries, and freelancers as well didn't feel so much how work has been changing all over the world.
Now, when the pandemic seems to back off, everything will probably look different compared to what we were all used to back in 2019. So, we can definitely talk about a post-pandemic situation. At the moment the article was being written, it happened for me to travel for the first time abroad in the last 1.5 years, and thinking about this topic from the bus makes me feel more confident about coming back to normal. But at the same time, we, office workers, got so used to working from home and other places except for offices that we wouldn't feel so much of going back to our working places and would rather continue to work remotely. What happened with the socializing thirst we had just a year back?! On the other hand, companies are also thinking about allowing remote work for some categories for which their presence at the office is not essential.
One of the most popular questions that appeared in the first months of 2021, when a light at the end of the tunnel started to appear, is the remote work a trend, an opportunity, or a productivity gap? Well, the answer is that remote work is all three, at different periods. At the very beginning, both companies and workers were complaining about low productivity during the pandemic.
It is normal for people to be distracted and feel slightly uncomfortable with remote work, especially when you are staying with family in the same place for months. The lockdown was a disaster for traditional companies as well, which were forced to provide fewer services, in lower quantities, and restrain their budgets - things that ruined mid and long-term plans for most of the service providers which were found unprepared for such a long break from the offices.
Yet, people got used to remote work after a while, and from a productivity gap, the remote work evolved into opportunity. The productivity level came almost at normal levels, which allowed both companies and workers to find some common ground from where to start their activity back at normal rates. By mid-2020, remote work went from weird into a habit in most industries.
Finally, when the vaccination process started in most western countries, it seemed that by June 2021, everybody will come back to the office and start their regular routine work as they did before 2020. However, companies are facing difficulties in attracting employees back. While the working class is insisting that they feel comfortable working remotely, and bring as a supporting argument the productivity numbers that grew over the last year, companies are concerned about more than just the rates and are taking into consideration also rent spendings, energy, facilities, training and of course direct contact with employees. The last factor is crucial when it comes to controlling the working processes, and is an essential tool for pressing employees to increase their productivity rate, make certain decisions and actions. With all these, remote work looks to be a trend among the masses and is very likely to force several sectors to adopt permanent remote work.

An authentic example of how remote work became a trend is the US. Before the pandemic, only 17% of all employees in the ICT sector were working remotely 5 days or more/week. The last numbers reveal that 44% are working remotely the same period of time/week according to a Statista report.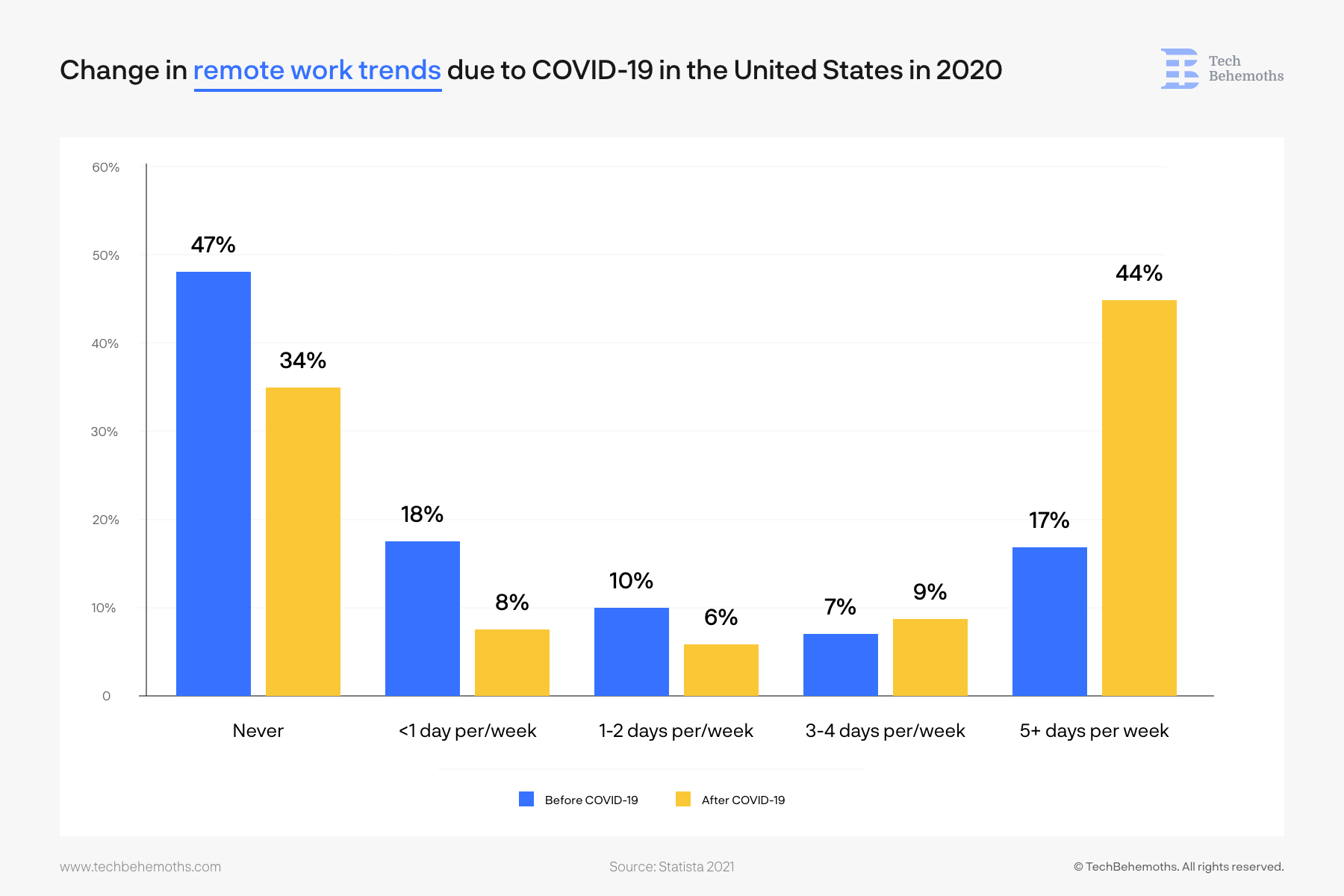 Compared to the US, the same numbers of remote work during pandemics in Europe have grown from 5 up to 30 times compared to 2019. The highest percentage of remote workers in Europe was in Belgium - 66%, while the lowest in Bulgaria - 28%. However, before the pandemic, 25% of all employees in Belgium were already working remotely, while in Bulgaria in the same period only 1%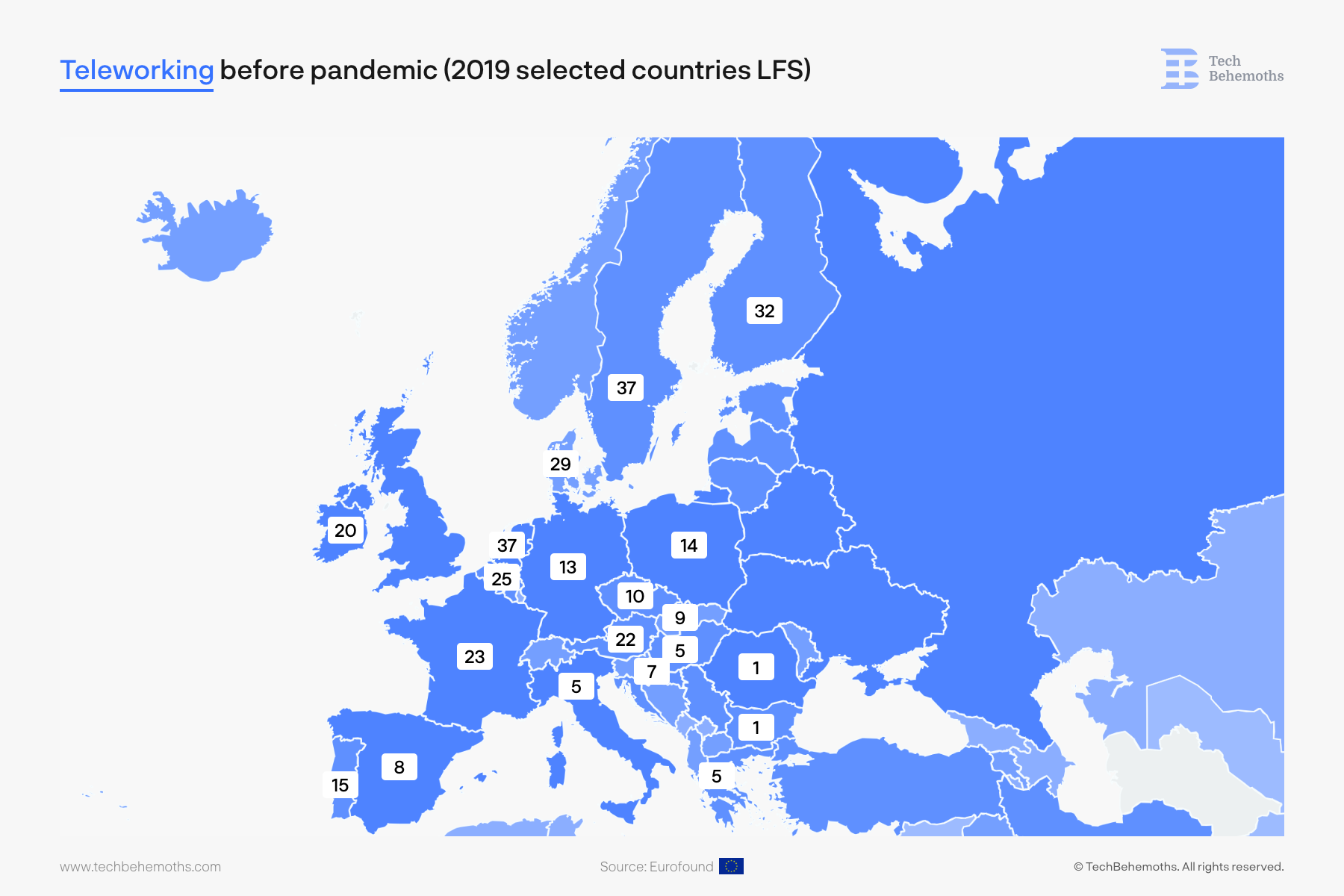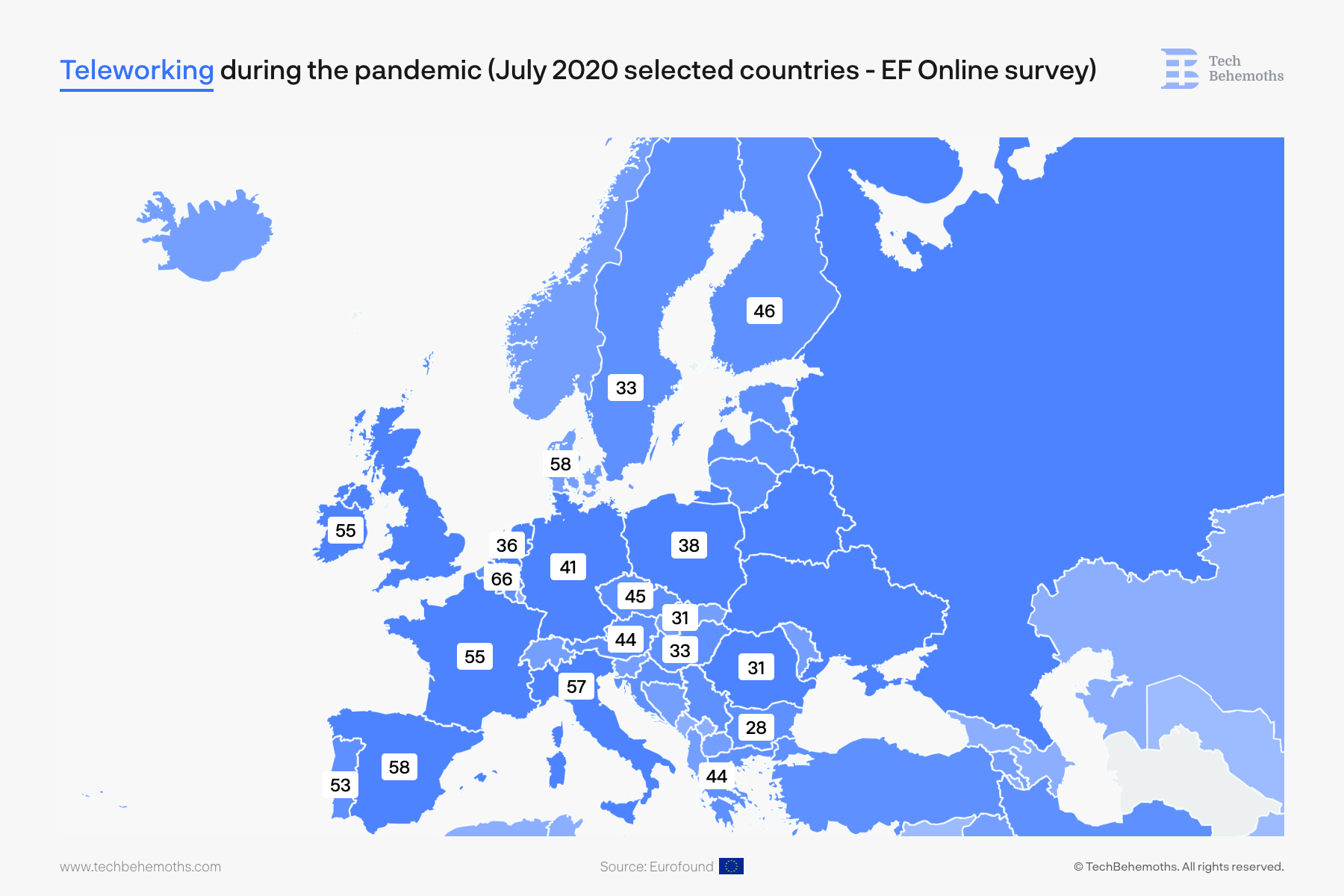 But things go even further while companies like Apple are facing difficulties in asking employees to come back to work. According to The Verge, Apple employees are asked to work 3 days a week from the office starting September 2021. However, Apple didn't take into account its own regulations - Apple's remote/location-flexible work policy allows employees to choose their working place, and/or avoid coming to the office until the pandemic is fully over. The clashes between Apple and employees lead to several resignations and protest letters from the last ones mentioning that the tech giant is not flexible enough
Pros for Remote Work
Of course, remote work comes with some benefits for both companies and employees. While the first ones are not so happy with the new trend and don't have much more to win, but at the same time have less to lose. Employees and the general public are happier with the new working system. Below there is a list of the most notable benefits of remote working:
Less commuting time

More autonomy

Higher flexibility

Reduced staff turnover

Reduce the need for office space

Better Work-Life Balance

Money Savings

Positive Impact on Environment

Happier Work Life
Cons for Remote Work
On the other hand, there are several challenges both companies and employees face when it comes to remote working. Most of them are touching the social life and increase the burnout rates compared to office work, but of course, the challenges are not limited only to these particular aspects:
Longer working hours

Work intensification

Isolation

Team sync issues

Distraction from the main activity

Decreased employee visibility

More reporting
Even if the list of pros is larger than cons, it is not the quantity that matters, and the best solution is a common agreement between companies and employees when it comes to this practice.
List of Companies Going Remote After The Pandemic
In the middle of all this pandemic situation, there is already a set of tech companies, some larger, others smaller, but all decided to go fully or partially remote with their work processes. So, here are the names of the companies that moved remotely:
Amazon - The Bezos' tech giant has allowed remote work including but not limited to June 2021, for employees that are not considered essential, and their presence at offices is not mandatory
American Express -Employees can continue to work from home thru Labor Day 2021. Later will be a notice released concerning remote work
Atlassian -Employees can continue to work from home forever
Coinbase - "Remote-first" policy is under effect, which means that most of the staff can continue to work from home for the rest of the time.
Dropbox - will let all employees work remotely and transform all their offices in Dropbox studios.
Facebook - Will let 50% of all employees to work remotely forever, while the rest of 50% can work remotely until July 2021
Hubspot - All employees can choose from three scenarios: Work from home forever, with an office setup; Work from home 2 or fewer days per week; Work from home 3 or more days per week. The scenarios should be announced and updated once a year and cannot be changed.
Infosys - Will allow 33 - 50% to work from home permanently
Microsoft - Employees can work from home up to 50% of their time. Also, managers can approve permanent remote work for their division staff
PayPal - Employees will work from home the entire summer of 2021, and after that, a hybrid model will be implemented
Quora - "Remote-first" approach. Most of Employees can work from home and are free to relocate anywhere in the world where the company can legally employ them
Reddit - There is a full-remote work option, but employees can also come to the office in a casual atmosphere
SAP - Adopted a 100% trust-based work model.
Siemens - 140.000 employees can work from home 2 or more days per week
Slack - Most employees can work remotely, and Slack is committed to hiring more permanent remote workers.
Of course, this is only the beginning of the entire remote-work process and more companies will follow the example.
Conclusion
Companies may go to full remote work after the pandemic, as it would not change too much from what has been happening in the last year. But for sure several changes in the working environment and process are mandatory as it would bring benefits for both employees and employers. Also, the pandemic has taught everyone a lesson about working and increased the flexibility in working environments - an impact that defined new rules, opportunities, and challenges that are irreversible for the entire world
Does your company allow remote work?