Reputation Management Strategy - What is it and how to develop effectively?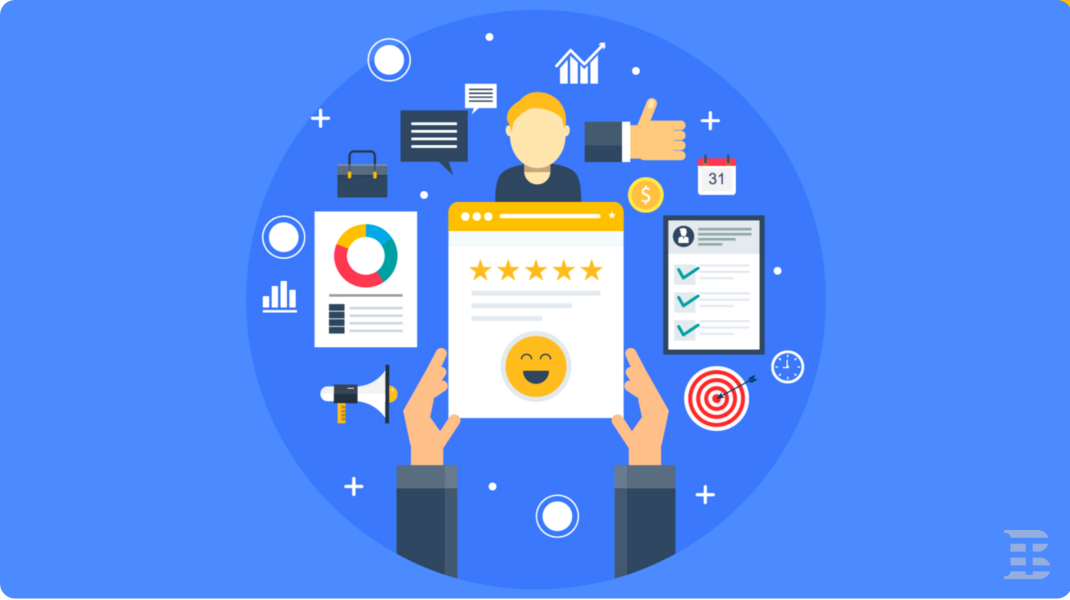 Reputation isn't built overnight, but it can change like that.
Remember the United Airlines case with a video of an airline official forcibly removing a passenger from a flight? It's been five years, but 30% of the audience still refuses to buy United flights because of feeling unsafe.
That's because everything you or your customers say online is recorded forever. So be sure that everything they say is positive. Even one more star Yelp rating growth can bring you +9% revenue growth.
So, how do you create and curate a positive image of your brand? Following the tips below can be a perfect start!
Let's begin with a definition.
What is an online reputation management strategy?
Online reputation management strategy (ORM) is a list of tactics to improve how people perceive your brand online.
There is a common misconception of it as social media monitoring or public relations. But it is much more! Ideally, ORM includes:
Source: Spin Sucks
Unfortunately, it only fits some business sizes. An ideal ORM strategy requires too many resources. Thus, usually, it comes to:
Monitoring customer reviews and mentions of your brand as well as competitors.

Crisis management, including analysis of possible reputation threats and dealing with their consequences.

Communication with satisfied and dissatisfied customers. For example, replying to comments and reviews.

Proactively seizing opportunities to boost reputation, including customer service improvements, PR publications, collaborations with influencers, etc.
You can do it manually or benefit from automated solution and customer service tools integrations.
Why reputation management is vital for your business
It could be a topic for another ORM article, but I understand you're limited in time. So, here are the main benefits you'll get together with an excellent online reputation.
Helps gain trust and authority in your industry. People tend to trust other people, not brands. So, when online reputation management is done well, your potential customers first see positive reviews on your products. As a result, you get the audience's trust in advance. They buy and leave one more positive feedback — an increasing trust spiral, engaging more and more customers.
Builds the professional image of a business. It is about the proactive engagement of the audience via conversations and content posting to tell who you are, what you do, and why. Thus, you can build the desired brand image.

Increases revenues. 53% of customers google your brand to make a purchase decision. Sure thing, they see numerous positive reviews on your products (the result of your online reputation management) and inevitably buy them.
How to create a successful reputation management strategy?
It consists of the research, its results' analysis, and the strategic plan. Guess what will take the most of your time? First two steps, of course. So, let's consider each element in detail.
#1 Identify your unique value
Before diving into building a reputation strategy, you need to have a clear understanding of the unique why people have to buy from you. It will be your guiding star during communication with the target audience.
According to Simon Sinek, customers are more likely to engage with companies that exist not just to make money but to solve a specific problem.
For instance:
Tesla aims to drive change and growth through innovative ideas without harming the planet.

Nike is about inspiring athletes and moving the world forward through the power of sport.
Purchasing such products makes people a part of that great mission, not just simple consumers.
To understand your value proposition, analyze competitors in your niche and fill in the gaps yourself.
#2 Monitor what media says about you
Do you know what people say about your brand on socials, forums, Capterra, TripAdvisor, etc.? Does it meet your positioning? Are there things to correct, like bad reviews?
Start with a simple — google your brand name and check the first page SERP links. Ideally, your website should take first place among the search results. Then, scroll down and visit websites from the SERP list. There may be blogs with article reviews on your products. Pay attention to comments under these publications as well.
The same goes with review sites, which choice depends on your industry.
Tourist attractions, hotels, restaurants — B2C local businesses with a physical location should pay attention to Google, Yelp, TripAdvisor, etc. Even Cathédrale Notre-Dame de Paris has reviews:
Tech companies can find reviews from users on G2 and Capterra.
Physical product sellers should monitor reviews on online retailers' sites like eBay or Amazon.
Each business should check its brand mentions on social media, whether you are SaaS, Fintech, or eCom. At least for the last year.
Reviews on Apple and Burger King on Twitter
That's a lot of work to do. Good to know there are special services to automate this process.
Based on this info, you can define:
Top channels to focus your strategy.

Your ORM goals. It can be — responding to negative reviews on socials instantly, for example.

How to solve them: hire one more support manager, ORM service, create response templates or guidelines, etc.

Which issues to solve first and avoid in the future.
#3 Consider social issues that your business may relate to
71% of consumers expect your brand to do this. But it is impossible to imagine an oil industry brand supporting the "save the ocean" initiative. The social issues you choose should be related to your brand.
Sure thing, there are controversial social issues that have a high chance of provoking disagreement among some of your customers.
So, pick wisely.
People want to see business support for environmental and human rights issues most of all.
#4 Focus on being helpful and analyze your customer experience
A significant part of your online reputation is based on the quality of your customer service. You can get 5.7 times more revenue if your customer service is better than competitors.
There are basic things visitors expect to see on your website:
Pages load in three seconds or shorter.

Clear page navigation.

High-quality content: product description, images, videos, etc.

The opportunity to talk to a manager and get a response fast: about two minutes in a live chat, about an hour via phone, and 24 hours via email.

The opportunity to find necessary info without human assistance: in an FAQ section, knowledge base articles, and chatbot.
In addition to your website, there are social media and review sites where customers communicate with you. So, be sure you monitor and reply to customer requests there fast.
#5 Explore missed opportunities
The next step in creating an ORM strategy is to collect insights on improving yours based on an analysis of competitors' strong and weak points.
Start with their websites. Use the before-mentioned list of customer experience must-haves for analysis.

Then, go through other channels (review sites, socials, Google, etc.) and check how they deal with:
Ratings,

Reviews,

Comments,

Mentions.
Please pay attention to bloggers and influencers mentioning their products.
Thus, you'll know your competitors' customers' issues to improve your product and have examples of the dos and don'ts of responding to user reviews.
#6 Create an actionable plan
By this moment, you'll have a clear view of things going well and those not. Time to collect your online reputation management plan. It should include the following:
A clear statement of your brand mission, unique value proposition, and social movements you support to deliver it to your team and customers.

Regular brand publications highlighting it, content updates on your website and third-party resources, including blogs, socials, and review sites.

Up-to-date positive feedback from customers.

Guidance on how to answer positive/negative comments and business-critical questions;

Fake reviews and spam comments management rules.

List of possible reputation risks and how to manage them. Describe each step and what team should do it. Don't forget about the importance of online privacy when working with angry customers.

Responsibilities distribution among sales, marketing, and support. Who will perform each of the processes mentioned above? Sure thing, if you're a small business owner, it can be one person responsible for everything.
In both cases, automating brand monitoring and customer communications with relevant tools and social media integrations is better.
Wrap up
First, you work on your reputation. Then your reputation works for you. Building a successful reputation management strategy requires time and effort. But once you streamline the process, your brand will quickly stand out from the crowd.
Would you like to read more about this?