Interview with Dušan Popović - CEO at Byteout Software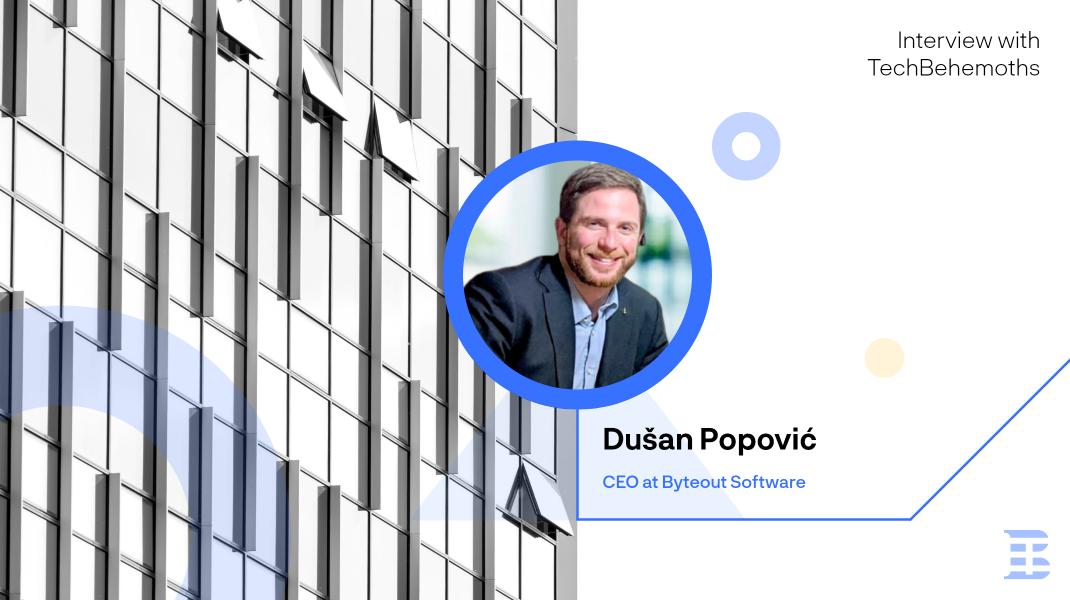 Dusan Popovic is the CEO and Co-Founder of Byteout Software - a top web and mobile development company from Belgrade, Serbia. Dusan and his team delivers world-class software solutions since 2009, and by 2022 Byteout delivered more than 100 projects! More about success, business, and productivity Dusan will tell us more in this exclusive interview for TechBehemoths.
Hi Dusan, welcome to TechBehemoths! Please tell us a little about yourself. Your background and how did you come to this point?
Honestly, I don't look back so often and reflect on where I was or congratulate myself on where I am now. I had no #ex-Amazon or #ex-Google experience, started my company with friends almost directly out of college and made a great transformation from being a programmer and a computer hacker to running the business and actually enjoying it.
I have to be thankful for the self-transformation I did. From talking only with computers, to talking with people as well and helping them solve difficult challenges in e-commerce. No easy journey but it basically boils down to this:
Find your purpose - So I did, and I really enjoy building and growing e-commerce projects.

Find good mentors and understand where you want to be and how to get there.

Work hard to get to your goals and have fun along the way
When and how did you start your business? Is there an interesting story here?
During college, I decided to move to Norway for a year and work in a great little IT company there called InBusiness. I think the people I met there and the Norwegian way of thinking about business formed a lot of my work ethics today and I'm really thankful for that.
And honestly, I was willing to stay there but the drive of creating a company with my classmates was too appealing. Despite all the sweat and stress, I haven't regretted it ever since!
We've built this great company doing really valuable work in the e-commerce sector, serving millions of users monthly through many projects we did.
Since we started building our product OmniShop, the number of things I learn each day went up 10x! Our mission to build the best mobile shopping experience is something that literally keeps me up at night. Every new customer we serve, or a feature we do gives the team and me the motivation to push forward. And you do need that at the beginning of any startup.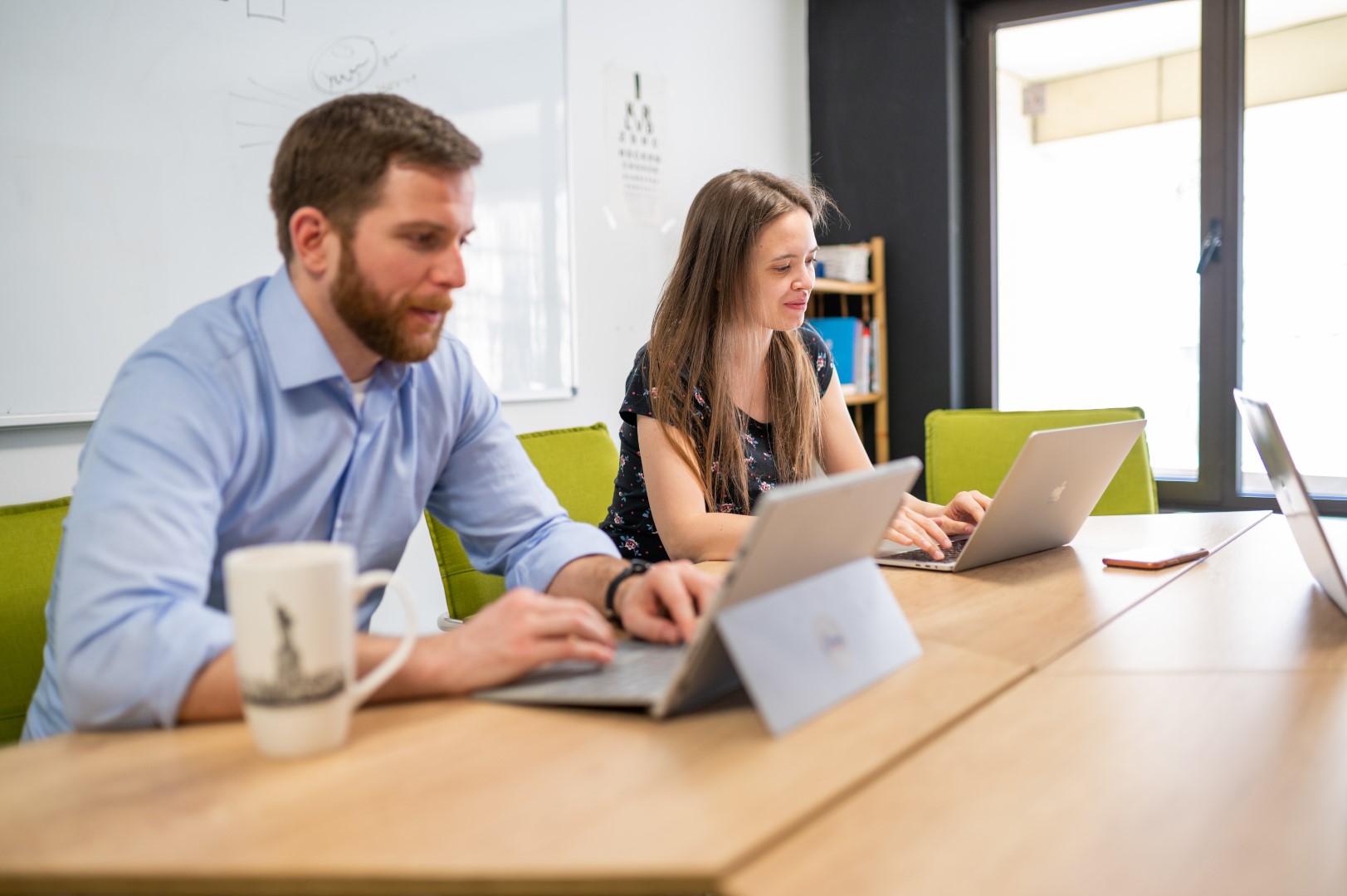 What do you think you'd be doing right now if your business didn't exist?
I can't imagine another life right now, really!
Many founders keep saying how they would rather sell the business and live on an island, but the adrenaline is something you can't get anywhere else living an ordinary life, as a "civilian". Taking the RED pill is something I would always choose.
But I do bet there is another Dusan in a parallel universe playing Flamenco guitar and having a blast.
What's your technique for staying productive throughout the day?
I have ADD so this is quite a challenge for me.
NLP helped me a lot in developing a goal-setting mindset. That is step one, having actual goals.
OKR system helps in setting our company goals and my personal goals. It also helps in communicating those goals and the ratio behind specific actions to people around you so you are better aligned.
Then comes the daily routine, which consists of some focused time early in the morning where I don't accept interruptions and the rest of the day which is planned through a calendar.
I use a To-Do list for quick input about what I need to do. If it's not written down or in my calendar, it won't happen!
Another great thing I try to keep on top of my mind is one simple question. Is the thing I'm currently doing, the most important thing?
We all know the Pareto principle, where 20% of what you do brings 80% of the value, and I try to remind myself of that, I even set reminders in my calendar. An addition to that was something I read recently, where you can apply the double Pareto principle. There you really try to focus down on the most important 4% (20% of 20%) and really nail that, straight into the head, bang!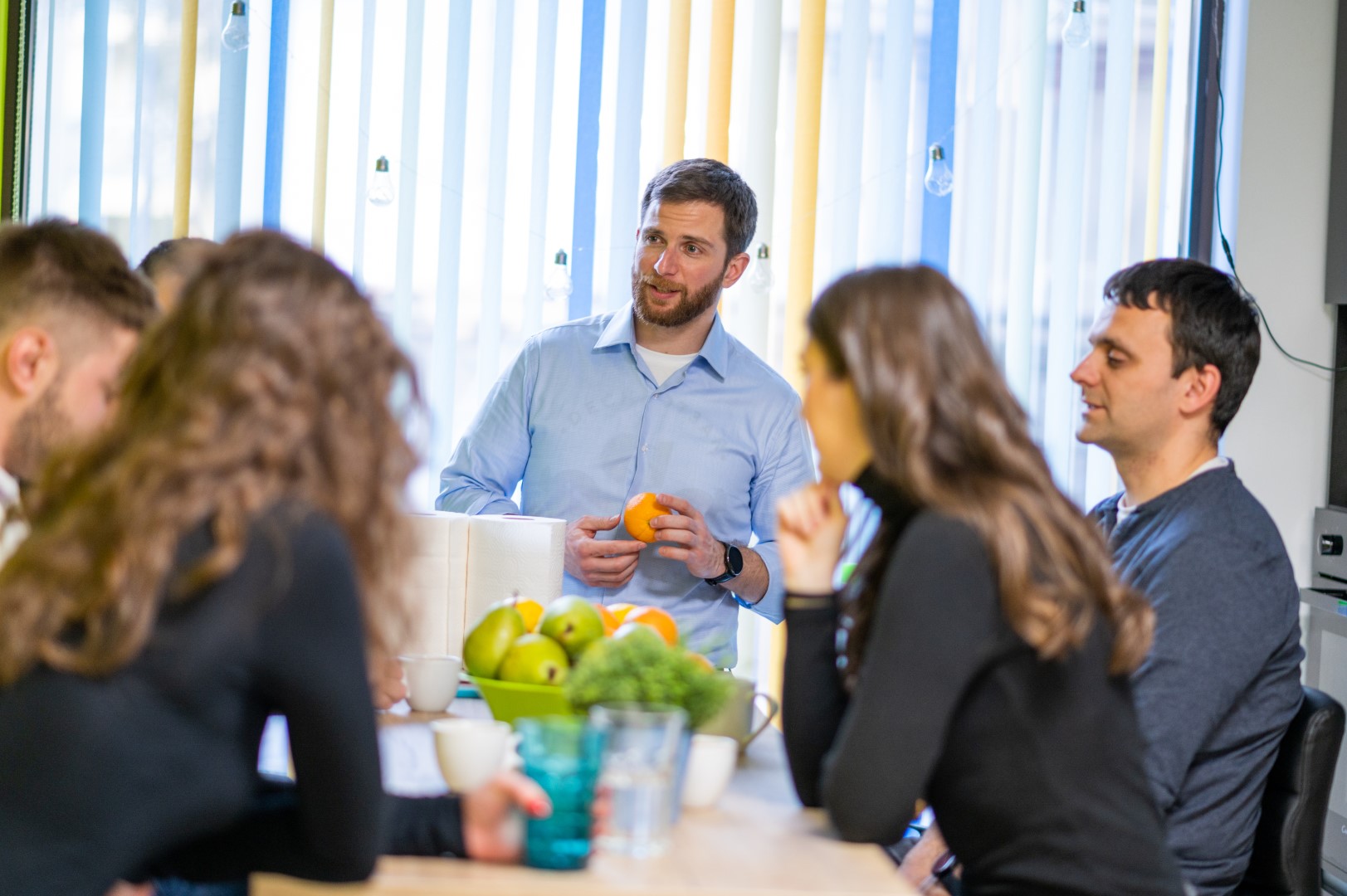 How do you define "being successful"?
I stopped trying to define it a while back. The only thing I consider now is am I happy with what I do? Or to put it out in another way, am I living up to my purpose.
Now it's a rabbit hole to go down to if you want to define what your purpose is. And most people don't even have one verbalized. Which is perfectly fine!
As long as you are true to yourself and come home feeling good, without remorse about your days, you are on the right path.
What do you like to do when you're not working?
I sort of don't have a barrier of what is work and what isn't. I just can't turn off thinking about my vision and goals and I see it pop up in almost everything I do. And that can be annoying to people around me, I'm quite aware of that
Most of my time goes to three activities
Spending quality time with my family, friends and new interesting people I meet

Working out. I figured out you have to be healthy and full of energy if you want to do anything in life. So I work out 6 days a week and try to eat healthy but that doesn't always happen.

Learning new things. I have my reading rhythm where I spend half an hour to an hour a day reading. And I do mean longer-form content such as books, especially the ones which have some evergreen lessons in them. But you have to be on top of news as well since it can guide your decision making so news portals and social media are also present day to day but controlled.
What are your recommendations for a business or developer novice?
Figuring out what you want to do ASAP and finding a good mentor. The BEST mentor! And don't even think about making money, only think about growing as a professional.
Saying YES to all things you can bare to try because there is no going back. Risks are fine, you have much less to lose than you think so just be bold and make all of the days count!
Thank you for this interview Dusan! Your story is truly inspiring and full of valuable insights worth to learn from. Good luck to you and the entire Byteout team!
Dusan Popovic is the CEO and Co-Founder of Byteout Software - a top web and mobile development company from Belgrade, Serbia. If you like the interview with Dusan, we invite you to contact him here on TechBehemoths, or on LinkedIn for further inquiries.
Did you like the interview with Dusan?