How Twitter Makes Money - Analyzing Twitter's Business Model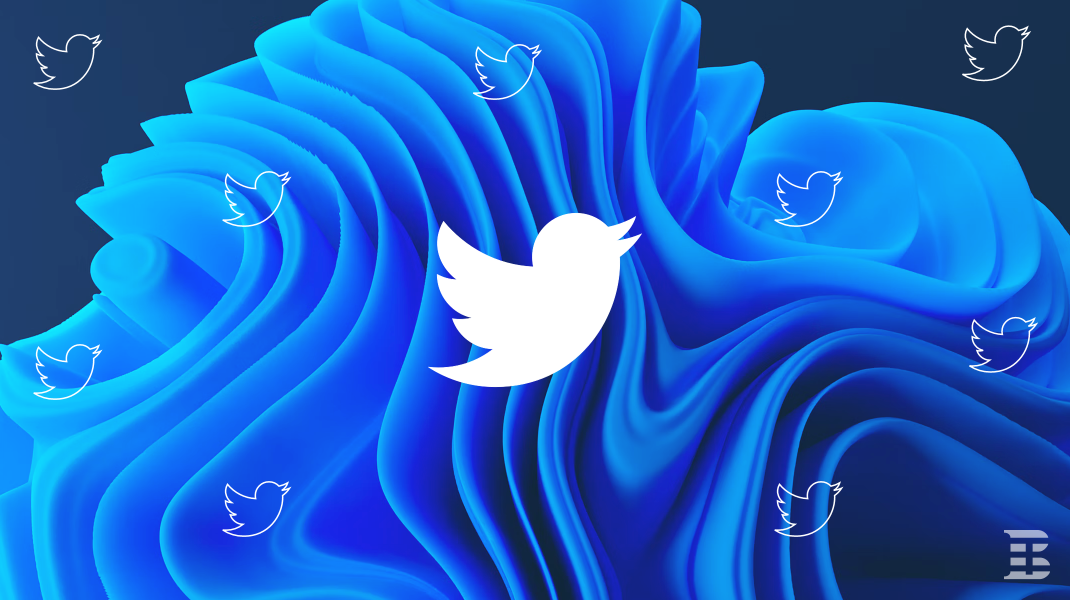 The microblogging platform - Twitter, is a game-changer tool in official communication in different fields and industries. From official governments, institutions, and public figures to tech leaders, small businesses and NGO's everyone uses Twitter as an announcement platform.
On this occasion, Twitter just like any other social media platform took the chances and started making money mainly from advertising. But, this didn't happen on a large scale earlier than 2011. Between 2006-2011, Twitter self-sustained itself from advertising too but didn't hit $1Bn/year since Facebook ruled the web and was the mainstream media.
Twitter revenue Year over the Year 2012-2021
Starting 2012 Twitter registered its first serious annual revenue that points to $54.3M in the first quarter of 2012. The main source was advertising that only started to grow at that time. Q2 2012 brought a small revenue growth compared to the latest figures - $68M.
By Q4 2014, Twitter managed to increase 10x times the revenue, reaching $479M. Just like in the previous period, the main source of revenue Twitter had was advertising.
Starting with? 2015, Twitter diversified its sources of revenue. The microblogging social media started to sell data licenses. This leads us to the two main sources of revenue that Twitter published:
Advertising

Data licensing and other
In the beginning, data licensing didn't bring a significant amount of revenue, with a $200M contribution to a total of $2.1Bn/year. By 2021 however, Twitter revenue from advertising grew significantly while the one from data licensing increased at a slower pace. The latest figures from Q3 2021 show that Twitter revenue was $3.51Bn and is expected that the total revenue for 2021 Twitter had is above $5Bn.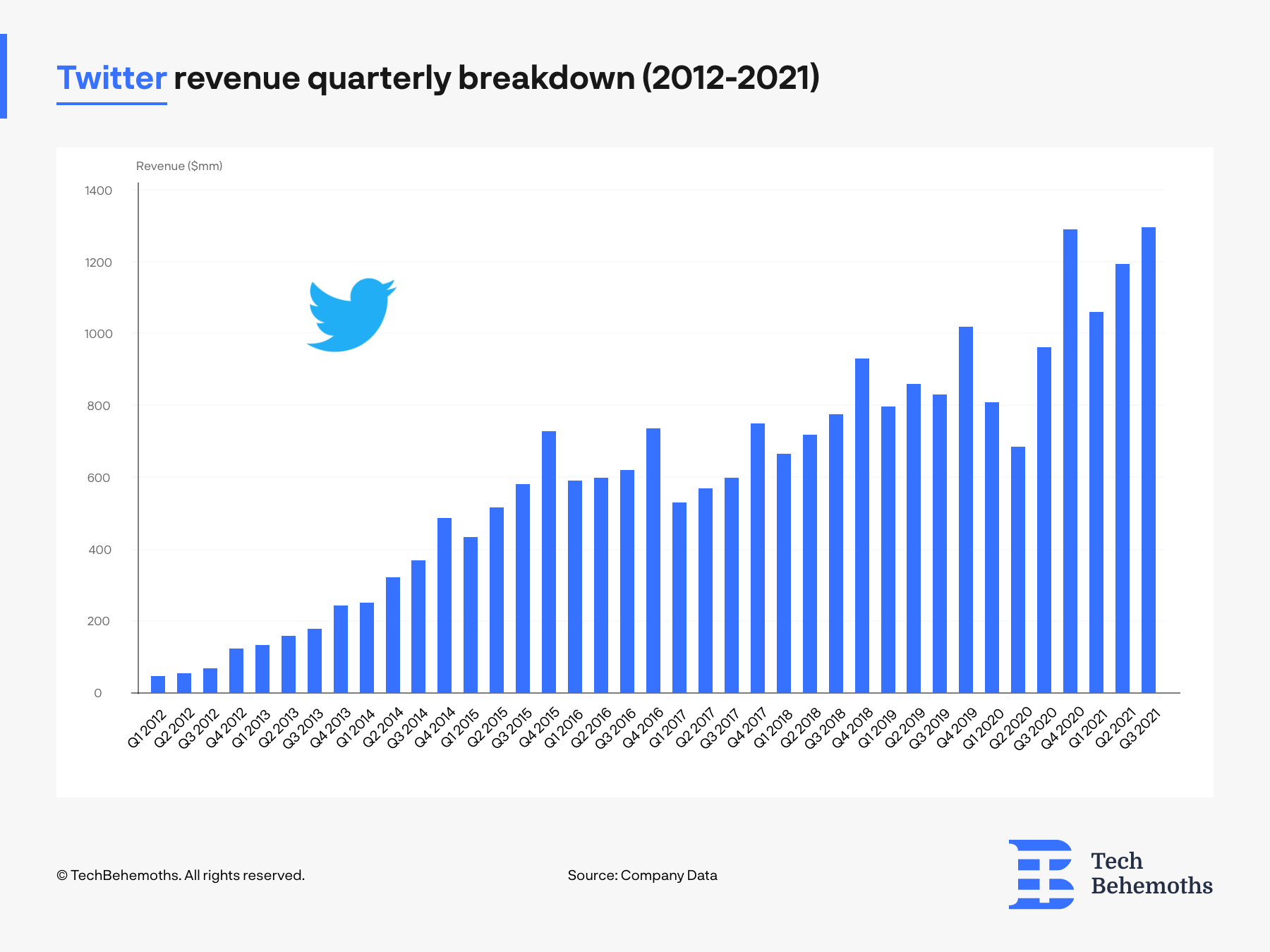 There has been a drop in income in Q1 2020 that we should talk about. As it was expected the pandemic changed the financial predictions Twitter had for 2020, with a drop of $150M in Q1 2020 compared to Q4 2019. On this topic Twitter CFO, Ned Segal said that: "Remember COVID had a varied impact in different parts of the world at different times of the year"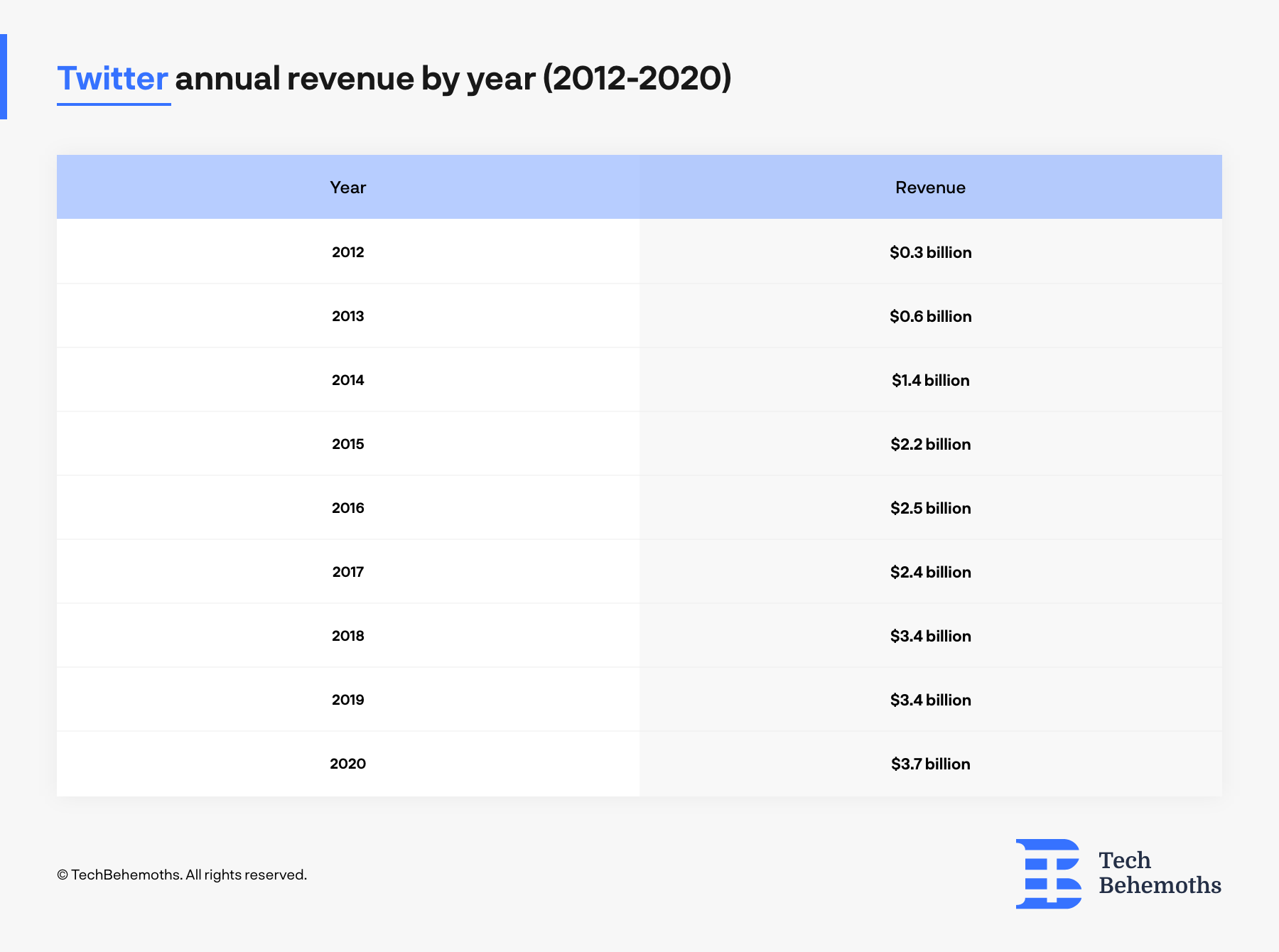 Twitter revenue by region
Just like Facebook (now Meta), Google or Microsoft have their revenue split by region, so does Twitter. However, in this case, it's more simple, since advertising and data licensing that is sold by Twitter comes mostly from the US. Breaking down the other 50% of Twitter revenue wouldn't make any sense as it will result in too many segments. So to conclude, Twitter declares only 2 regions that bring revenue to the company:
Official data on this topic started to appear only in 2018, as by then there was no financial statement divided into regions. Back in 2018, The US segment generated slightly more revenue than the rest of the world ($1.6Bn vs $1.4Bn). However, each year highlighted the differences between these two regions, with considerable growth of the US segment in 2020 - $2Bn revenue compared to the Rest of The World Segment -$1.6Bn.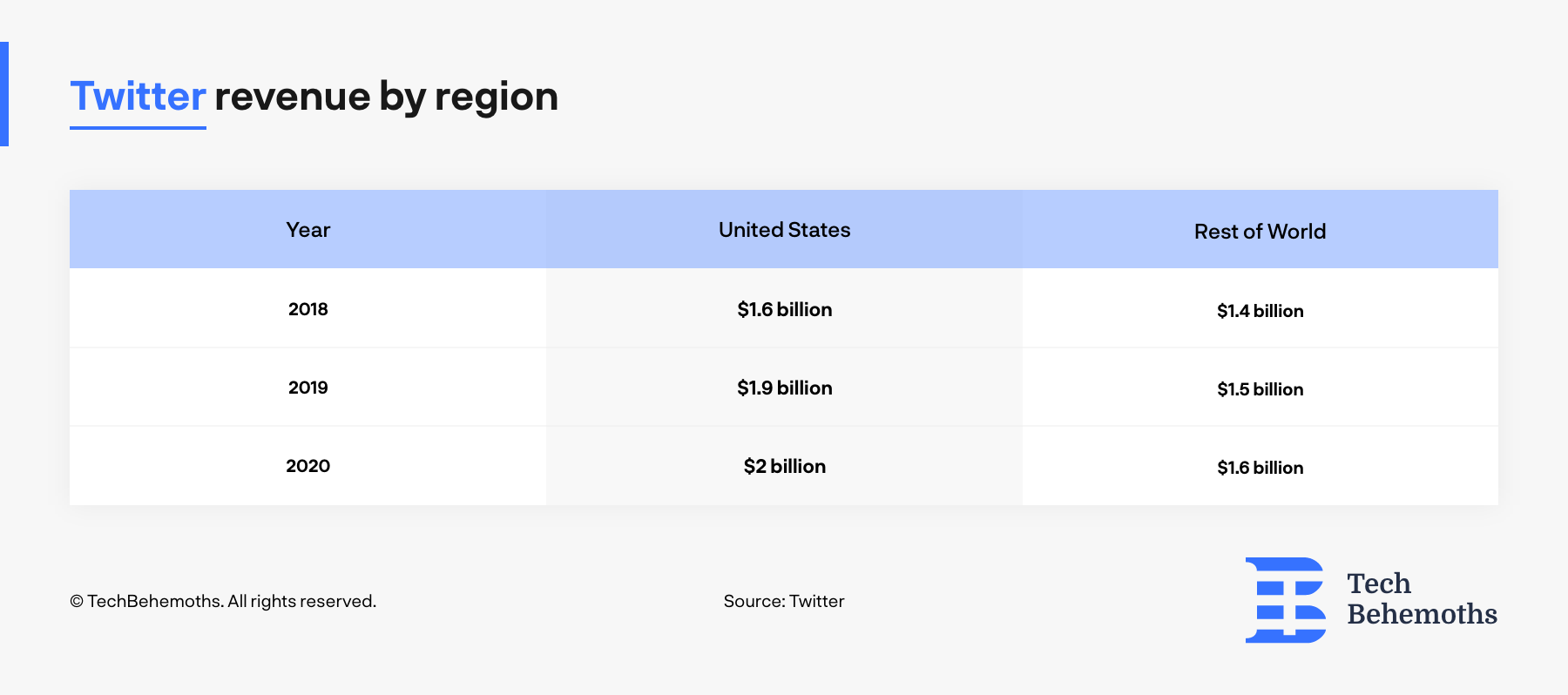 Twitter Profit breakdown
When it comes to profit, Twitter is not in its best period, and has never been, honestly talking. Ever since 2012, Twitter's profit has been going down, but it had two growth spikes $1.2Bn and $1.4Bn in 2018 and 2019. The pandemic also hit hard on Twitter in 2020 with losses of $1.1B, and it seems that the platform cannot stabilize its advertising income.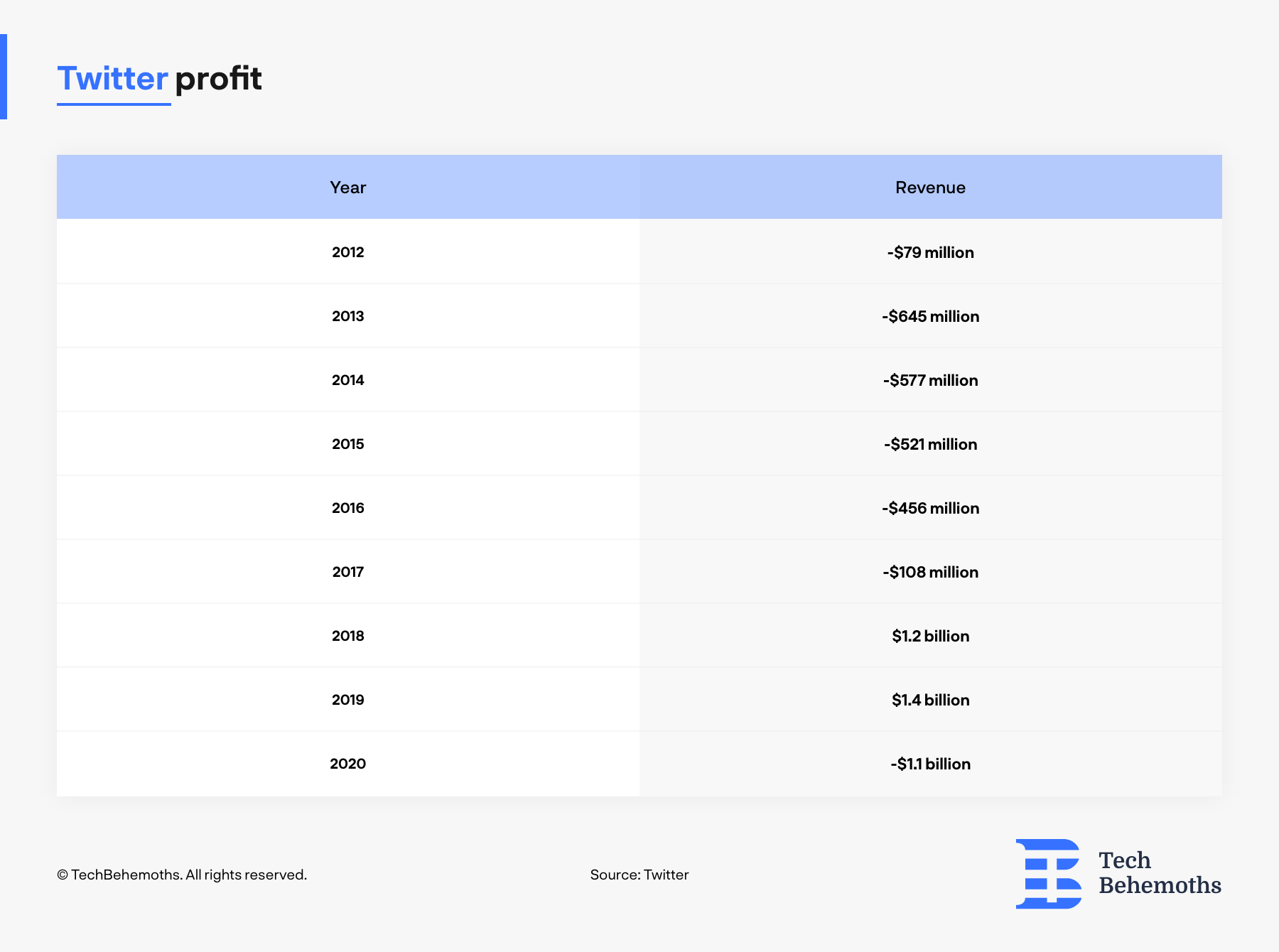 In 2020, when the revenue dropped drastically Jack Dorsey, now the former CEO of Twitter, mentioned that the company looked for a subscription-based solution to solve the revenue problem. In November 2021 Dorsey left the CEO position at Twitter, and the issue still remains unsolved for the company. This creates more uncertainty around Twitter and its financial future, which comes with more than just the same risks. But, it is still too early to conclude on this topic as the ball is in the hands of Parag Agrawal - the former CTO, now CEO at Twitter.
The $1.1Bn loss in 2020 is mostly because of a lawsuit that was initiated by its investors. As a result, Twitter had to pay $809M to investors for providing misleading information about the number of users, and user-interaction.

Twitter Users Statistics in 2022
Twitter reached 100M users in 2017, and that's a strong signal that social media isn't dying in spite of the financial statements from previous years. Ever since, the number of Twitter users grew, and the trend continues in 2022. The last update shows that the number of users reached 396.5M users which is almost 4x times higher than in 2017. So the main problem is that people don't spend enough time on Twitter to convert ads due to the content format the platform promotes.
On the other hand, Twitter is still far behind Facebook, YouTube and WhatsApp that share the top 3 positions of most popular social media channels as of 2021. The only social media that is behind Twitter is Quora with 300M users, and right in front of Twitter is Reddit with 430M users.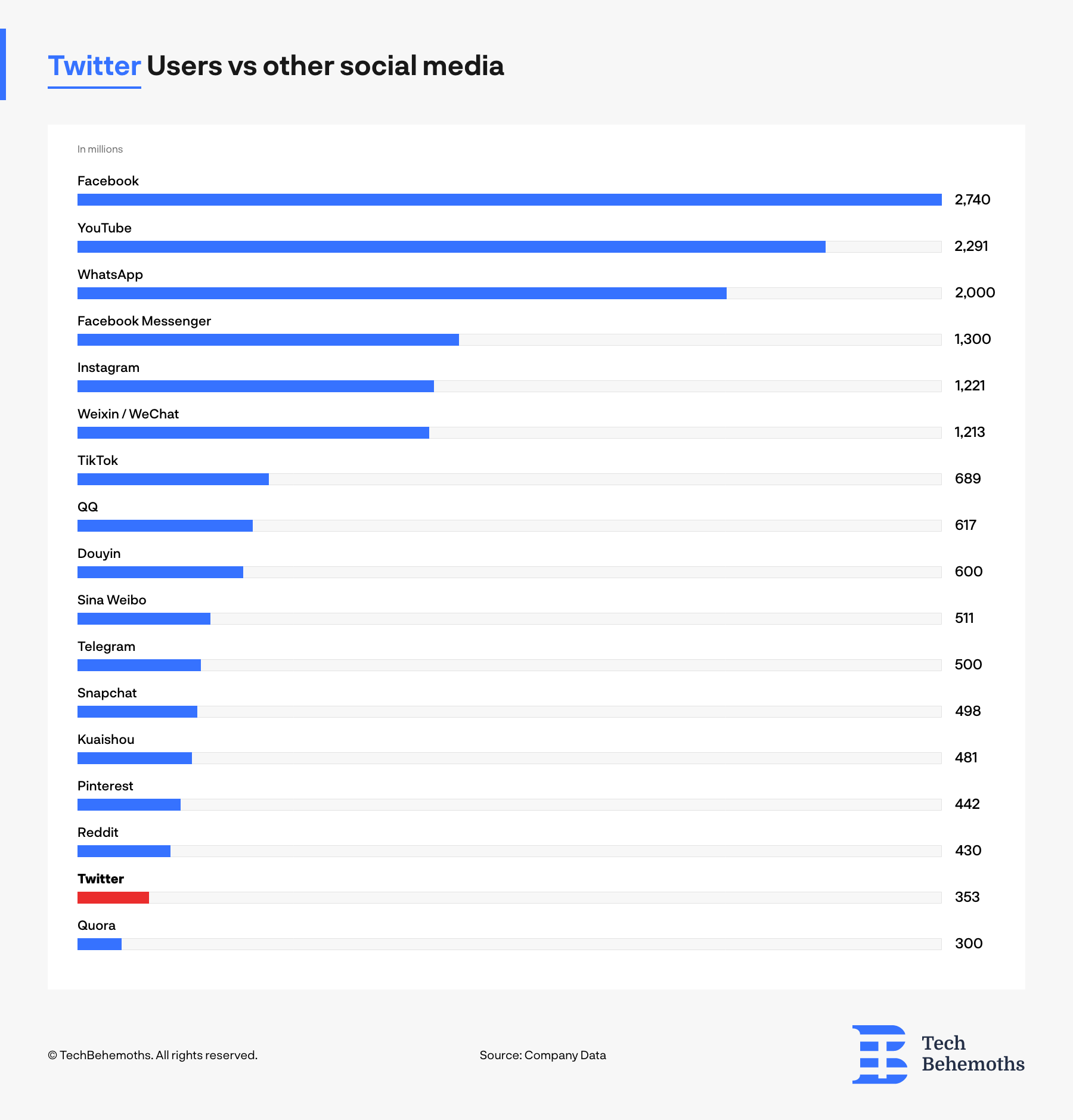 If the number of Twitter users will continue to grow, it's very likely that the revenue will have a similar trend and it will help stabilize the financial situation Twitter has. But at the same time, if users don't get a balanced solution between ads and relevant content, Twitter might fail as a social media platform.
When it comes to geographical distribution, most Twitter users are from the US with 69.3M as of 2021. The second position is held by Japan, with 50.9M users. There is an explanation to this, as the brand with the largest number of followers on Twitter is also Japanese. India surpasses by little the UK when it comes to Twitter users with 17.5M versus 16.45M users. The last three countries that close the top 13 by the number of Twitter users are the Philippines, Spain, and Thailand with less than 8M Twitter users each.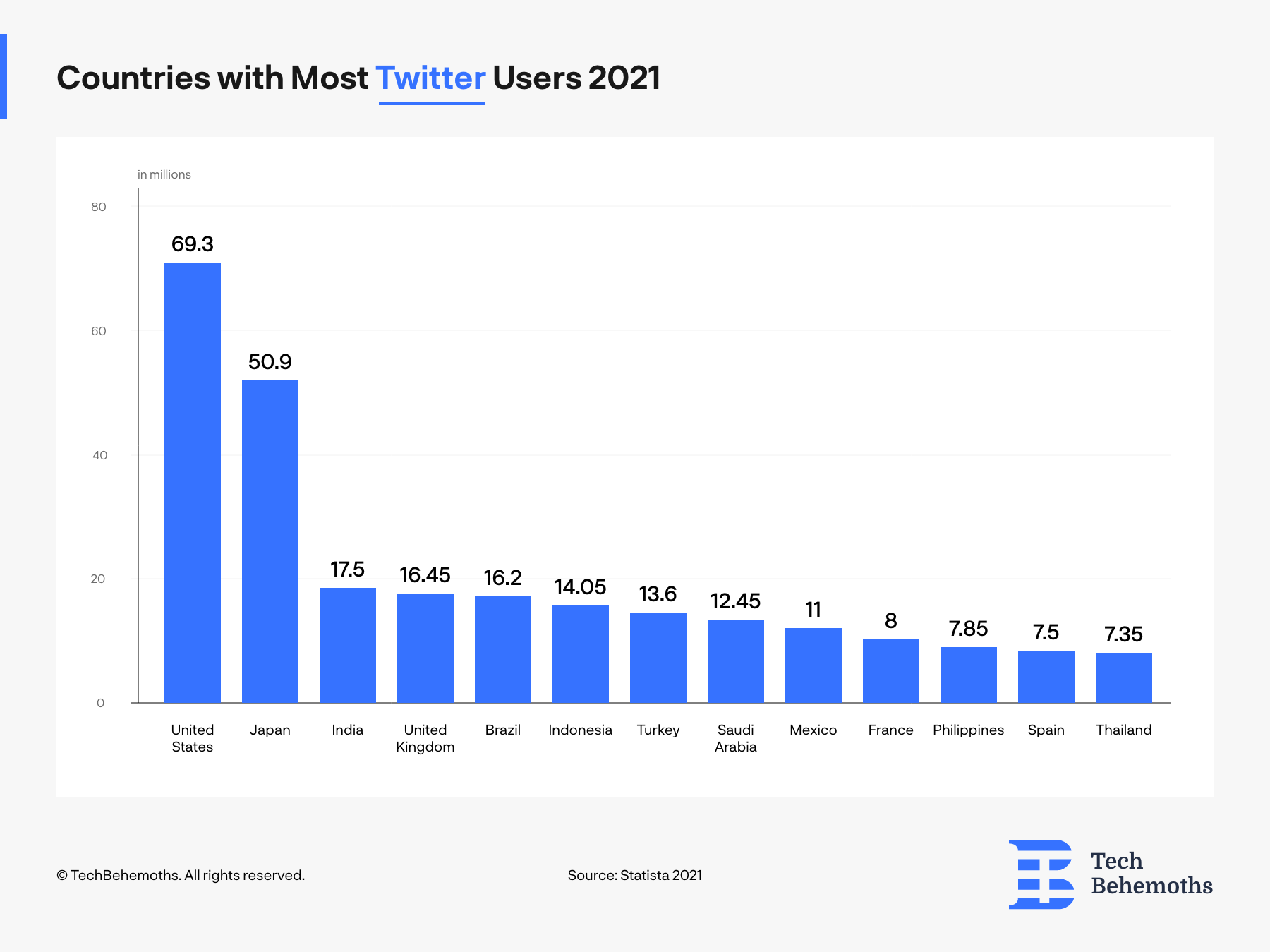 Now the explanation, why Twitter has so many users from Japan. It's simple - one of the largest brands owned by Sony is extremely active on Twitter and uses it as an exclusive communication and announcement channel with its community. As of 2021, Playstation is by far the brand with the largest number of followers on Twitter. More precisely, we are talking about 23.8M of users. The second position is held by Micorsoft's Xbox and the largest competitor of Playstation. The gaming industry doesn't stop here as Rockstar and Nintendo are also among top 10 brands by the number of Twitter followers, each having less than 12M of followers as of February 2022.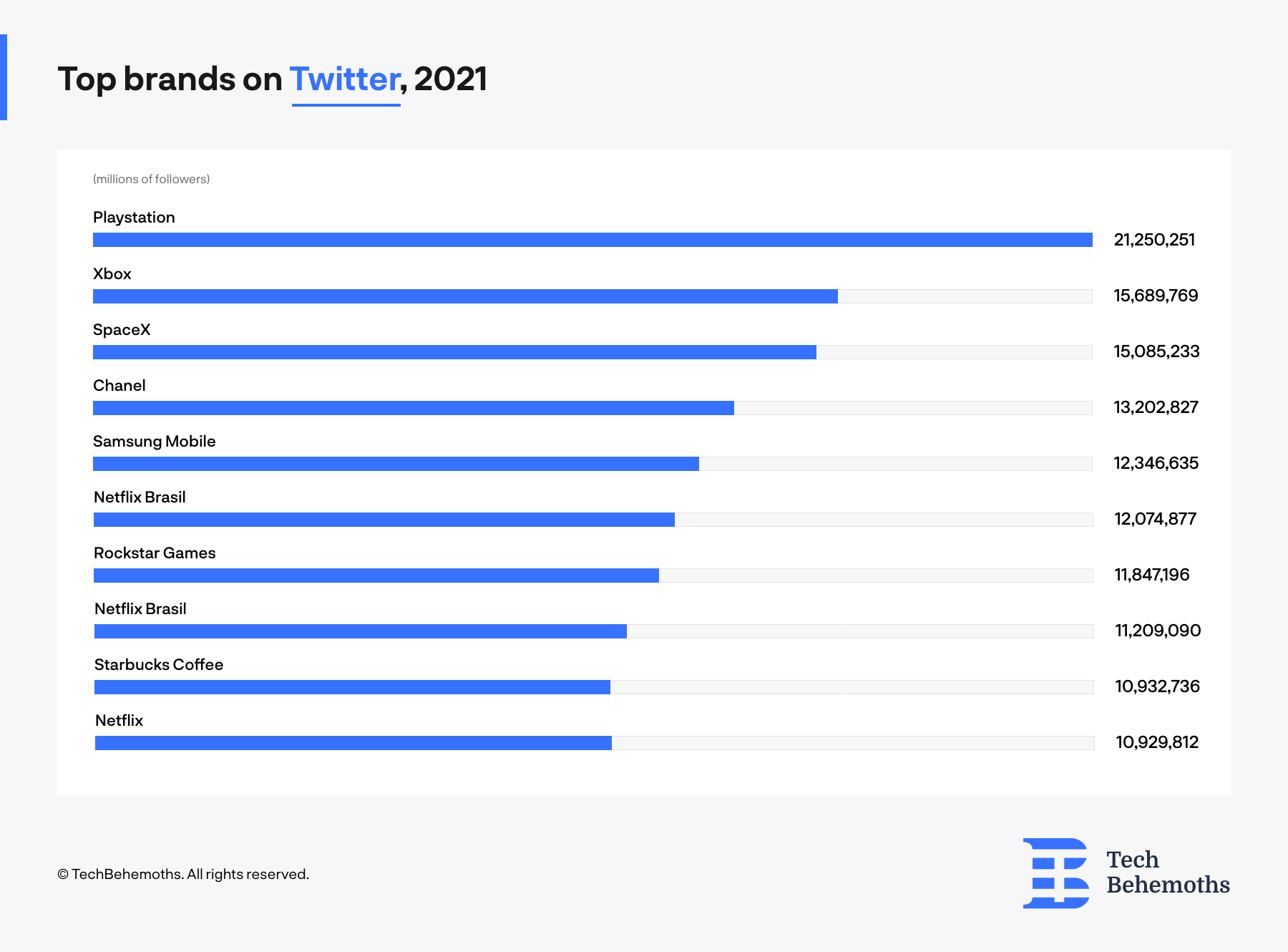 Conclusion
Twitter doesn't come even close to top social media by revenue but is still a very important place for brands, companies, and public figures. It is probably the only social media that covers the most important news told short and from the first source. With this in mind, is still falling behind other social media platforms, and it may be because of its main strong point.
People use social media more for entertaining content rather than for news that can be found elsewhere. So Twitter might consider a new way to attract this type of audience. But the risk that it may lose the already conquered audience blows any second thought about entertainment.
So there are still unanswered questions related to Twitter's progress in the next years. Many times these questions point to the new CEO - Parag Agrawal.
Would you like to read more about this?