How Much do React Developers Earn in the Netherlands? 2022 Overview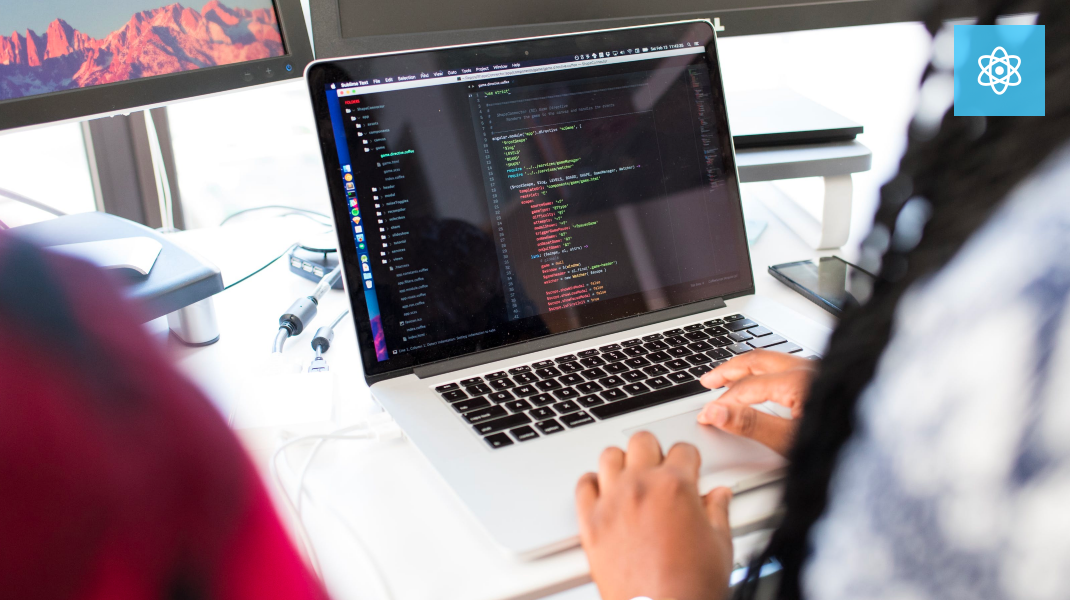 Wages are a sensitive topic to talk about, but at the same time, they are one of the most important indicators for a job or even a career. And, a very popular job in the 21st century is the one of being a React developer. This research is exactly about developer wages in the Netherlands - a leading tech hub in Europe.
Let's start with the fact that frameworks supported by tech giants are more popular than others. In our case React as a Facebook-developed and promoted framework enjoys a high demand on the market, even if it's 8 years old. Thus, React developers tend to get more working hours.
There Is No Fixed Salary
When calculating the average salary for a React developer in the Netherlands, just like in any other country it is extremely difficult to get a precise figure. The thing is that it depends much on experience, region, company, target market, and even project type.
In some cases, it may happen that a junior React developer from Amsterdam is paid better than a middle React developer from other regions of the same country.
Or, even more, according to our data small tech companies of up to nine people have a considerably higher hourly rate than companies with up to 50 people. And this happens not only in the Netherlands but is a global trend.
Relevant Sources About React Developer Salary In The Netherlands
Of course, our research includes and other resources where the average salary for this job is calculated based on several indicators. The data was collected from the most reliable sources and is calculated only for the Netherlands.
All three sources say that the wages are as of 2021, and probably the only difference between Glassdoor and the others is net wage vs gross wage. Nonetheless, the numbers look pretty high and we will compare them later with other developers from the same country.
Freelancing As a React Developer - Netherlands
Freelance is a bit more difficult to track, especially if you target a specific country. There are React developers working in the Netherlands, Dutch React developers working from abroad, and React developers working for Dutch companies.
Yet, thanks to Freelance platforms, we can track information about all three categories and of course their wages. But before sharing the figures we must say that Freelancing is relatively comparable with salary-based jobs. Charging per hour may vary from case to case due to a huge number of factors:
Experience

Project difficulty

Project duration

Estimation skills

Negotiation skills
These are only a few wage indicators that have a big impact on the money a freelancer earns at the end of the month. So theoretically it is possible to work from the Maldives for a Dutch company on a React-based project but it's already obvious how many things can take your money except taxes and fees.
Let's take for example the pricing from Upwork. There are Dutch developers who charge $25/hour while others go up to $100/hour. The differences are the same indicators that we just mentioned above.
On Freelance - another freelance marketplace the difference is smaller in charging per hour on React - $30 - $50/hour. But this confirms once again the theory of how much a React freelancer can earn in the Netherlands.
Similar to Upwork and Freelance, PeoplePerHour hosts several job vacancies for React developers which indicates similar figures as on Upwork. $20/hour up to $100/hour.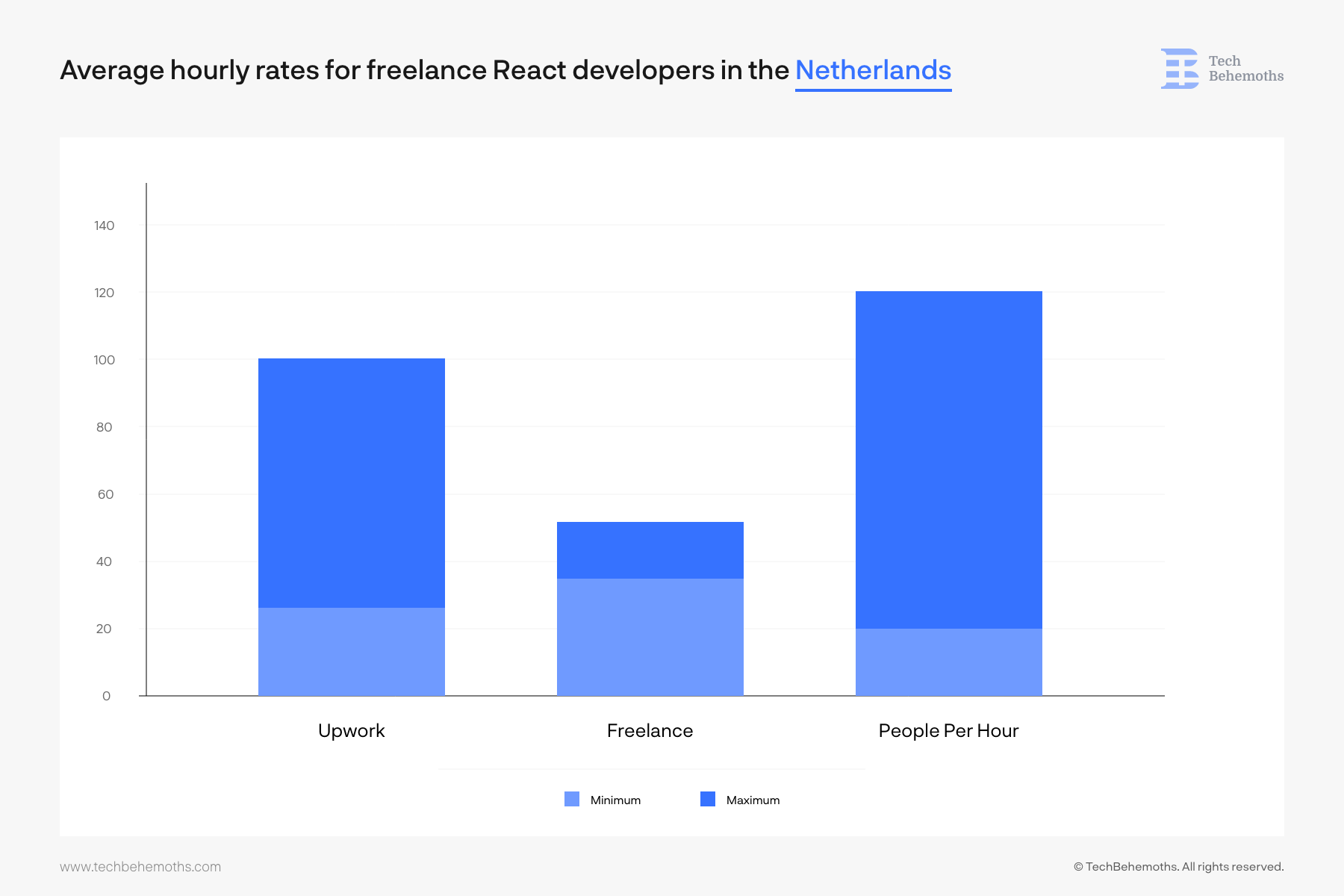 Also on this topic, as you may already notice there are three large freelance marketplaces that offer the opportunity to get hired for various projects. All these marketplaces are flexible when it comes to customizing your profile, and you can get the maximum of each if you handle your information well.
Moreover, being a freelancer is way more popular than 5 years ago, especially due to the pandemic. And hiring a freelancer does not assume the same risks as previously, since the marketplaces are regulating and moderating the entire process. Yet, the decision is up to you if you would choose a freelance career or not.
React vs Vue vs Angular Developer Income in the Netherlands
When it comes to comparing React with something, the most suitable and at the same time similar frameworks are Vue and Angular. Of course, we can compare React dev income also with WordPress, but it would be technically incorrect.
Now, taking into consideration the figures from our previous marketplaces and tools here is how much do all three developer types earn in the Netherlands:
Vue.Js Developers
Angular.Js Developers
Overall, in terms of salary, React is somewhere in the middle, between Vue and Angular, but it's the same on how these services are demanded on the global market. While React is backed up by Facebook and Angular is backed up by Google, Vue has the smallest market share at the moment, but it is expected to grow in the next few years.
Below, is the graphic representation of the average salaries of React/Vue/Angular in the Netherlands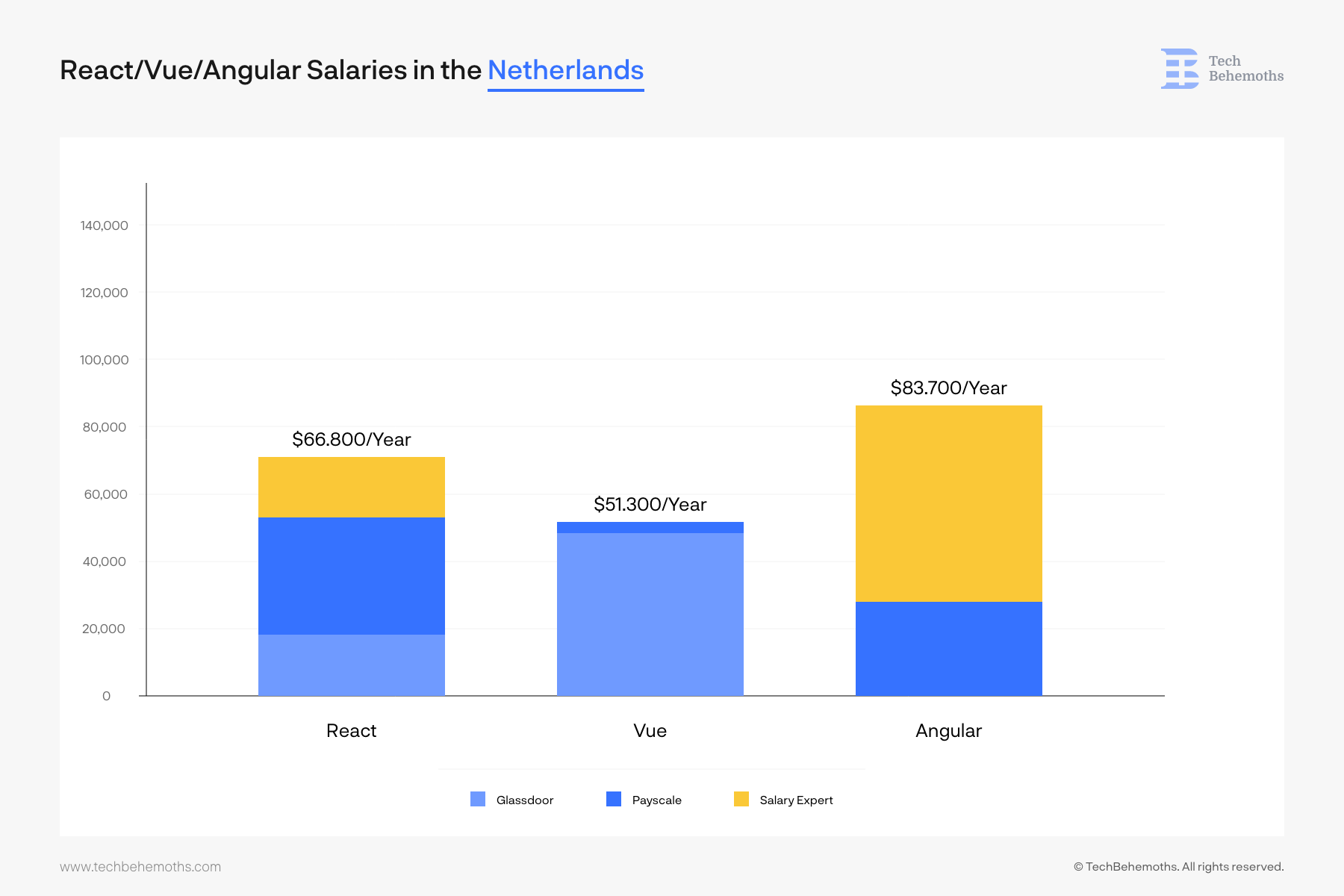 How To Increase Your Salary as a React Developer in the Netherlands
Probably this topic refers to all types of developers, not only to the React ones, however, there is a thing or two that is specific for this market.
First of all, experience counts everywhere, including in this field. So the more projects you complete as a React developer, the more you will get either in a company or as a freelancer. Remember the generally accepted steps in development?! Junior - Middle - Senior. Well, that's how things work pretty much on the salary scale.

Difficult projects or even prestigious projects can help you as a React developer increase your own visibility on the market. In the Netherlands, like in most western countries the ability to prove your knowledge counts a lot either when you get hired, or when you negotiate your salary/salary raise.

Certifications are also important when talking about wages. Getting several certifications for React skills can force HR managers to put an eye on you and be taken into consideration for a new job in another company. But also, many IT companies, including those based in the Netherlands, are paying the certification courses for their employees, and increase the client approval rate.

Updates in frameworks like React play a significant role in the development process of any project. So being up to date with the latest trends and patches can also lead to a salary increase.
Conclusion
Generally, The Netherlands is a great place for developers, and also react developers. Probably in the neighboring countries, a React developer would get paid better but the environment also matters. In case you are a React developer from the Netherlands and look for top companies to work with, or a client that wants to find Top React Companies in the Netherlands - TechBehemoths provides an updated list for 2021, with detailed descriptions, portfolios, and reviews of the most promising IT companies from the Netherlands, but also worldwide.
Would you like to read more about this?