What Tech Companies Are Slowing Down Hirings?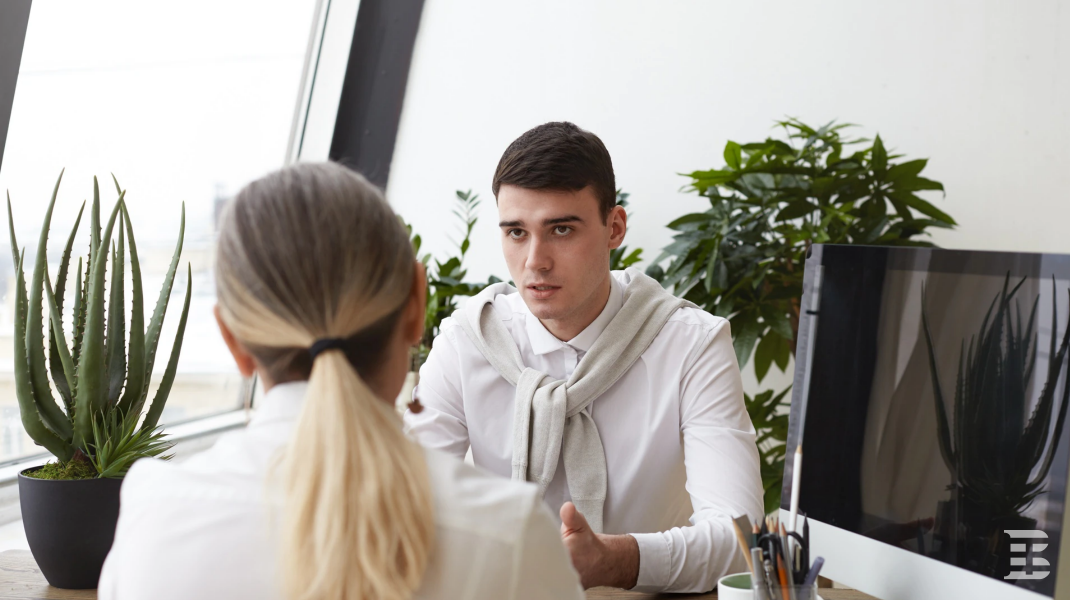 It may be the effects of the pandemic that induced global economies into recession, but also the high inflation rate, and market prices for essential products along the way with Russia's war in Ukraine. But if by half of 2022 only SMEs and the masses felt the disastrous economic effects, now big tech companies are also announcing their first protection measures. As we have no news if big tech is cutting other budgets, it's certain that Apple, Google, Amazon, and other tech behemoths are slowing down hirings for the following period.
Below we'll break down what tech companies are cutting hirings and the reasons behind this decision.
Largest Tech Companies Slowing Down Hirings
Google
Google CEO, Sundar Pichai announced in an internal letter that the company will slow the hiring rates for the rest of 2022 referring to the "uncertain global economic outlook". In the same context, Pichai announced that only in Q2 2022 Google hired over 10,000 people, and further, the giant from Mountain View will focus more on bringing critical staff.
At the same time, Google's CEO hasted the employees to "work with greater urgency, sharper focus and more hunger than ever before".
As of February 2022, Google had approximately 135K employees across the world out of which ~20% work remotely. As per total, Google and Alphabet which is the parent company, sum up 156K employees at the end of 2021.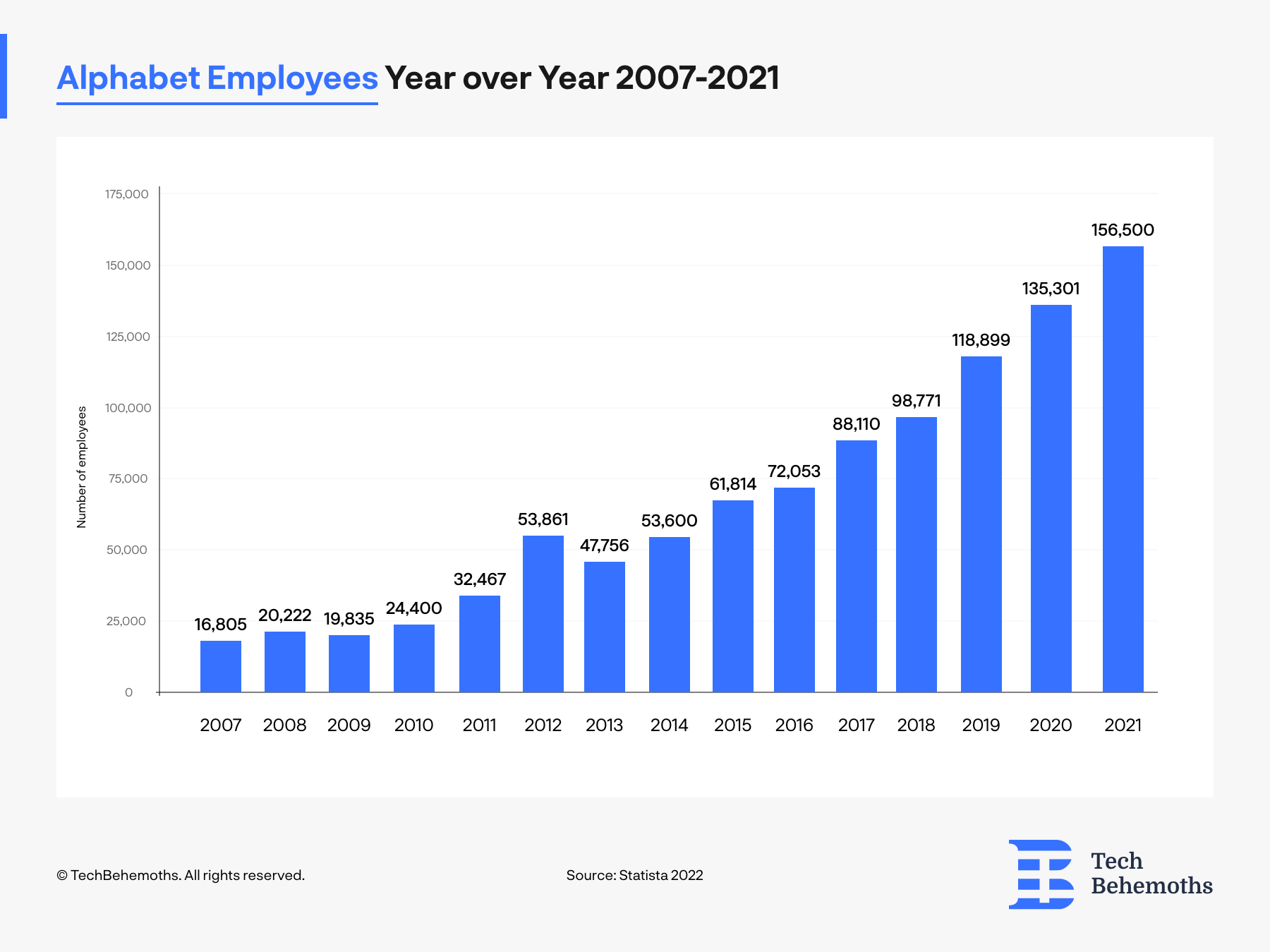 Apple
Apple is the next tech behemoth that plans to slow down the hirings. Unlike Google, Apple intends to apply this change starting in 2023. According to Bloomberg that refers to an anonymous source, Apple's main reason to cut hirings is similar to Google's - "uncertain times".
Nonetheless, the source states that this will not affect all departments, and the rates will slow down for some teams only. In contrast, Apple is planning to launch a new product in 2023 - a mixed reality headset.
According to MacroTrends, in the end of 2021, Apple had 154K employees.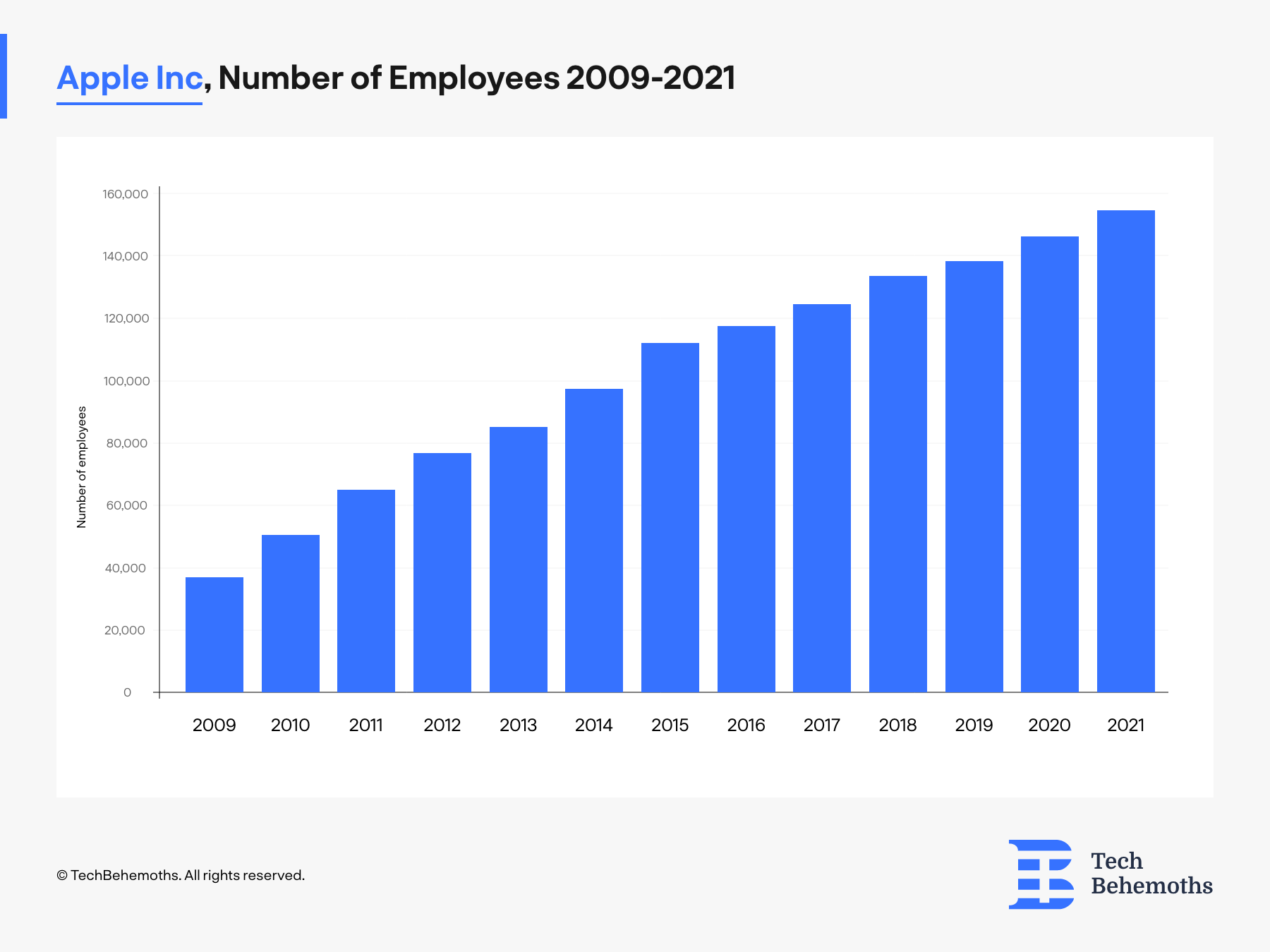 Meta
Meta is next on the list who plans to cut hirings by at least 30% according to an announcement made by Zuckerberg in early July 2022. At the same time Meta CEO warned employees to brace themselves for an economic downturn.
In this way, Meta plans to hire around 6000-7000 engineers in 2022 compared to early forecasts of 10,000. Similar to what Google CEO mentioned, Meta CPO Chris Cox suggested that the company must operate "meaner, leaner and better". Both Zuckerberg and Cox's statements took place in the weekly Q&A session.
According to Craft.co, meta has 77,800+ employees around the world while Statista estimates little more than 71K.
Microsoft
Microsoft has also announced that it will slow down hiring rates in 2022 for its Windows, Teams and Office departments. The reason remains the same: economic volatility. In contrast to that, Microsoft CEO, Satya Nadela told employees in May that opt for better pay focusing on a 25% compensation stock.
At the end of 2021 Microsoft had more than 181,000 employees after an 11% growth from 2020. In the US there are 103,000 employees while other 78,000 are spread in offices around the world.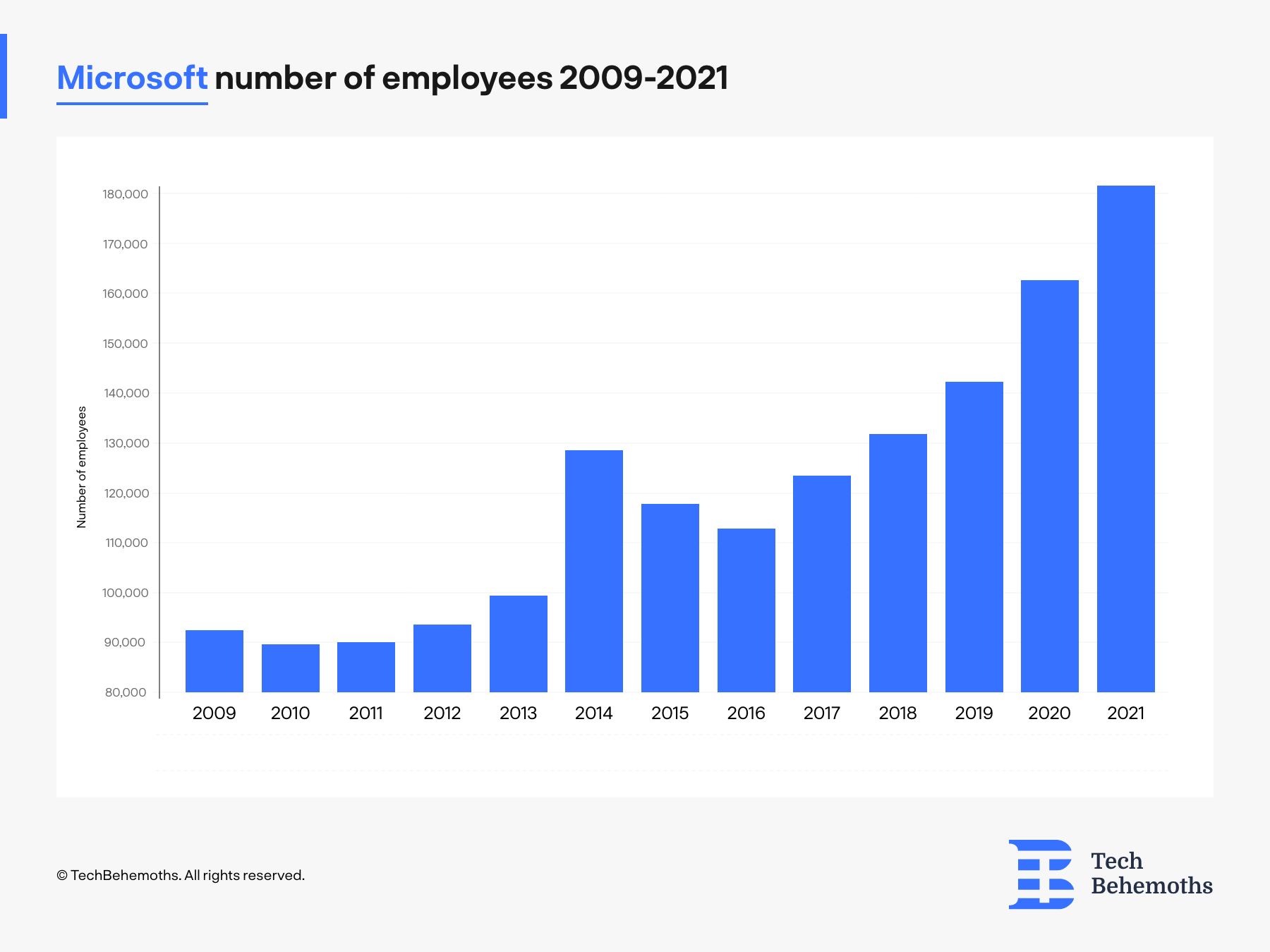 Salesforce
Salesforce CFO Amy Weaver also announced that the company will reduce its hiring rate due to the economical conditions. She said that "we're going to continue to hire" but that it will do so at "a much more measured pace, and we're focusing the majority of our new hires on roles that will support customer success and the execution of our top priorities."
Salesforce counts more than 77,000 employees with a 30% growth rate since 2020, and 50% more than in 2019.
The company operates in South and North America, Europe, the Middle East, and Asia. Salesforce HQ is in San Francisco.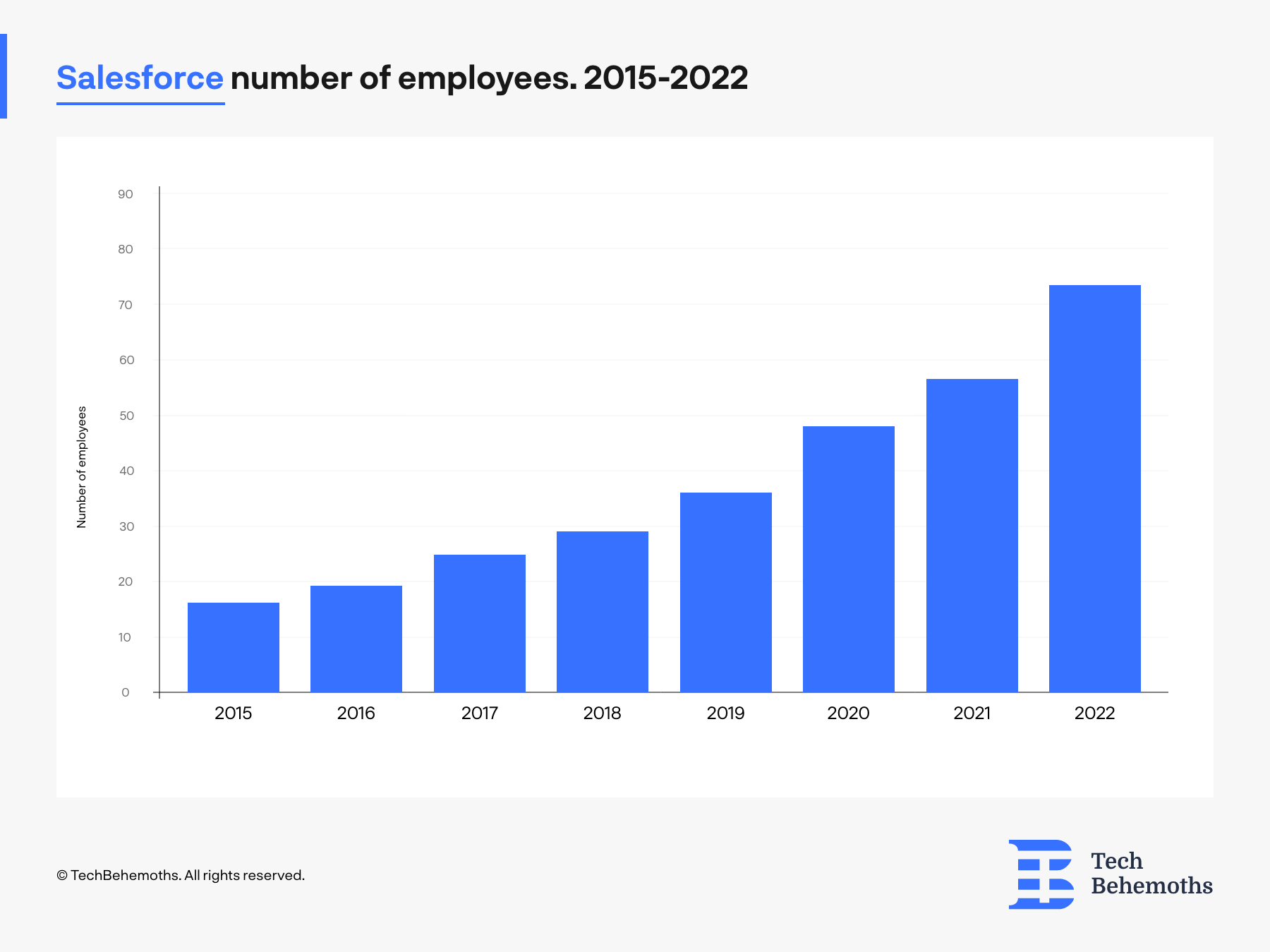 Conclusion
The main reason why tech companies are slowing hiring rates is the uncertain economic future on a global scale. The pandemic effects combined with the general economic slowdown caused cautiousness not only for big tech companies but also for other economic actors. As the talent acquisition rate for big tech companies drops, this may be the chance for tech startups to accelerate their growth.
Would you like to read more about this?