Top 5 German Cities By Number of IT Companies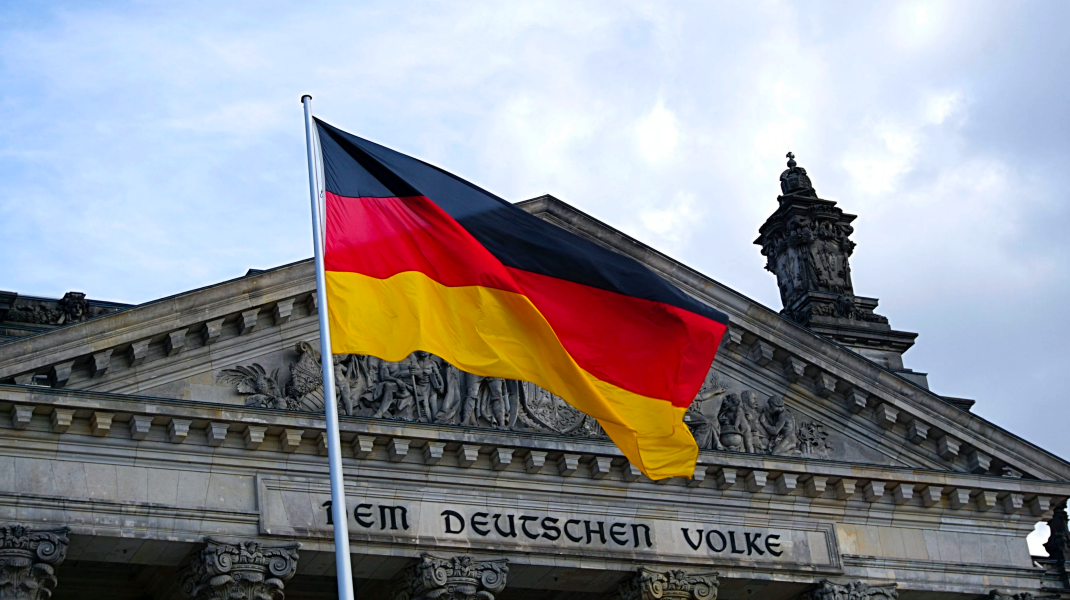 Germany is a top European IT hub, with more than ¼ of the continent's market share. Except for foreign IT companies with headquarters elsewhere than Germany, there are 1080+ registered and active web agencies, IT firms, or digital companies located inside the country. As one of the most active markets in the world, German cities compete with each other to attract more investments and companies that provide digital services across the globe.
To highlight the activity of the German IT market and also its growth over the last years, it is important to understand the basic functionalities of the entire industry. But the most important thing is to rank and classify which German cities have the most IT companies, and why. This research is exactly about that and is meant to put more light on this topic in 2021.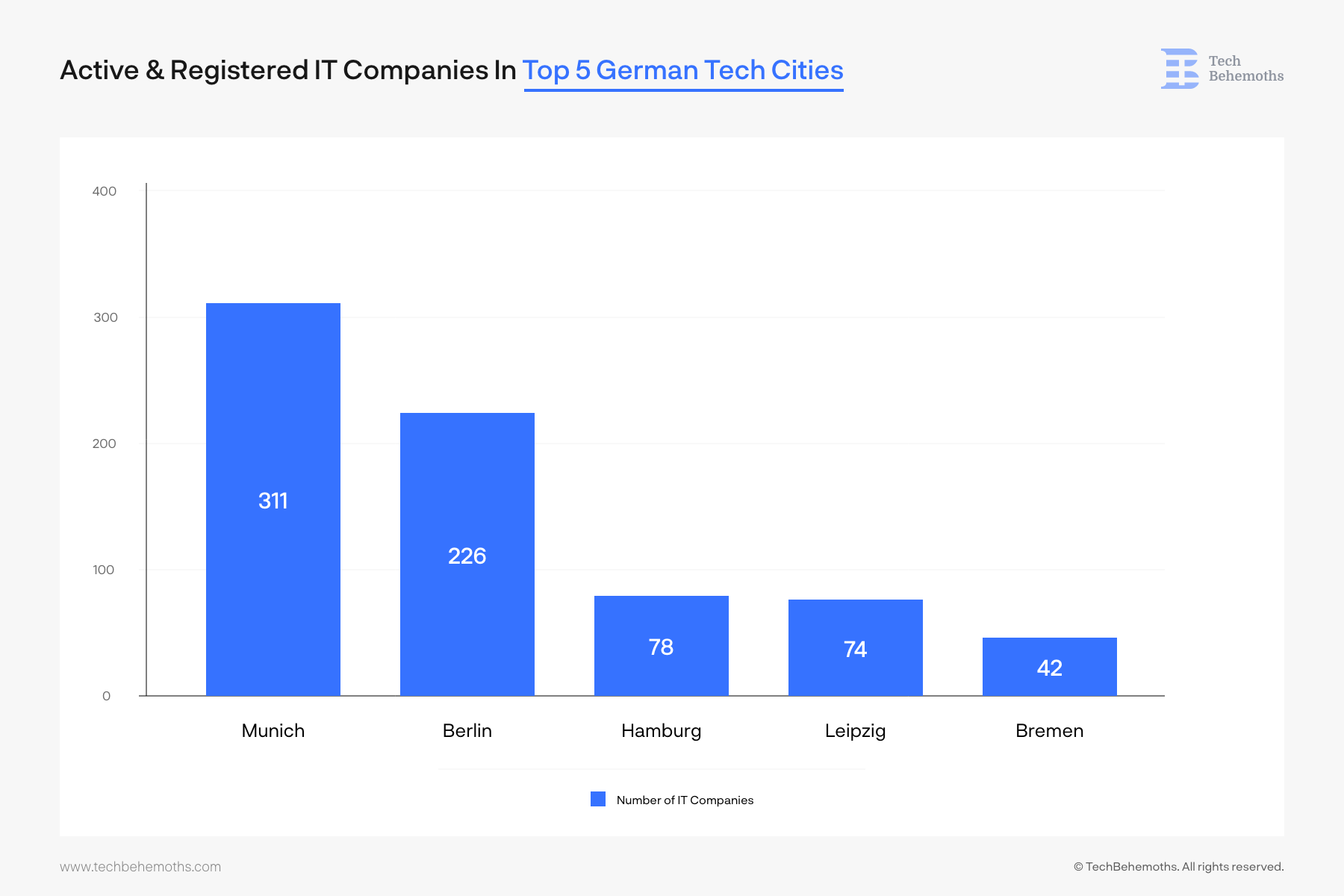 #1 Munich
According to TechBehemoths data from 2021, Munich is the #1 German city with the highest number of IT companies. More than 311 entities operate there in the IT industry, covering 75+ types of digital services. Due to its steady growth in the past 15 years, Munich managed to attract an increasing number of IT companies, and also to surpass other German cities, such as Berlin or Hamburg.
But economic growth is not the only reason why Munich is the top German city in terms of IT companies. The Bavarian capital is also known for its business culture and global level business events that took place yearly. Munich also comes with the highest salary in IT, in Germany - according to Glassdoor, the average wage of a software engineer is $73.850/year.
In addition, the employment rate in Munich is among the highest in Germany with 66.1%. That's higher than Stuttgart, Cologne, Hamburg, Frankfurt, and Berlin.
#2 Berlin
Berlin is the second-largest tech hub in Germany and has more than 226 active and registered IT companies. Even though the German capital used to be called the largest tech hub in the country, things have changed, and due to some of the above-mentioned reasons, Berlin's IT growth was slower.
Berlin is also a great place for startups - only in 2019 startups received $5.9Bn. The investments are among the highest in Europe, but twice less than London. According to an article published on Sifted, there is more likely to get funds in Berlin at an early stage of a startup rather than at a post-seed stage. And again, compared to other top tech hubs in Europe, Berlin is a place for early-stage startups as the number of startups at a later stage is considerably lower.
However, what happens next, is the main reason why Berlin's IT industry growth is slow. Most of the startups founded in Berlin tend to find another city for their main headquarters and further business development. Since Berlin is overloaded with tech and IT, there is not so much room for new IT businesses.
When it comes to salaries in the IT industry, Berlin is not so far behind Munich. A software developer is paid $73.170 USD/year. That's $700 less than it would have been paid in Munich.
#3 Hamburg
Hamburg is also on the list of German's largest tech hubs, but compared to other cities, it has a different focus on IT industry subsectors. According to Hamburg.com information, the city hosts a concentration of Media holdings and multiple international social media tech giants. Google, Yelp, Facebook, Twitter have offices in Hamburg, and in addition, Xing was also started and grown in Hamburg.
Another field where Hamburg starts to grow is the gaming industry. With 4,000 jobs at 150 different companies — including Goodgame Studios, Bigpoint, and Innogames — Hamburg has earned its nickname of 'Gamecity.
When it comes to the number of IT companies that Hamburg hosts, according to TechBehemoths, there are 78+ active and registered entities covering 61+ digital services. Of course, the number could be a lot higher, taking into consideration that more than 110K employees are enrolled in the ICT industry, only in this city.
Hamburg is close to Munich and Berlin in terms of startups. The Ministry of Economics invested EUR 10 Mln in startups focused on artificial intelligence, and innovation programs in 2020, and is expected to launch more than 250 small businesses that will boost the industry in the next 5 years.
Hamburg also gets really close to Berlin and Munich in terms of paychecks. According to Glassdoor, the average salary in the IT industry in Hamburg and the surrounding area reached 54K Euros, or $64K/year. It is yet one of the best salaries in Europe for this industry, but also, Hamburg is one of the most expensive cities which somehow balances the situation.
#4 Leipzig
Leipzig is a very creative and tech-driven city with lots of professionals and young talents that benefit from one of the best education in Europe and can prove world-class skills in software engineering, web design, or app development. The entire business ecosystem is well-established and local facilities make businesses grow easier and smoother than in Germany's larger cities.
According to TechBehemoths, as of 2021 there are 74+ active and registered IT companies, covering 43 subsectors of the digital industry.
Most Leipzig-based IT companies focus on web development, content marketing, and web design. Leipzig is also one of the destinations where German startups run to - the city has to offer more space, and a friendlier working environment.
As for salaries, according to Glassdoor Leipzig pays well for IT professionals. The yearly average salary in the industry is 47K Euros or $52K, which is close to what Hamburg or Dortmund offers.
#5 Bremen
Bremen is one of Germany's most developed cities and regions. Even though its main focus is not on the digital industry and IT centers, many companies and startups from this field choose to open an office there and continue their activity. The main reason may be the well-developed business environment and good IT infrastructure, alongside fair rent prices.
According to TechBehemoths, there are 42+ active and registered IT companies in Bremen. In other words, Bremen is comparably still a developing city that aims to attract companies but not only from the IT sector.
In addition, local IT and software companies are also contributing to the city's digitalization and evolution by hiring an increasing number of students and young professionals in the field of ICT. In some places, Bremen can be compared to Leipzig when it comes to IT specialization. Bremen is also considered one of the most creative cities that focuses on innovation projects, making the city a promising place for startups, accelerators, and incubator programs. The University of Bremen is one of the most prominent incubators and accelerators in the region, helping businesses to tackle development challenges and take advantage of local and national facilities for SMEs.
According to Glassdoor, the average salary of a software engineer in Bremen is around 51K Euros, which is even higher than Leipzig. This means that software companies in Bremen are ready to pay for good skills and talented developers for their work. On the other hand, this also means that the prices for IT projects are above the EU average
Do you know any IT company from Germany?