Why Tech Companies Are Valued So High?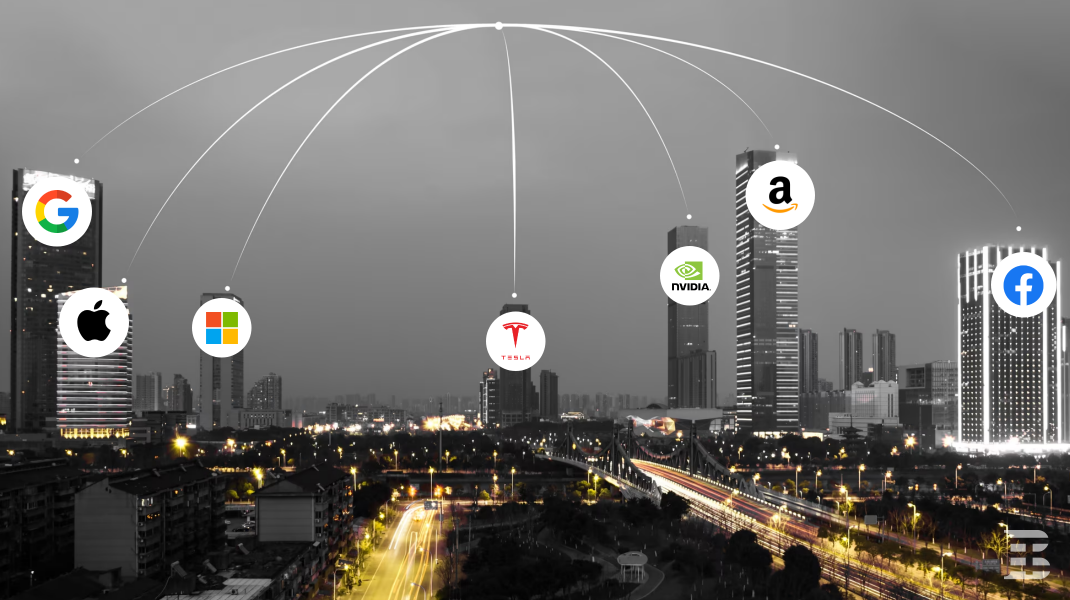 In the past few years, we've seen tech companies taking over the stock market with extremely high valuations that have left investors wondering if these stocks are overvalued. The technology sector is without a doubt one of the most dynamic and fastest-growing industries in the world, with new technologies and innovative products being introduced every year.
As a result, investors have been pouring money into tech stocks, leading to valuations that may seem way too high compared to other industries. So, what is driving the high valuation of tech stocks, and is it sustainable?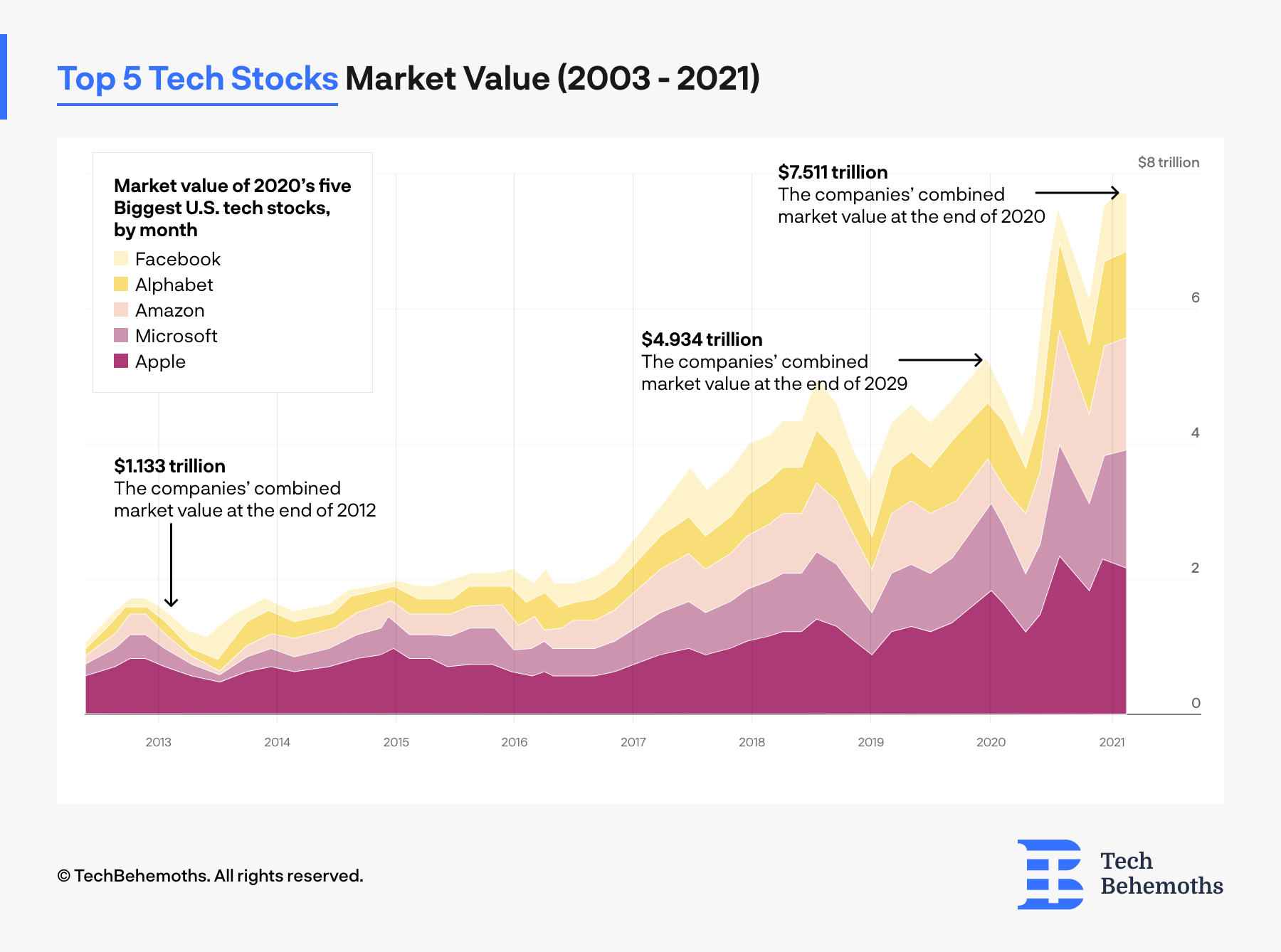 Where does value come from?
There are multiple factors to take into account when one calculates the value of a company. For both normal- and tech businesses, the procedure for valuing is the same. A calculation is done using the following method:
EBITDA (Earnings Before Interest, Tax, Depreciation and Amortisation)
However, when it comes to technology, there are multiple factors that affect the valuation:
Scalability of the business

Levels of risk and how they are addressed

Recurring revenue

Contracts

The company's growth rate

The condition of the online code, and

The cost to replicate the business.
Tech Stocks Main Factors
Let's dive deeper into the topic and point out the main factors which differentiates the technology stock from a normal one and why the valuations are higher at times.
#1 Growth
One of the main factors driving the valuation of tech stocks high is the growth potential of these companies. Many tech firms operate in industries that are capable of explosive growth. Examples are:
Cloud computing,

Artificial intelligence,

E-commerce,

Renewable energy.
These industries are still in their early stages and have enormous potential for expansion. Investors are betting that tech companies will continue to innovate and grow their market share, which will lead to higher revenues and profits in the future.
As a result, investors are willing to pay a premium for the potential future earnings of these companies, leading to high valuations. This is one thing that makes tech different from other sectors is that these companies often make more of a promise to investors, rather than delivering short-term results. They basically say, "Give us your money now, we'll innovate and eventually earn more cash down the road." That's why tech companies are often known as growth companies.
A great example of this is Theranos, a blood testing company founded in 2003. The leadership of this company claimed it would revolutionize the blood testing industry by being able to diagnose illnesses with just a single drop of blood.
These promises resulted in Theranos raising millions from investors, and getting a company value of 10 billion dollars.
However, later on it was revealed that the technology did not work as told. Theranos had been misleading investors and the company's value plummeted, dissolving the entire company with it.

This shows that valuing a company based on hype and promises, compared to financial metrics, can lead to major overvaluing and risks. Because in the end, the fake promises cost the investors more than $700 million.
#2 Low Interest
Another factor driving the high valuation of tech stocks is the low-interest-rate environment. In recent years, interest rates have been at historic lows, making it cheaper for companies to borrow money and invest in growth opportunities. Many tech companies have taken advantage of this low-interest-rate environment to invest in new technologies, expand their market share, and acquire other companies. This investment has led to higher revenues and profits, which in turn have led to higher valuations.
However, because borrowing was so cheap, companies like Netflix, Tesla and Dell have massive debt. Now that the interest rates are being increased, companies are maximizing their profits. This can be done through more ads, quality drop or higher subscription prices.
#3 Gross margins
In addition, many tech companies have been able to achieve high gross margins, which is the difference between revenue and the cost of goods sold. Tech companies can achieve high gross margins because many of their products are digital, which means they have low production costs and can be easily distributed over the internet.
This high gross margin allows tech companies to generate higher profits, which can lead to higher valuations
Why Tech Valuation is Not Sustainable
Despite these factors, there are a few concerns that the high valuation of tech stocks may not be sustainable.
Rising interest rates
One of the main risks is the rising interest rate. With the rise of the interest rates, investors are starting to have more options. Government bonds for example, which offer higher interest rates. Hence why tech stocks have fallen this year. Investors are wondering whether it's worth waiting around for the innovation like mentioned before.
People are becoming more impatient. The rising interest rates only amplify this making people look for faster returns in the process.
Market downturn
Another risk is the possibility of a market downturn. The stock market downturn refers to a period of time during which the stock market continues to decline. Market downturns may lead to recessions and bearish markets. However, this is not always the case. Tech stocks have been on a bull run for several years, and a market correction or recession could lead to a sharp decline in the valuation of tech stocks.
Inflation
Every sector has felt the consequences from the high inflation. The same goes for the tech market.Inflation also played a role. Costs for everything skyrocketed, with transportation seeing significant volatility due to shifting oil prices. This made things difficult for a lot of businesses that rely on shipping products to their customers.
Because of the inflation, businesses have to cut costs somewhere. Many tech companies depend on advertising to generate a large portion of their revenue. Unfortunately, since companies have cut advertising budgets in response to the higher costs due to inflation, companies like Alphabet, Meta and Twitter have seen ad revenues fall.
Wrapping things up
In conclusion, the high valuation of tech stocks can be attributed to the growth potential of these companies, the low-interest-rate environment, and their ability to achieve high gross margins. While these factors have driven the high valuation of tech stocks in recent years, there are also risks associated with investing in these companies. Investors need to carefully consider these risks and do their due diligence before investing in tech stocks.
Do you think tech companies are overvalued?