IT Outsourcing: The Next Big Trends That Make the Difference
Since the indulgence of the global pandemic and the Russia-Ukraine war, businesses worldwide have faced its aftereffects. It has shown that digital transformation is inevitable for any business success. However, it requires you to focus on seeking technology implementation for building your digital presence. It takes time and effort to make your business switch to an online marketplace. Outsourcing is seen to be the most effective way for a business to start its app or website.
The IT sector is indeed the fastest growing sector with new technology advancement. And outsourcing is the most integral part that is estimated to cross USD 525.2 billion by 2030 which is expanding at 9.4% CAGR from 2023 to 2030. These figures clearly facts that IT outsourcing will remain high in demand until the end of the current decade. And there are some of the new trends that influence the outsourcing market.
Before jumping into the trends, let's have a look at the concept and importance of outsourcing.
What is the Concept of IT Outsourcing and Why is it important?
IT outsourcing is an ever-growing concept that defines a company employing some portion of software development and IT staffing services outside of their in-house staff. The main motive of outsourcing is to save costs and manage multiple projects. Outsourcing is ultimately handing over the responsibility of IT services and making the partner accountable for all the outcomes and completion of a particular project.
Moreover, you can check and review the process. From getting IT-enabled processes, application development, infrastructure solutions, web development, etc. for your business, outsourcing is an efficient tool. With outsourcing IT staffing solutions, you can get Software-as-a-service (Saas) solutions, mobile app development, building websites, website design solutions, and other software development-related services.
All-in-all outsourcing boosts your business to manage various client projects at reduced cost and less turnaround time. Additionally, it makes your company showcase the expertise of wide services and builds the loyalty of your clients.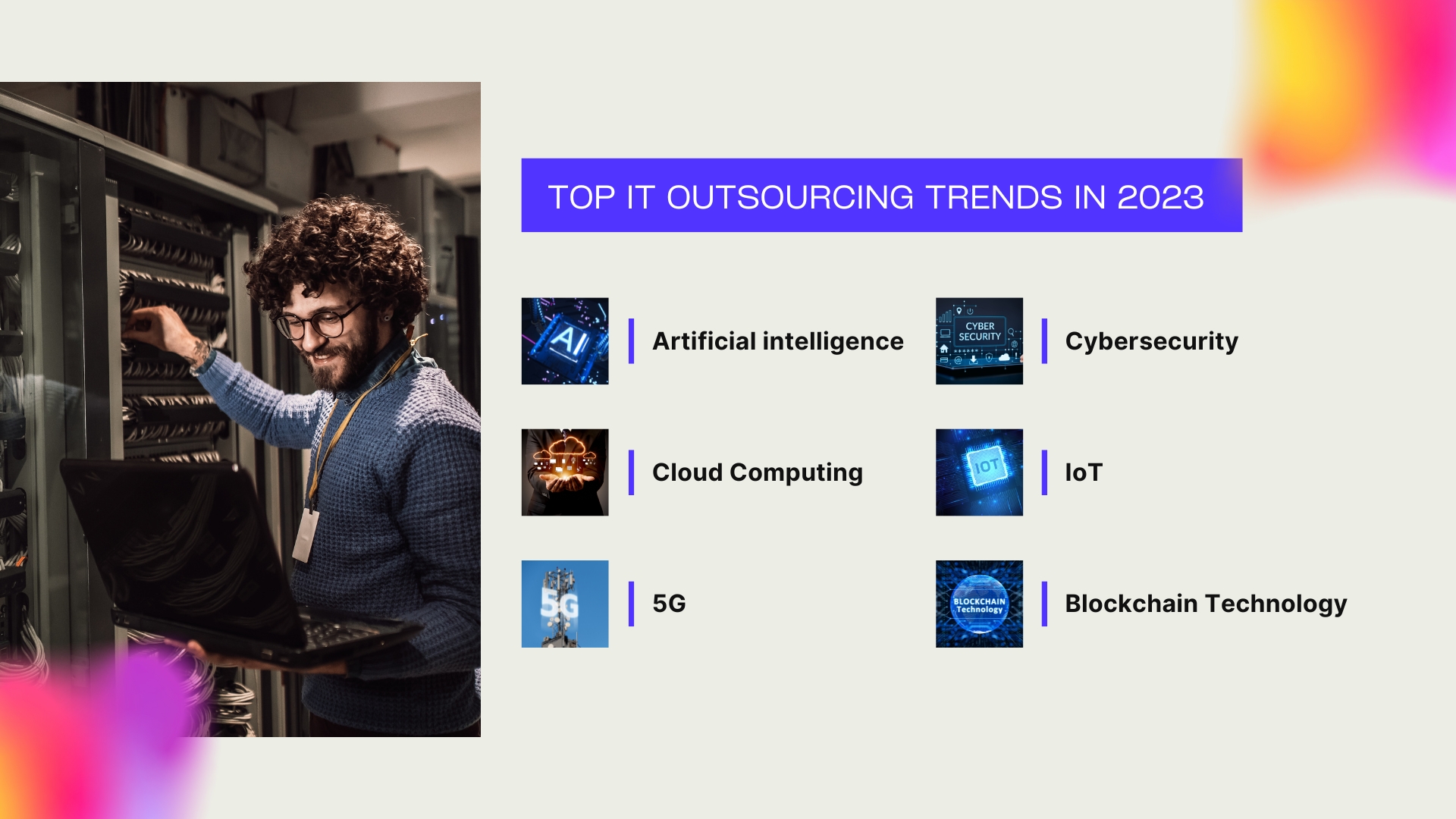 Top IT Outsourcing Trends in 2023 & beyond
Artificial intelligence (AI)
Artificial intelligence is undoubtedly turning the tables and making a greater influence in the IT market. AI technology is making more progress and has become widespread over the years. It implies that tasks are automated and smoothly completed in a time-saving manner. The most recent booking examples of AI in application development are chatbots, virtual assistants, etc.
Well, AI-powered tools are automated to perform repetitive tasks and increase productivity. It assists in daily operations and minimizes time consumed at each stage of development. Although the need for the human eye is mandatory. AI helps to eliminate irrelevant manual processes and makes you focus on the bigger picture of the business.
For ongoing IT outsourcing AI is the game-changer and provides solutions along with prior outsourcing models. So, businesses should better off buckling up for some new and fast-paced shifts.
Cybersecurity
With the increment of migration activity to the cloud, the need for cybersecurity has also increased. Outsourcing cybersecurity professionals are consistently showing an upward trend in the market. As internet technology has advanced the risk of cyber-attacks and malware is way more than last decade.
The business focus has shifted to cybersecurity and resultantly its demand has skyrocketed. Moreover, there are anticipations that cybersecurity service providers will be the priority of all business types.
Cloud Computing
As we have headed to 2023, cloud computing has been accelerating. Today, businesses are progressively shifting to the cloud. With the evolution of outsourcing trends, the cloud is a better option to store, access, and process data efficiently. Moreover, cloud computing delivers numerous advantages, including accessibility and reliability.
Cloud computing is also renowned for processing data. It is turning businesses to serverless computing, which permits them to pay only for the actual processing time. Furthermore, organizations are migrating their applications and data to the cloud to take benefit from improved security and increased storage capacity.
In simple words, cloud computing will be cost-effective for businesses by reducing the need for physical storage space and eliminating hefty server rooms.
IoT
The Internet of Things (IoT) is a prevalent concept but it has started to take the spotlight after being linked with cars and other appliances. Tesla has very well-executed the IoT in their cars. As a result, IoT has got a great buzz in the market.
IoT is an efficient mechanism to communicate and exchange data. It is expected to be the ruling trend of the upcoming decade. It is making new and promising opportunities for businesses to outsource IT services. The requirement for IoT-based services has widely spread for their greater potential and connectivity to the internet. Therefore, the time is close when it will capture app development to software solutions.
5G
The inception of the 5G network has already taken place and it is creating better opportunities for the IT industry. Some businesses outsource 5G for effective bandwidth, quick connection speed, and adaptability.
However, 5G allows companies to make robust connectivity in manufacturing, transport, and other systems. It helps to enhance efficiency. 5G is impeccably putting the world economy on the brink of remarkable technological transformations.
For current and future generations wireless 5G is a promising solution to facilitate great capacity speedily. Hence, it's the next big thing in the IT outsourcing market.
Blockchain Technology
Blockchain technology has been emerging with cryptocurrency mechanisms in the financial market. Likewise, it will influence software development and IT outsourcing. Usually, it enables software developers to build applications and secure data in a decentralized manner. It is enticing companies to outsource blockchain services with cloud storage.
However, the decentralized approach makes you get value from data as business intelligence (BI). With analyzing the effectiveness of blockchain many businesses are prioritizing outsourcing. Therefore, blockchain is gaining visibility and strengthening its presence in the global market.
The Bottom-line
The trends have already geared up to make an impact on the future IT outsourcing and the overall market. So, being the business owner you need to take it as a heads up and plan innovative strategies to sustain. However, in-depth market research and impacting factors are the turnkeys. So, choosing the right IT staffing services outsourcing company becomes easier with that.
With over a decade of experience, Rlogical Techsoft has always turned challenges into new growth opportunities. We have been the preference as the leading outsourcing company in India. Our experts have left no stone unturned for gaining skills and knowledge in all these technology solutions. For any query, you can connect with us!
Is digital transformation considered essential for the success of businesses today?