Interview with Yasmin Manssour - Founder of Minimalia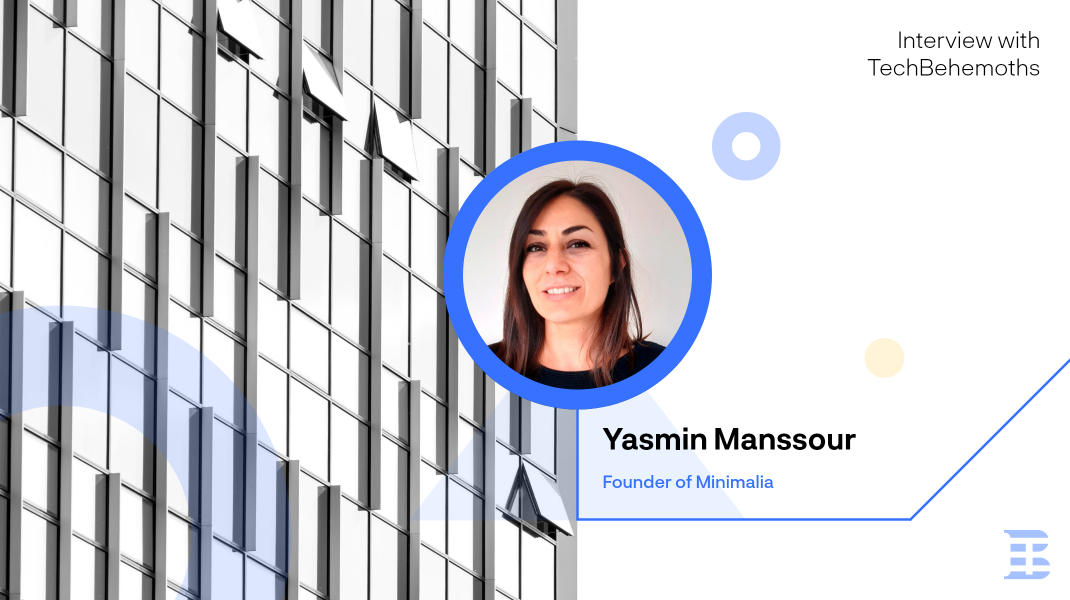 Yasmin Manssour is a professional designer and engineer who founded in 2016 Minimalia - one of the most notable communication agencies in Barcelona, Spain. Today, Yasmin and her team help hundreds of clients worldwide in making their businesses beautiful and attractive. In this interview, we invite you to discover future development plans for Minimalia, learn more about success, design, and productivity.
Hello Yasmin, welcome to TechBehemoths! Please tell us a little about yourself. Your background and how did you come to this point?
Hello, my name is Yasmin Manssour. I am a designer and an engineer. I have always been passionate about the world of the image, so after finishing my studies in Telecommunications Engineering at Univer sitat Politècnica de Catalunya (Spain), I started studying graphic design and animation.
In 2010 I studied for a master's degree in Motion graphics Design at IDEP Barcelona (Spain) and in 2011 I started working as a motion graphics designer. I worked for studios and production companies in Spain and Belgium for five years, which is when I started having my own clients from the UK and the USA.
In 2016, I founded minimalia, a communication studio specializing in motion graphics design based in Barcelona. At present, minimalia works for brands from all over the world, such as Google Play, Louis Vuitton and Searce, creating quality animated contents such as explainers, videos for social net works and GIFs.
When and how did you start your business? Is there an interesting story here?
In 2016 I returned from a trip to Australia with an idea in mind: to create my own studio. In 2017 I was awarded mentorship from the local government in Girona, Spain and was counseled by various experts in branding, strategy, marketing, internationalization and audiovisual rights. This mentorship greatly helped me define my project. It obliged me to think about what I wanted to do and how I wanted to do it, and to contrast it with other professionals in the sector who accelerated my evolution offering me their opinions and advice.
My initial vision of the studio from 2016 has changed quite a bit. I wanted workers and I have coworkers. I wanted a physical office and now minimalia has vari ous coworkers working remotely from Barcelona, Madrid and Seville.
I came to realize that what best adapts to my life philosophy and the times we are living at is a small, flex ible structure, "a minimalist one".
What do you think you'd be doing right now if your business didn't exist?
I am passionate about the design of the movement, so if minimalia didn't exist yet, I would surely be cre ating it. If not, I would probably be doing something equally professionally satisfactory, like teaching.
What's your technique for staying productive throughout the day?
I always have my daily plan which serves me as a guide. On Mondays I have my whole week planned and clear objectives set. Even so, it is very common for unexpected tasks to emerge during the week (meetings, price quotations), which is why it is very important to be flexible and to know how to reorga nize. Every day, I make a list of tasks for that day and organize them throughout the day. I do this following this criteria: mechanical tasks are done first thing in the morning or as the last thing at the end of the day and those that require more mental energy and concentration are done during the main part of the workday. For the creative tasks, I escape from the studio looking for inspiration (mu seums, parks…).
Besides that, I always allocate time slots to every task. I try to control and not extend them. At first, it is not easy to know how long a certain task will take you, but that is something you learn with time. This way, I can set realistic objectives and accomplish them.
During the day I take breaks to let my mind rest. They tend to be short, not longer than ten minutes, but they are useful for me to clear my mind and gain perspective.
How do you define "being successful"?
Doing what I love, managing my time and being able to do things my way. Feeling authentic and free.
What do you like to do when you're not working?
Walking, being in touch with nature and observing it, reading and watching good movies, doing yoga and Zumba, spending time with family and friends, resting.
What are your recommendations for a business or developer novice?
Save up before starting a business, it is a slow process and you need to have a financial cushion for your business to be able to take off, which will probably take somewhere between one and three years, depending on the sector.
Make sure your first project is a commercial project, for a real client (and not a project for friends or family). The first project will put you in touch with the professional reality and help you contrast it with your "idealistic idea".
Avoid "analysis paralysis". I have come to understand that sometimes it is better to just go for it and rectify it along the way, if necessary. There are no perfect decisions.
Thanks for this amazing interview Yasmin! Your advice is a valuable contribution to our community which will definitely find insightful your story and thoughts. Wish you and Minimalia best of luck and lots of creativity in your future projects.
Minimalia is a reputable and active company on TechBehemoths. If you like this interview and think that Yasmin and her team can help your business become more beautiful, don't hesitate to contact her on instagram
Did you like the interview with Yasmin?