Interview with Tom Peyton - Co-Founder of Elevate Digital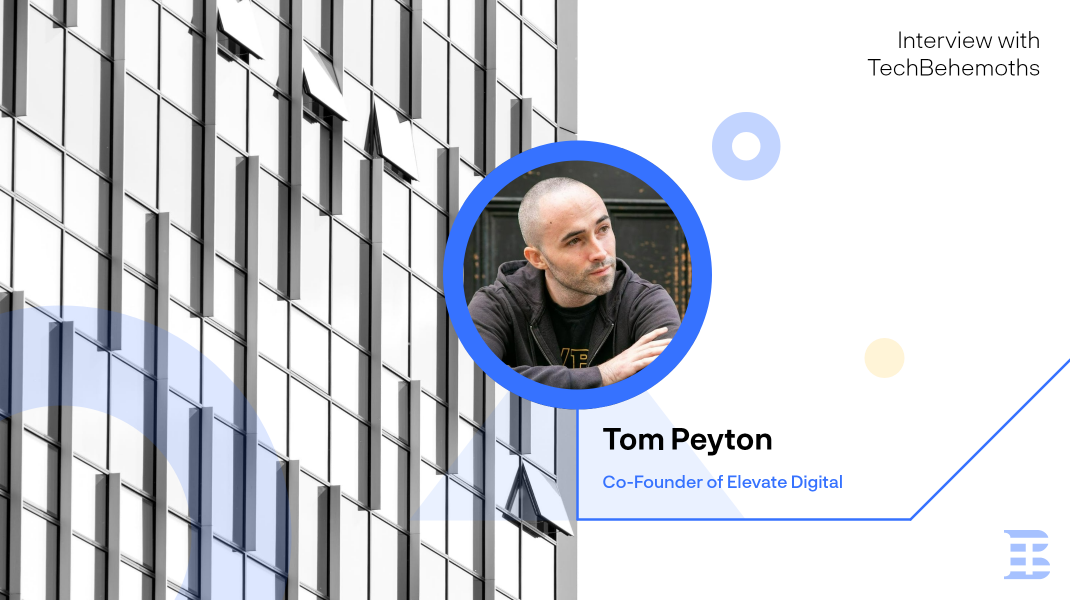 Tom Peyton is the Co-Founder of Elevate Digital - one of the best marketing agencies from London, UK. Over the past years, Tom and his team have helped more dozens of businesses and entrepreneurs to sell, advertise and improve their visibility. About this, but also about success, business and entrepreneurship we invite you to discover in this exclusive interview
Hi Tom, welcome to TechBehemoths! Please tell us a little about yourself. Your background and how did you come to this point?
Hey, I'm Tom and I'm the Co-Founder of Elevate Digital, a London based marketing agency (although we're a predominantly remote team). Over the past few years, both myself and our team have helped over 100,000 entrepreneurs and marketers to demystify the BS around the marketing industry these days and get to the core principles that actually drive results. We do this through value-packed content, online workshops, our semi-famous website roasts, and our done-for-you-services.
I've never professionally trained in marketing and I didn't study it and college or uni – I actually got kicked out of secondary school on my final exams (yep…I was that kid).
I think my lack of formal "training" or qualifications in marketing is partly what made me so damn effective at it. Marketing isn't something that can be constrained by rules/boundaries taught in a lecture. Most of what I know today has come from studying some of the marketing/copywriting greats like David Ogilvy and Eugene Schwartz combined with a deep fascination with human psychology. Learning the latest "hacks" or FB ad strategy is great and all, but if you can't begin to understand why people do the things they do, you'll struggle to get momentum.
Outside of marketing, I'm a huge advocate for self-development and meditation (which completely turned my life around after suffering from severe and crippling anxiety through most of my 20's).
I can find fascination, wonder and joy in the simplest of things and consider myself an eternal student of life.
When and how did you start your business? Is there an interesting story here?
Honestly, my anxiety was the catalyst…
I had been in the automotive industry (across various roles) for years and honestly felt miserable and unfulfilled. All whilst trying to hide the constant pain, fear and anxiety I felt inside. It got to the stage where I decided enough was enough and I needed to make a change. If there was one thing I'd learned from my self-development journey at that point it was that radical change is sometimes the best thing for us.
I had always been a bit of a geek (from building computers at 14 years old, to experimenting with making websites at 17) and I've always been fascinated by human behaviour and psychology. These are things that I do or read up on in my spare time regardless so I thought why not combine the two. From there I started offering freelance digital marketing services and got some fantastic results for clients (one of whom increased their sales by 500% in our first year of working together).
I eventually realised this wouldn't be scalable in the longterm, and by this stage… I'd had a taste, seen the impact I was able to make and wanted (much more!)
This eventually lead me onto stating the Agency with my partner Jane, who was feel extremely miserable in her corporate career of 15 years, so it was amazing to be able to get her out of that due to the initial traction I had gained as a freelancer. We're also polar opposites we naturally made perfect business partners.
What do you think you'd be doing right now if your business didn't exist?
Some other crazy business venture in some random part of the world; probably to do with the aforementioned interests
What's your technique for staying productive throughout the day?
I have major ADHD so being productive is critical for me. I have regular workout breaks throughout the day to keep my dopamine high. I also meditate every morning and use time-tracking to weed-out wasted time, keep me on track and hold myself accountable to my goals.
How do you define "being successful"?
Being genuinely happy and fulfilled within yourself.
What do you like to do when you're not working?
Playing video games, adventure sports, hiking, meditation, working on my spiritual and self-development practices, drum & bass raves, watching movies, all sorts really (yep… I have a pretty random assortment of interests and hobbies).
What are your recommendations for a business or developer novice?
Always focus on the VALUE you can bring to the customer

Remember nobody cares about your product or service, especially to begin with when you're an unknown brand (no matter how sexy it might be), they only care about themselves and their own problems. When you can remember this in your marketing it'll have a radical impact on your results

Make sure you're always focusing on how to improve your customer acquisition. I made the mistake of getting complacent early on in our journey and suffering the consequences.

Try to only focus on building out one marketing channel at a time (as difficult as that can be). Most start-up businesses don't have the resources to effectively build multiple channels in the early stages.

Never put your business over your own health and happiness – if you don't work, NOTHING else will.
Thanks for the interview, Tom! It was a pleasure to meet and listen to your advice and wise words. Everything comes from experience - and in this interview, you shared insights that business owners rarely do. Wish you and Elevate Team good luck and new projects.
Elevate Digital is one of the best marketing agencies on TechBehemoths. If you like this interview and think Tom and his team can help your business don't hesitate to contact them on TechBehemoths and follow them on YouTube
Did you like the interview with Tom?