Interview with Robb Fahrion: Co-Founder of Flying V Group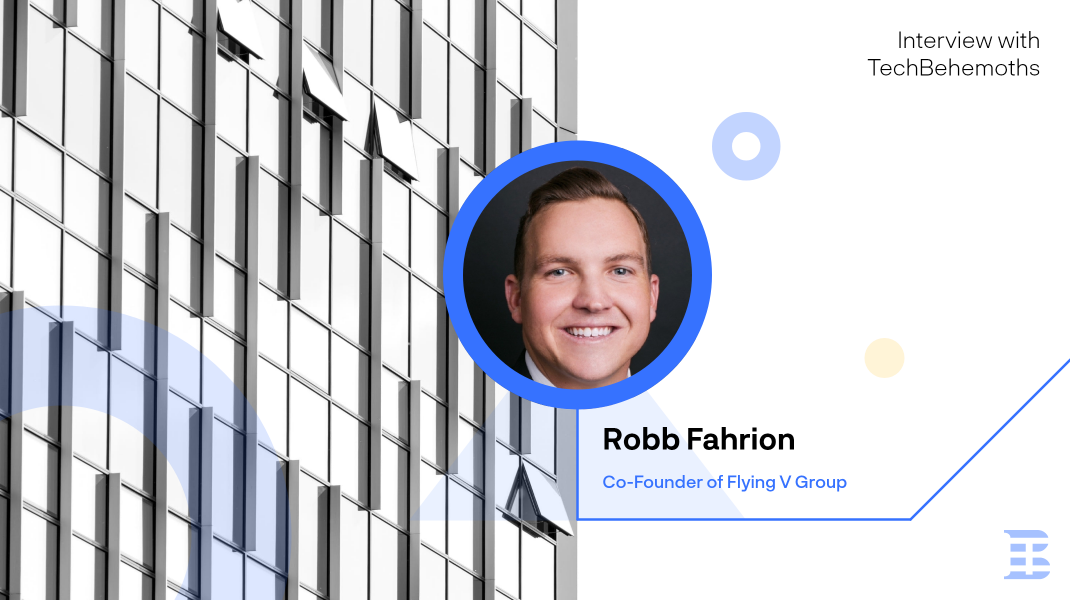 Robb Fahrion is the Co-Founder of Flying V Group Digital Marketing - a reputable agency based in Orange County, CA. Robb and his brother founded the Flying V back in 2016 and since then they helped businesses and people improve their image, increase their visibility and sales. About this, but also about entrepreneurship, experience, success, and marketing we invite you to discover in this exclusive interview with Robb.
Hi Robb, welcome to TechBehemoths! Please tell us a little about yourself. Your background and how did you come to this point?
Hi there! My name is Robb Fahrion and I am a Partner and Co-Founder of Flying V Group, a digital marketing and advertising agency located in Orange County, CA. My brother and I founded the company on a whim after quickly identifying a need for marketing and advertising services in fields like financial services, accounting, law, real estate, and healthcare. While we service clients from other industries, these industries still make up a majority of our business.
Our team is dedicated to provided white-glove concierge marketing services. We don't just implement the plan and/or strategy, we iterate off of it and provide expert consultation in the marketing space to give our clients the best data and information needed to succeed. Our goal is to generate huge revenue growth for clients through custom tailored strategies that will help our clients' businesses grow. We believe in the classes vs. the masses, which means we want to grow our business through the successful growth of our clients' businesses.
On the day-to-day, I handle a lot of the sales and business development for our company along with client retention and administrative tasks. We are eagerly looking to grow and are excited about the next few years and what they hold for Flying V Group. Here is a picture of my brother and I!
When and how did you start your business? Is there an interesting story here?
We started our business in 2016. How? We just started it LOL! We did not put together a formal business plan. We saw a need and decided to try and capitalize on that need as quickly as possible.
The idea came to us when one of our mentors was in need of website support due to blacklisting of his domain. He was a very successful lawyer and was completely lost. We were able to help him and get his business back on track, and that was when the lightbulb went off. We asked ourselves, "How many other business owners are there like Marc?"
The answer? Tons!
As mentioned previously, still to this day we service this particular clientele and we LOVE it. While we probably could have ironed out some of the issues early on with a more strategic plan, we love the idea of moving fast, failing fast, and learning fast.
What do you think you'd be doing right now if your business didn't exist?
I'd like to think I would be doing something similar or working in my own business of a different variety. I always knew that I wanted to start my own business, I just never knew what it would be.
My family has a long history in the waste and recycling industry, so I might be doing something in that space. But, either way, I have always had the entrepreneurial itch. So, if it wasn't Flying V Group, I am sure it would have been some other endeavor.
What's your technique for staying productive throughout the day?
Tools, tools, tools. I lean heavily on technology to keep me sane and productive. We utilize Slack company wide, which is a huge lifesaver and keeps organization easy. I am also a big calendar guy. If a meeting is not on my calendar, it's not happening! These two pieces help to keep me organized, which for me is the key to being productive.
How do you define "being successful"?
Being successful is relative. What is success for one person may not be success for another.
For me though, success is found in the enjoyment of doing what you do on a regular basis.
Every single day I wake up and am excited about what I get to do and what I get to work on. This defines success for me.
Another key to success is the ability to help support and uplift others. This can be done in many different ways whether through employment, support, networking, communicating, etc. I love the fact that I get to employ others and support those individuals with their own personal growth and desires to be great.
What do you like to do when you're not working?
When I am not working, I love spending time with my family and friends and my dog! I am pretty simple and easy-going, so I do not need much. I love watching sports, going to movies, or just hanging out and catching the latest TV show.
Family is the most important thing in my life and I cherish every moment I get to spend with them.
What are your recommendations for a business or developer novice?
Get your hands dirty and learn, learn, learn. There is no time like the present and the best way to learn new skills is to just do. There will never be a perfect moment or a perfect opportunity. There are plenty of incredible resources online that can help you take your career and knowledge to the next level. The ones that capitalize on these opportunities and the support that exists are the ones that will reap the rewards.
Also, find a mentor. I was able to have some of the best mentors early on and they helped me through many tough times or difficult moments. Surround yourself with people that are better educated or have more experience than you do. These types of individuals will pay dividends for you and be able to be a strong support system for you whenever needed.
Thanks for the interview, Robb! Your wise advice and words are a significant input for our community. Wish you and Flying V the best of luck and many more inspiring stories.
Flying V is one of the most reputable digital marketing agencies on TechBehemoths. If you like this interview and think Robb and his team can help you improve business performance, image and credibility feel free to contact them on TechBehemoths or discover them on social media: Linkedin - Instagram - Facebook
Did you enjoy reading the interview with Robb?