Interview with Michele Cuthbert - Founder of Baker Creative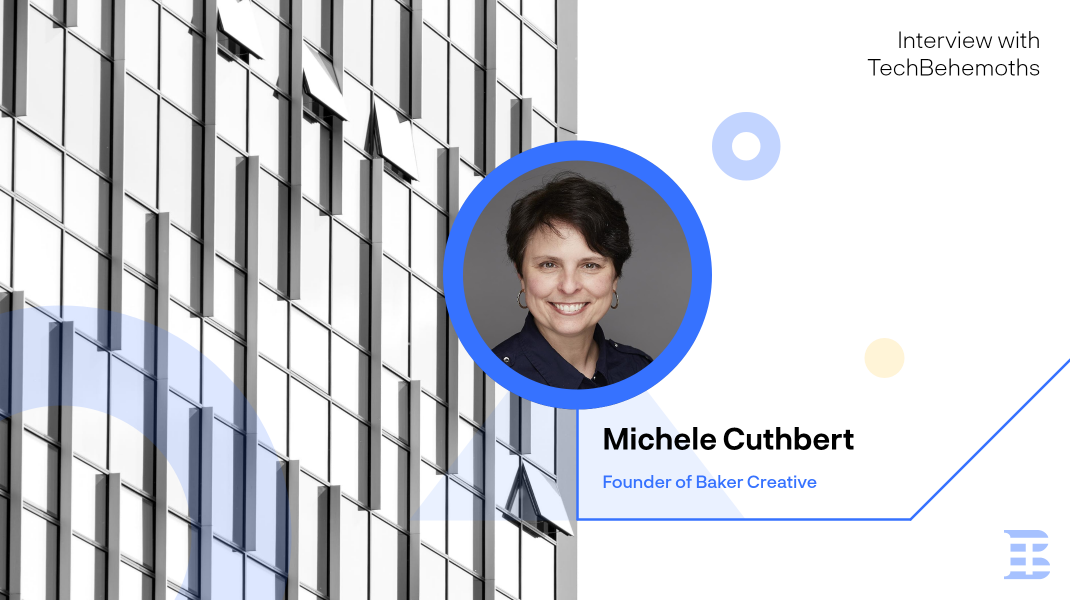 Michele Cuthbert is the founder of Baker Creative - a leading creative agency based in Groveport, Ohio. Michele has 20+ years of experience in the field and has worked with reputable brands in her career. Since March 2003, Michele together with the team of Baker Creative helps businesses grow, be more visible and gain notoriety.
About this, but also about success, entrepreneurship and creativity we discussed with Michele, and invite you to learn more from her
Hi Michele, welcome to TechBehemoths! Please tell us a little about yourself. Your background and how did you come to this point?
I am a Hispanic female and the founder and creative director of Baker Creative. I have more than 20 years of experience working with leading brands including McDonald's, Ohio State University Hospital, the Columbus Crew, the Columbus Blue Jackets, Cooper Tires, NAPA, Liebert, Ohio Tourism and Visit Florida, just to name a few. My firm has created award-winning published work for a diverse group of clients with unique communications challenges. Both local and national media have recognized me, including Crain's New York Business, Huffington Post, Fox News New York, Mashable and Fast Company.
The "Big Book of Self Promotion" by Crescent Hill Books and three GDUSA design manuals include my work. I received the Columbus Business First 40 Under 40 award, given to the best and brightest entrepreneurs in central Ohio. I was recognized as one of the leading female chief executive officers by Columbus CEO magazine. Before founding my own firm, I worked as an art director for several advertising agencies and large corporations developing marketing and advertising for a number of international companies. Baker Creative is Edge, Women's Business Enterprise National Council and Women Business Enterprise certified and was named among the Best Workplaces by Ohio Business magazine.
The firm received multiple Communicator, Public Relations Society of America (PRSA) PRism, PRSA regional Diamond, Graphic Design USA, Service Industry Advertising, Marcom and Hermes awards in design, content marketing, video, reputation management, public relations, sustainability, social media and strategy. I served as an adjunct professor at Capital University, Columbus State Community College and the Columbus College of Art and Design and on several national boards of directors to help feed hungry children and hurricane victims. I was on the advisory board of directors for the Ohio University Schey Sales Centre.

I see a lot of work that's out there, but I'm not really sure that it's connecting with people on a human level. It's great to have really great metrics and data, but it's really about people and relationships. If everyone plays follow-the-leader, what's the unique selling proposition? Brands talk about what they value, but not what the customers value and want.
When and how did you start your business? Is there an interesting story here?
I opened Baker Creative in March 2003. I decided that if I was turning things around for the big guys, why would I not want to do it myself and have greater control over the customer experience? I saw too many games the big agencies were playing and thought the customers deserved better.
What do you think you'd be doing right now if your business didn't exist?
I've had three thoughts about what I always wanted to be: what I am doing now, a teacher and a psychologist. Some people would say being the owner and creative director of a marketing firm includes all three.
What's your technique for staying productive throughout the day?
It depends on the day and the distractions. My advice is to chunk it out a project at a time.
How do you define "being successful"?
When clients call you up all excited that they got new customers from the work you did.
What do you like to do when you're not working?
I like to ride my motorcycle, garden and spend time with my family.
What are your recommendations for a business or developer novice?
Don't let anybody tell you "no" about where you want to be with your business. It's not their vision. It's yours. Don't let them take that away.
Thanks for the interview, Michele! Your advice and shared experience are valuable for our community and future entrepreneurs. Wish you and Baker Creative best of luck.
Baker Creative is one of the leading companies on TechBehemoths. If you like this interview and think that Michele and her team can help your business. don't hesitate to contact them via TechBehemoths or discover the agency on social media: Facebook - Twitter
Did you like the interview with Michele?