Interview with Maxim Bantsevich - CEO of dev.family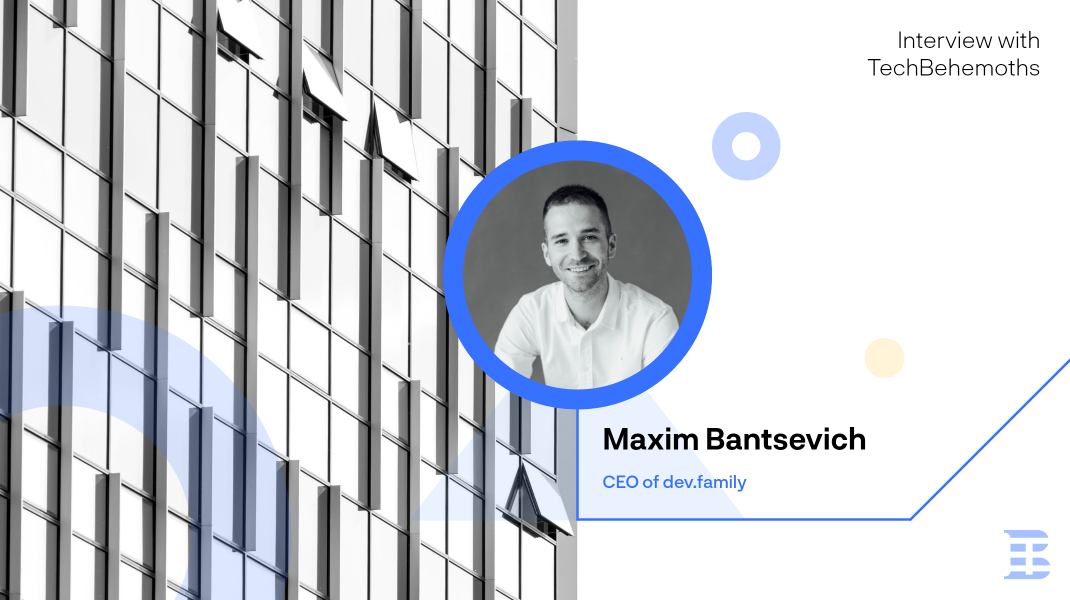 Maxim Bantsevich is the CEO of dev.family, a leading IT outsourcing company with its head office in Tallin and multiple representatives across Europe. Maxim is a React Native enthusiast and belives in the future of cross-platform. As a life philosophy, he trusts facts more than words and enjoys his social life by making new friends and traveling around the world. About work, success and productivity we will talk with Maxim in this exclusive interview for TechBehemoths.
Hi Maxim! Thanks for accepting this interview and welcome to TechBehemoths! Please tell us a little about yourself. Your background and how did you come to this point?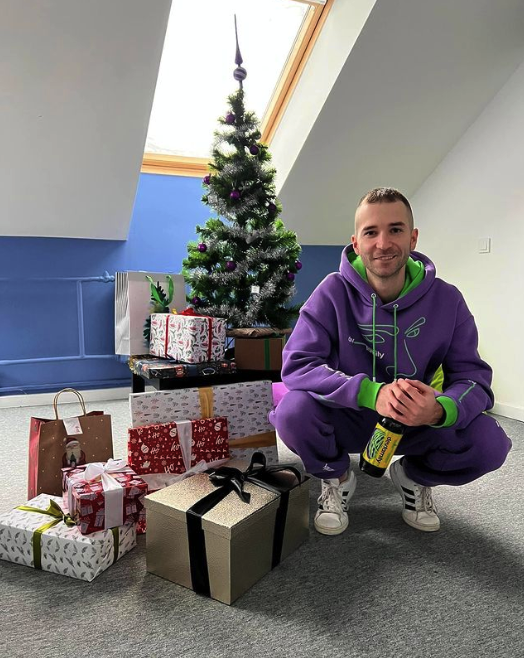 I'm the owner and CEO of an IT outsourcing company focused on food tech and startups (in my conception CEO means chief energy officer). I believe in a cross-platform future and in react native. I bought Shiba Inu before Shiba coins appeared. I am a kind of beer lover and Manchester United fan.
I love actions more than words. I adore making new friends. I always share knowledge when asked. I try to run every day, but something always gets in the way: delicious wine in Georgia or rainy weather in Estonia, or my son, who does not know how to run yet, in Portugal. As you can see, I also like to travel.
When and how did you start your business? Is there an interesting story here?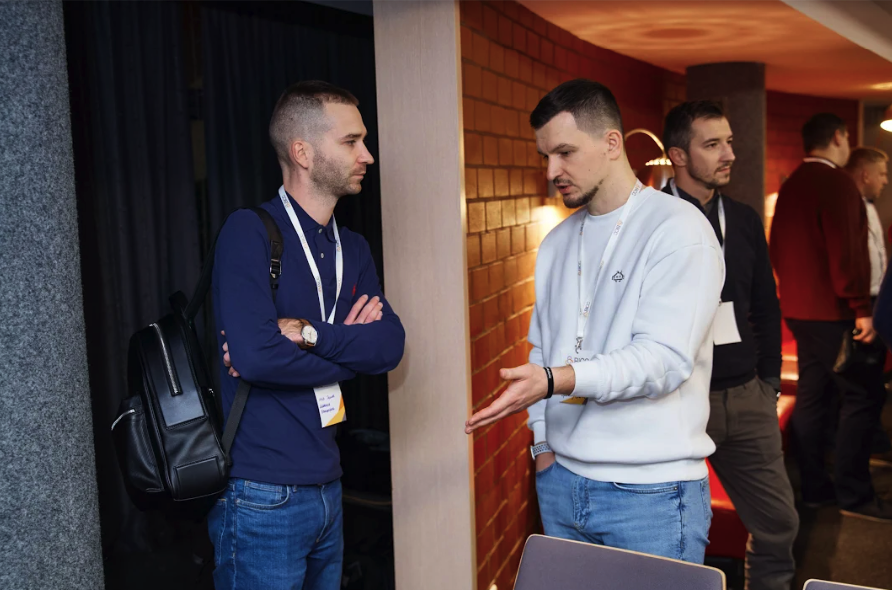 Every day my team and I become more skilled and experienced. For the last 2 years, we have been actively growing in the food technology area. I dream of creating global projects that will help to make our planet healthier, and society – more technological and responsible, so that there will be something to leave to my son)
8 years ago I didn't graduate from university because it was boring for me to sit daily in classrooms and communicate with old stubborn professors. That's why I started working as a developer. As a freelancer, I worked for 2 years. In the beginning, I've been working alone, over some time I found bigger clients and understood – I need a team. That's why a designer and a front-end developer were found. Later I realized that I hire specialists for the work I am bad at.
However, my first business was a beer shop. I had free funds and a friend with a business idea. He understood how to implement it, but didn't have money. I had neither the time nor the desire for doing this but wanted to find a passive source of income. Therefore, we decided: with me – money, with him – the organization of all processes, profit – in half. At that time, I invested $5,500. It was cool, especially in the summer, the profit was $ 4,000 for two. This did not last very long until we stopped being friends. We broke up, and sold the store. Somehow we divided the money we received and have not communicated since.
Conclusion: I wanted to get a passive source of income (and kind of got it for a while), but I didn't realize that my own beer store was not the best option for this. Because without proper control, it couldn't live long.
In the meantime, it was this person who helped me to start an IT company. He told me I'm "old enough" to have my own office and hire more people. That's how the dev.family was found. Together with my own company and office, obligations to employees appeared. Through trial and error, I tried to do business: I was looking for clients, growing my expertise, making my own rules.
For example, NOT WORKING WITH PEOPLE whose life position is not accepted by me or LEARN FROM THE MISTAKES OF OTHERS. Meanwhile, I was lucky to have cool clients – all of them were tutors for me. I think it's because of my main rule – AN AWESOME PROJECT FIRST OF ALL.
What do you think you'd be doing right now if your business didn't exist?
If my business didn't exist I think I could be a truck driver, maybe for a few months)) Then I would start another b2b business, whatever. Also, I could invent my own religion and promote it to the masses))) But seriously, I could be a life coach.
What's your technique for staying productive throughout the day?
My productivity depends directly on concentration, and concentration depends on disabled notifications, a shared calendar, a clear to-do list, and various helper bots. Sometimes, in order to be productive, you need to relax and get into a state of flow, then a bottle of beer or a glass of wine can also help quite well))
How do you define "being successful"?
"Being successful" for me is being delighted. That is, everything you encounter on a daily basis: family, friends, sports, business – all this should bring pleasure and give enjoyment.
At the same time, you can safely give up what pisses you off and does not work. Of course, you should see results in all spheres of life and balance them.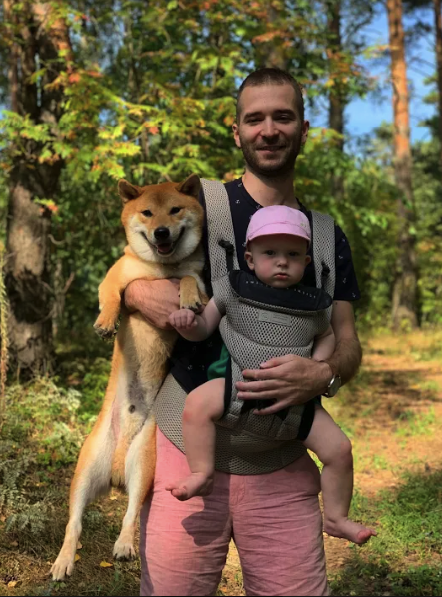 What do you like to do when you're not working?
If I'm not working I'm most likely networking)) I can't stay without people or any activities. I'm not one of those who rest lying on the couch. I prefer to play football, make a barbecue — anything that helps me feel alive.
What are your recommendations for a business or developer novice?
My recommendation for the business novice will be – try and be bold in making decisions, do not hesitate to make mistakes, create something unique of your own and be proud of it.
Thank you for this great interview Maxim. Your experience as a leader and entrepreneur will be inspiring for many professionals! Wish you and dev.family good luck in your activity.
Dev.family is a leading IT outsourcing company. If you liked the interview with Maxim, and want to get in touch for a project inquiry, you can find him on TechBehemoths, or on social media: LinkedIn - Twitter - Medium
Did you like the interview with Maxim?