Interview with Gregor Saita - Co-Founder at PixoLabo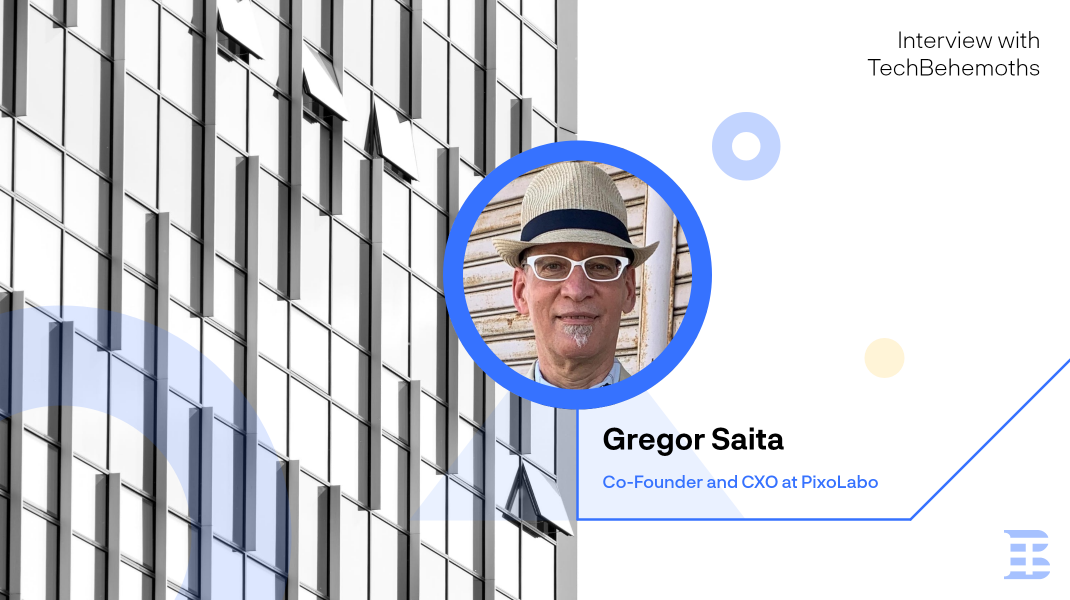 Gregor Saita is the Co-Founder and CXO at PixoLabo - a top web design agency based in Sendai, Japan. Gregor founded PixoLabo back in 2004 after working for an advertising agency. Now, PixoLab has offices in the US and Japan and holds a leading position in the web design industry. More about PixoLab, success, and productivity we invite you to discover in this exclusive interview with Gregor.
Hi Gregor, welcome to TechBehemoths! Please tell us a little about yourself. Your background and how did you come to this point?
I was born in Germany as the youngest son of an engineer and an architect. Much of my youth was spent lying on the floor in my mom's office drawing and painting. Growing up we travelled a lot, and by the age of ten I had already lived in Germany, Italy, England, and Switzerland. When I was ten my parents divorced, and my mom and I moved to Canada.
My mom was an avid photographer, and I picked up the craft from her. I started photographing seriously in my teens, chronicling the punk rock scene in Victoria and Vancouver, eventually publishing two books. My work was noticed by the photo editors of Canadian and US magazines and newspapers, and I ended up working as a photojournalist for several years.
In the early eighties one of the newspapers I worked for installed a typesetting computer. I was fascinated by this new technology and spent time in the art department learning as much as I could. As computer technology advanced so did my skills in graphic and UX design, and computer programming.
In my late twenties I finally gave in to my mom's increasingly urgent request to finish a university degree and moved to California to finish school. Unexpectedly I discovered not only a renewed interest in education, but a passion and natural aptitude for writing and teaching. I ended up earning undergraduate and graduate degrees from UC Santa Barbara and UC Berkeley respectively.
I ended up in Seattle at the start of the first dotcom boom. It was there that I met my wife, an award-winning Japanese designer and photographer; we have collaborated in both life and numerous business ventures for almost 30 years. After working in senior positions for several design and advertising agencies we founded CokoGuri Group in 2004. Over the years it became the parent or holding company of several design studios and agencies in Europe, North America, and Japan.
In 2018 my wife and I sold some of our holdings in North America and Europe and moved to Japan. We currently live in the northern Japanese city of Sendai, but frequently spend time in Tokyo.
In addition to running our agency and studios I teach web and user UX design and hold seminars and workshops. I also consult for and mentor startups in the US, Canada, and Japan.
When and how did you start your business? Is there an interesting story here?
My parents were serial entrepreneurs, and always encouraged us to explore new opportunities, and not to be afraid of failure. I was only 7 years old when I started my first successful venture. For an art project we were required to bring reeds to class the next day. I immediately realized that most of my classmates would either forget to do so or would be unable to find reeds. I lived on a lake at the time, and reeds were growing literally in my back yard. I gathered a large armful, trimmed them to size, and brought them to school the next day. As anticipated, many of my classmates were only too happy to purchase their required supplies from me; since my overhead was zero, I made a tidy profit of about DM 20.00, or about ten weeks pocket money for me at the time.
Over the years and decades, I started, co-founded, or funded approximately 25-30 businesses and startups. As expected, some of them failed, a few even spectacularly so. Losing a few hundred thousand dollars before lunch teaches you valuable lessons. But many of them proved to be quite or even very successful. With few exceptions all my businesses were or are focused on design and creative ventures. I was a partner in one of the first one-hour photo labs in western Canada, and one of the first digital imaging companies in the PNW.
I founded my current design studio in 2004, after working for an advertising agency that billed their clients US $ 800.00 per hour for my time. Not only was that quite a bit more than I was getting paid, but I also realized I could provide the same service to clients at a substantially lower rate, and still make more money. The first part worked out very well, but the second part took a while longer. But in the long-run it proved to be a very successful venture; 18 years later our little studio has a presence on three continents and works with clients globally.
In recent years my business interests and focus changed a bit. My wife and I founded several brands and new ventures focused on travel, tourism, hospitality and restaurants, architecture, and interior design. Which means that in addition to being a creative I also get to try lots of new recipes, and travel more. It's win-win for me!
What do you think you'd be doing right now if your business didn't exist?
While I was in college, I entertained a vision of becoming a tenured English or Literature professor at some university. I did teach at the undergraduate level for a few years. My professional career took me in a different direction, but I could see myself as a university professor at Stanford or Berkeley, complete with a big library, fireplace, and two big dogs in front of it.
In a way I did make part of that a reality. Due to my language skills and professional training, I have a non-faculty position as a senior editor at the Graduate School of Medicine at Tohoku University, one of Japan's premier universities. No big dogs in front of the fireplace, but I am the "Kakoi Sensei" or cool professor on campus.
Another of my passions and interests is gardening; I inherited that from my mom and her father, who were both master gardeners. I am not at that level, but I have a nice garden and even grow Bonsai. Like most kids I earned extra money mowing lawns as a teenager, and I learned a lot from the gardeners I worked with. Therefore, gardening would have been another career option.
What's your technique for staying productive throughout the day?
For me, it is essential to start my business day with a clear and focused mind. I start each day with prayer and meditation at my shrine, followed by quiet time with my wife and family. That allows me to focus my energy and mind on the day ahead.
Each day, I set aside a period in the morning and afternoon to answer emails and phone calls and have short Zoom meetings. That avoids any interruptions during the rest of my day.
I tend to work on the most complex and difficult tasks early in the day when my mind is fresh. That allows me to complete them faster and get them out of the way. In between tasks I take short breaks to focus on something non-work related, such as enjoying a cup of tea, perusing an art book, or taking a quick walk. This keeps my mind fresh, reduces stress, and keeps me productive.
I don't eat lunch, and by early to mid-afternoon I am usually done with the important aspects and tasks of my day. That allows me to focus on less important or crucial tasks, such as writing for one of our agency blogs, sketching out new design or user experience concepts, reviewing projects with our global teams, and approving estimates and contracts.
The last part of my "business day" is spent taking a walk with my wife, discussing the days events and achievements, evaluating solutions to any remaining problems or obstacles, and sketching out a plan for the day ahead.
While I often work from home, I keep my work and private lives separate. This allows me to focus on my work when I am working, and on my wife and family when I am not "at work."
How do you define "being successful"?
One measure of success is when your business can run successfully without you.
For me, it took some time to get to that point. Like most young and less experienced entrepreneurs I initially felt my business(es) needed me to be there. Today my teams can run my businesses without me. Of course, I take an active interest in all my businesses. But it is nice to know that I don't have to.
Another measure of success is achieving what you set out to accomplish. For me, that was always the desire to develop better products and solutions. And in some way, making the world, and my surroundings, a little bit better than they would have been without me.
And finally, success to me means that you are happy doing what you do. I often tell people when they ask what I do that I never worked a day in my life. Instead, I am having an absolute blast creating cool shit with awesome people all around the world.
For me, success has never been about money or financial gain. I never started any of my businesses with the expectation of a big payout (apart from my very first venture; that DM 20.00 was sweet for a seven-year-old!) Instead, I always tried to follow my dad's advice of aiming to be the best. Once you are the best the rewards will follow, he always said. As in so many things, he was right.
I made a lot of money, without ever planning to do so, or realizing I did most of the time.
What do you like to do when you're not working?
My favorite pastime is spending time with my wife. I know this sounds corny, but in almost 30 years we have been apart less than 90 days. We enjoy many of the same things, including travel and exploring different countries and cities, cooking, trying new restaurants, food, and recipes, design, and photography, and building our dream home (that one is still a work in progress.) We go for long walks and bike rides together, listen to music, or simply sit and enjoy the sunset together.
I am an avid writer; I set time aside for writing every day. I write both for business and professional reasons, and for personal pleasure. For me, writing clears and focuses the mind. I speak, read, and write several languages fluently, which leaves me a lot of creative freedom. I have written and published many professional and personal articles and essays and am working on publishing a book.
I have been a photographer all my life and take photos almost every day. I am never without a real camera (Leica or Nikon.) As a photojournalist much of my work was published, and I had several exhibitions, some of them with my wife. Photography is my artform (I can't draw or paint) and I use the medium to chronicle my life and experiences, and the world around me.
I love gardening and spend time in my garden every day. For me, growing plants is very much like starting a business; sometimes you succeed, and sometimes you don't. Plus, gardening, especially growing bonsai, is a great way to learn patience.
I am an avid reader, once again in several languages. As a creative I have a vivid imagination, and as a kid I had a marvelous time reading Tolkien and CS Lewis. Today my interests range from the Greek and Roman classics to modern literature, biographies, and Japanese short stories. I am also a huge fan of anime and manga. On the lighter side, I have seen every episode of South Park, The Simpsons, and King of the Hill.
Last, but not least, I love cats, especially my American Shorthair Dashi; she came with us from Seattle. She is currently sleeping on my lap!
What are your recommendations for a business or developer novice?
Here are a few bits of advice that always served me well:
Never let your business run you. Instead, you should run your business. If your business takes over your life, it's time to get out.

If you are the smartest person in the room, you are in the wrong room. Go find a room with smarter people and learn from them.

You will fail repeatedly. And you will lose money doing so. If you are not prepared for that, keep your day job.

Stay nimble and keep an open mind. What you set out to do at the beginning may not be what you end up doing at the end. Always evaluate new opportunities.

If nobody hates your guts, you are doing something wrong.

Always follow your dreams, and your convictions. Just don't be an asshole about it.

Stop and smell the roses occasionally. The human mind and body were not designed to work nonstop. A ten minute break can save you ten hours of wasted effort.

Don't copy someone else's idea. It's been done already. Instead, learn what they did to succeed.

Startup funds are easy to find. Startup brains and talent are not. The decisions you make at the start of your venture will decide the outcome. Choose wisely.

Never simply take someone's word for it. Always get it in writing.
Thanks for this amazing interview, Gregor. It is indeed an insightful interview for the entire community. Hope to hear from you further, and wish you many positions up on TechBehemoths.
PixoLabo is a leading web design agency in Japan. If you like the interview with Gregor and consider that his business and life philosophy is close to yours, feel free to get in touch with him via TechBehemoths business profile or visit directly their website.
Did you like the interview with Gregor?