Interview with Christopher Baker - Founder ofCB Website Design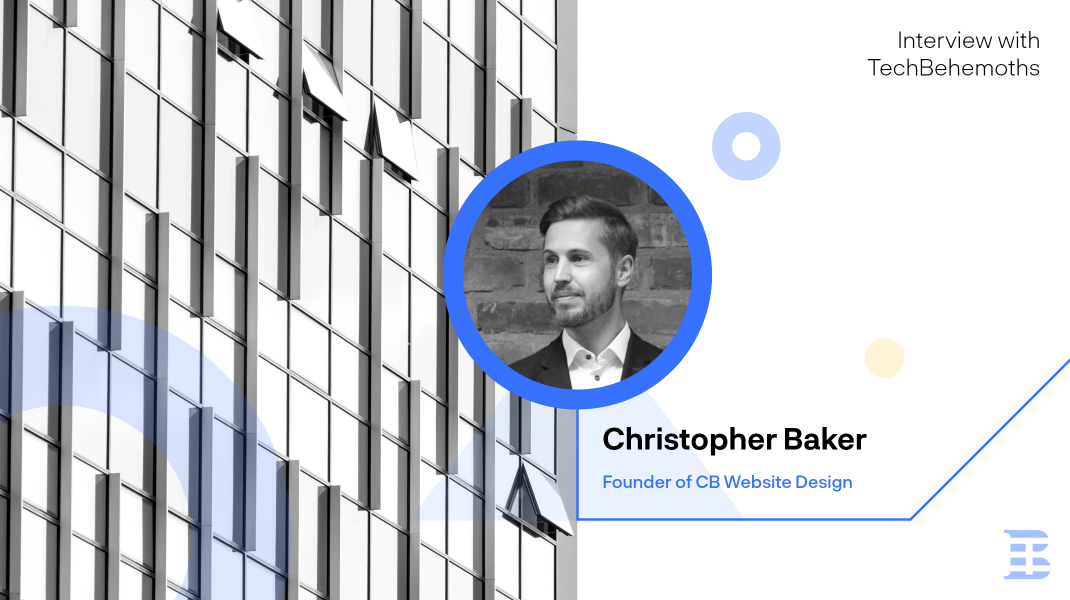 Christopher Baker is the Founder of CB Website Design - a reputable web design agency located in London, UK. Chris leads the team for 9 years now and is experienced in web development and marketing for more than 15 years. In this interview, we invite you to discover more about Chris and his story, experience, and thoughts about CB Website Design.
Hi Chris, welcome to TechBehemoths! Please tell us a little about yourself. Your background and how did you come to this point?
My name is Christopher Baker, I'm the managing director and founder of CB Website Design, a leading website design agency based in London in the United Kingdom.
I founded the company around 9 years ago now and I have 15 years of experience in the website development and online marketing industry. I first got into website design at university where I studied business management, and then went on to also study IT management.
I always strive to keep up with the ever-changing landscape of digital marketing, website design & development, coding standards, and SEO principles.
When and how did you start your business? Is there an interesting story here?
I would consider myself a technology-driven entrepreneur, I've always wanted to have my own company and have always been interested in tech.
I've worked hands-on for many years as a full stack developer and digital marketing/SEO consultant following university. During this time, I worked as the lead developer on numerous websites and web applications in a range of industries on a variety of platforms, on a LAMP stack, mainly in the following languages:
HTML5
CSS3
MySQL
PHP
Zend
JavaScript
jQuery
My technical SEO experience led me to consult on several high-profile online marketing campaigns. Before turning my SEO efforts to my clients and my companies' interest. Currently, I head up the organic SEO efforts for several high competition no.1 Google rankings with a seven-figure organic traffic value.
I progressed to a project management role within CB Website Design, where my degree in IT management coupled with my experience in the industry allowed me to effectively manage and train employees for the company.
I went on to project manage hundreds of website builds and digital marketing projects from SME's to multinational private sector clients & public sector government-level sites.
I've since moved to a managing director role within CB Website Design, where I focus on the growth and development of the company.
What do you think you'd be doing right now if your business didn't exist?
I have two very young son's, if my business didn't exist, I would probably take the time to spend as much time with them growing up as I can - it can be a struggle finding free time when you're running your own company.
What's your technique for staying productive throughout the day?
I get up early around 5:45 each day. I start the day with a weightlifting session, headphones in. I find I come away focused, fresh and with new ideas or solutions to problems. If you've ever heard of "eat the frog" theory, after you've got up very early and lifted very heavy weights, most things throughout the day become subjectively easier to deal with.
I also set very ambitious goals, and then strive to achieve them. The aim is to always do the best possible job, whatever you are doing. This can sometimes be a double edge sword as you end up working late hours trying to achieve the best you can, but ultimately it's very rewarding.
How do you define "being successful"?
There are smaller wins, that I would consider success - winning design awards for our sites, getting great client feedback, being recognised by your peers, being asked to speak at your university etc. But really I would consider myself successful in what I do when I'm able to "walk away" from the company, and it runs itself autonomously. I think having a company is like raising a child, you care for it, nurture it, educate it, it grows but ultimately you're doing it so it can thrive on its own and you can be proud of it.
What do you like to do when you're not working?
I have two young boys - 2 and 0.5. I spend pretty much all my time with them and my family outside of work. I'm still able to sneak in early morning gym sessions, unfortunately, my gaming has taken a back seat!
What are your recommendations for a business or developer novice?
Make sure you truly enjoy and feel a sense of reward and achievement in what you do. You'll find yourself naturally gravitating towards what you enjoy, instinctively doing more and more of it, embrace it and focus on it, do things and create work that you're proud of.
Be prepared to put in the work.
Being successful or running a successful company isn't just something that happens, it's in the 1000's hours of work, it's being the first in and last to leave - if you want to be at your best, you have to put in your best effort.
Thanks for the interview, wise words and advice Chris! Wish you and CB Website Design good luck in what you do, and a ton of inspiration for further projects. Hope to hear from you soon again
Christopher Baker is the founder of CB Website Design - a leading web design agency from UK. If you like this interview, and think Chris and his team could help you with future digital products, don't hesitate to contact them on TechBehemoths,,or social media:
Twitter - Facebook - LinkedIn - Instagram
Did you like the interview with Chris?