Interview with Andrei Kasyanau - CEO/Co-Founder at Glorium Technologies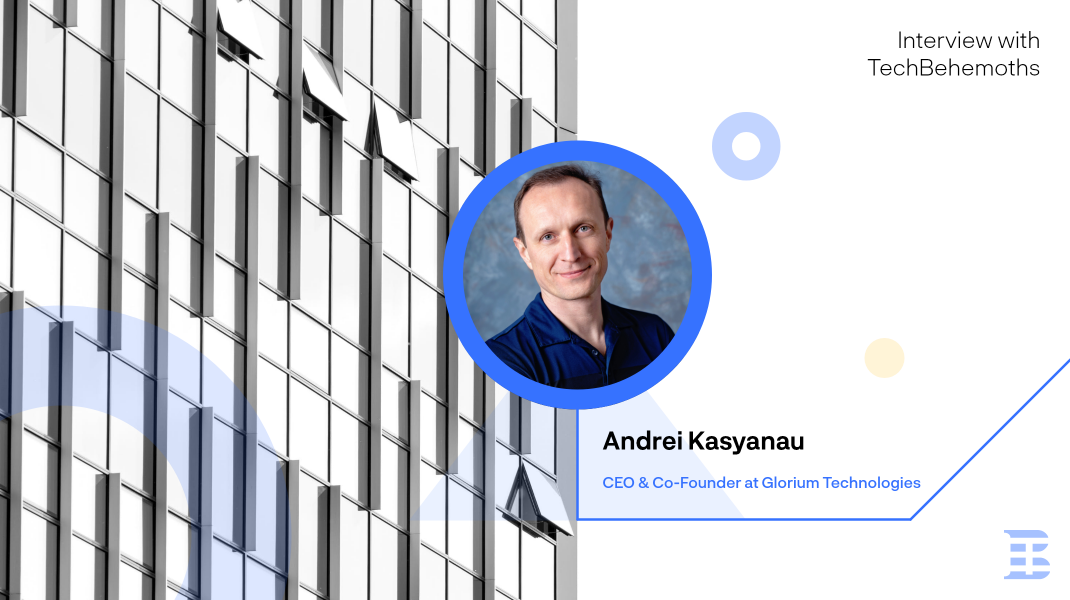 The US market has always been up ahead of the rest of the world when it comes to technology. However, in the past 3 years since the pandemic emerged, the distance between the US and the rest of the world become even bigger, in terms of technological progress and market development.
In this interview we invite you to discover Andrei Kasyanou, the CEO and Co-Founder of one of the leading IT companies in the US - Glorium Technologies. We're sure that Andrei's story will inspire many of you!
Thanks for accepting the interview, Andrei! Please tell us about yourself - your childhood, education, through to your professional development that brings you to today?
I obtained two higher ed degrees – engineering and economics, so my first jobs were in those fields. However, I also had a childhood passion – programming. I tried it as a boy in sixth grade and enjoyed it ever since. At some point in life, I realized it was my calling. I quit what I was doing and pursued my first job as a developer.
My first job led me to the US, where I built a career on Wall Street. After eight years in the corporate world, I decided to leave and build my own company.
As the CEO of Glorium Technologies, tell us more about the company, the team behind it, and its secret ingredient for success.
At Glorium Technologies we help clients achieve success for their digital products at whatever stage they need help with - from initial MVP development to market launch. We assist with specific software development stages or the entire process.
Given the wide range of services we offer, our team is comprised not only of software engineers but also includes business analysts, designers, architects, product managers, project managers, and QAs. In total there are more than 200 of us now – each and every one being an ingredient of our overall success.
Managing and supporting the team is the most significant part of the business for me. Taking care of staff means caring about the business as a whole, including customers. That's why we have a very sensitive approach toward the team; nurturing the spirit of cooperation, transparency, and trust - motivate for constant growth by developing personal development plans, conduct regular mood monitorings and 1-to-1 sessions, gather the whole team for the Ask Me Anything sessions with C-level managers.
I couldn't miss Glorium's core segment focus: VC-backed startups. How do you help them and how far does the process usually go?
Typically, VC-backed startups have already developed and presented an MVP and raised funds for future product development. Their focus is to grow and scale as soon as possible, so what they need from a technology partner is speed and quality of development. Having 12 years of experience and well-defined internal procedures, including a company-wide resource forecasting framework based on statistical predictions for workload with an emphasis on specific skill sets, we meet these needs.
Scenarios of cooperation with clients differ depending on their level of understanding of what is needed. Some clients have clear requirements and specifications and need high-quality project development services. Others approach us with a high-level idea and need guidance and partnership to deliver the final product. In such cases, we usually start with a product and market analysis, architecture design, and tech stack validation.
We also have a Growth as a Service offering that covers product launches in European and American markets. As an example, we recently conducted a marketing campaign of a health tech product on the US market that added $3.9M of LTV into the sales pipeline during the first six months.
As for industry focus, Glorium Technologies comes with significant experience in the healthcare and real-estate industries. What is the most common scenario in these industries when companies come to Glorium Technologies?
I wouldn't say that scenarios of cooperation with clients are industry-specific. Our best practices, techniques, and standards are applicable to any project in any industry. Having experience with 70+ technologies & frameworks in terms of engineering we can deliver any project.
However, speaking of industry specifics, the main benefit that we give our clients goes beyond engineering itself. Our experience allows us to have a deep understanding of a client's business itself, its needs, and the big picture that it operates in. In some circumstances, we can have a deeper understanding of the business than the client does! Thus, we can leverage our experience and be more effective and bring more value.
For instance, healthcare is a highly regulated industry. Breaking certain rules can result in not only financial loss but more importantly reputational damage for clients. As a result, all our engineers learn the ropes of HIPAA compliance and GDPR once they join the company. Glorium has ISO 9001, ISO 13485, ISO 27001 certifications that validate compliance with industry standards.
Turning to real estate tech, it is the other way around - fewer regulations and restrictions exist in this field. So it often happens that clients have excessively long lists of functional requirements for a single solution (based on their industry experience and lack of tech savviness), which would make the development process unreasonably time and resource-consuming. Industry knowledge helps us handle such cases, so we can direct a client to the right part of the development process, and guide them along the whole way from there.
The world is a bit of a mess right now. Which of the four offices of Glorium Technologies has been affected the most? And how do you tackle the situation?
The beginning of the war in Ukraine was the darkest time for the whole Glorium team, so I can't say that only offices in Ukraine were affected.
Having a people-first culture we were focused on addressing the most urgent needs of our teammates who lived in close proximity to the war zone. While they needed some time off to handle the situation, we rearranged project management teams to ensure that experts from other locations were able to continue working to cover for them. Thanks to those people, we never stopped business operations and have continued to perform for our clients on schedule.
Over the course of the past 9 months, we organized safe workspaces with access to electricity and internet connection for team members who stay in Ukraine. Also, we diversified our capabilities by expanding our team in Poland and opening offices in Cyprus. Along with hiring local experts there, we relocated people from Ukraine to those locations. And of course, in terms of hiring, we are not limited by our offices and search for talents worldwide.
In your vision, what makes the tech industry progress, and what challenges may it face in the near future?
The world is always striving to increase productivity, and develop new products, services, and technologies in every sphere. Naturally, the tech industry is trying to provide for these aspirations and serve every other sector of the economy.
There are two particularly significant challenges I can see ahead. The first one is the ever-growing requirements for people that create innovations, and the shortage of such people. We are talking about the high intelligence potential necessary not just to provide high-quality results, but also to implement innovative developments inside the tech industry.
The second challenge is closely related: it's about the ever-increasing cost of implementing the innovations. Just about ten years ago, any developer could quickly assemble a basic product that would immediately be snapped up on the market. Today, market saturation has raised the innovation bar so high that introducing meaningful innovations requires enormous sums of time, effort and money. We can see that from the amounts that startups are raising from venture funds in hopes of achieving the desired results.
We are trying to work in both of those directions, striving to deliver high-quality potential at the
lowest cost possible. It may include hunting for the best talents in the world alongside cost optimization and opting for more cost-effective jurisdictions. Therefore, we are helping our clients to obtain desirable talents, and pass over our savings to them to make their market entrance easier.
If you had the opportunity to go back in time, what advice would you give to Andrei Kasyanau from 2012?
That would be something as simple as "don't worry".
Yes, the journey of an entrepreneur can be quite difficult and bothersome. Challenges can await you at every turn, and they are usually unpredictable. Of course, you should solve them, but there's no point in fretting in the process.
Thank you for this insightful interview, Andrei! We're grateful for sharing your expertise both as a CEO and as a leader of one of the most passionate tech communities in the United States. We wish you good luck in your business endeavor and hope to hear from you soon!
Would you like to read more about this?