How will metaverse influence IT businesses?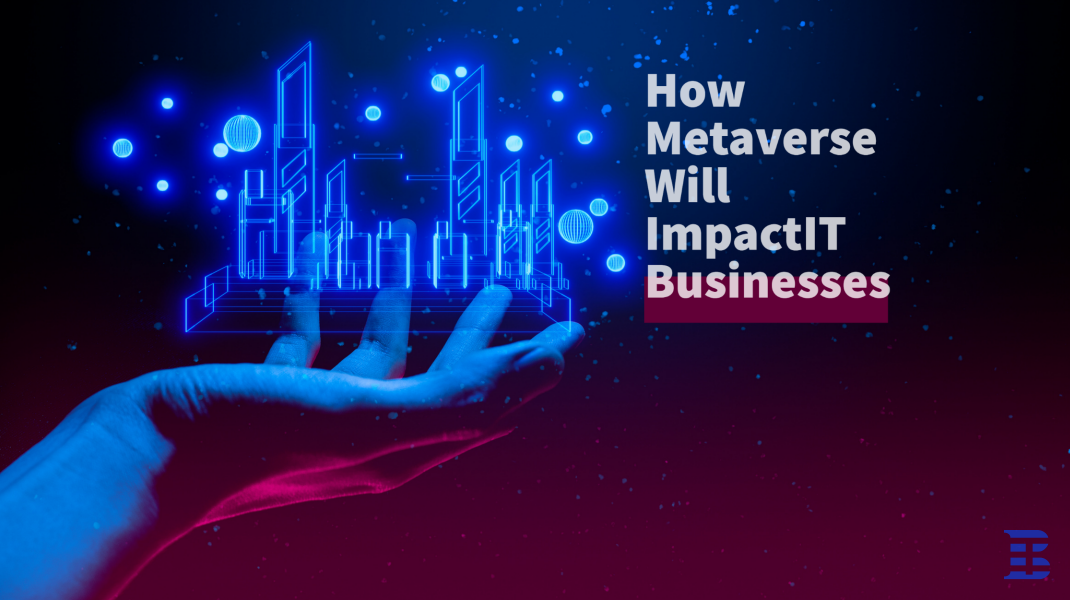 Metaverse - the network that merges immersive virtual reality and human interaction on the web. The definition brings together the vision of the brightest minds and the masses' imaginations regarding how this concept should look in theory.
If we dig deeper into the subject, the metaverse is just partially applied nowadays and can be found in a variety of elements: Blockchain, VR, AR, AI, Cloud technology, and Virtualization among others are individual subjects that pulled around them industries and fields. When put together, they should work as metaverse and serve humanity as a whole. In this article, we will talk about how the metaverse could be integrated into business processes and especially in the IT industry in the framework of serving a bigger purpose.
#1 Metaverse and software development
Before living in a metaverse it is important to develop it. So the first opportunity and challenge at the same time is for the software development industry overall. As these two come hand in hand and change each other, the field of software development will be affected the most. Here's how it goes: The software development industry develops the metaverse including for progressive purposes that will bring benefits to the software industry itself.
Besides this, software development companies will most likely implement into their business processes metaverse features such as virtualization for example. The first reason that comes to mind - for a better user experience and project management.
#2 Metaverse and user experience
Metaverse platforms have the potential to transform how, when and where companies interact with their customers, as extended reality platforms enable businesses to deliver new experiences and provide information in new ways.
A web design agency, for example, could create a virtual guide for clients as they navigate through the website, delivering personalized information in real-time to enhance the client's experience. Or, a tour company could provide a persistent immersive experience in the virtual realm overlaid onto the physical world to inform tourists as they move through new destinations -- perhaps, for instance, bringing historical events to life in old cities.
Companies could also offer potential customers alternative shopping experiences. For example, automakers could offer test drives in an extended reality setting.
#3 Metaverse and business meetings
Many workers traded in-person meetings for Zoom meetings during the COVID-19 pandemic. Tech companies that are focused on metaverse development, such as Meta (formerly known as Facebook) and Microsoft, are using that comfort as a stepping stone to the next version of "virtual meetings."
"Within the next two or three years, I predict most virtual meetings will move from 2D camera image grids … to the metaverse, a 3D space with digital avatars," wrote Bill Gates in his blog. "The idea is that you will eventually use your avatar to meet with people in a virtual space that replicates the feeling of being in an actual room with them."
"This will require virtual reality (VR) goggles and motion capture gloves to render expressions, body language, and the quality of others' voices", Gates continued. Such tools may extend the reach of workers, enabling them to execute tasks virtually.
The technology will be able to transport them to other work locations while also letting them interact with others in both virtual and physical worlds
#4 Metaverse and advertising
A number of brands are creating a presence in established VR settings. For example, Hyundai Motor Company debuted Hyundai Mobility Adventure, a metaverse experience on the gaming platform Roblox. Gamers' avatars can experience Hyundai's future mobility projects and current products. And last year, Warner Bros. Pictures hosted a virtual party on Roblox to market its movie In the Heights.
Still, others are branding their own metaverse projects. The Walt Disney Co., a longtime leader of imaginary worlds, is one such company.
If VR devices such as Oculus become a trend for the mass market and also would be affordable enough for everyone, all companies could go through a digital transformation, bringing their ads into the metaverse. As for IT companies, it is possible to develop a new field within the framework of advertising campaigns and strategy - VR advertising.
#5 Metaverse and new revenue ways
Companies are already selling goods and services that only exist in the digital world.
Gucci has teamed up with product and entertainment company Superplastic to create a limited series of collectible NFTs. Ralph Lauren is selling clothing for avatars, and Nike is creating an NFT that links to its real-world counterpart. And overall NFTs are all over the place despite the recent crypto depression from mid-2022.
That big-name fashion brands are selling digital-only clothing and accessories, following in the footsteps of gaming platforms that have sold similar items for many years, may point the way to opportunities for the broader business landscape. The sale of digital assets could be one of the big opportunities for many companies.
If the trend continues, we could assist in a new expansion of digital services that come from IT companies. For example web agencies that provide NFT services. Enhanced by virtualization, what we see now on a laptop screen could get a totally new value if we project the good in virtual reality.
Do you think Metaverse will impact your business?