How does Amazon make money? Breaking Down Amazon's Success 2022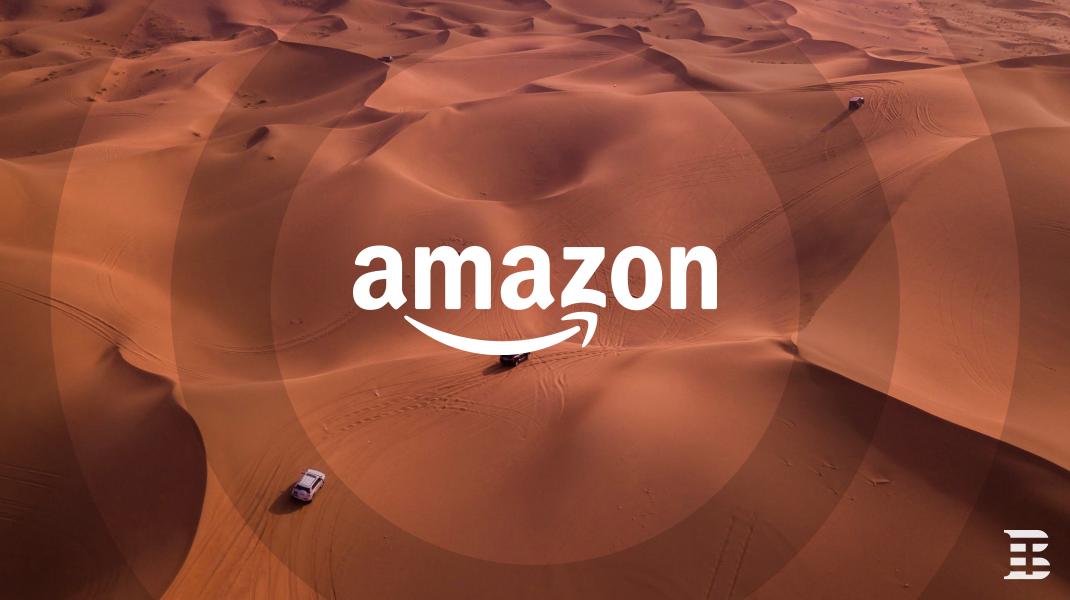 Amazon is one of the richest companies in the world with a market cap of $1.7 trillion. Amazon's revenue comes from multiple sources, which diversified even more from 2015 by 2021. This research is exactly about this topic - how Amazon makes money from all its sources.
So, there are two ways about Amazon's revenue and markets.
By Market Segment

By Product
How Does Amazon Make Money By Market Segment?
Amazon's segments include three different sources of revenue and are a combination of locations and products. Those three segments are North America, International, and AWS . The majority of technology infrastructure costs are allocated to the Amazon Web Services (AWS) segment based on usage. The majority of the remaining non-infrastructure technology costs are incurred in the US and are allocated to the North America segment. There are no internal revenue transactions between reportable segments. These segments reflect how worldwide the chief operating decision maker evaluates its business performance and manages its operations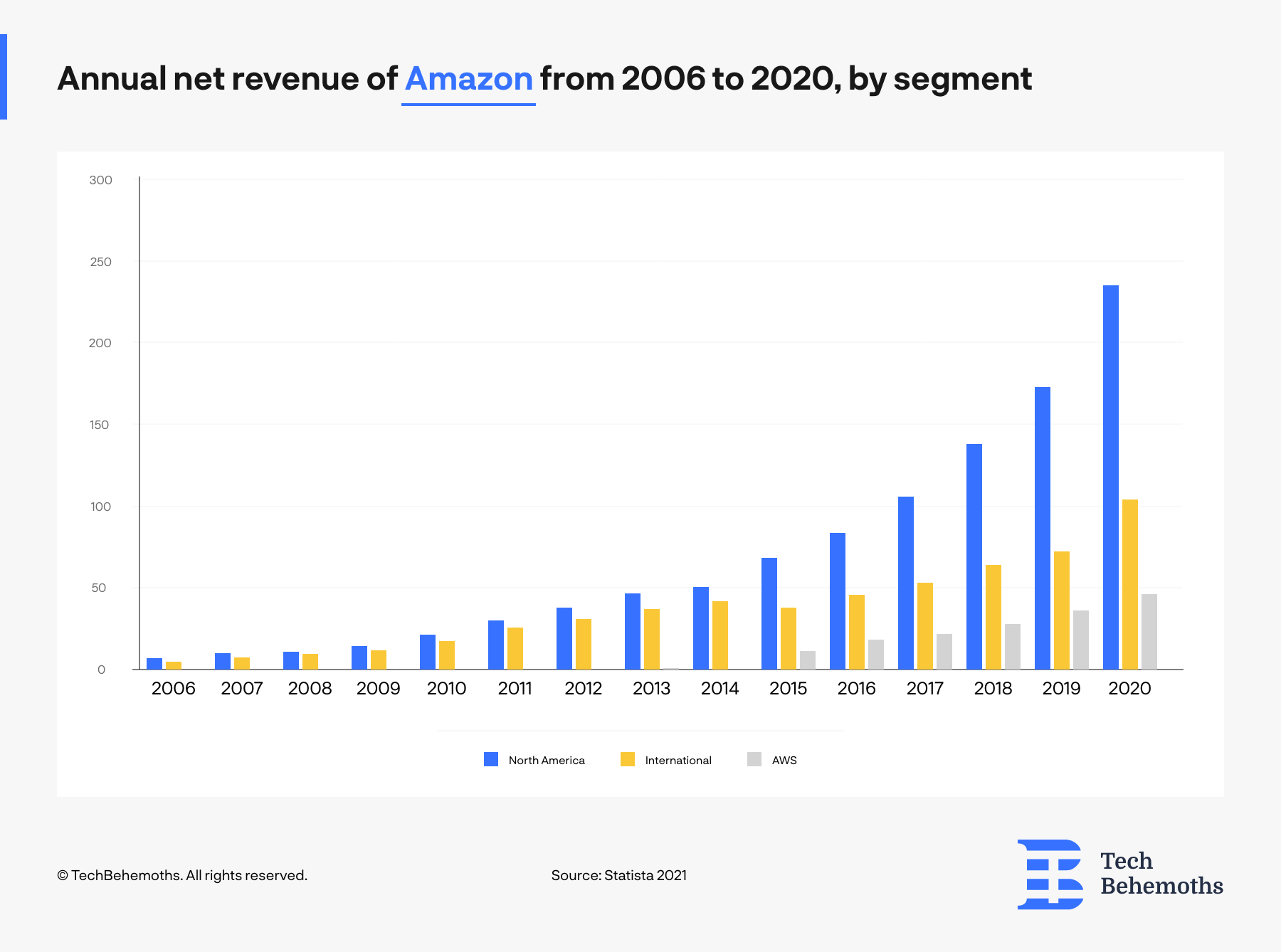 How Amazon Makes Money from North America Segment
The North American segment includes retail sales of consumer goods and subscriptions across the entire North American market. Most of all, the sales in this segment are done via websites like amazon.com and amazon.ca. But also their affiliate partners.
Despite the pandemic, Amazon's net revenue reached new records in 2020 -the year that was considered the worst since 2008 for most businesses. Out of a total of $386 bn net revenue in 2020, the North America segment generated 61% or $236 bn. In Q1 2021, the same segment generated $64.3bn which is 59.3% of the entire revenue in the same timeframe.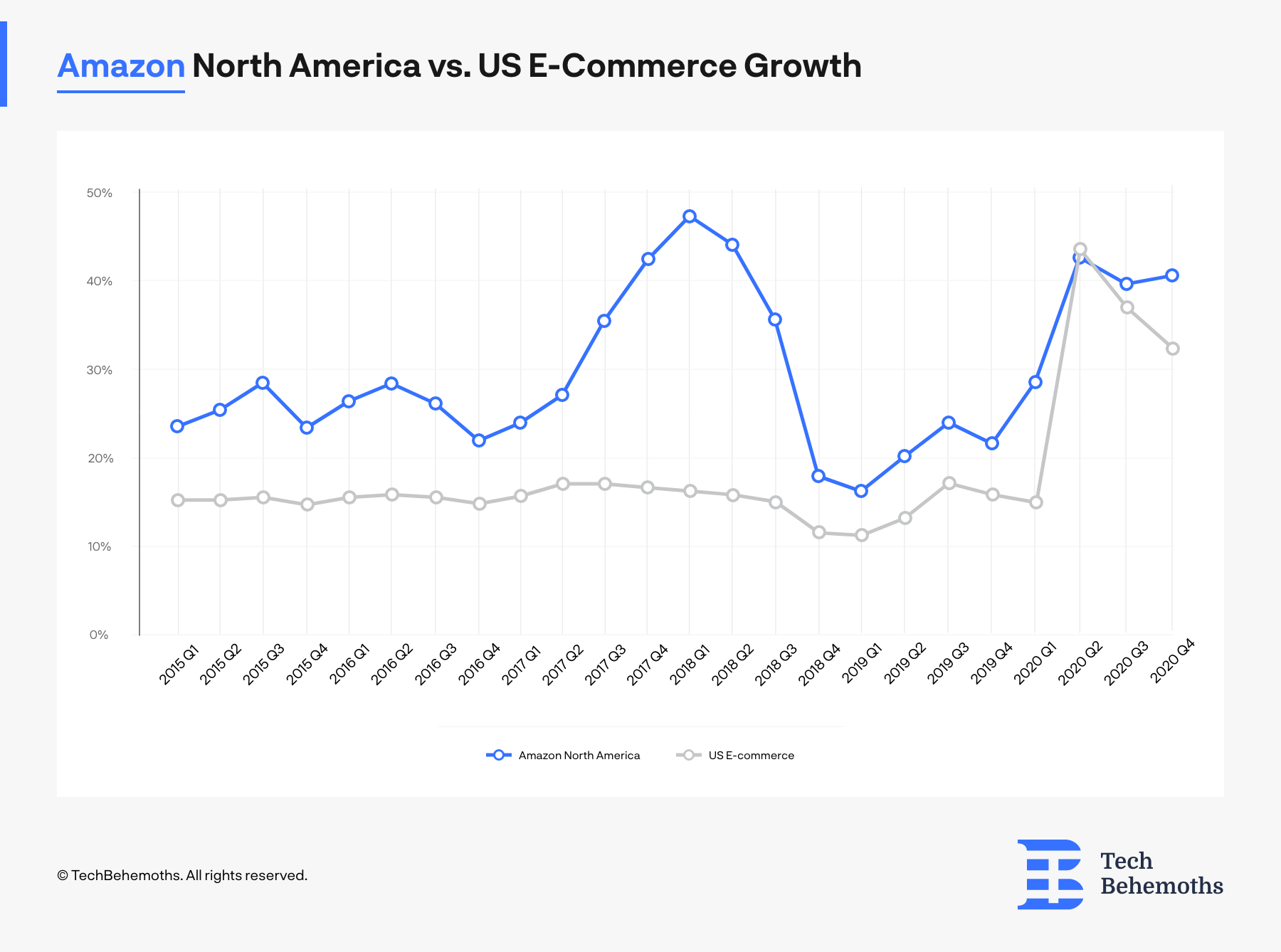 The numbers show that Amazon North America Segment has grown significantly in 2020, and the data can be compared with 2018 when the same segment reached nearly 50% growth. Yet if it is to compare in billions, the numbers are much higher than in 2018.
How Amazon Makes Money From International Segment
Unlike the North American segment, the International Segment of Amazon is based on sales worldwide. It is about the same consumer goods sales and subscriptions but excluding the North American region and as it was expected it brings less money than the North American segment. In Q1 of 2021, International contributed $30.65 billion in revenue which is 28.2% of the total revenue. International sales increased 60% in Q1 2021, compared to the prior-year period. Changes in foreign currency exchange rates impacted International net sales by $1.9 billion for Q1 2021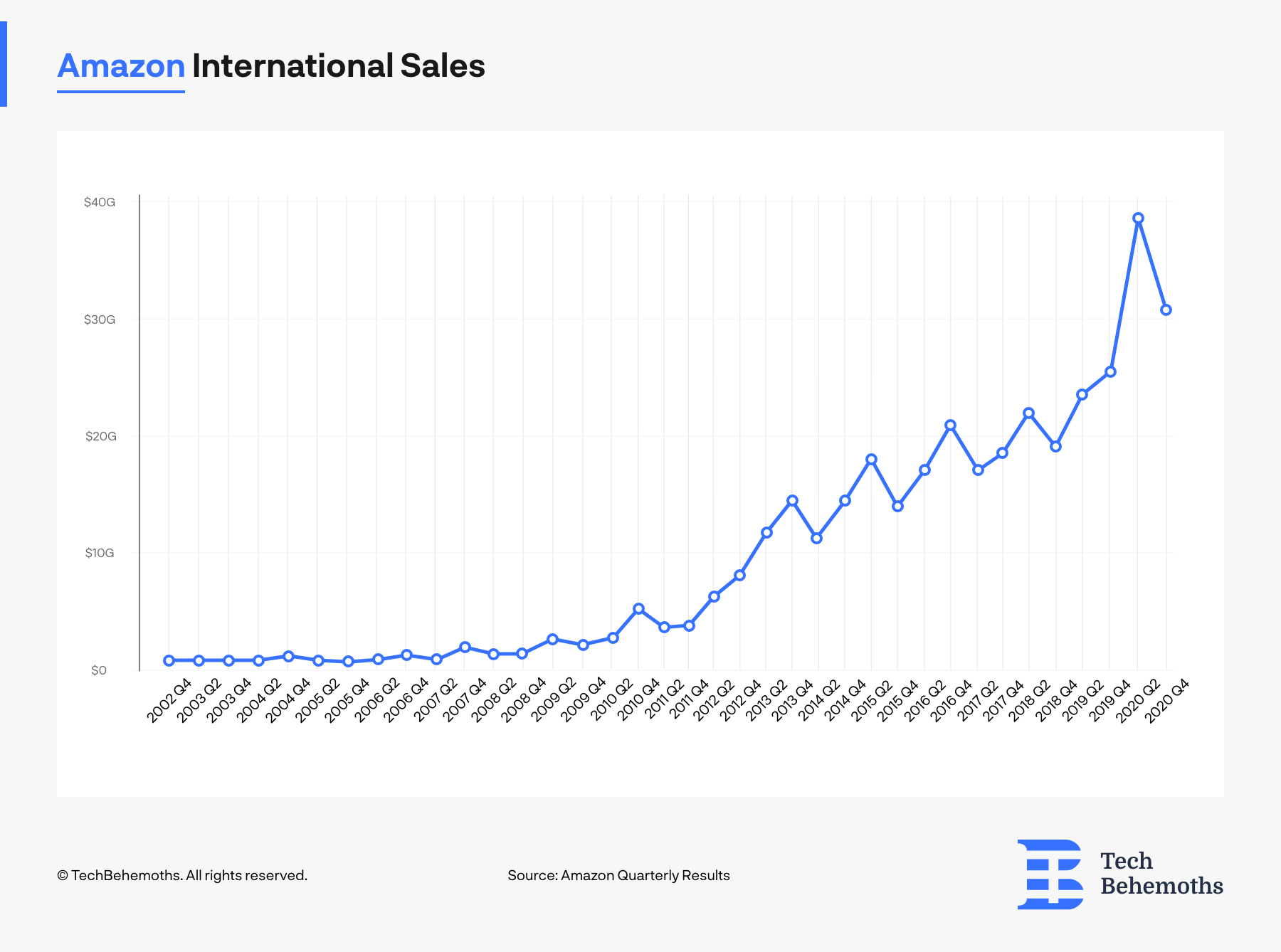 Amazon sells on international marketplaces, like Amazon Germany, Amazon UK, Amazon Japan, and others. Last reported quarter 2021 Q1 it was $30.65 billion, up by 60% year-over-year from $19.11 billion. From $74.72 billion in 2019, it increased by 40% to $104.41 billion in 2020.
On the other hand, the percentage of international sales compared to overall sales went down. As the trend shows, the North American segment grows faster than the other two segments, and due to this market evolution, Amazon's international sales look like going down.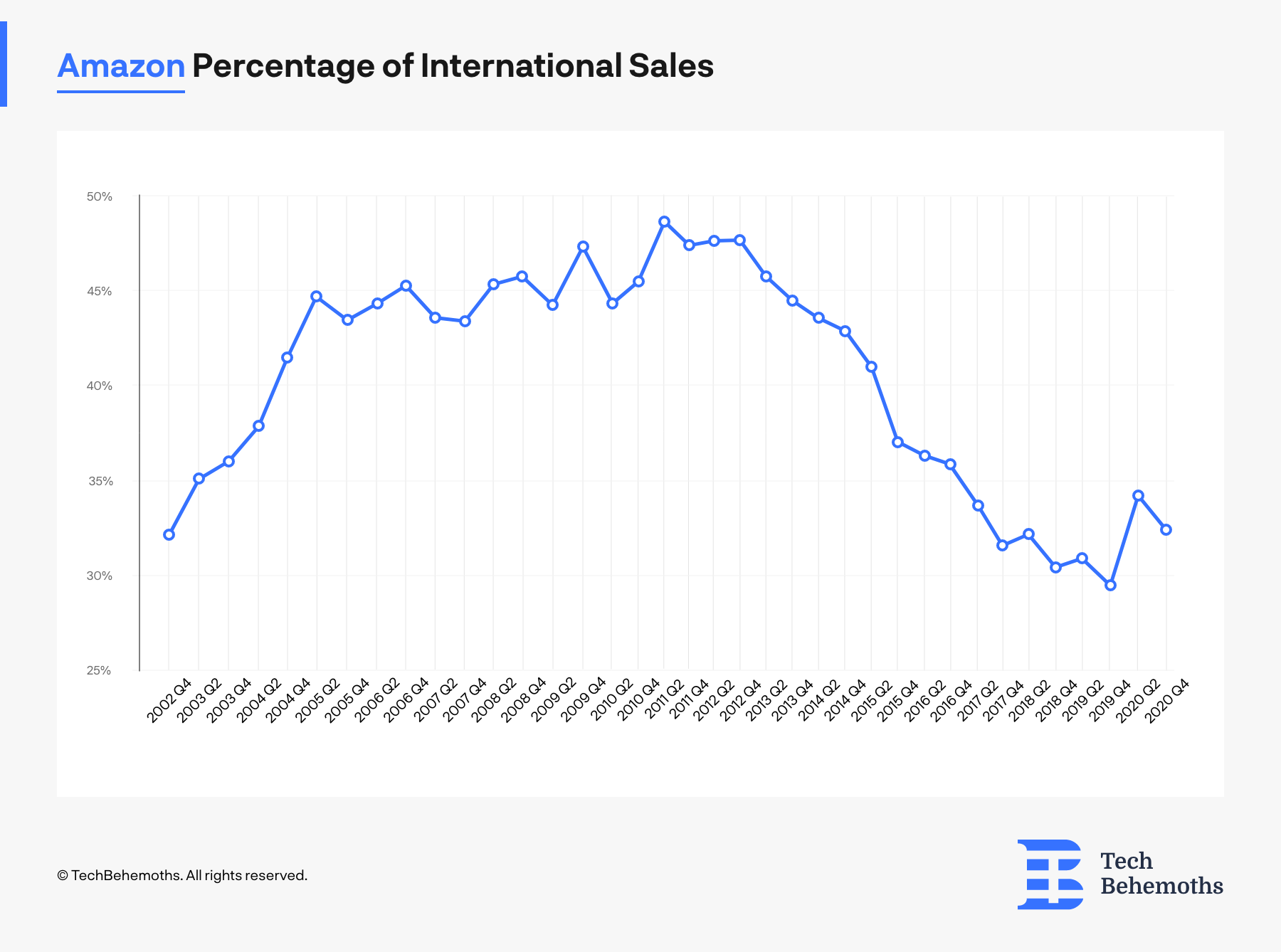 Moreover, the lockdown has been a considerable barrier for Amazon, but also for other large companies like Alibaba to ship products abroad and thus, increase their international sales. On the other hand, things should come back to normal in Q3/Q4 2021 if the pandemic evolution stabilizes.
How Amazon Makes Money From AWS
The Amazon Web Service segment consists of all digital services and products regardless of their geographical end-customer location. The AWS includes services such as compute, storage, database, and other services for companies, startups, and governments but also to other entities interested in acquiring Amazon's Web services.
In Q1 of 2021, AWS contributed $ 13.50 billion in revenue which is 12.4% of the total revenue. AWS sales increased 32% in Q1 2021, compared to the prior year period. The sales growth primarily reflects increased customer usage, partially offset by pricing changes.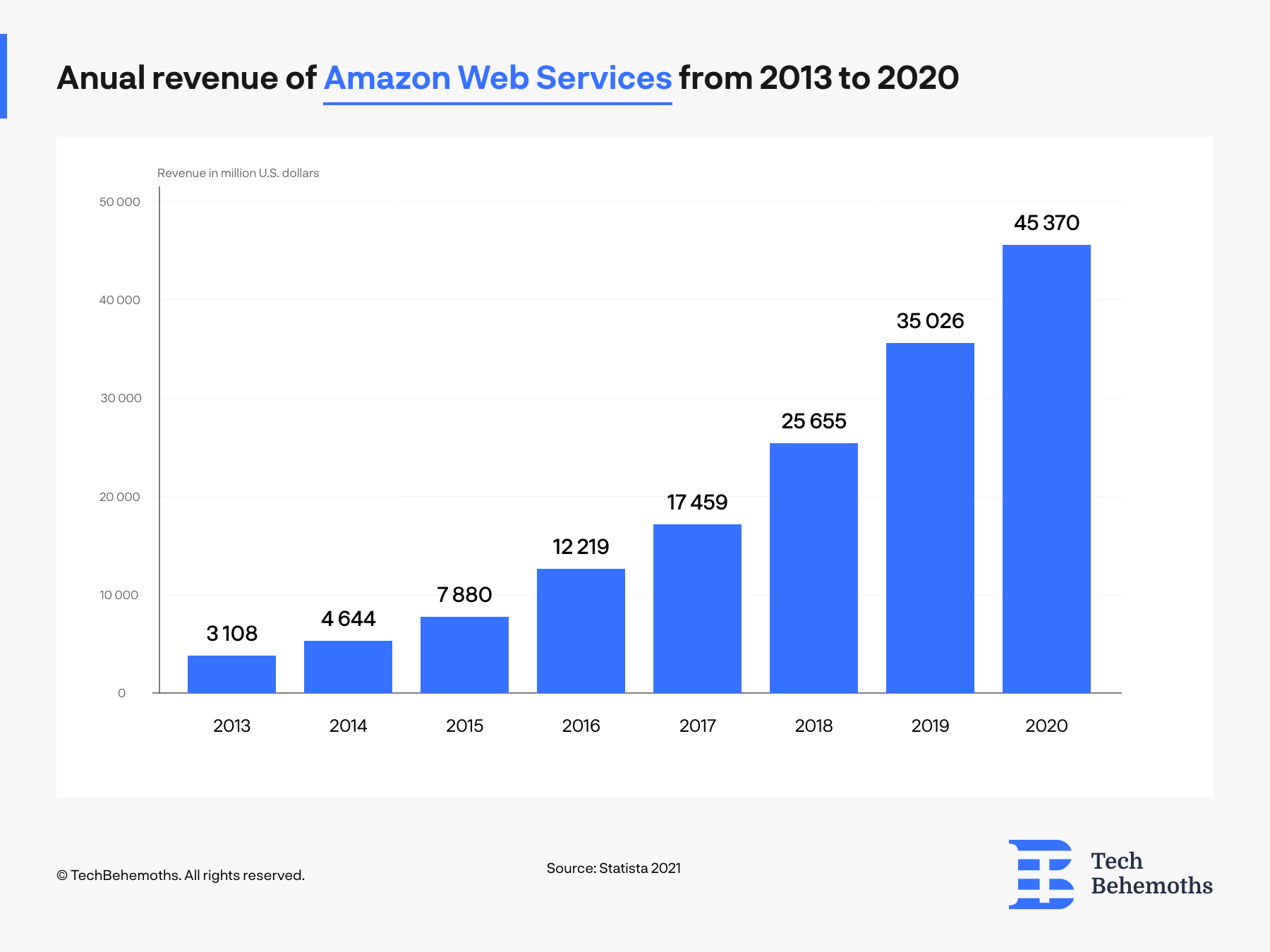 In addition to Q1 2021 growth, Amazon Web Services have never registered downgrades in sales. This is no surprise taking into account the progress and overall revenue growth the company has registered overall.
Yet, from 2013 when the sales were only $3bn, in 2020 they maxed 15 times and that's only for AWS.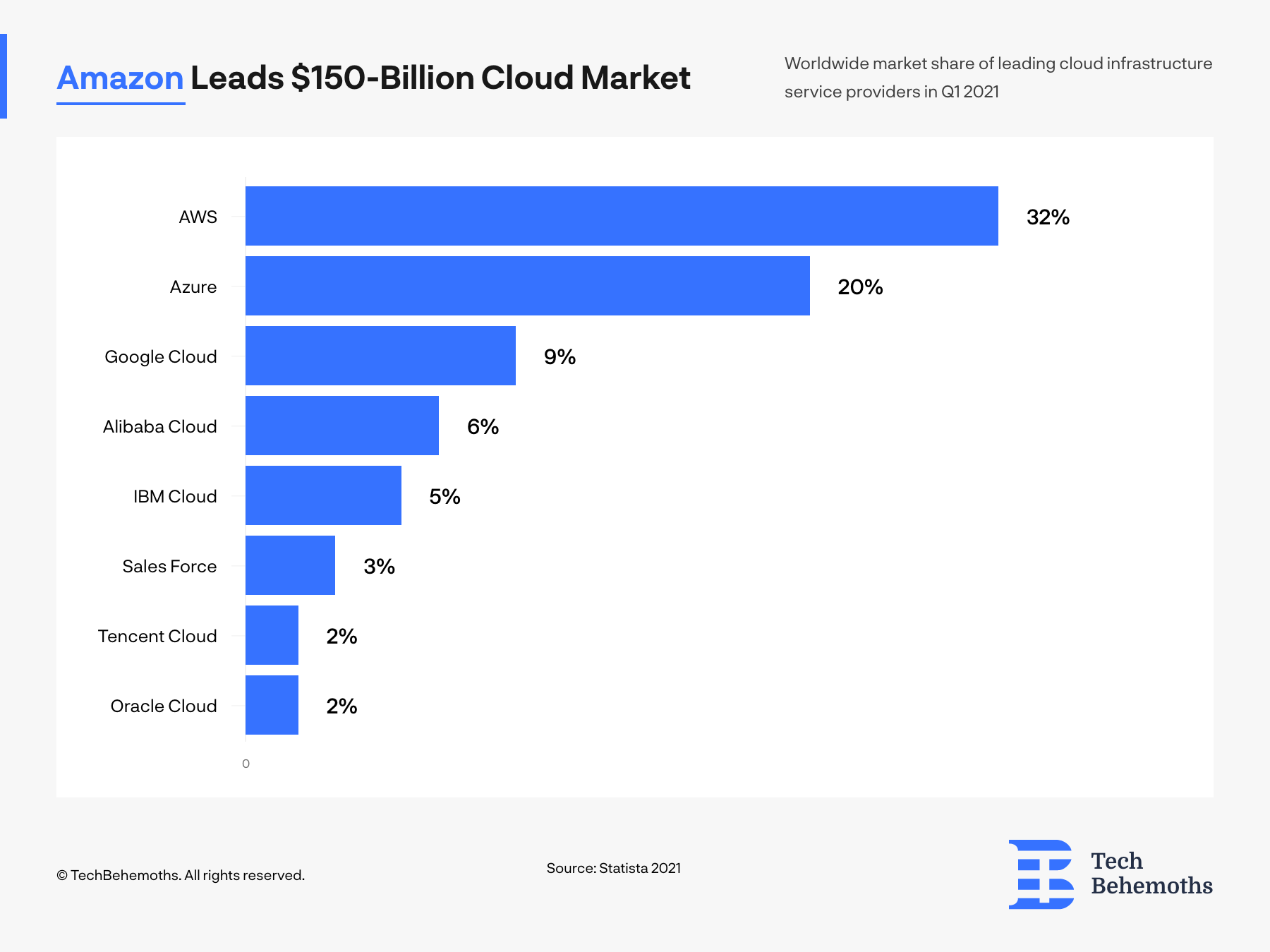 Having established itself as an early leader in the market for cloud infrastructure, Amazon Web Services (AWS), the online retailer's profitable cloud platform, is still ahead of the pack. According to estimates from Synergy Research Group, Amazon's market share in the worldwide cloud infrastructure market amounted to 32 percent in the first quarter of 2021, still exceeding the combined market share of its two largest competitors, Microsoft and Google
AMAZON REVENUE BY PRODUCT
The second way on how Amazon gets its money is by product group. This means that all markets + AWS are now divided differently. Overall there are millions of products Amazon sell, but they can all be grouped in 3 segments:
Amazon Third-Party Sellers

Amazon E-Commerce

Amazon Subscriptions
Amazon Third-Party Sellers Revenue and Statistics
Amazon recently started reporting the number of sellers worldwide with over $100,000 in sales a year as a metric to understand the health of the marketplace.
From 200,000 in 2018 it increased by 12% to 225,000 in 2019. The number of third-party sellers grows a bit slower compared to all other types of AWS segments, but brings enough revenue to Amazon, and is definitely a profitable business for both sellers and Amazon. It works pretty simple for everyone: You have the product, they have the image and the platform. Once you integrate your shop with Amazon, you will be able to increase your sales. From what Amazon made public, here are the statistics for third-party sellers worldwide: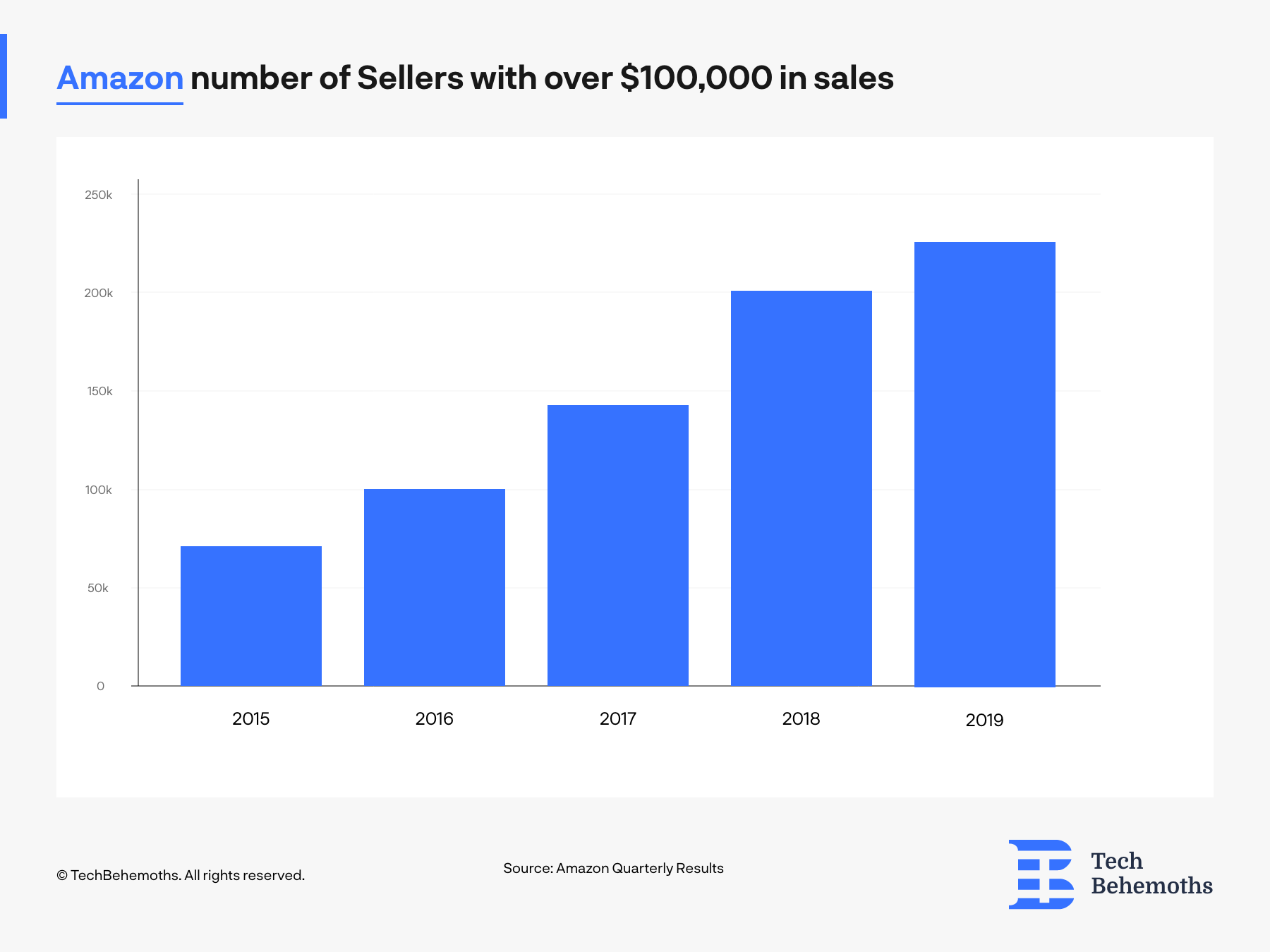 The revenue from all third-party sellers has grown exponentially over the past 6 years, which confirms how things are progressing within this industry for Amazon. Yet there is a small drop in 2021 Q1 that compensates the growth from 2020 Q4.

Amazon E-Commerce Revenue Statistics
E-commerce is another main source of revenue for Amazon. Since 2017 the numbers have grown exponentially, and are estimated to grow further for at least the next 5 years. In addition to the ease of use and benefits it offers, Amazon E-commerce is an ecosystem capable of interacting with all markets and product segments. In 2019, Amazon was estimated to have generated over 346 billion U.S. dollars in retail e-commerce sales annually. E-retail sales of the company are projected to reach 468.78 billion U.S. dollars in 2021. Amazon is the world's largest online marketplace as measured by revenue and market capitalization.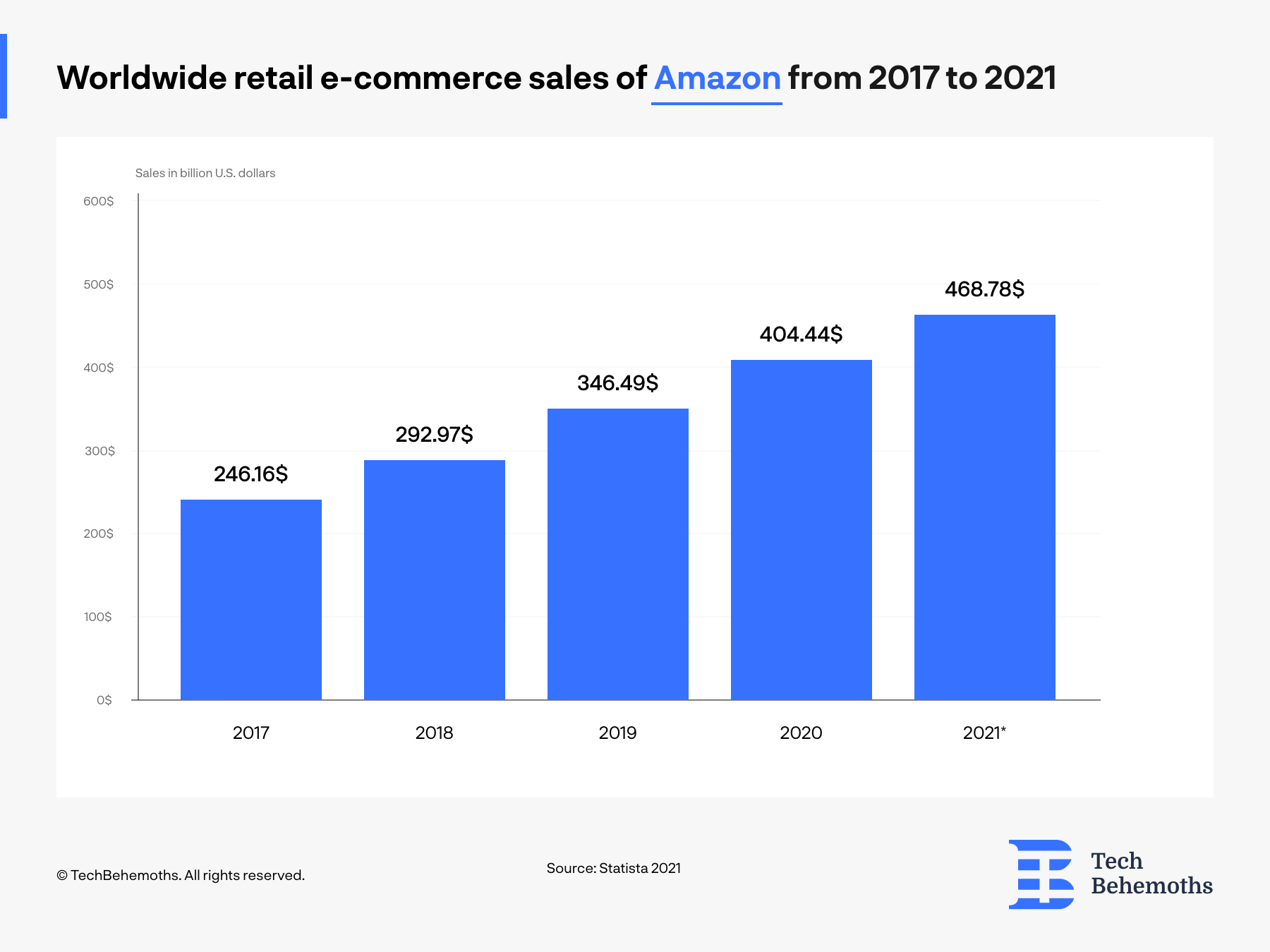 Amazon Subscription Revenue Statistics
Last but not least important source of revenue for Amazon is the Subscription Ecosystem. From Amazon Prime to kindle and music streaming the subscription services from Amazon are wide and not totally undiscovered by many markets, such as the Chinese one - where it faces restrictions but also has competitors able to win locally.
Nonetheless, last reported quarter 2021 Q1 it was $7.58 billion, up by 36% year-over-year from $5.56 billion. From $19.21 billion in 2019, it increased by 31% to $25.21 billion in 2020. The numbers are global.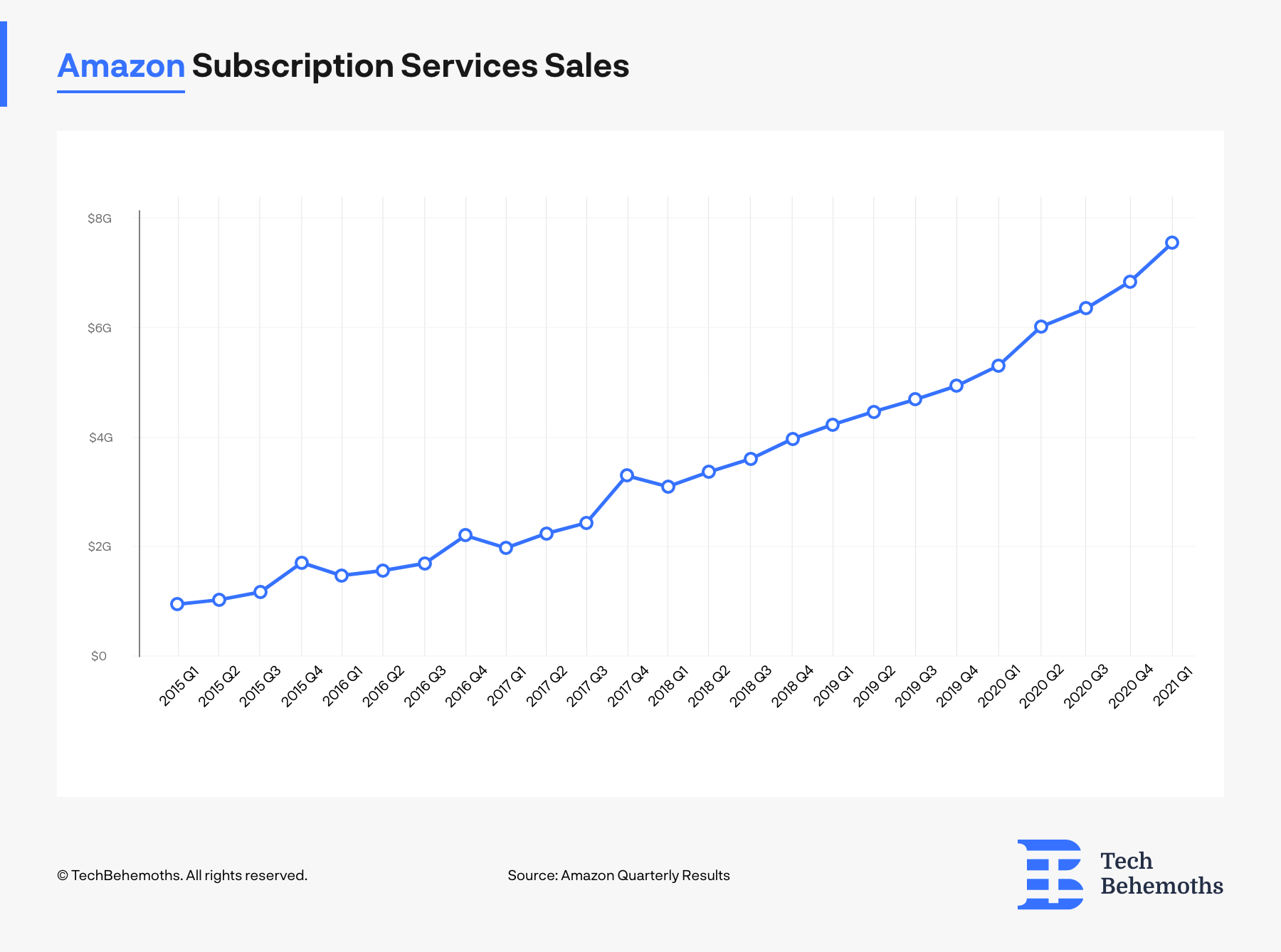 FACTS AND STATS ABOUT AMAZON
9 out of 10 consumers price check a product on Amazon. (source)

2% of Echo owners have purchased a product via Alexa. (source)

Amazon sells more than 12 million products. (source)

Amazon sells over 1.1 million home improvement products. (source)

95 million people have Amazon Prime memberships in the US. (source)

$1.4K is the average spent by Amazon Prime members each year. (source)

FBA gives sellers a 30-50% increase in sales. (source)

Amazon shipped over 5 billion items worldwide in 2017. (source)

More than 50% of all Amazon sales come from third-party sellers. (source)

80% of sellers also sell on other platforms outside of Amazon. (source)

Bezos makes $2,489 per second — more than twice what the median US worker makes in one week.

With his $130 billion, Bezos has a net worth equivalent to about 28% of the top 100 US college endowments.

Bezos is so rich that an average American spending $1 is similar to Bezos spending about $1.3 million.

The Amazon CEO is about 48% richer than the British monarchy.
Will Amazon earn more in 2022?