Analyzing E-Commerce Solutions for Western Europe: PrestaShop vs WooCommerce vs Magento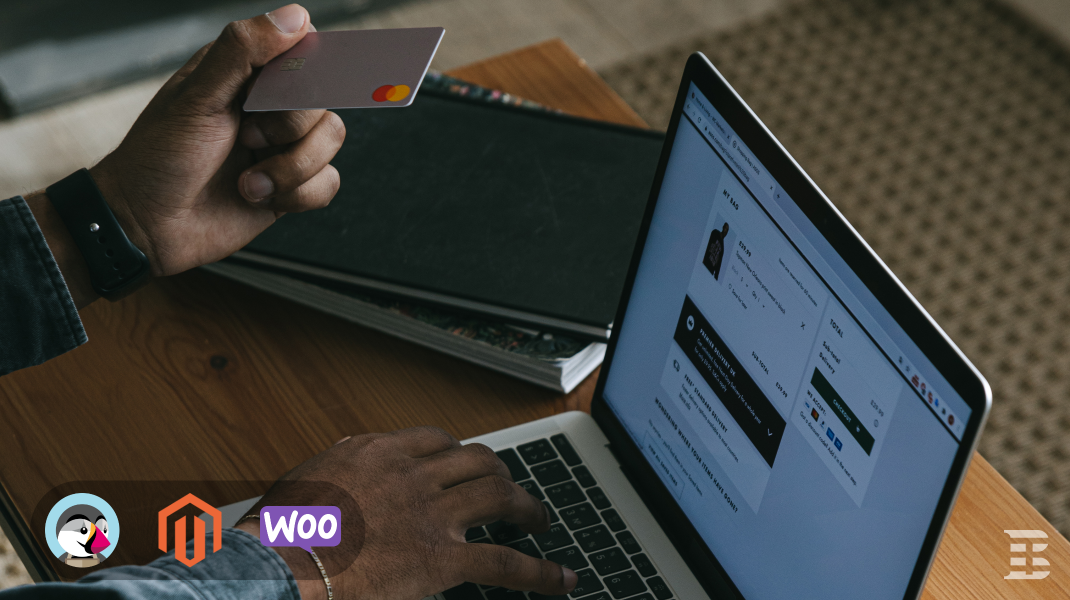 Out of many popular online store systems, excluding any software-as-a-service (SaaS) in the cloud, it is possible to distinguish three main solutions present in Western Europe. Many businesses do complex research, before settling down on one of the platforms which would allow their own developers' full access to the engine, making it possible to customize it in any way possible.
The best way to rate open software license stores' performance in eCommerce would be by comparative analysis of the top entrepreneur pick. An obvious choice, in this case, would be PrestaShop, WooCommerce, and Magento Open Source, all of which can be considered similar kinds of shopping systems.
Prestashop continues to be a rising star in Western Europe's eCommerce. This open-source system was first released on July 31, 2008, and has continued to grow over the years.
Nowadays, according to W3Techs reports, its historical usage in the last year has grown from 0,5 to almost 0,7 of all websites. This growth has been observed since the early release and if kept steady, at some point it is not impossible for this system to overtake local solutions.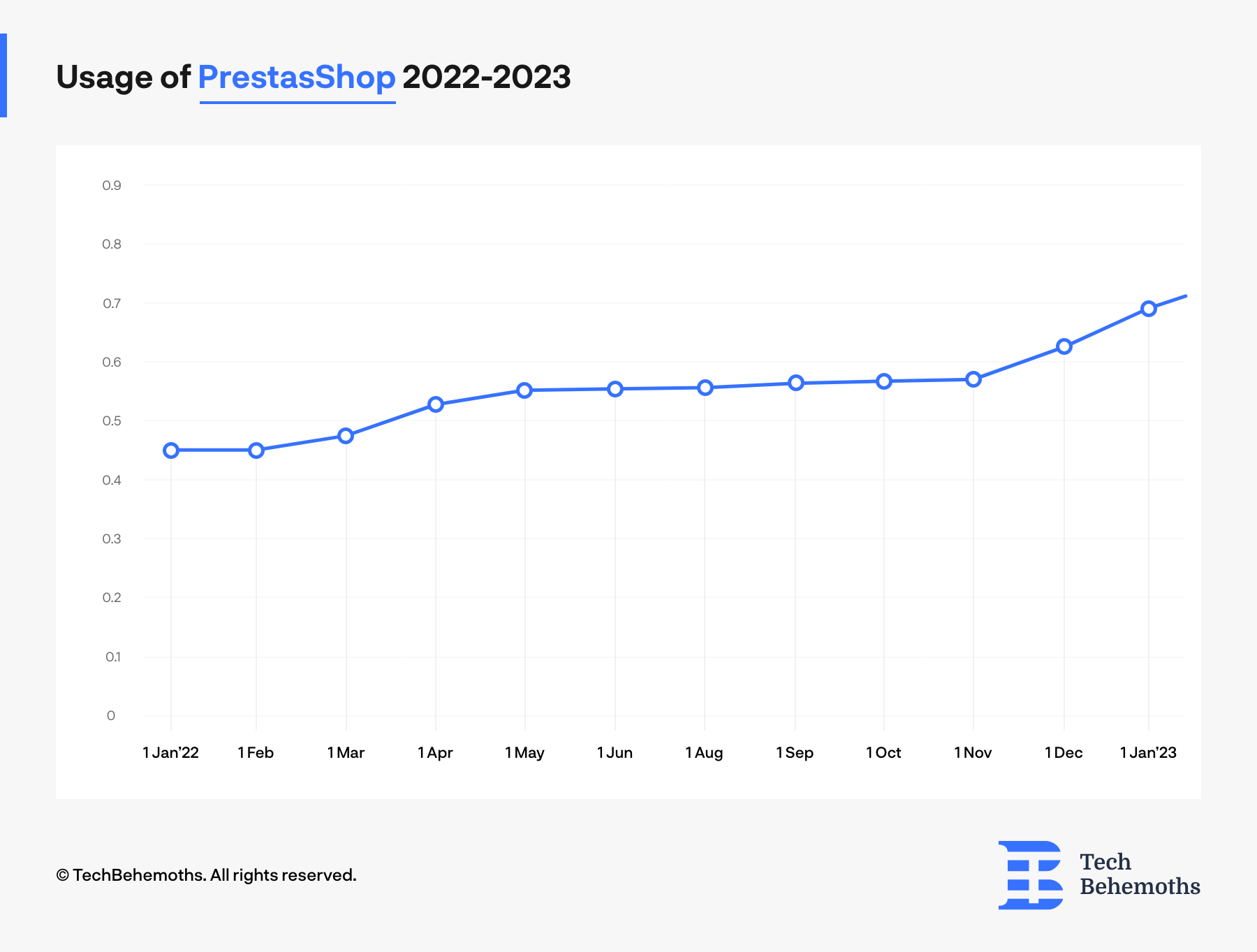 At the moment of writing this article, according to store leads, there are currently 214,419 active stores that run on the PrestaShop platform. However, BuiltWith notes 299,187 active installations. Moreover, historical growth perfectly illustrates steady progress in the market share.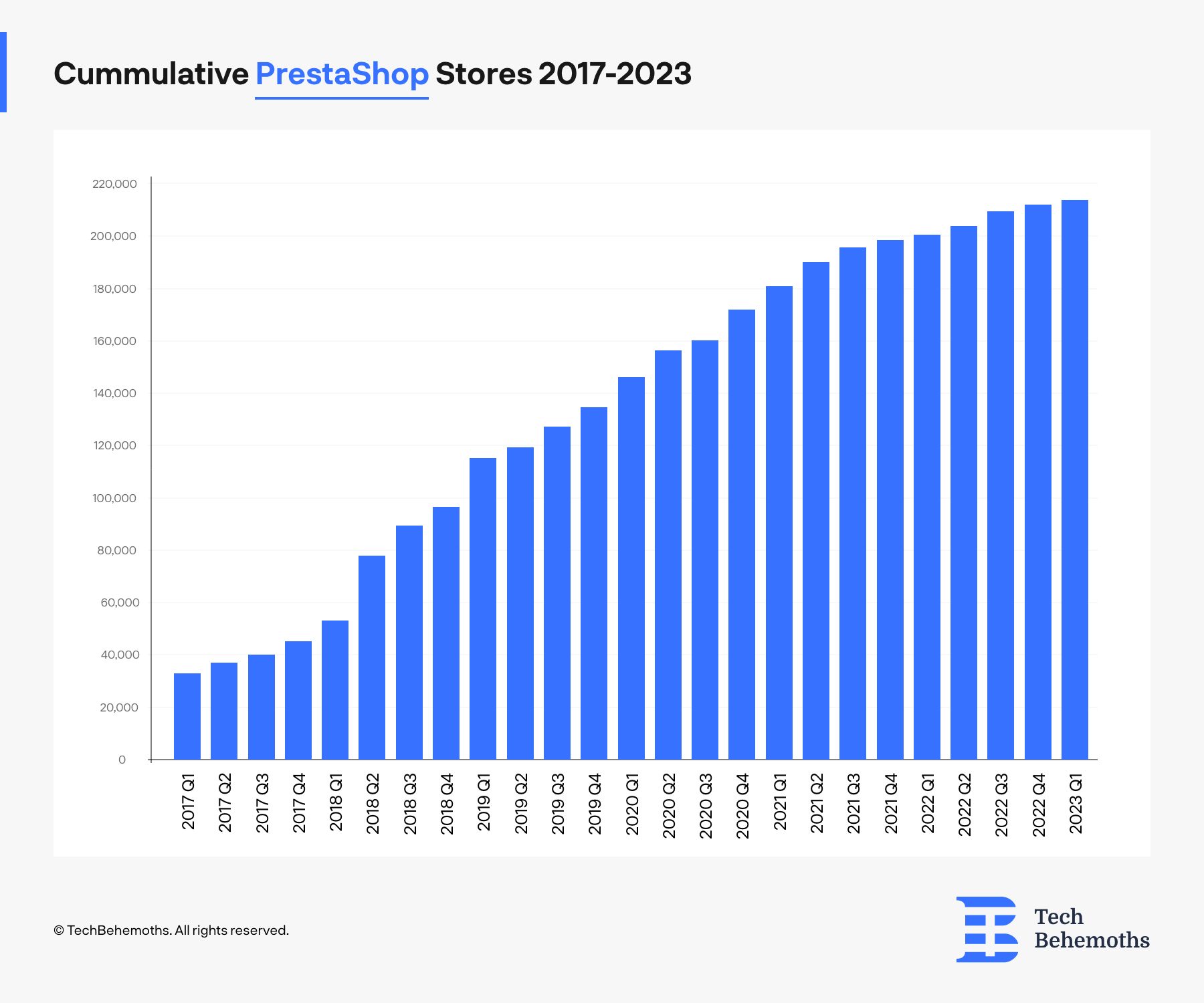 WooCommerce is one of the most popular systems and for a good reason, given the amount of content created by its community. However, a deeper look shows a declining trend in the last year, which might be a result of the rapid development of other systems. Still, WooCommerce keeps 8.6% of websites across the world.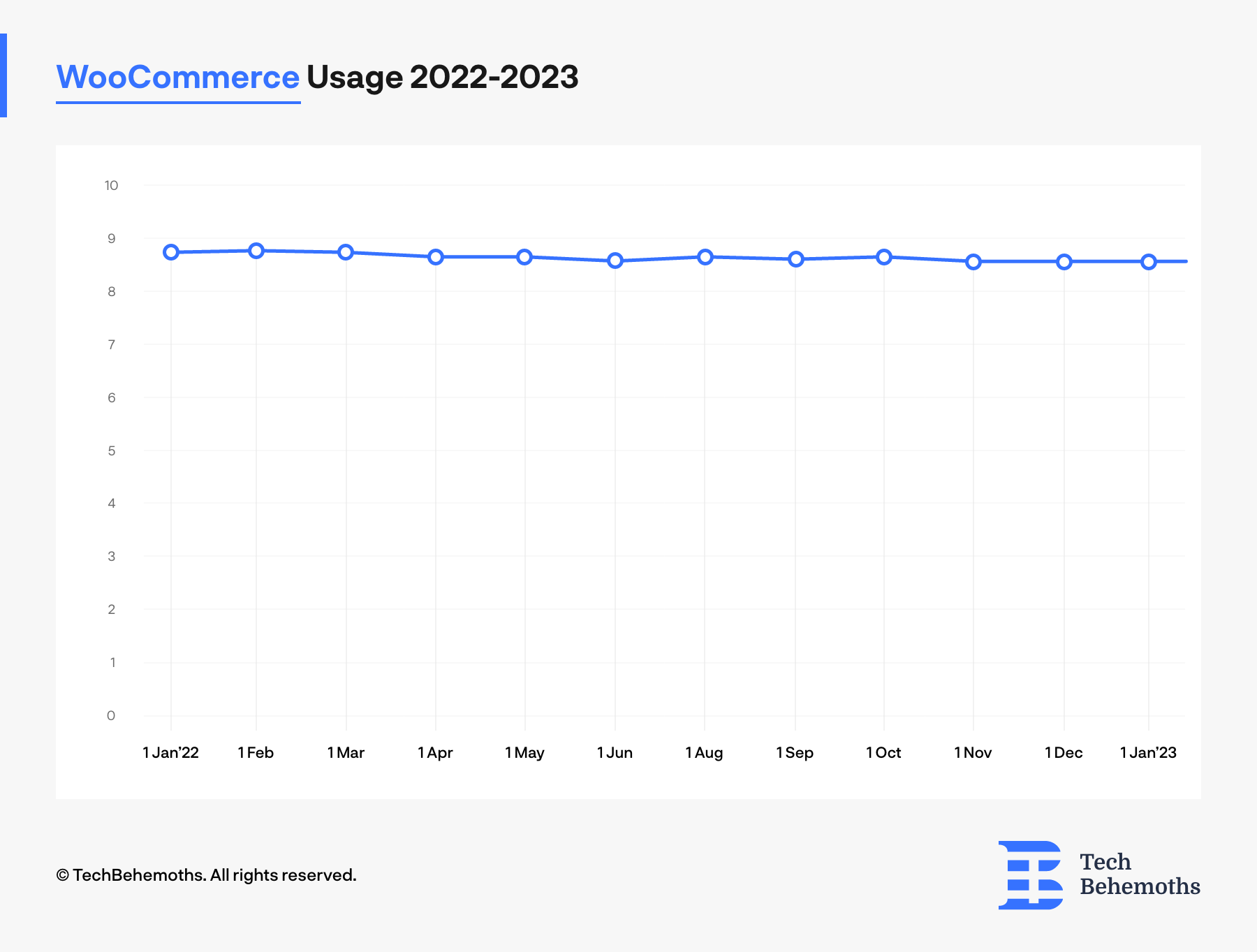 Currently, there are 3,879,698 live stores running on the WooCommerce platform according to StoreLeads, as for BuiltWith, its statistics show 6,719,294 live shops. Certainly, this system continues to overshadow other choices in the quantity department.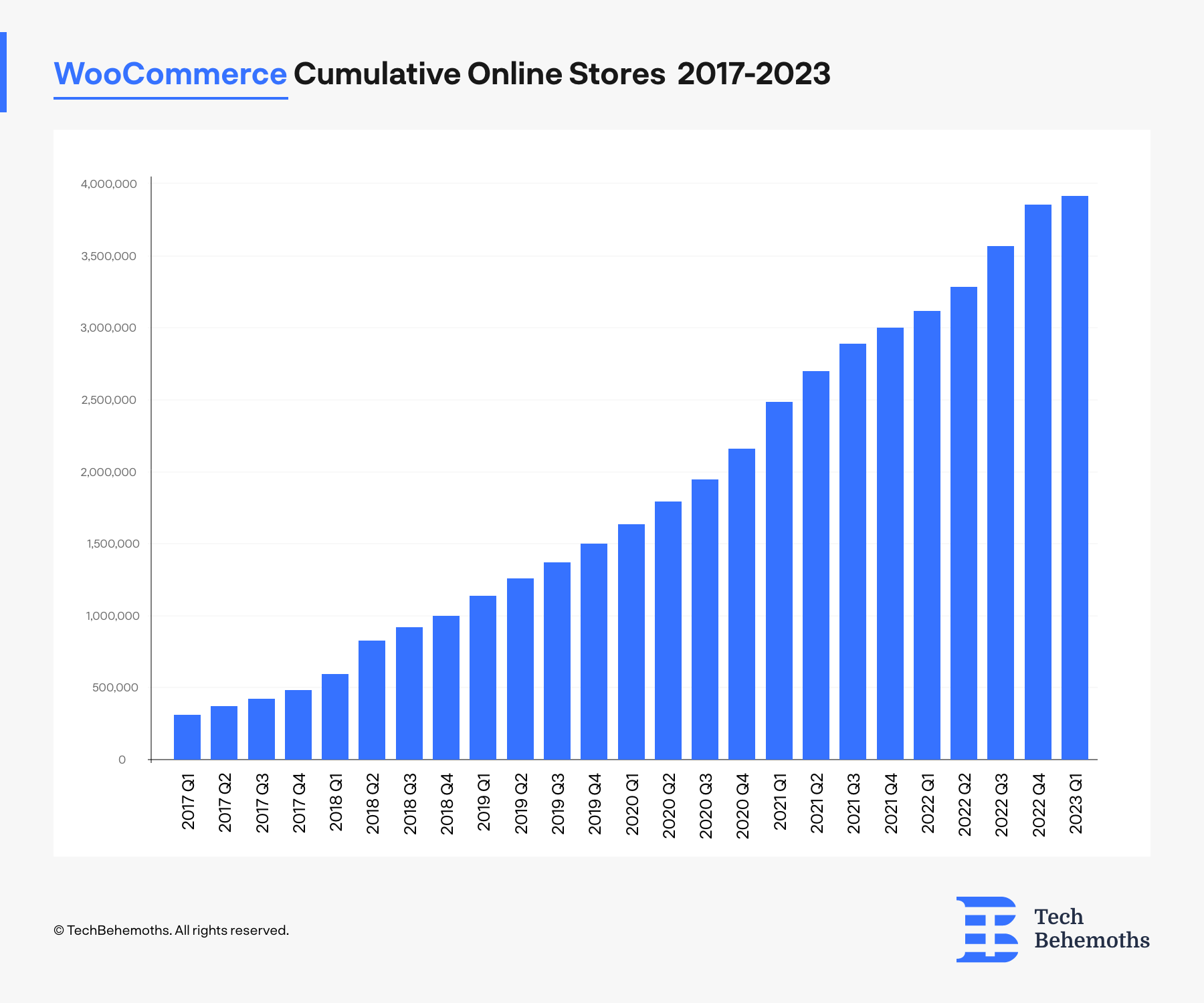 Lastly, we have Magento, which comes in various forms, from ready PaaS to open source, which can be a bit confusing since multiple options offered in the system shouldn't be mixed together. Nevertheless, it has its fair share of followers, which according to W3Tech is 0.6% of all websites. Last year has noted a decline in the usage of this platform.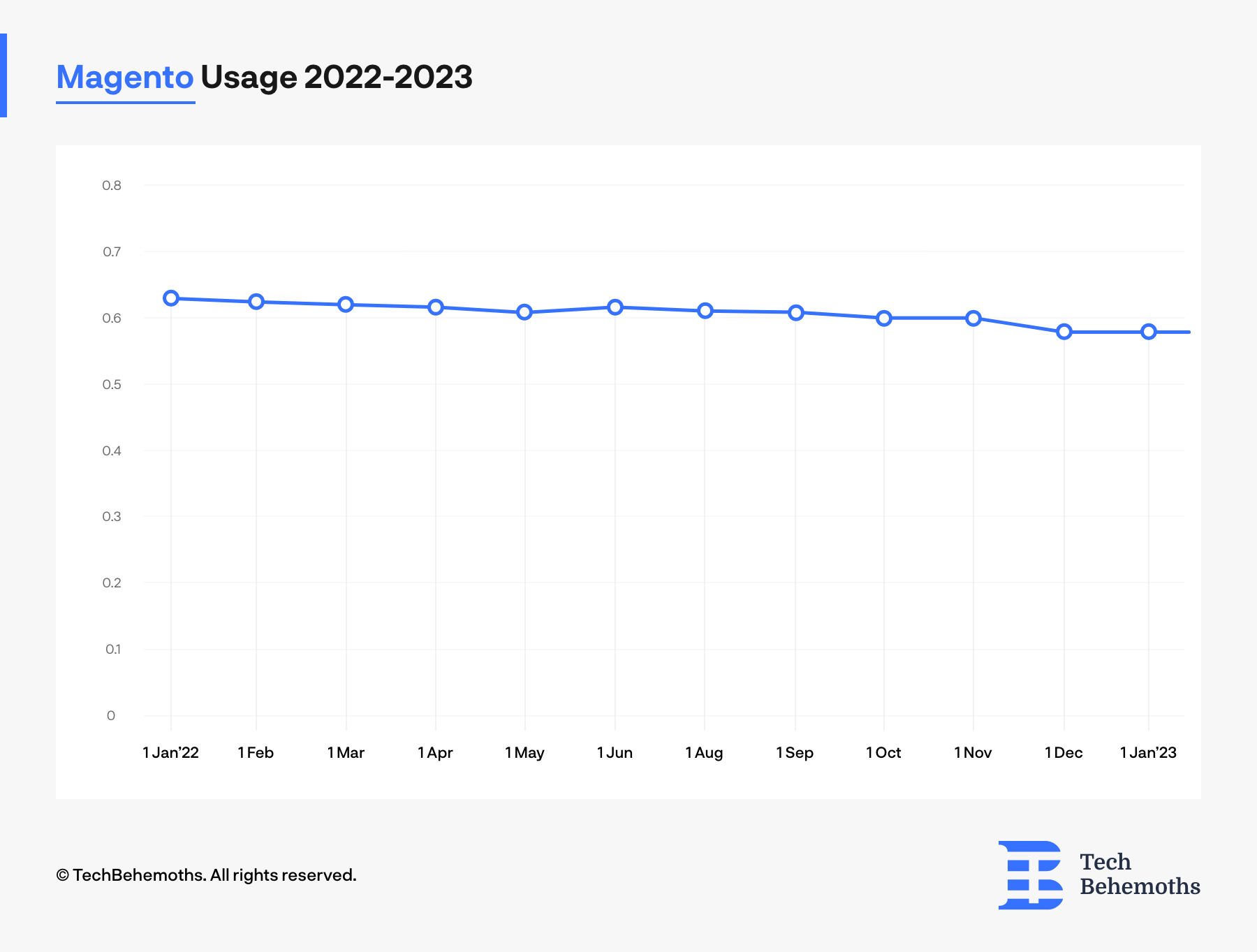 Store leads note down 162,255 live stores using Magento with BuiltWith showing the number of 172, 059.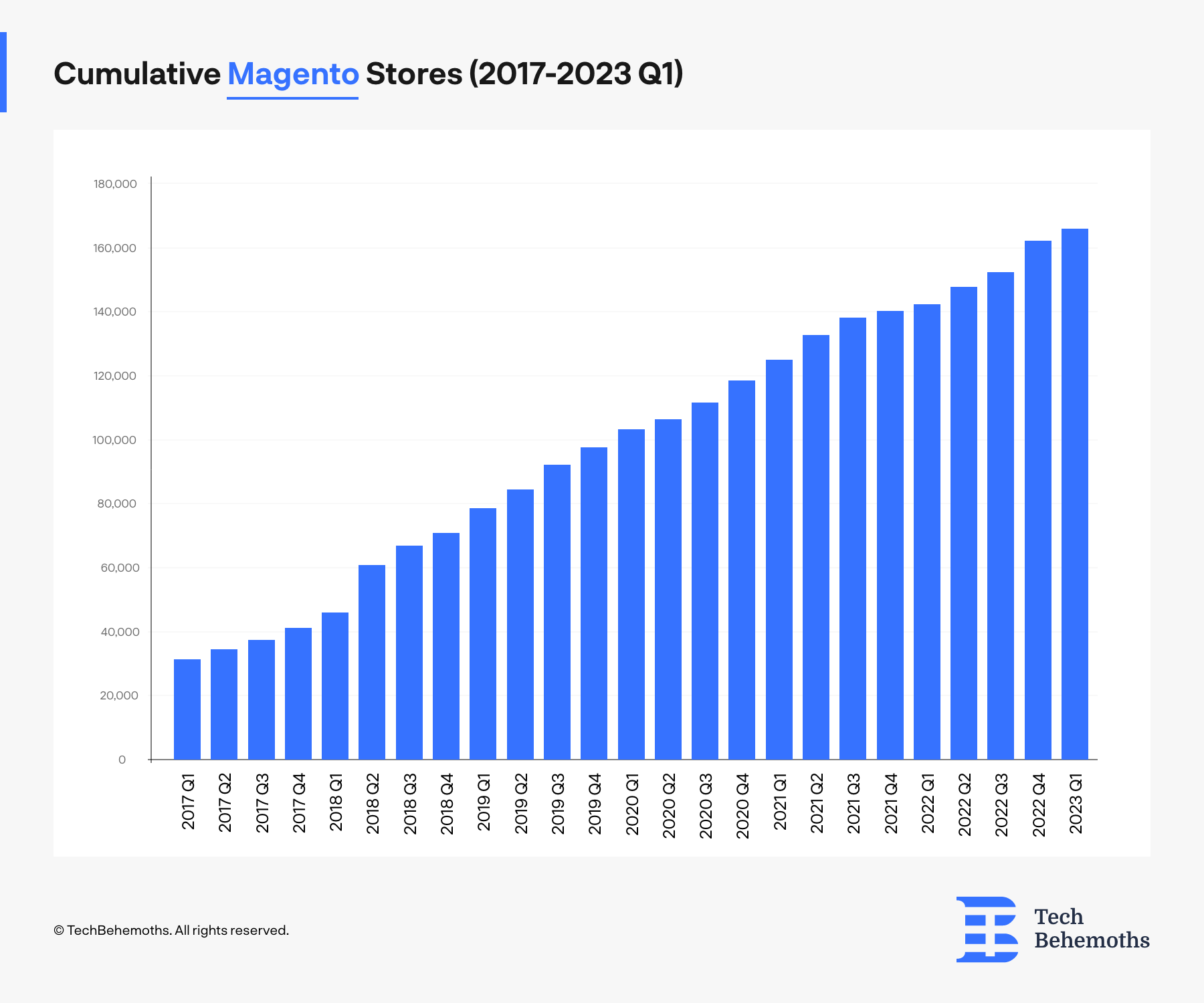 eCommerce systems by country
While not quite a worldwide start, PrestaShop has found its fair share of business owners, most of which are located in central and Western Europe. The top three countries which include PrestaShop's main user base are France, Spain, and Poland.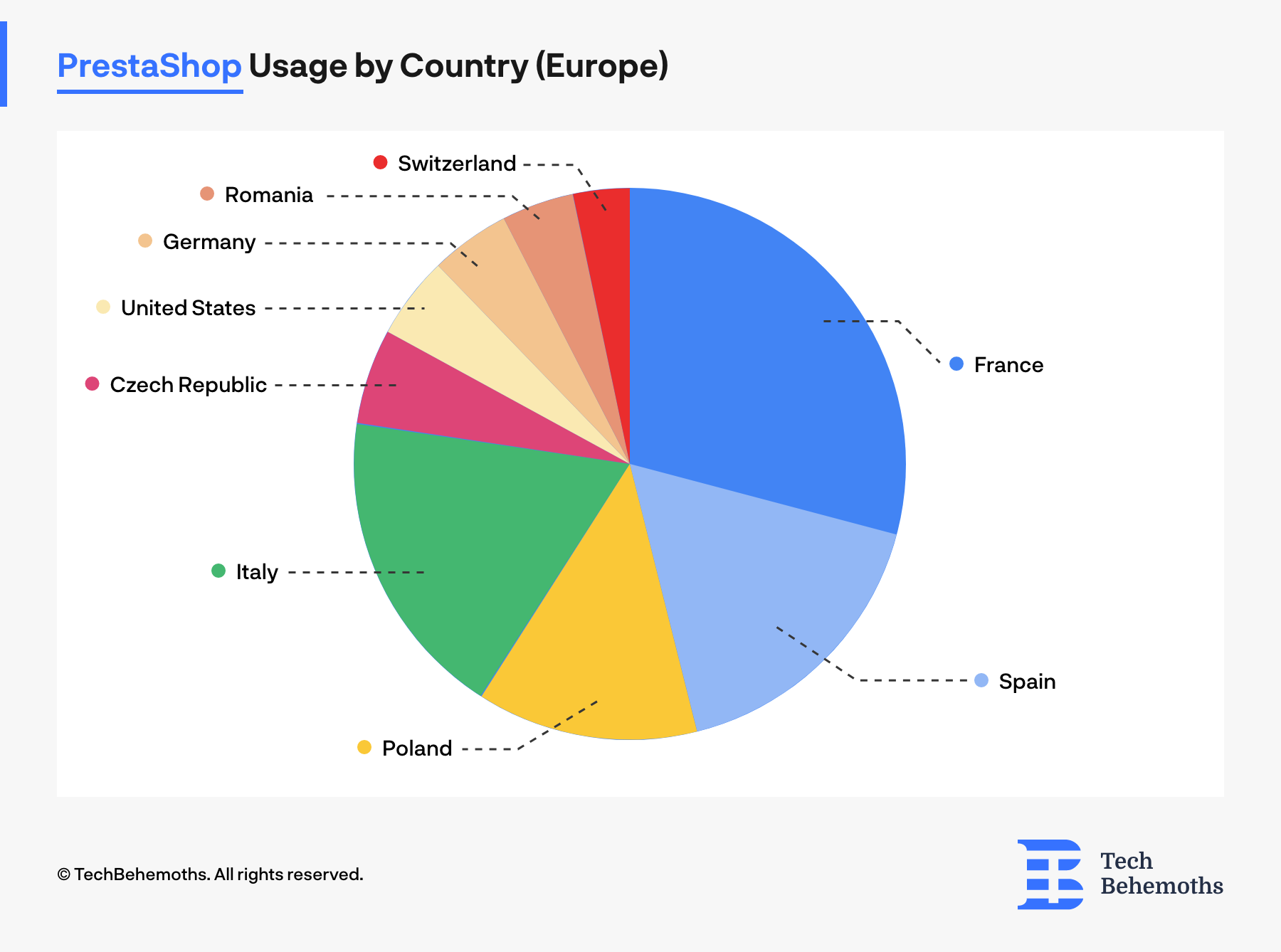 Given that PrestaShop company headquarters is based in France, it is no wonder that this country ranks highest in its user base. However, it is definitely much more than just a local shopping solution, giving the wide cross-country spread.
According to store leads, the current distribution in the top four countries is as follows:
13.3% of PrestaShop stores are in France
10.2% of PrestaShop stores are in Spain
7.2% of PrestaShop stores are in Poland
7.0% of PrestaShop stores are in Italy
WooCommerce on the other hand is clearly the top pick in the United States and the United Kingdom. There is also a fair share of users in India and Germany.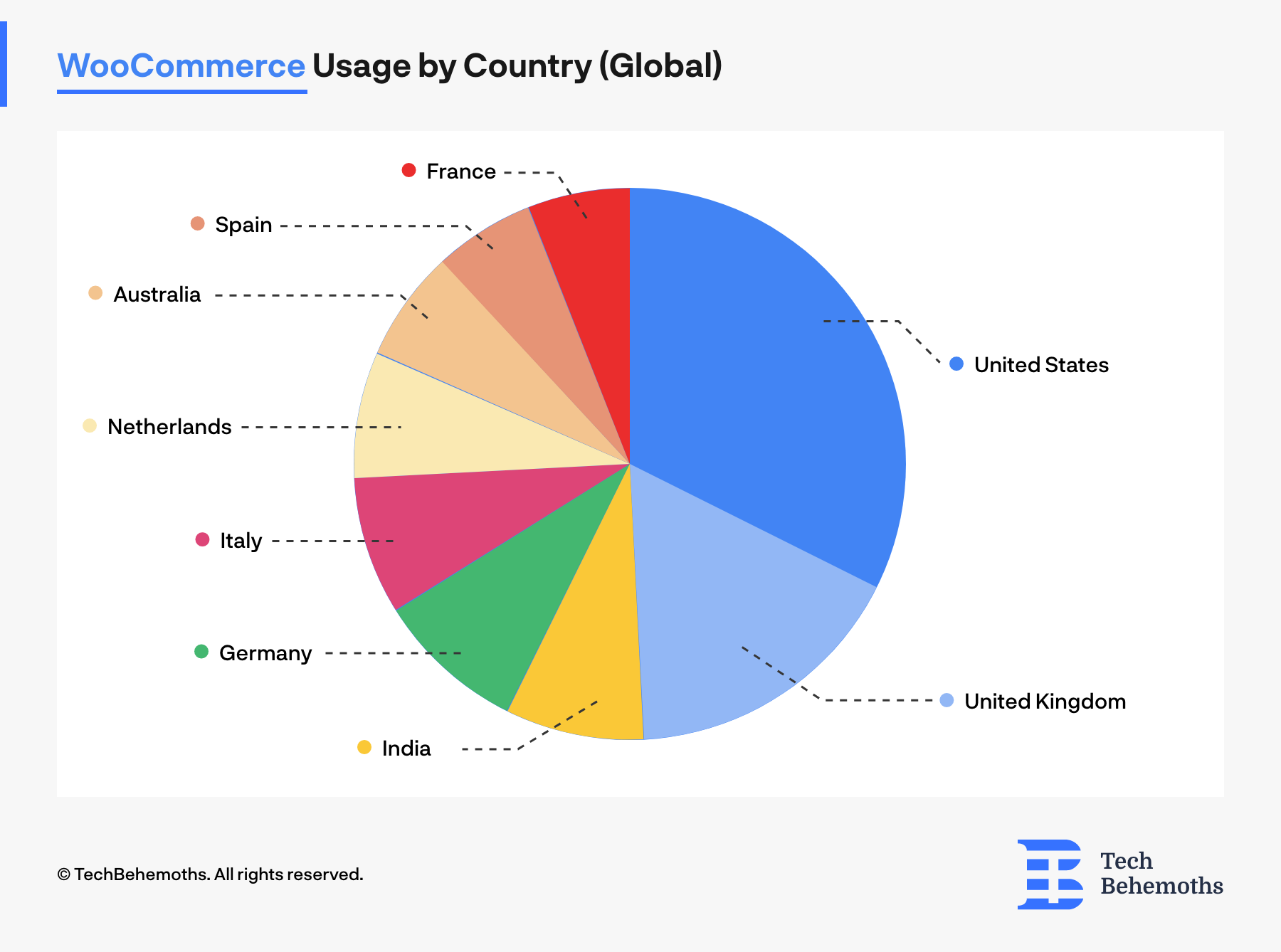 It is worth noting the huge gap between the United States and European countries. In the USA WooCommerce holds 1/10 of online stores, while in Europe at best it gets 1/20'th.
According to store leads, the main distribution of WooCommerce is:
10.5% of WooCommerce stores are in the United States
4.5% of WooCommerce stores are in the United Kingdom
2.4% of WooCommerce stores are in India
2.3% of WooCommerce stores are in Germany
Lastly, there is Magento and according to the graph shared by store leads, the distribution per country goes as follows: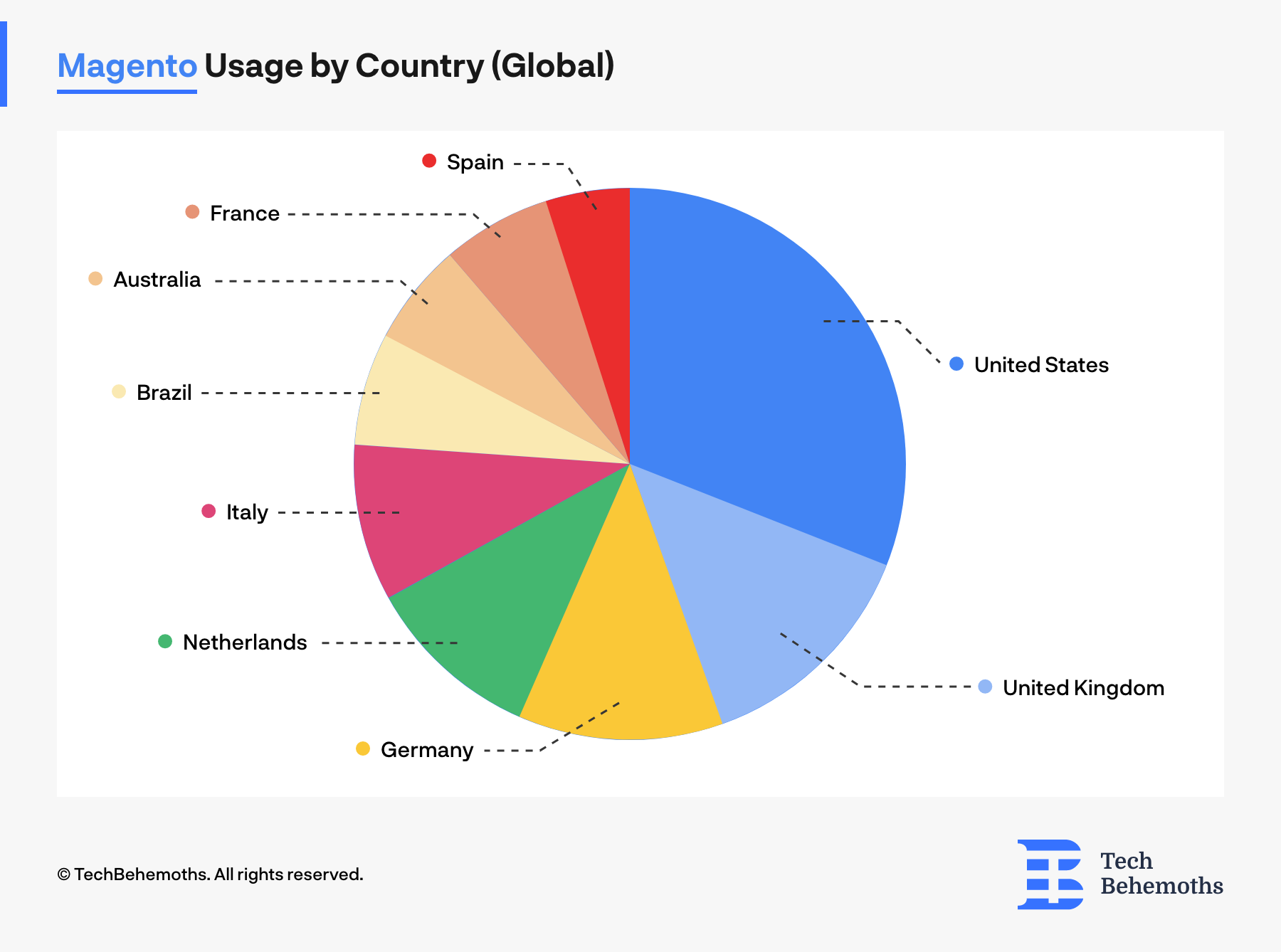 The top countries include the following statistics:
13.6% of Magento stores are in United States
7.4% of Magento stores are in United Kingdom
6.1% of Magento stores are in Germany
5.3% of Magento stores are in Netherlands
Comparing the three graphs, it is clear that while Magento and WooCommerce compete against each other in the same countries, PrestaShop has clearly found its followers somewhere else.
Pitting Open E-commerce Software's against each other
While all of the systems offer various solutions, it is worth taking a closer look at them, to see what are their strong and weak points. For this article, we consider three main points: How well is the system optimized, how does it handle products and how easy it is to modify it with existing extensions to suit individual needs.
Prestashop
Optimization – Since PrestaShop is a dedicated shopping system, there is nothing wrong with its optimization. However, some plugins might not work well against each other and making alterations in the code could affect the system. This could be noted during a stress test for a worldwide brand, when too many users interact with the shop. The initial installation of PrestaShop is also very easy, not requiring advanced developer's knowledge.
Products – The number of products in the store doesn't affect its performance, which is a big bonus.
Plugins – While there are many ready solutions, it is worth to note that most of them require additional payments. This would prove to be a hurdle for small businesses that aren't ready to proceed with active investments.
Conclusion: PrestaShop comes with associated costs which might be too big for small stores, however it is quite a good system for Mid-sized business. For enterprises, it is debatable to use it, since it might not perform well under giant user traffic.
WooCommerce
Optimization – One of the things that is definitely worth considering is that compared to WooCommerce, PrestaShop and Magento are dedicated shopping systems. At its core, WooCommerce is an extension of WordPress which originated as a system for blogging. This results in weaker optimization of code in WooCommerce, since compared to PrestaShop or Magento, it's not a platform with only eCommerce in mind and is not able to perform well if there are multiple alterations to products made by numerous plugins. A good example is that WooCommerce lacks native GTIN and Brand fields, whereas other systems have them in the core installation.
Products – The number of active products that goes beyond one thousand starts affecting WooCommerce's performance, whereas PrestaShop and Magento keep a better level of performance.
Plugins – WooCommerce wins this one by a wide margin, as there are thousands upon thousands of plugins available for free, which reduces the cost of setting up and improving an online store. On the other hand, however, it's clear that the more plugins are used, the worse the optimization gets and the slower the web store becomes which might affect the sales.
Conclusion: WooCommerce definitely is greater for small and starting businesses with few products that look forward to quick and cheap set up. It is not perfectly optimized but it is cost-effective. However, it won't do for middle size businesses with lots of products, which require dedicated solutions.
Magento Open Source
Optimization – Similar to PrestShop, Magento is a dedicated eCommerce platform. This means it is perfectly optimized for running an online store. Of the two, Magento is more powerful however, it is definitely more difficult in its initial setup, requiring higher developer's knowledge. This might include some additional initial costs.
Products – Magento Open Source is better in handling hundreds of thousands of products and its performance is always almost the same, even during high user traffic, it aims to serve perfectly at all times for brands that went worldwide.
Plugins – Magento doesn't have that many plugins which are ready to install. This usually means that in pursuit of certain solutions, it is necessary to hire a developer to write custom ones.
Conclusion: Magento Open Source is great for a big business that can afford to pay a developer to customize it to the full degree. It definitely is better at handling eCommerce stores that see a lot of traffic and have hundreds of thousands of products. However, for a small or middle-sized businesses, using it would be like bringing a cannon to a sword fight, it could be considered to be too grand of a solution which cannot be afforded by everyone.
Final Words
Upon consideration of the above, it is worth mentioning that there is no 'one true and best' solution for everyone. Each online business comes with different needs and specifications, which require careful consideration. WooCommerce is a great starter for a new business due to being cost-effective, PrestaShop is a system that can bridge the gap between small and big store needs, and Magento is great at the peak of growth for enterprises which can afford a dedicated developer team.
However, in the last year there is a small decline in WooCommerce and Magento stores, while less popular PrestaShop does gain more renown.
Would you add more solutions to the list?