Black Friday & Cyber Monday Explained & Reviewed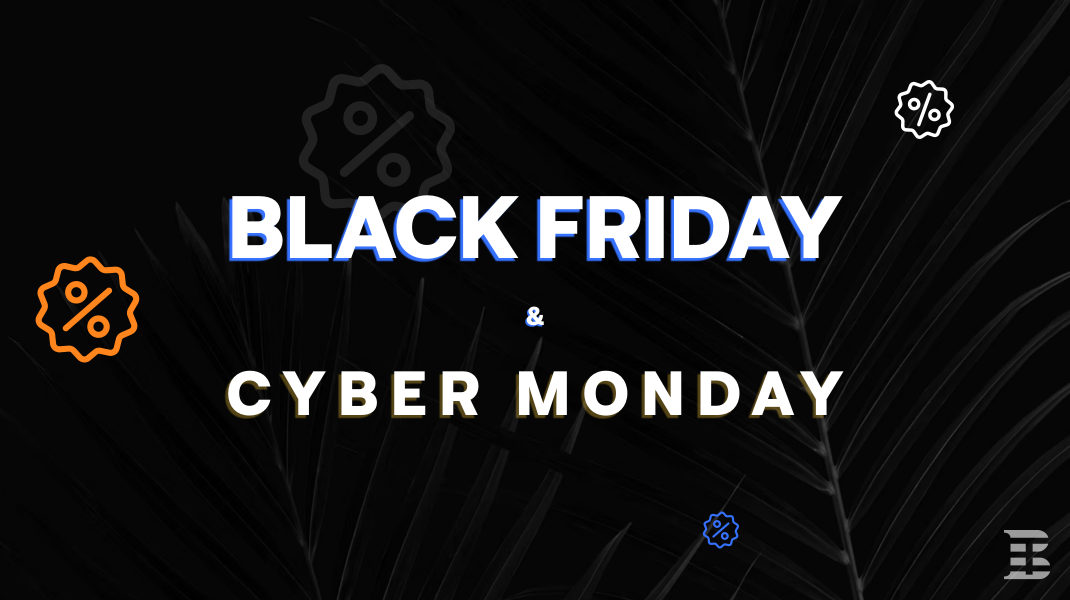 BFCM - introduction (what is it, why does it happen, what to expect both as a business and a customer)
BFCM, or Black Friday & Cyber Monday happens every year starting the Friday after Thanksgiving until Monday. In 2021, BFCM is between Nov 26-, and it's just one month before Christmas. In the US, people buy gifts for Christmas during this period. But for a long time, Black Friday and Cyber Monday are not only about the US - it's all over the world and how the time has shown - it is one of the few unstoppable events.
There are enough stories about how BFCM appeared and became a trend, so we won't be touching this topic. But instead, we will talk about Black Friday and Cyber Monday from both a business perspective and a consumer perspective.
What is BFCM for businesses?
It may be challenging for inexperienced businesses to come with a deal-breaking offer in this period. BFCM is about getting less revenue per product while earning more from total sales. Large retailers are probably the most experienced with BFCM offers. And even so, this period is a challenge and a risk even for most experienced companies that have multiple examples of campaign failures due to miscalculation of products or product pricing.
For small businesses, BFCM is more like winning at the lottery rather than a measured decision that will bring a specific amount of money overnight. But no one can blame them, as it's a once-in-a-year chance that sometimes it's worth taking.
For large companies making a BFCM campaign is not an easy task as well. While consumers already wait for them to come with something appealing, businesses are aware of such terms as competition, purchasing power, data analysis, and market prices - to name a few of the main elements that decide how the campaign will be tailored.
That's probably one of the reasons why 20% off is not a regular discount, but a BFCM discount.
What is BFCM for consumers?
The average consumer is used to discounts like in 2013-2016' good old times where 40% to 60% off the price is something normal for BFCM. In 2021, getting a 50% discount for a product is a rare phenomenon, and it happens more often with digital goods rather than physical products. That's a partial paradox - most of the physical stores closed in 2020 due to the pandemic, and people expect that those few left will try to attract them again with big discounts. However, most of those sellers that still own a physical store are large retailers, that will never drop the prices if there is no competition.
So, from BFCM, BF is kind of a disappointment. Want to find something good'n cheap?! Head over to Cyber Monday, there still might be nice price drop-offs.
But, let's not get that sad - BFCM is a battle for products and money. Nobody exactly knows how it's going to be this year. Both consumers and businesses are in a recovery period and we have to live to see the BFCM 2021.
The good part is previous years' stats show that BFCM was a success with Year over Year growth in spendings and earnings. So let's dive in and take a closer look at BFCM in previous years.
Stats from previous BFCM
BFCM overall is a success for businesses and customers. The first ones sell their products massively, and the second part gets a better price in this period compared to regular days. But how is success defined and measured - only statistical data can tell. So, we've gathered some key stats that describe success better than anyone else can do:
Most of BFCM acquisitions came from mobile devices overall in the last 2 years and confirms the general trend that most of ecommerce acquisitions are performed from smartphones. However, the acquisition rates by device are different between Black Friday and CyberMonday offers so we will be taking one by one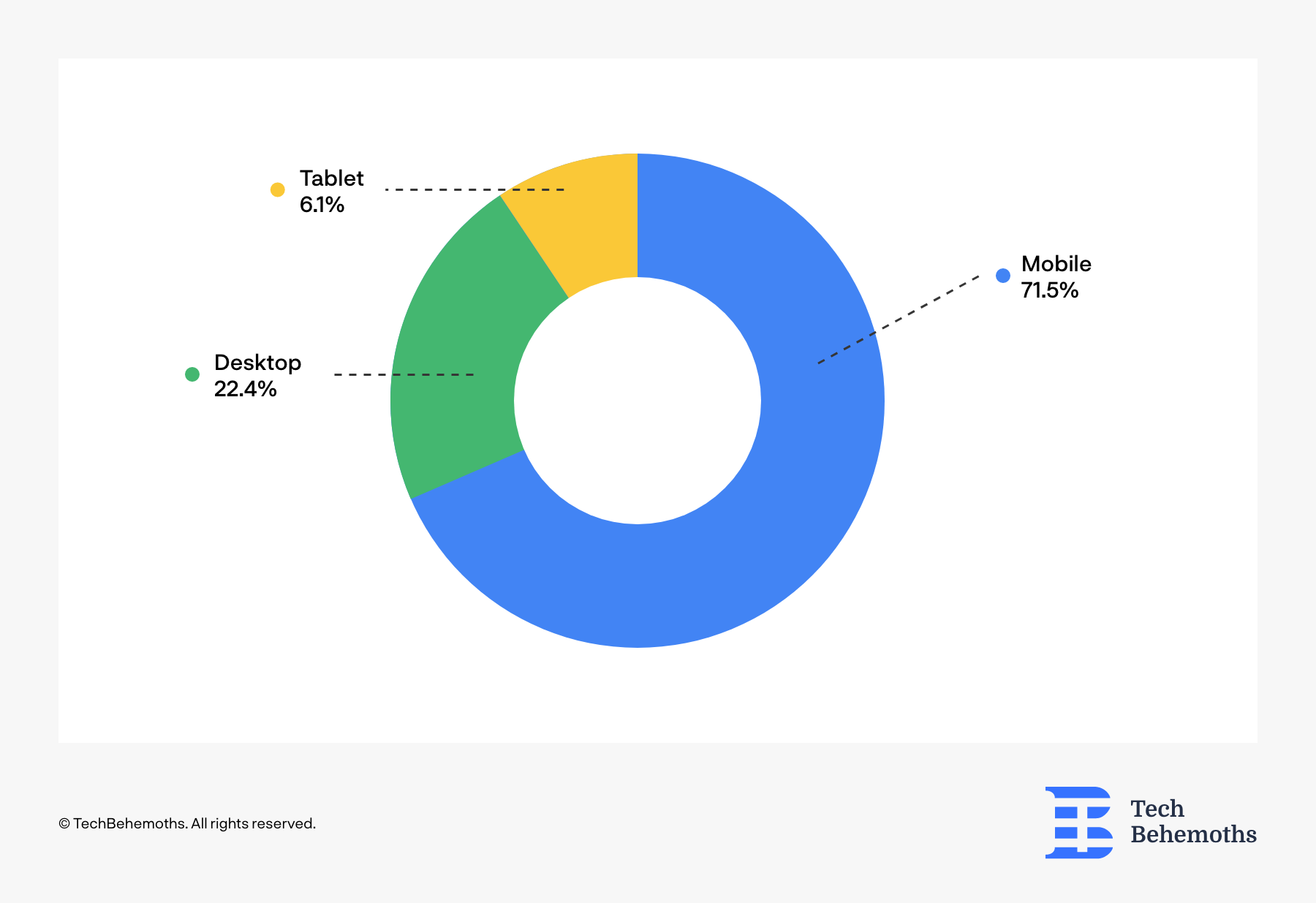 (Black Friday Acquisition by Device)
Black Friday deals are acquired by 71.5% of all customers via mobile devices. This is the average acquisition rate between 2013-2020. At the same time, 22.4% of Black Friday acquisitions come from customers that get their deals traditionally - using PC/Desktop devices. Also, the other 6.1% of Black Friday acquisitions are done by tablet.
Users are taking their time to make purchase decisions on Black Friday, but that's also because is the second day after Thanksgiving. Another reason why online acquisitions are performed most of all in the second half of the day, and especially on evenings is bulk acquisition. The graph above shows that the add-to-cart peak time for Black Friday is 21:00 local time - and is one of the best periods of time when people decide what they need for Christmas (as people use Black Friday to get cheaper Christmas gifts). The general statistics show that between 21:00 - 21:45, 35,3% of all customers are making their purchases on Black Friday.
The cart abandonment rate during BFCM in 2020 was 76.63% - surprisingly low compared to the general average - 81.08%. The data from Baymard Institute and SaleCycle also shows that the online traffic in the BFCM period increased over 38% compared to the week before, in 2020.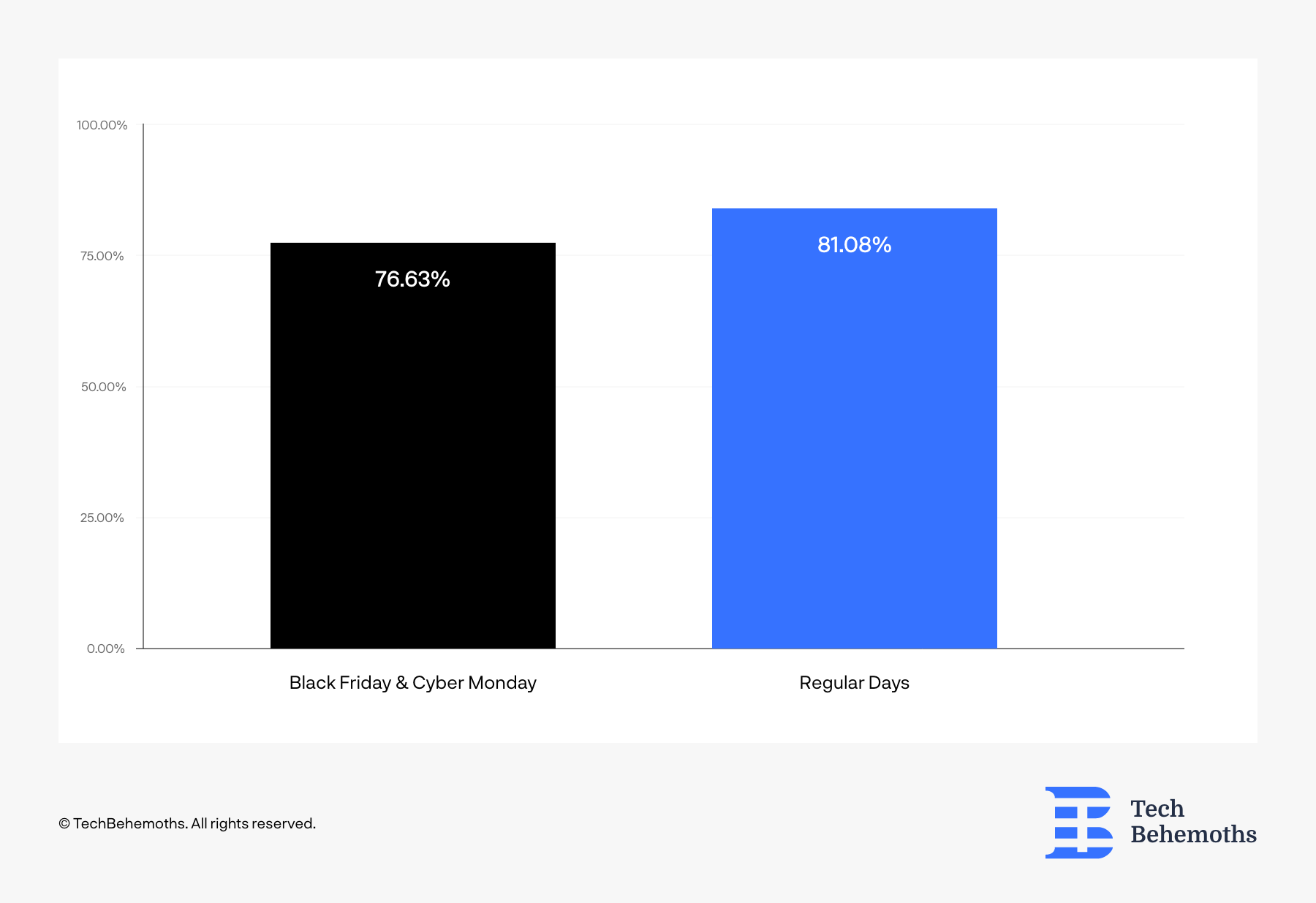 (Cart Abandonment rate on BFCM vs Regular Days)
On the other hand, users acquire less products from mobile devices on Cyber Monday compared to Black Friday. If in the first case mobile purchases where above 71%, on Cyber Monday only 54.3% of users get their deals from mobile devices. However, Cyber Monday is about digital goods in a large part, and these goods are either software or apps compatible with non-mobile devices, or used most of all for work, productivity or entertainment.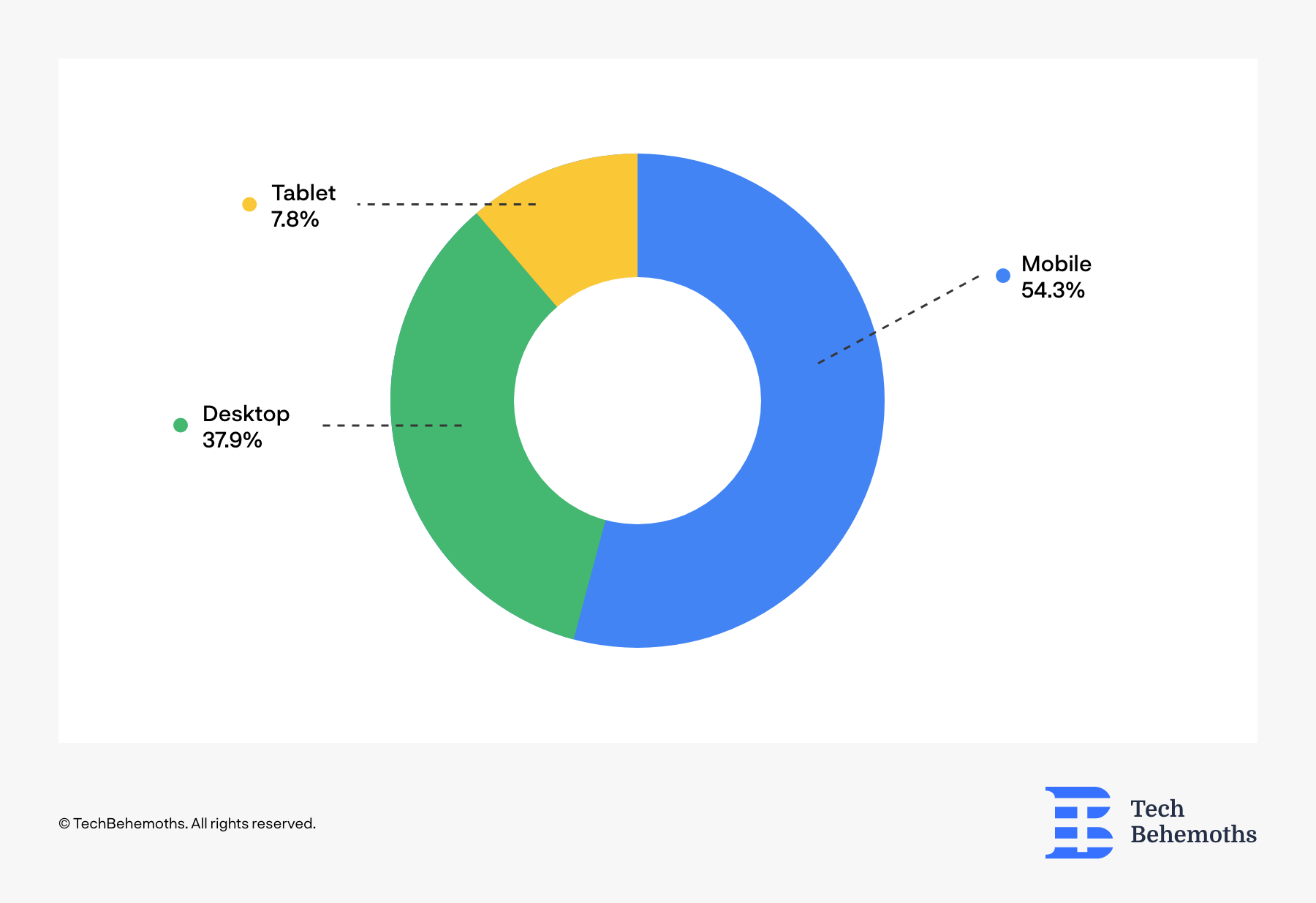 (Cyber Monday Acquisition by device)
Other 37.9% of users acquired their products from Desktop and 7.8% of acquisitions came from Tablet or similar devices.
The add-to-cart peak on Cyber Monday comes around 1 hour earlier than on Black Friday. And behind this, there may be several reasons connected to ease of making decisions on Cyber Monday, and early announcement offers.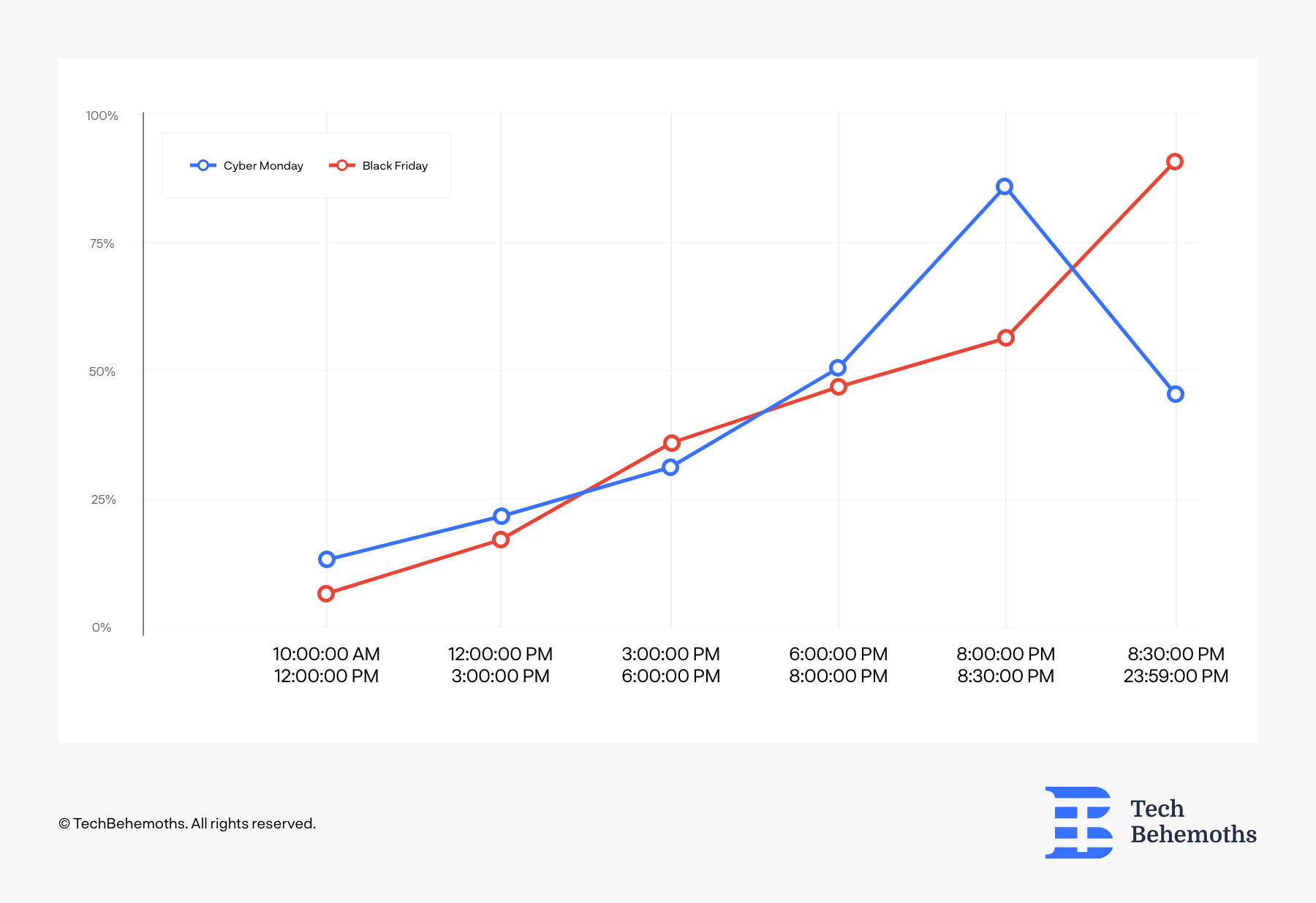 (Add to cart peak hours)
Between 20:00 - 20:30, 28,3% are adding to cart digital products on Cyber Monday. This means that in 30 minutes people tend to buy more than in 5 hours the same day during Cyber Monday, while during Black Friday people buy more in 45 minutes compared to 4 hours period in the same day.
However, from year to year, Black Friday starts earlier and end later, and the same thing is available for Cyber Monday. Important to mention that Black Friday does not start earlier than the Monday before Thanksgiving, and does not end later than the Sunday before Thanksgiving.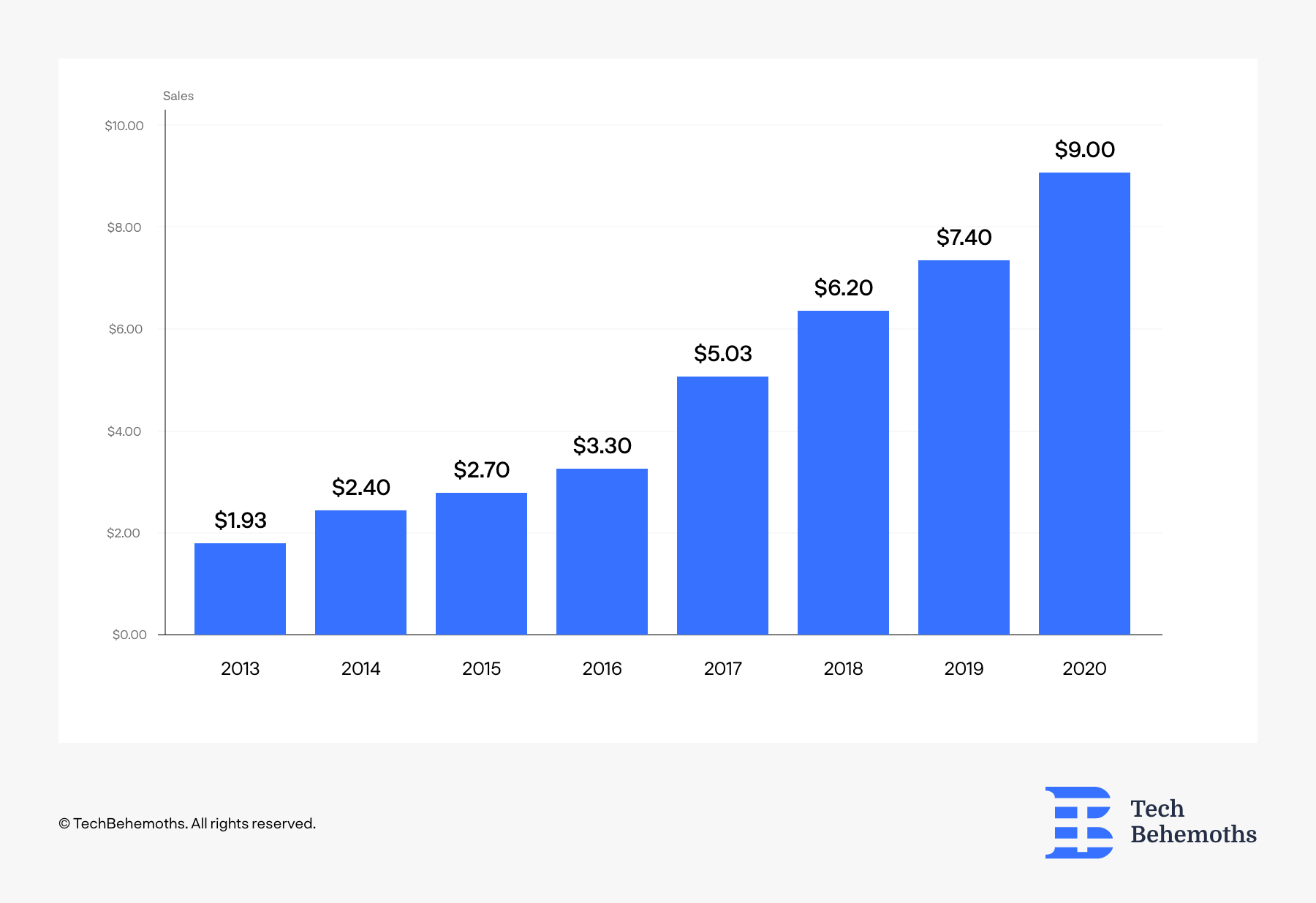 (Black Friday sales Year over Year in $Bn)
Between 2013-2020 Black Friday sales generated not less than $1.9Bn revenue year over year, and by 2020 increased more than 4 times. Last year Black Friday was a record for retailers worldwide with a revenue of over $9 Bn. It is also most likely that the revenues will go over $10Bn in 2021, but how much exactly we will see soon.
Besides this, Black Friday and Cyber Monday is a battle between other two important metrics, and in 2020 was definitely a success for e-commerce.
Black Friday Online vs Physical stores in 2020
The Covid-19 pandemic had the highest impact on online vs in-store purchases for Black Friday in 2020. This year is slightly different from the previous one with several key countries that are free from lockdown measures. UK and Denmark have eased the rules of accessing stores, malls, and shopping centers, which will probably increase the in-store acquisition rate for Black Friday. However, last year when almost all countries had harsh measures.
In numbers, more than 103M users acquired their Black Friday deals online in 2020, while only 58.7M users made in-store purchases during the same discount event, according to BlackFriday.com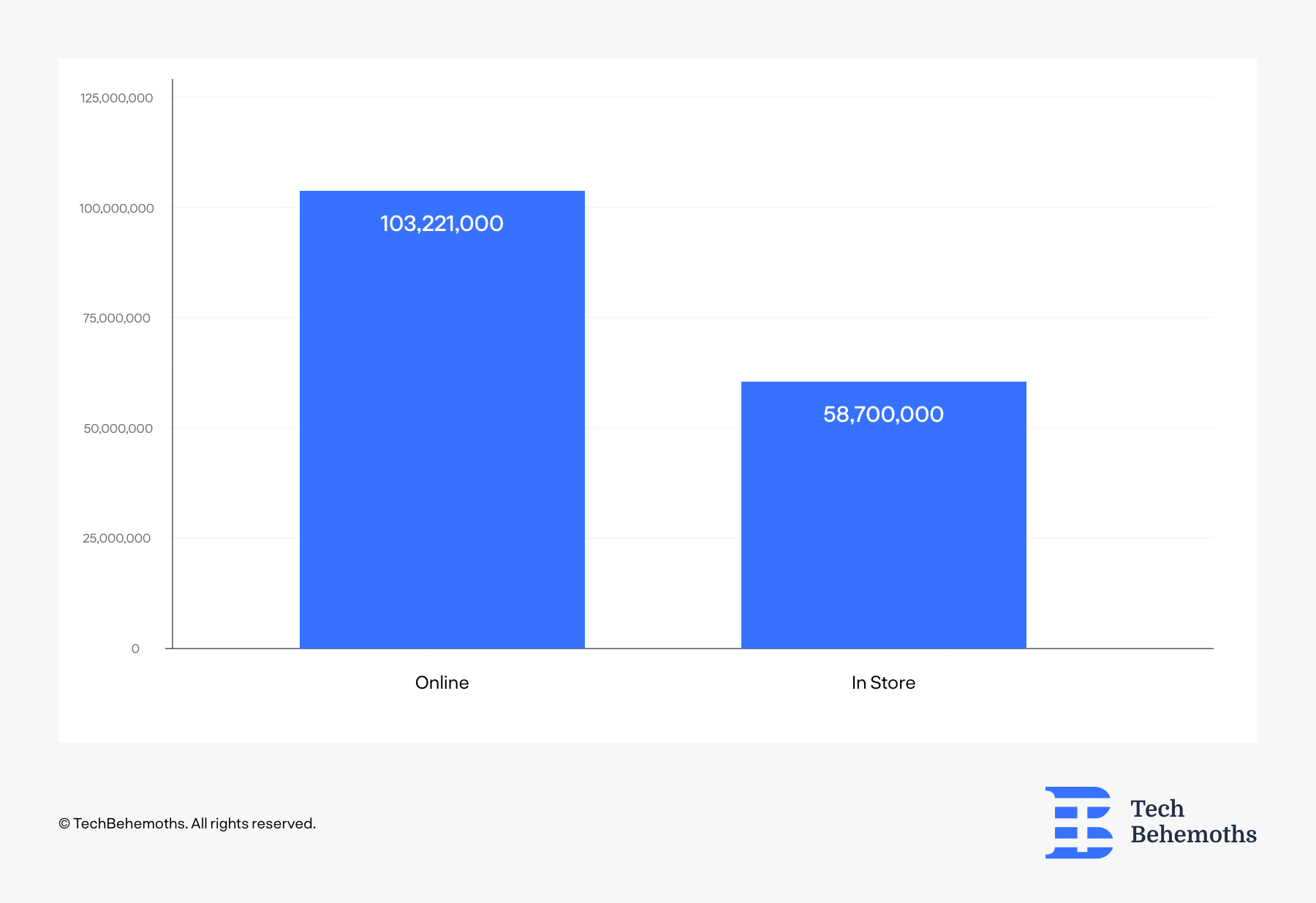 (2020 Black Friday: Online acquisitions vs In-store acquisitions)
Compared to the previous year, online purchases increased by 8%, while in-store Black Friday acquisitions decreased drastically, by 37%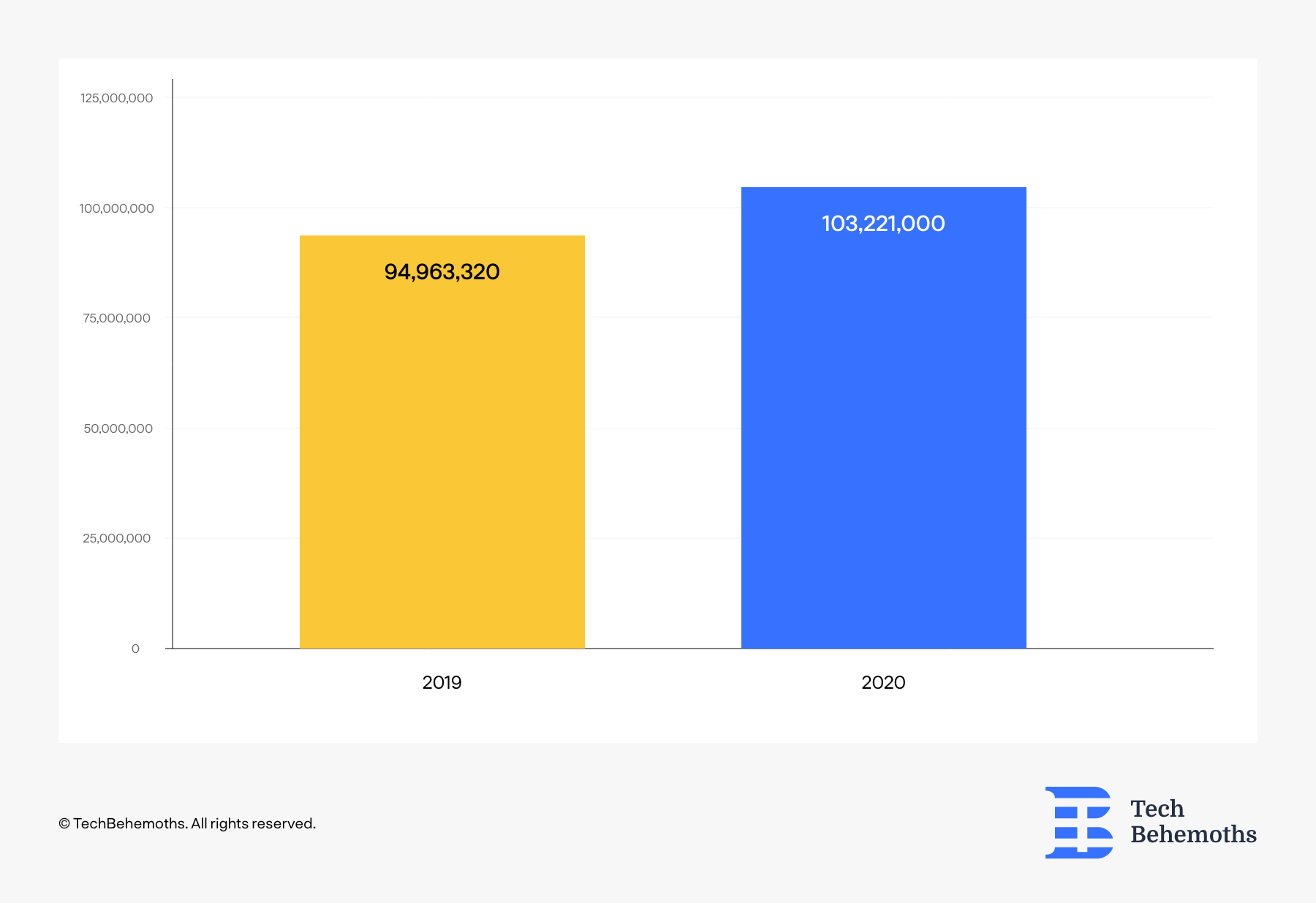 (2019 vs 2020 Online Black Friday Online acquisitions)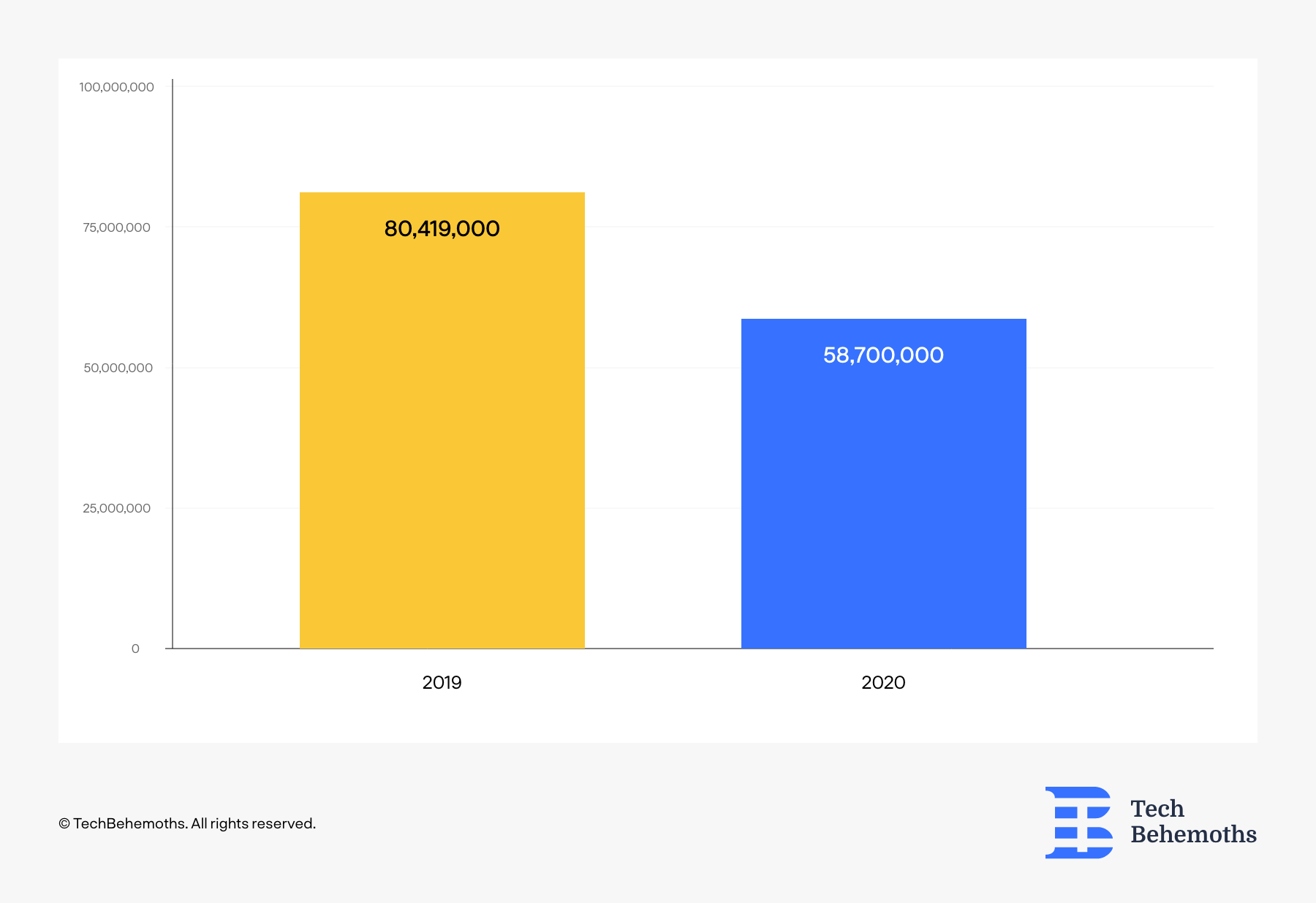 (Black Friday In-store acquisitions 2019- vs 2020)
Overall, the in-store purchases failed big time last year, but businesses that had both physical and online presence were the biggest winners. So, if your business needs e-commerce but you don't know how to find a reliable IT company to build it, you can find them here. Until then, we shall speak about 2021 tech behemoths BFCM offers, and how generous are they this year.
BFCM Tech Behemoths offers 2021
In Tech, BFCM is one of the biggest discount events expected by millions of customers that buy directly from original manufacturers' products but also services. Microsoft, Amazon, Apple, and Google have different strategies and approaches for BFCM each year, trying to earn either customers' loyalty. So we're taking them one by one to see how BFCM is celebrated by each of these brands in 2021 but also what are their earnings from previous years' BFCM are.
Microsoft BFCM 2021 - what you can get at a lower price
This year Microsoft is getting an aggressive BFCM campaign with generous discounts to all their product range: laptops, software, Xbox and games for it are all for sale this year, and the discounts are looking attractive to be honest.
And that's only the beginning, Microsoft says. The Cyber Monday deals are yet to come after Thanksgiving, which may mean more discounts for older product series which also include devices, gadgets, and software products.
For Surface devices, the biggest Black Friday saving on Microsoft's official store is the Surface 7+ bundle that comes together with a Surface Type Cover. The price for this bundle on Black Friday starts from $699, and the discount is up to $229.
The Xbox Segment also comes with a very luring special offer for Black Friday, and that's the Xbox Game Ultimate Pass for $1/month. The trick is you get the $1 offer only for the first month, and later you go regular. But even so, it's a good way to find out if you really need the Xbox pass or not.
On the PC and Laptops category, Microsoft is even more generous. The best deal we found on Thanksgiving for BF 2021 is the Razer Blade 15 Advanced, which dropped by $800.
Microsoft also has gadget BlackFriday deals, that may not be as appealing as on competition. But the recommended deal that could be the best on the market is the BOSE QuietComfort 35 II Headphones. Now they are $120 off from $279.
Amazon product sales on BFCM 2021
Amazon has probably the largest collection of Black Friday deals, hundreds of thousands of offers that go from 10% off up to 70% off are available on the platform in the US and other regions. However, when it comes to Amazon devices, the discounts go up to 50% off, which is also not bad. On the other hand, the selection is rather poor and targets only less popular devices and accessories.
But let's not forget how Amazon started, and what they sell best. Books! The Black Friday deals for books on Amazon are indeed tempting, and you can get a collection of really good books for a nice price in this case. Prices start as low as $0.99 for and go up to several hundred bucks, with discounts up to 70%.
Apple is cheating on BFCM 2021
Compared to previous competitors, Apple avoids the regular cash discount people are all used to, and bets on user loyalty for Black Friday. That's why now you get gift cards instead of lower prices for all devices and subscriptions
.
For someone who misses only one Apple device, or plans to acquire devices from multiple shops, Apple may not seem the best idea for Black Friday, but even so, the Cupertino giant has studied enough the market and customers to know what they want. $100 for a Mac device and another $50 from Apple TV don't sound that bad after all - even if they come as gift cards. The gift card collection renews from day to day, up to Nov 29th. And after that, there will probably appear some Cyber Monday deals.
Google BFCM - No Pixel 6 discount this year.
This years' Google deals are far from being amazing and are related more to home-connection devices rather than gadgets, and laptops. Not to mention the small discount % Google has to offer. It's almost like Apple with $20 - $150.
So far, there are no Pixel 6 Black Friday offers from Google, but you can get a nice offer for Pixel 5a, the offer looks just for the sake of showing something for BF. Maybe we will see something good for Cyber Monday, who knows.
The biggest discount for Black Friday deals on the US Google Store is, sadly, the Stadia Premiere Edition. Sadly it is because Google could offer so much more this year from Black Friday deals, but their offers leave a bitter taste to clients and those who expected something big this year.
Conclusions
This year BFCM looks more like a disappointment from many points of view - low product range, superficial discounts, and doesn't feel as appealing as in previous years. The only retailers that will win are those who will be generous with their customers.
Even if the logic of BFCM is "the more you give, the more you get" many retailers and businesses look reserved towards this idea, and are counting on high incomes based on low discounts and unattractive offers.
The light at the end of the tunnel is Cyber Monday, which may change the mood and bring the true Christmas spirit and shopping wish back to normal. By the time this blog post was published, there are no Cyber Monday deals, but with announcements that they will come soon.
Was this Black Friday a success for you?