Artificial Intelligence in Business Analytics: Challenges for Investors and Developers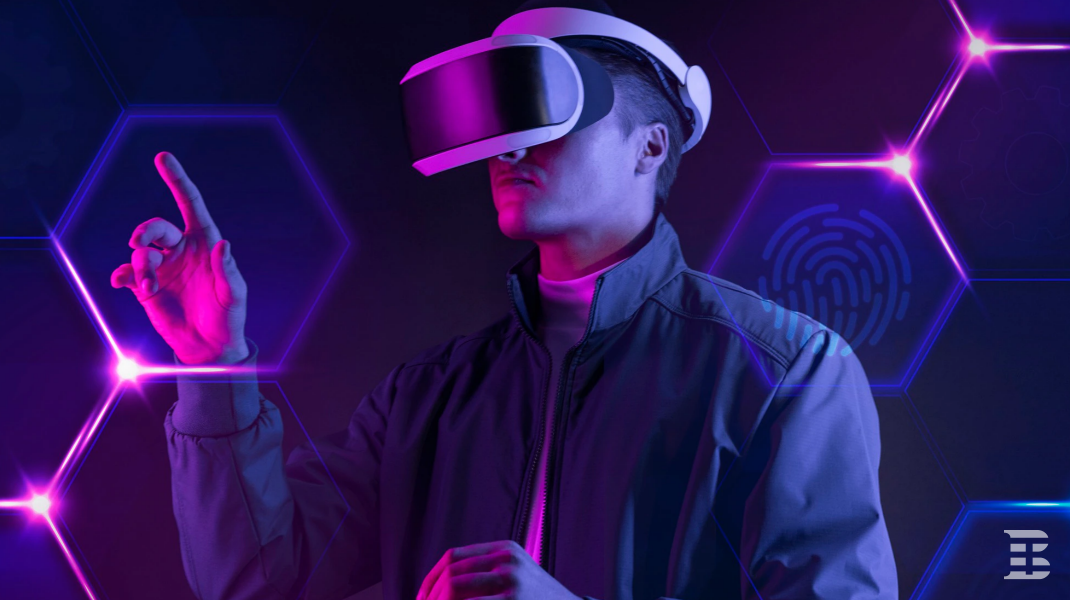 Few businesses can afford to disregard the efficiency analysis of their activity. A company's competitive advantage in the market and its revenue depend on the extent to which its production schemes are organized and logistics are optimized. But a lack of time and resources often becomes an obstacle to the conduction of business process analytics, especially when the staff is limited. Let's figure out whether AI can solve this problem.
How actively are companies using AI technologies?
Most companies' executives believe that Machine Learning algorithms and other AI capabilities can contribute to the best organization of business processes in almost all industries. This is evidenced by the results of surveys, for example, the one by RELX. More than a thousand of its participants - the US companies' business leaders and heads of departments - confirmed that the use of AI in their organizations had reached 81% in 2020 (which is 33% higher than in 2018). Even in spite of such successes, the majority of the respondents are concerned about the possible technological lag in comparison with other countries.
During the coronavirus pandemic, 68% of companies have increased their investment in both the development of new AI technologies and the improvement of the AI technologies they already use. Organization representatives believe that AI technologies have positively impacted the ability of their businesses to remain resilient in the face of the pandemic. According to a survey by Gartner, in 2020, 47% of organizations left their investments in AI unchanged, and about 30% planned to increase them despite the threats from the pandemic. According to RELX, over the past few years, the use of AI has grown remarkably in such sectors as healthcare and medicine, insurance, law, and banking (20% or more). Public administration is inferior to the above-mentioned sectors in terms of AI implementation, but even there, it has already reached 63%, which is almost twice as high as the data of 2018.
More than 75% of American companies educate and train their employees to effectively use AI in their work. Most organizations require decisive government action to strengthen the trend towards applying AI at all levels.

What were the expectations from AI a few years ago?
According to the results of surveys by Deloitte, which were conducted in 2018 among business leaders of the seven most developed economies in the world, more than 60% already considered the use of AI to be their main competitive advantage and a "very" or "critically" important factor in promoting a business in the market. The application of AI technologies in the work of employees was reported by more than half of the respondents; most of them were concerned about the skills gap. This means that organizations focused on the full or partial replacement or retraining of employees for the further use of AI in their businesses.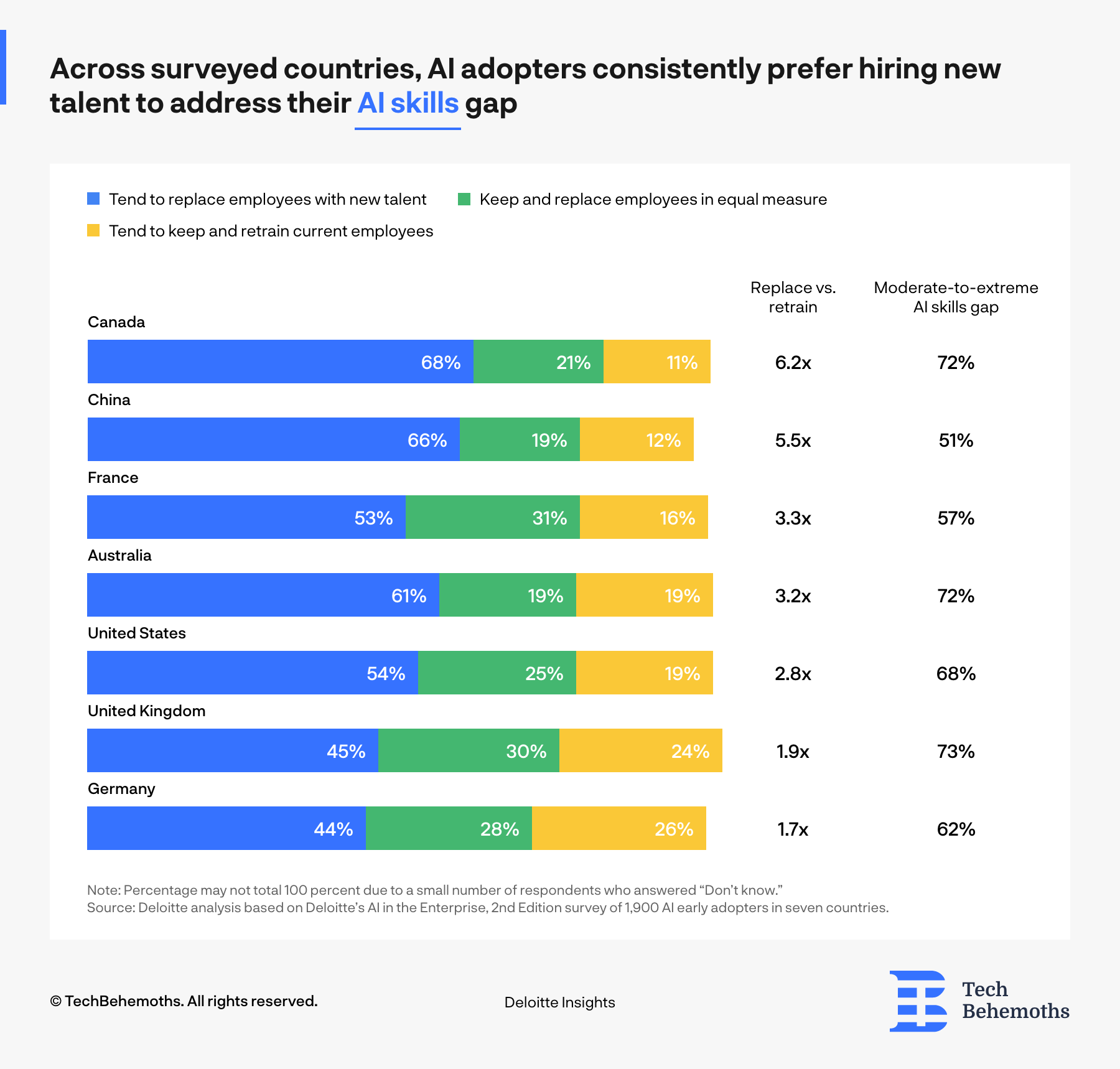 According to surveys of business leaders, carried out by Microsoft as part of Forbes Insights research (Summer 2018), more than 70% of respondents were confident that AI has the potential for transforming their organizations, their industry, and society in a holistic way. They also claimed that such technologies are highly effective in boosting business productivity. Nevertheless, the actual results of AI implementation look much less impressive: only 26% of organizations declare the presence of at least one significant running and working process, 22% get by with pilot versions of programs, and 32% are testing individual conceptual solutions.
In which industries is using AI promising?
Much depends on particular areas and applied solutions. According to McKinsey's Global AI Survey, 2019 saw an uptick in the use of at least one AI technology in almost all sectors except medicine and pharmacology. In some segments, the growth was impressive - for example, in retail, transport and logistics, and the high-tech sector. A significant portion of success is accounted for by such AI tools as Machine Learning, Text Recognition, Computer Vision, Robotic Process Automation, and chatbots.
Although, in some areas, applying AI gives the greatest growth due to the use of robotic systems for production, most AI processes are still associated with data processing and analysis tools.
According to surveys by RELX and Deloitte, the most promising areas to apply AI are business process optimization, cost reduction, automation of decision-making procedures, shopping service personalization, improvement of client retention schemes, detection of threats, waste, and abuse, and improvement of supply chains. In Business Analytics, these tools are used to work with data, detect statistical patterns and anomalies, and develop advanced schemes and promotion strategies.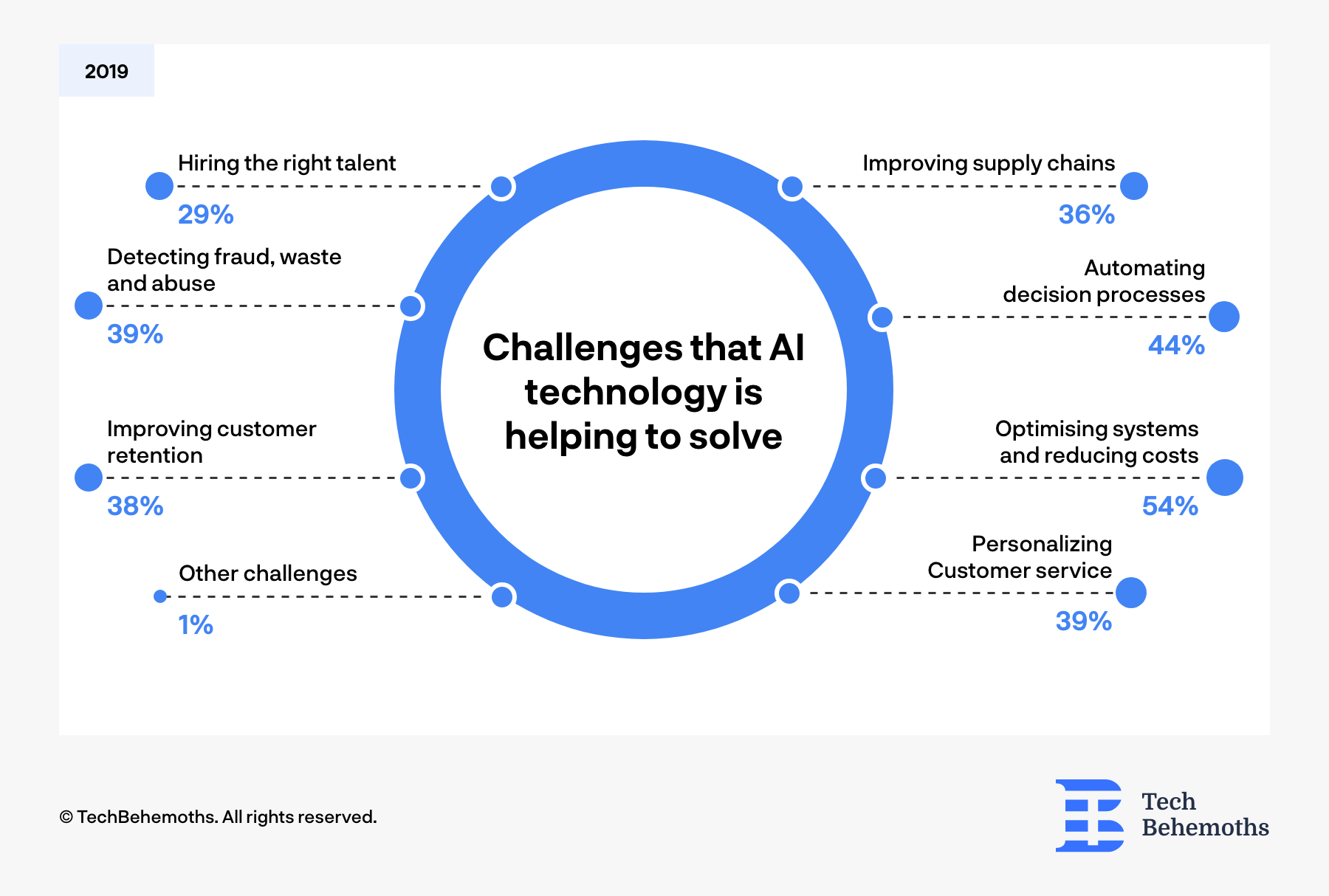 The AI market: growth forecasts
According to McKinsey, the potential total annual value of the market of AI and analytics across various industries is estimated to range from $9.5 trillion to $15.4 trillion. From a third to a half of the increase is associated with Advanced AI technologies (primarily Deep Learning).
Analysts from International Data Corporation predict that global revenues from the AI market - including software, hardware, and services - will grow by 16.4% annually to $327.5 billion in 2021. It is estimated that, by 2024, the market will surpass the $500 billion mark with a five-year compound annual growth rate (CAGR) of 17.5%, while total revenues will reach an impressive $554.3 billion. However, as said by analysts from Forrester, who believe their forecast is more realistic, by 2025, the size of the AI software market will only reach $37 billion.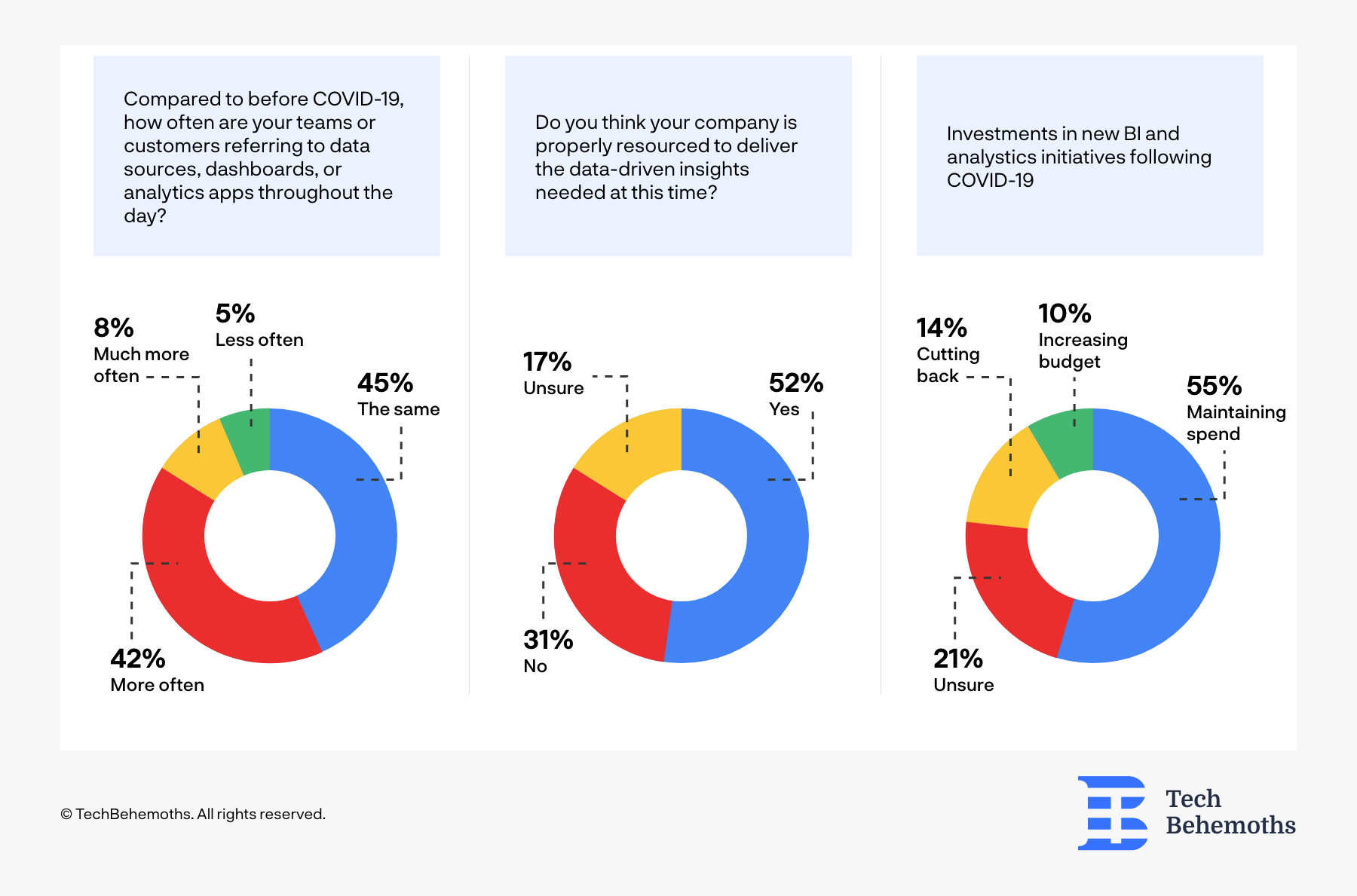 AI in Business Analytics
As for the use of AI in Business Analytics, the prospects for such technologies are quite bright. In 2020, Sisense conducted a survey of Data Scientists from the USA. According to the findings, 65% of respondents maintained and increased investments in Data Analytics and Business Intelligence (BI) in their companies during the pandemic, with a 42% increase in the use of analytics itself. Smaller companies are increasingly turning to Business Analytics tools for day-to-day operations, finance, sales, and at the product level. Also, about a third of companies using analytical tools in their businesses are ready to switch to cloud technologies.
The processes of working with data and data analytics are expected to converge into a powerful joint analysis tool soon, and data exchange on the international online market will attract up to 35% of large companies to this industry by 2022. By 2023, more than 33% of large organizations will have analysts who apply Decision Intelligence, including decision modeling tools. Gartner predicts that by the end of 2024, 75% of enterprises will shift from pilot AI versions to operational ones with a fivefold increase in the infrastructure of streaming data and analytics.
Conclusion
The use of AI in general and in Business Analytics in particular reveals great prospects for growth. The key triggers for AI technologies are:
significant increase in investment,

strengthened employee training in the use of AI tools,

expanded transition from pilot to operational AI,

belief in the ability of AI to optimize production and become a key driver of development.
Data technology and analytics are seen as the main benefits of AI for business process optimization and cost reduction, which is reflected in increased investment in this area. Today, developers and investment companies have a stable market for integrating AI tools into Business Analytics.
Market research outsourcing companies will help you better understand trends in this area by analyzing the benefits of AI for Business Analytics purposes. In the next part of this article, we will consider specific cases of AI technology implementation and the main challenges and problems in the development and application of appropriate intelligent systems.
Would you like to read more about this?