4 signs of a strong IT company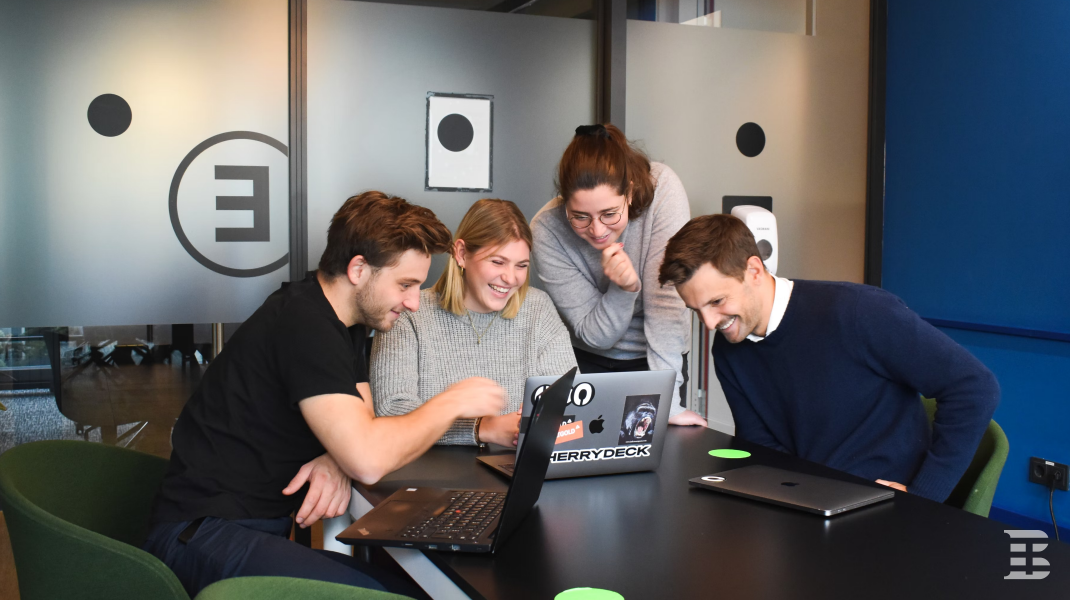 The struggle to get to the top in the global IT industry has been getting tighter in the past few years. The emergence of new technologies has put dozens of companies in front of whether they are up to the challenge and adapt to the latest trends or stay behind on secondary positions. In addition to all, the recent pandemic pushed up the competition between IT companies both locally and worldwide.
Now, is difficult to track the progress of any IT company that started from nothing years ago and reached the upper ladder. But instead, we can refer to a shortlist of criteria that identifies a strong IT company and makes it different from its competitors. Regardless of how many employees an IT company has, the revenue and net profit, or the number of delivered projects - there are more important elements that define a strong IT company.
#1 Company Culture
IT companies just like all businesses are built from the inside. The more culture and care a company offers to its employees, the higher the chances to grow its success organically. Besides this, company culture is also a competitive advantage both in terms of human resources and leads. According to stats about the impact of company culture on business success - 94% of entrepreneurs consider that healthy work culture is vital for success.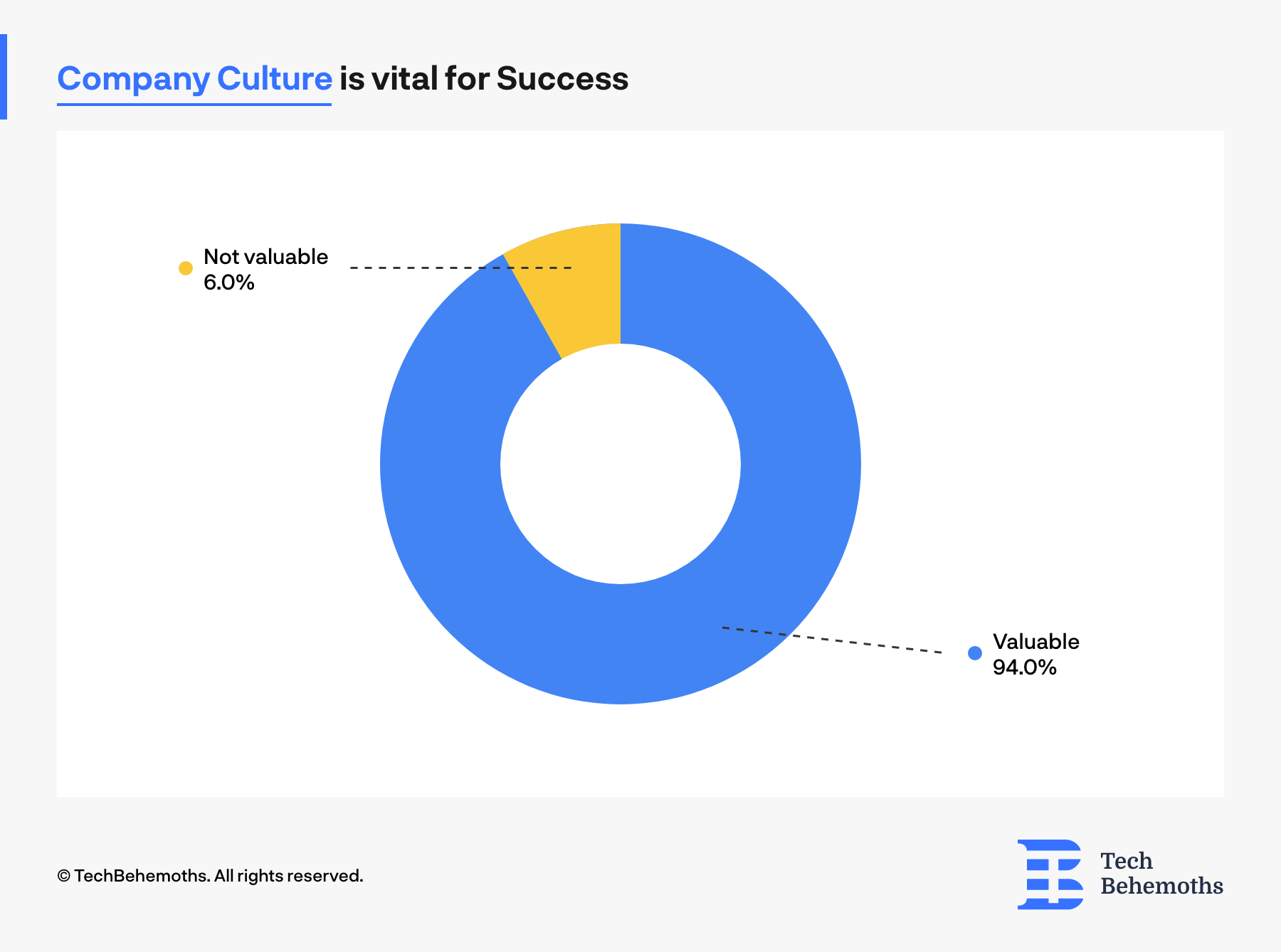 Healthy company culture is considered an indicator of a strong IT company from other perspectives as well. Here are some of the most popular arguments:
Company culture can help employee satisfaction rate

Company culture improves productivity

Company culture improves brand awareness

Company culture improves communication with the audience
#2 A Solid Social Bond Between Co-Workers
Another indicator of a strong IT company is the ability to build ties between its employees. Even this characteristic applies to all types of businesses, in IT companies, workers that socialize outside their working environment help build a better management culture, and help at employee retention rate.
A social bond between employees can be built in different ways. Going out for drinks, leaving on vacation or team-building activities are only a few of the most practiced methods within IT companies. At the same time, some other high-level IT companies around the world offer various social perks to their employees to enhance the social interaction between them. Here are several examples:
Cisco offers the employee birthday as a day off and makes it a part of the annual leave. However, most employees prefer to share their birthdays with their colleagues after work.

Facebook treats its employees while in Menlo Park with a series of social integration tools and always gives them an extra chance to interact with each other and create a bond outside work. Gaming with colleagues in a dedicated room, going with your team leader to the barbershop, or just taking a (free) snack with the entire team is on a daily basis on Facebook

Indeed also focuses on the social working environment for its employees, and is known as one of the most relaxing working environments. The company doesn't have a specific dress code, offices are co-working spaces and the social culture is meant to transform colleagues into friends.
All these companies can be called strong based on what they offer and how they treat their employees. And as you can see, not all success is measured in revenue.
#3 Training and development sessions
There's probably no other industry more dependable on the latest technology than the IT industry. That's why investing in training for employees is essential nowadays. In addition, companies that have certified employees could enjoy a higher credibility rate among partners and clients.
Of course, professional development is only one way how an IT company can invest. Team-building training strengthens the ties between colleagues and makes the work process smoother, contributing at the same time to a more informal relationship between employees. Other types of training IT companies offer are sales, management, on-the-job training, in-house, personal study, and mentoring scheme. So there are plenty of ways IT companies can train their employees.
To conclude - training and development sessions comes with benefits for both sides - employees and employers: If the team works together, and individuals trust each other - the IT company can fully rely on their professionalism. IT companies that train their employees can be called proven leaders, that aim to grow the company's reputation not only on the market but also within their team.

#4 Strong but Realistic Reputation
Reputation definitely plays an important role for IT companies. It comes both from the inside of the company and also from the outside. When employees spread the word about the company they work for and are proud of the "second family" they belong to - we talk about the reputation from the inside. If this phenomenon is scaled enough, the IT company would not only improve its reputation but also gain new customers and professionals.
On the other hand, we talk about the reputation from the outside that has a broader meaning. In most cases, reviews gained from existing and former customers make up the largest part of external reputation. But that's not all. The external reputation is also made up of the general public that is not directly related to the company but has heard of it from other sources and can recommend the company based on it.
In addition to that, a company without a company culture, or even worse - with a bad reputation is avoided by most job seekers. A survey shows that 86% of those who are looking for a job won't go to a company that has a bad reputation.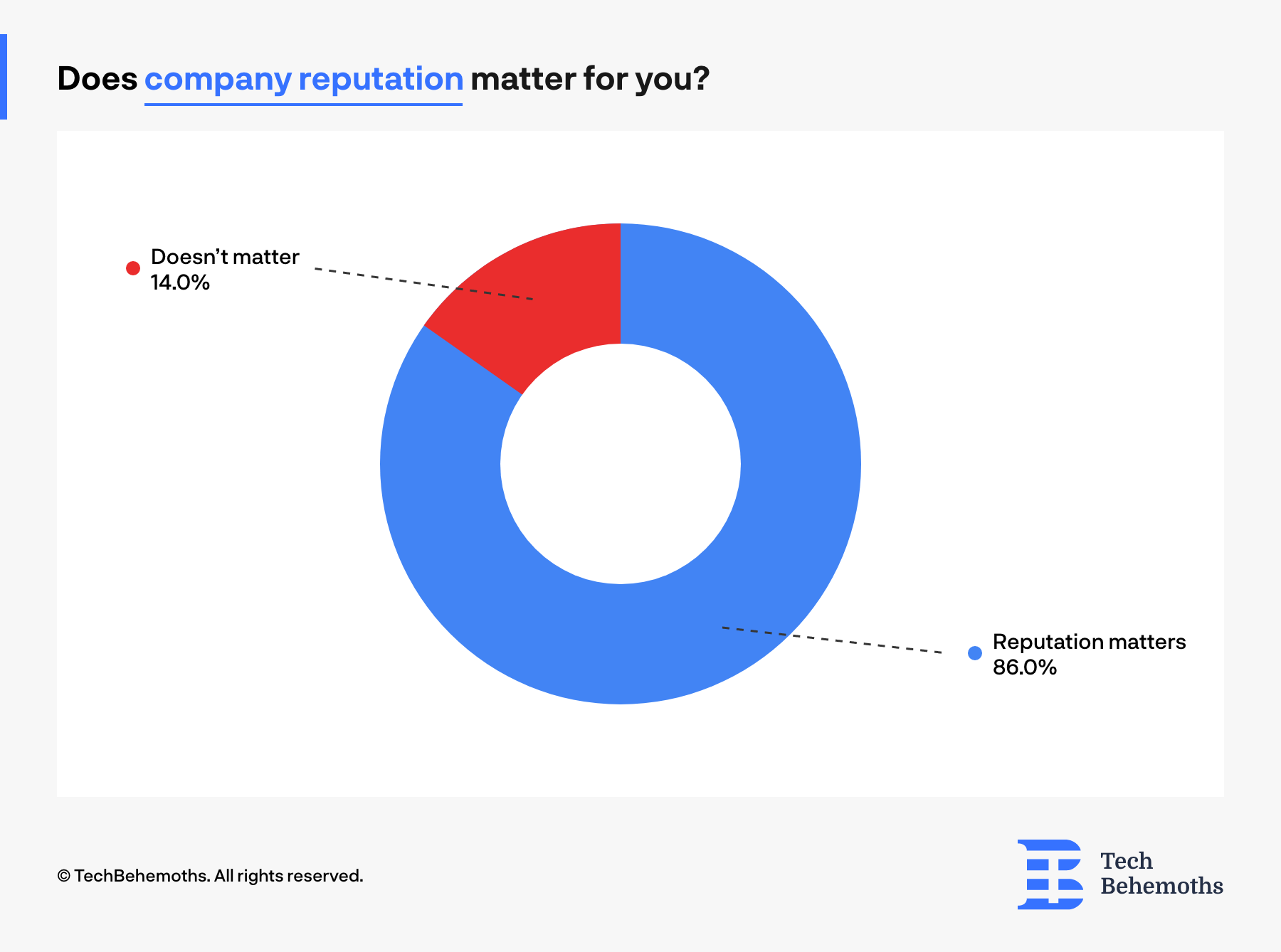 The last aspect I want to touch here is the realistic reputation. I'm looking here at those companies that have 5 out of 5 stars on tech platforms, and it sounds a bit unrealistic. It talks about few real clients that had the chance to review, or a 100% fake self-review practice that unfortunately is so often met.
Last Words
By far these are not all signs of a strong IT company, and sometimes those mentioned above count less than others. However, if someone recommended an IT company based on their previous experience - it already means that has a reliable reputation.
Are you satisfied with your company's success?